They are all exactly the same. Whether it's Republican Trent Lott's message that America would have been "better off" if Strom Thurmond had been elected president or Michael Steele exclaiming "honest injun." Whether it's Democrat Joe Biden declaring that then-candidate Obama was "articulate" or Harry Reid saying Obama could win because he was "light-skinned" and "lacked a Negro dialect," let's just say its safe to declare all of them equally offensive.
While the latter comments were meant as compliments, albeit backhanded, there is no difference between the remarks. Democrats are quickly firing back, trying to differentiate between their two foot-in-mouth episodes. Republicans, rightfully so, are asking that Reid step down as majority leader just as Lott was asked to. Thing is, this episode simply speaks to ignorance that still exists in the political spectrum on both sides of the fence.
In case you've missed the hundreds of disclaimers over the past few decades, let me help you understand. It is frowned upon to use the terms "well spoken" or "articulate" when referring to black politicians, athletes, artists, teachers, or honor students. Although I'm sure you mean well, it implies that most of us can't talk or form sentences without the use of slang or broken English.
Secondly, if you're a white person, you probably don't want to use the term "Negro" in 2010. It was step up from "colored" and a step up from that "other word." The usage implies a throwback to those days past and says that you may well have recently used that "other word" to describe a black person. And just what exactly is "Negro dialect," anyway? All Reid's comments say to me is that Lil Wayne probably isn't a viable presidential candidate.
While we're at it, Dems and Republicans please stop insulting our intelligence by doing the exact same thing and then wasting all of our valuable time by trying to convince us that the other guy's snafu was worse than yours. To African Americans, crap in a pretty box with a bow is still ... well ... crap. And it doesn't matter if it's Harry Reid or Trent Lott or Michael Steele handing it to us. There were a million other ways Reid, Biden, Jimmy The Greek, Rush and other foot-eaters of the past could have shown their praise for blacks who were excelling. The point is, did any of them care enough to think of them ... before they got themselves in trouble?
And that's the truth ... sho-nuff.
Previous Comments
ID

155098

Comment

He may not be a viable Presidential candidate, but Lil Wayne was right about Lane Kiffin...

Author

bill_jackson

Date

2010-01-14T15:44:52-06:00
ID

155129

Comment

Kaze what they said is quite different. What Reid said lots of black folks think it too. I'm not saying it's right to say that though. What racist ole miss Lott said is very different and meant very different things. Come on now. I can't believe you're saying it's the same thing and the repugnants should ask for Reid to resign. Better watch that right leaning, Kaze. It'll make you fall over into the republican party. He, he. You're still my _______ though! Brother, that is. Smile!

Author

Walt

Date

2010-01-14T18:27:14-06:00
ID

155150

Comment

I have to agree with Walt. I think there is a big difference between what Harry Reid said and what Trent Lott said. Trent Lott was lamenting the fact that a segregationist didn't win the Presidency with a segregationist platform. Clearly that is a racist sentiment. While Joe Biden and Harry Reid were merely saying that Obama was an electable candidate given his physical attributes and his eloquence. I must admit I thought the same thing after I heard a few of his speeches. I thought he was articulate and well spoken, but I wasn't comparing him to other black people. I was comparing him to the former President. :-P

Author

WMartin

Date

2010-01-15T09:58:06-06:00
ID

155152

Comment

I agree that they both were bad choices of words, but they were different. Here's a piece that argues they are different on Richard Prince's Journal-isms site (about diversity in the media). ". . . Among mainstream reporters, Politico's John Bresnahan was the only one to directly address the comparison. Bresnahan's Sunday story opens with a lengthy recitation of the Republican line, then delivers this paragraph: " 'The comments — or at least the interpretations of them — were obviously different: While Lott's words could be interpreted as a call for the continuation of racial segregation, Reid's were not an argument for race-based policies but rather a characterization of racial attitudes among voters today.' ". . . There is no way to explore the complicated way that race and politics interact, and to write intelligently about that intersection, if you are going to seriously entertain the prospect that Reid's and Lott's comments are equally offensive. In an ideal model of the press, journalists are stewards of public discourse, people who set public norms but also help the public talk about knotty subjects like race and racism. A failure to draw important distinctions doesn't just shirk the responsibility implied by that model, it actively frustrates it." Worth pondering.

Author

DonnaLadd

Date

2010-01-15T10:10:19-06:00
ID

155155

Comment

@ Kaze, I can understand your concern about a double standard being employed by the Democrats, but I don't think the comments are as "equally offensive" as you suggest. In comparing Lott and Reid, both comments were racially insensitive by any measure. But Lott's statement was at its core a coded endorsement of segregationist policies. Had Thurmond been elected President it would have set progress for black people and race relations back 100 years. Lott also had a non-existent civil rights record and had associated regularly with the CCoC through the 1980s, which made his apologies appear hollow. Reid's comment, outside of his baffling use of the word Negro in a 2008 conversation, was an accurate if cynical assessment of Obama's marketability to mainstream white America, his so-called more enlightened fellow progressive/libs in particular. Reid also doesn't have Lott's record on race, which has helped in finding reasons to defend him. (And yes, Lil Wayne has no shot at being elected President. Sorry.) But in the end, its nakedly political as well, as Demorats have no wish to publicly eat one of their own with their Senate majority in jeopardy and passage of their healthcare reform plan still not resolved.

Author

Jeff Lucas

Date

2010-01-15T10:32:59-06:00
ID

155162

Comment

Points taken, but as a Black man its probably easier for me to see the offense in either of those statements. Respectfully, Lott inference that segregationists policies would have made America better off are horible indeed but just because you seemingly have a good record on race relations and you "mean well" doesnt stop you from being ignorant or insensitive. I for one have reached a vantage point where I see crap on both sides of the ailse. Spin jobs from BOTH sides of the aisle and stand with many Americans who are fed up with this 2-party youre either Dem or Republican mantra. As I said, Crap in a pretty box is crap nonethless. Senate majority notwithstanding..CMON. dude used the word Negro in 2008. CMON. You mean to tell me he's THAT out of touch. But...because he's a Dem we give him a pass? IMO Lil Wayne or any other American should have the same opportunity and chance to be PRes. The traditional thinking is that Black folks arent smart. Use slang. Are too dark skinned and genrally scary to mainstream America. The ideal that you have to be something other than yourself to assimilate is well..."questionable" Either Obama was the best candidate or he wasnt.

Author

Kamikaze

Date

2010-01-15T10:54:28-06:00
ID

155163

Comment

As a white woman, I'm also offended by both, too, Kaze. I think the point many are making is that grouping them together at the same time unintentionally gives a pass to how bad Lott's statement was -- especially considering that many of the same people who defended that as no big deal are not saying that Reid should resign. Otherwise, I think Jeff is making a good point.

Author

DonnaLadd

Date

2010-01-15T10:57:27-06:00
ID

155164

Comment

Maybe I just have a more personal slant which has me coming from a passionate vantage point. As a hiphop artist I grew tired of hearing, "you speak so weel" youre so "articulate" , youre SO intelligent, "youre not like the other ones, youre different"....then it digresses into folks asking "what qualifies HIM to be a developer" or "no one really takes him seriously"when those folks dont know my background..All of this stemming from the fact that most folks know me as Kamikaze, the hiphop artist, Black Guy. And Black hip hop artists are dumb and uneducated, uncouth, and unkempt. "But YOU ...oh youre nothing like THEM" lol. Great backhanded compliment but still degrading and stereotypical in nature. Because it says that Reid believed everything the masses were saying. and it speaks to the fact that Reid probably doesnt think a dark-skinned HBCU graduate, who grew up in the projects, and listens to Jay-Z could EVER be pres. Sad world. but it seems to be true

Author

Kamikaze

Date

2010-01-15T11:03:31-06:00
ID

155168

Comment

IMO no sin is greater than the other. You cant quantify one as "worse" than the other when at the core they were made were made for the same reasons. The road to hell is paved with good intentions. A standard has to be set. And it wont be if we keep letting Dems slide cuz we like them. and repubs keep sweeping thiers under the rug because somebody likes them. John Edwards and Bill clinton are the same as Stanford and Pickering. Plexico Burress carries a gun in the club and shoots himself, rule says FELONY. automatic Jail time. Different from Gilbert Arenas pulling a Gun at the workplace and aiming it at another human being. FELONY! Period. reasoning doesnt matter. The standard has been set. Carry an unauthorized gun and youre in trouble. Plexic didnt say well, it was an accident, I didnt mean to, it was for protection..well he did...but it didnt matter. clearly his case was different

Author

Kamikaze

Date

2010-01-15T11:15:11-06:00
ID

155171

Comment

For the record, Kaze, I don't particularly like Reid, and I'm not a Democrat. So that's not in the mix for me. I'm not particularly concerned about what is worse, but I do think the points over on Prince's site about understanding the difference is important to future ability to talk about race in the media and elsewhere. In other words, we have the problem of media wanting to divide everything down the middle whether it's "equal" or not. You're not doing that -- your position is more thought out -- but we do have to watch for it. And intent does matter in the law and society. If it doesn't, you have zero-tolerance policies that allow no discussion and are used in a discriminatory manner (ironically). But that's another topic. ;-) John Edwards and Bill clinton are the same as Stanford and Pickering. I'm not sure I'd call them the "same," but I would say they are just as bad. I find Edwards' shenanigans the most disgusting of them all. I think. Stanford and Pickering hid under a fake religious-right cloak, but Edwards and Pickering pretended to care about women's issue. Thus, they're both hypocrites -- but for different reasons. So they're not the "same." Hope that makes sense.

Author

DonnaLadd

Date

2010-01-15T11:24:24-06:00
ID

155187

Comment

Kaze, Using a political affiliation as an excuse to suggest that they are less bigoted than the next guy is simple minded, so I guess we agree to that extent. It's a little like a battered wife who is willing to overlook an abusive husband because "he doesn't beat me as bad as the last guy". Its still abuse. But beneath the stereotypical rhetoric there is also an undeniable truth in what Reid (and Biden before him) said. Should he have said it? Of course not, and the fact that he did I think reveals more about him and his attitudes about the Black community than what's usually discussed. I not trying to play Thought Policeman, but isn't it curious that a seasoned modern-day Democrat and someone assumed to have worked with the black community (given its 90% loyalty to the party), would use the term 'Negro Dialect' in 2008 without realizing that it could be considered offensive, even to other white people? I also find it interesting that there has been almost NO discussion in the MSM about BJ Clinton's reported comments to the late Sen. Kennedy about Obama, which seems to shed light on why Kennedy endorsed Obama over Hillary Clinton. I thought his comment also had a racially insensitive tone to it, especially compared to his comments in SC during the primary. With respect to the common point made by both Reid and Biden, its true that we expect our elected officials to speak in manner becoming the office they are holding. Mastering language and communication skill is considered a key indicator of intelligence and the ability to think and reason (which admittedly makes GWB's elections a real contradiction). That means that if Lil Jon or Ludacris really want to win a national office such as POTUS and serve as elected leaders and representatives of this county abroad, they have to shed their natural street lingo. I realize THAT is offensive to you given all of the hard work that you have put into trying to bridge gaps between the Street and the Boardroom in Jackson, but that is an accepted reality.

Author

Jeff Lucas

Date

2010-01-15T12:15:31-06:00
ID

155189

Comment

Ummm, those of you justifying that one comment was meant to mean one thing and the other comment was meant to me something else I must say is over the top. There is no justification to any form of racism, abuse, murder, etc. That is the same backwoods thinking however not in overalls but in suits and ties.

Author

Langston Moore

Date

2010-01-15T12:51:27-06:00
ID

155190

Comment

The old Saturday Night Live sketch "Wayne's World" or maybe it was the movie had a scene with the band Aerosmith where the lead singer, Steven Tyler, made a long dissertation on some geo-political topic. The reason it was funny is because people like rock stars, and hip hop stars for that matter, aren't perceived to be able to converse on that level. So those prejudices aren't only racial. Blackness is not the only thing that scares middle America. Just sayin.

Author

WMartin

Date

2010-01-15T13:13:05-06:00
ID

155194

Comment

Ummm, those of you justifying that one comment was meant to mean one thing and the other comment was meant to me something else I must say is over the top. So you are saying that no matter what the intent or meaning behind the words, it makes no difference. Certain words should never be uttered? To pretend no one understands what "negro dialect" means is just too funny. Although, you do have to wonder who speaks that way anymore? It wasn't too long ago there was a story here about how some girl was being bullied by her classmates because she spoke "too white". Isn't that racist also? But it kind of proves that there is a "Black Dialect", if the word Negro is too offensive.

Author

WMartin

Date

2010-01-15T13:29:36-06:00
ID

155239

Comment

I don't see the double standard(s) the Democrats supposely so readily turn to here or other places, and I look for them. My bet is the so-called double standard(s) only exists in the minds of republicans and their admirers who are afraid to be what they really are. As someone once so eloquently said "don't be scurred to be what and who you really IS." Michael Steele needs some real or actual allies, else he be the lone ignored black leader of a group of people who neither like, respect or consider him their leader.

Author

Walt

Date

2010-01-18T23:54:10-06:00
ID

155250

Comment

Certainly this is not the conversation we as African-American want to have re to RACE. I have followed the career and voting pattern of Harry Reid and for those of you who have also done the same, you know that Harry Reid is not a Trent Lott or a Strom Thurmond. Get real. If we continue to harp on issues wherein no harm was intended, we will end up losing the opportunity to initiate healthy dialogue geared towards a better understanding. This perhaps was a teachable moment for Reid; however, what he said was the TRUTH and ALL BLACK FOLKS reading or hearing these remarks know that the man did not LIE. This issue is so true for so many blacks, sorry, African-Americans because we too have had so many who have used this as a yard stick to measure intelligence, crown kings and queens in high schools, colleges and universitites. We have used the light, bright, damn near white yard stick to choose majorettes and dancing dolls. (Ask band leaders from Souther-Baton Rouge). James Brown was not only singing to Whites (I'm black and I'm proud) He was singing to Blacks who thought that the darker colors would never be recognized. If the word NEGRO is so offensive, let's remove it from 1.The NEGRO National Anthem 2. The National Association for the Advancement of COLORED/NEGRO people (NAACP). 3. United Negro College Fund (UNCF). I know whites who contribute to UNCF. How should they address their checks??????United____College Fund? I grew up with signs on water fountains, bathrooms, MD Offices, ect. that read: COLORED. From that period, we moved to Negro from that period we moved to Black and from that period we are now only in vogue when we say, "African-American." We, as a people, make allowances and excuses for ourselves, i.e., they are from the older generation. These allowences will need to be given to those (whites) and others who have treated us with decency and respect or for those who now realize that they have been unfair and racist. If we are not willing to do this, we then shut down the flow of communication that could have led to teachable moments. Just saying.

Author

justjess

Date

2010-01-19T11:04:47-06:00
ID

155253

Comment

Baquan, Michael Strahan, Mickey Leland, Barbara Jordan, Craig Washington and I graduated from Texas Southern. That building where the program took place last night is where I spent nearly 4 years working part time as a law student and 1 year as a teacher if you can believe that considering my bad writing. I taught government and criminal law in the undergraduate school. See y'all. I got to pack up and head to the other coast. I holler back at y'all when I get there. Whip him Justjess. He needs it.

Author

Walt

Date

2010-01-19T11:14:49-06:00
ID

155254

Comment

Oh, Michael Steel is a game player of the first magnitude. Right now, he is trying to sell his book. He will say anything. This gentleman came from a struggling law practice. He does not have wealth. He thought that talking down, bad and low about black folks would give him an edge with white Republicans. It did for a while. There were some Republicans who actually thought that Steele was the answer to Obama. After Obama became President Obama, Steele no longer had the deal-breaker. He is on the verge of pullling a Venessa Williams (going back to my people). Just listen closely to his message. He ain't no fool and he knows well that the Republicans will not forgive him for such harsh language. LOL!!!!!

Author

justjess

Date

2010-01-19T11:30:27-06:00
ID

155271

Comment

WMartin, what I am saying is that if any word or phrase has any racial undertones it in no way can be justified by saying, "what I meant was _____ and that is not racial." There is no gray area in my mind to racism or racist remarks. Make sense?

Author

Langston Moore

Date

2010-01-19T17:02:45-06:00
ID

155273

Comment

@ LearningasIgo, I think I understand what you mean. But I don't agree. I am, by any means you would like to measure it, not a fan of Harry Reid. So, to see him pilloried for this would be just fine by me. But, I really don't think what he was saying is racist. It would depend on the context. Simply saying something about race doesn't make you racist. I truly believe that he was simply being candid about what he viewed as Obama's chance and commenting on how he perceived the American electorate would view Obama. To be honest, I have no idea if he was asked or if he was just offering his views to anyone who happened to stroll by. Race may not mean anything to you or I personally but if we were analyzing the election back then, to not take Obama's race into account would have seemed foolish at the time.

Author

WMartin

Date

2010-01-19T18:22:56-06:00
ID

155280

Comment

Baquan, I can't speak for Republicans, sometimes I think I understand them and then they do something completely stupid, but just reading your comments brought up a couple of thoughts for me. I don't believe that Republicans are having a particularly hard time with what is happening with Harry Reid because most of them know that Democrats don't eat their own. They will circle the wagons and defend other Democrats to the death while Repubs will throw their people overboard the second they become a liability. E.g. Trent Lott, Newt Gingrich, etc... Also, I think most of them feel like I do about the statement he made, that it wasn't really racist. Poor choice of words and all but I think they probably know that he isn't a racist. It's all political calculation to them. I believe what Bill Clinton said to the late Senator Kennedy was hugely racist but there is no immediate political upside to hammering away at that, so they don't. Go figure.

Author

WMartin

Date

2010-01-20T09:15:47-06:00
ID

155284

Comment

It's always a political game. The Republicans thought they saw an opportunity for payback over the Lott controversy, and a chance to further weaken Harry Reid. It backfired because the more they tried to argue equivalence between Lott's comments and Reid's comments (the way Kaze did in his op-ed), the more obvious it became that the two statements aren't remotely similar. Although while Reid used an archaic term to describe Obama's oratorical skills, his statement had the air of truth behind it. WMartin, Republicans may very well throw most of their people overboard when they become radioactive, but on race matters if they really want to sound more credible in denouncing racism/sexism and such they have to be more willing as a party to denounce the demagogues like Boss Limbaugh who say things 10x worse that what Reid said on a weekly basis.

Author

Jeff Lucas

Date

2010-01-20T09:46:25-06:00
ID

155285

Comment

Republicans are so terrible that an (R) won Teddy Kennedy's senate seat. ;)

Author

QB

Date

2010-01-20T10:23:39-06:00
ID

155286

Comment

Meaning what exactly, QB? From what I understand, the Dems had a bad candidate who ran like she was entitled to the seat, couldn't motivate the base, and got smoked by a better campaigner.

Author

Jeff Lucas

Date

2010-01-20T10:39:02-06:00
ID

155287

Comment

Jeff, I hardly think that was all there was to it. It's been obvious in the polls lately that the American people think this country is on the wrong track. Obama's job approval numbers have been falling for a while now and congress' numbers are in the basement, maybe in a hole in the basement. I think Ariana Huffington nailed it on Keith Olberman's show last night. While all the host could do was make snide comments about Scott Brown, she offered a smart and insightful view that I wish Democrats would take to heart. Here is what she said: http://www.huffingtonpost.com/huff-tv/arianna-massachusetts-los_b_429126.html

Author

WMartin

Date

2010-01-20T11:06:19-06:00
ID

155288

Comment

It's been obvious in the polls lately that the American people think this country is on the wrong track. Which is remarkable when you stop and think about it. The media are truly failing us these days.

Author

DonnaLadd

Date

2010-01-20T12:44:52-06:00
ID

155289

Comment

http://content.usatoday.com/communities/entertainment/post/2010/01/sen-scott-brown-posed-for-cosmo-has-ties-to-idol/1

Author

Queen601

Date

2010-01-20T14:36:16-06:00
ID

155293

Comment

The media are truly failing us these days. That may very well be true Ms. Ladd but a lot of it is the Democrats and the President's fault. I had high hopes for the President when I voted for him. I thought he was not a political insider and if anyone was going to stop the banker friendly practices that led to the economic crisis it was going to be him. Well, nothing happened except a bunch of closed door meetings and huge bailouts for the richest of the rich while small businesses close and people are put out of work and then their homes. Spending without thought to how we can pay for it is not change from the previous administration either. It looks to me like more of the same only at an accelerated pace. Just because the players are Democrats now is not enough change to mean anything to average people. The same thing with health care reform. We were promised the most transparent administration ever and that the health care negotiations would be broadcast on C-Span. Yes, I know that politicians make and then break any number of campaign promises, but I thought we were going to get change and what I see is the same old same old. Influential power brokers from special interest groups given a private audience with law makers and the President is not change it's more of business as usual in the capitol. The President was elected on a platform of change and hope, he has not delivered. But the American people are still hoping for change. The only difference now is that the Democrats hold power. I, for one, am glad the the American people are seeing through the rhetoric and are ready to keep changing people until the people in Washington listen. I think they may be listening now. I really hope so.

Author

WMartin

Date

2010-01-20T15:12:40-06:00
ID

155298

Comment

Well my 'puter for whatever reason wouldn't play Ms. Huffington's comments. I'll find them somewhere else to listen to. However, I also think and hope Brown's win might be a blessing in disguise, although I didn't want him to win. I hope he's the true rebel and spoiler he claims he is. I can see that eventually backfiring and helping Obama's and the Democrats'cause. I wanted and still want Obama and the Democrats to do as they promised they would. Again, I say the republicans got us mostly in this mess and their tactics are unlikely to free or cure our ailments. I have long predicted Obama's fence-riders or temporary supporters would abandon him quickly and join forces with his enemies in tactics even if not morally or heart-wise. Either way it will hurt Obama and Black folks' chances of a position this grand again. Some would say this doesn't matter. Well, I'd just say it matters to some. Because I remember what happened right after the short period called reconstruction, and right after the Sixties or Civil Rights era, I also know what was likely to happen after Obama's win. I knew it wouldn't be long before our mortal enemy called basklash would come a running to harm Obama (and the Democrats too incidently). I suspected Obama's practices to fix the economy would have to work soon or very quickly or he would be called inadequate at best and a socialist, communist or incompetent at worst, no matter the herculean task before him. I thought or hoped Obama would get at least 2 to 4 years to try to turn things around before so many people turned on him and joined forces with his known enemies. Frankly, I'm not accusing WMartin of this, but I am blaming many others beyond us bloggers here of this site. Some of us Black folks said Lord why let Obama have this job under these circumstances because he will eventually get blamed in the game of looking for a scapegoat. We know the republicans, no matter their color or sex, aren't going to take blame for the shape of the economy or their role in resisting all of Obama's plans or goals for trying to bring about change. Obama couldn't please them if everything turned around and worked better than ever before. Obama's ardent haters can't ever be won over. I hope in all his brillance he has sense enough to know this. In the end, no matter how things eventually turn out, I hope Obama has learned enough from living partially or occasionally in the Black world, or what some call the other world, whatever that means, to know and eventually say to himself he realizes he can't please everyone, especially those who only see him as an outsider and a person un-entitled to his possessions, holdings, positions and accomplishments, unless he's a hustler, pimp or pusher of some type. In summary, I just hope Obama will continue to shake the haters off and realize his true and divine mission is the care and concerns of his immediate family who will always be with him when others won't. Being the POTUS is a hard job. It's not any great shame to not perform magnificantly at all times, although I aver we Black folks are expected to perform that way when holding a great job, or else be viewed and labeled as inadequate or typical. I say this is light of all of us having come so far on the racial tip from our not so distant past.

Author

Walt

Date

2010-01-20T22:25:16-06:00
ID

155305

Comment

Baquan, he has three more years. So he has time to course correct. The Democrats still have majorities in both houses... for now. they don't want change - because if they did -this health care reform would have went through with flying colors! I disagree completely, I believe they want change in the way business is done in Washington. Not just more legislation that is seen as a sweetheart deal for insurance companies that they helped craft behind closed doors. It's the same thing the Bush Administration did with banks and it's the same thing that killed Clinton's health care reform in the nineties and damned if this administration isn't doing the exact same thing. Anybody remember the definition of insanity? But you know what? Health care shouldn't even be on the front page right now. It should be the "fat cat bankers" crying about how the new regulations are going to make them play fair. But where is that? No where. The only thing about this stuff on the front page is the size of the astronomical bonuses for bankers, the rise in Health Insurance stocks when it became clear what was in the health insurance reform bills and the 10+% unemployment rate. The American people are smart enough to know that isn't in their best interests. Obama was elected to lead, not turn over responsibility to Max Baucus and Chris Dodd. I have no problem with scrutiny of Obama or any other elected leader and I don't believe he is getting it worse than any other President. Especially not Bush who was ridiculed for just about everything. Not always undeservedly. I don't want the President to follow the polls. I believe if he would lead and make his case to the American people he could turn those polls around. He made us believe that anything was possible and that we could have change. It's time for him to stop talking about it and prove it.

Author

WMartin

Date

2010-01-21T10:07:03-06:00
ID

155306

Comment

Baquan2000, you are on target with the expectations of THIS PRESIDENT. We must always stay in the Jackie Robinson mode. The sad thing about some of these criticisms larged against President Obama is that some people are willing to cut off their nose to spite their face. How many of the dumb-assed "Tea Baggers" are poor, unemployed and without healthcare? One thing that we should all remember is that President Obama was able to keep America from going off a cliff. We were smelling the loud odors of a DEPRESSION. Remember?

Author

justjess

Date

2010-01-21T10:20:53-06:00
ID

155307

Comment

Justjess- How has Obama kept American from going off a cliff. I don't see any improvement since he has been President. What has gotten any better? Nothing that I can see.

Author

BubbaT

Date

2010-01-21T10:54:03-06:00
ID

155309

Comment

BubbaT, the only comment I have on your inability to see "any improvement since he has been President" is my sympathy to you for your blindness.

Author

justjess

Date

2010-01-21T11:16:54-06:00
ID

155310

Comment

Justjess-Blindness..lol Let's see unemployment is still high and getting higher, economy still suxs, housing market still suxs,gas price are still high, my health insurance still cost $10,000 dollars a year, if health care bill passes my taxes are going to be higher and I will still be paying that,food prices are still going up, we are still fighting 2 wars. Auto industry still is still in slump except for Ford.etc etc etc. Where is the improvement? I think you need my sympathy for being blind to the fact that nothing is better. It's like Wmartin said the same old, same old.

Author

BubbaT

Date

2010-01-21T11:41:07-06:00
ID

155313

Comment

[quote]Obama is the most centrists president we are going to have to date, but with the condition of the country from which he inherited, he is making extreme decisions for extreme problems.[/quote] Hold on, I'm laughing here. Centrist? Obama? Cap and Trade is a centrist policy? That whole nationalized Health Care wasn't socialist? Come on... I know the democrats are running scared now: they're claiming to be centrist suddenly.

Author

Ironghost

Date

2010-01-21T15:04:52-06:00
ID

155317

Comment

Folks (1.) please remember to avoid ad hominem attacks. Disagree "agreeably," please, without getting personal. Thanks! (2.) Iron -- Hold on, I'm laughing here. Centrist? Obama? Cap and Trade is a centrist policy? That whole nationalized Health Care wasn't socialist? Come on... (a.) How is cap-and-trade not centrist? It uses market dynamics to encourage entrepreneurial companies to profit from developing ecologically friendly technologies while not totally obliterating traditional polluters. A MUCH more authoritarian approach is possible to reducing emissions. (b.) Please point to "nationalized Health Care." I need a link to a bill that passed the House or Senate that represented, in any way, "nationalized Health Care." Thanks!

Author

Todd Stauffer

Date

2010-01-21T16:00:58-06:00
ID

155318

Comment

Baquan: I don't believe his policies are centrist. I believe he's been intent since day one to pass a Leftist/Socialist policy platform. He hasn't deviated from that. He can ask republicans to "hop on" all he likes, but the fact is trillion-dollar programs aren't a Republican priority. Abortion isn't going to fly with the Republicans and a good number of House Democrats as well. He needs to quit listening to Reid and Pelosi and start trimming the debt and putting people back to work. That'd be a great start. Also: can the insults. They don't make the conversation go smoother.

Author

Ironghost

Date

2010-01-21T16:06:30-06:00
ID

155319

Comment

Crap: Todd posted at the same time I did. Yerg. If you want a longer reply, it'll take a bit.

Author

Ironghost

Date

2010-01-21T16:07:56-06:00
ID

155325

Comment

I am concerned Ironghost, not because I fear the republicans have any good policies, concerns or points to make. I'm convinced no such things exist, and I remember the last 8 years in particular and the last 30 or so generally as proof. I don't want the republicans to win because I know they're the party of the devil, of evil, of the tea-baggers, and of the klan and every other white supremacist group you can imagine. As a result of this, we have some black people happily wearing the robe and pointed hats of the klan and every white supremacist group imagined. Republicans are the purveyors of the very things they claim Obama hasn't fixed yet and can't. They will cause global warming and the unbridled hatred of America or Americans then blame Obama and the Democrats because it's hot out here and no one likes America or Americans any more. I don't fool with them. I don't give them a ride. If you let them ride they will push you out the car and drive. If you let them in your clean house they will use the floor to release themselves instead of your facilities then tell you and everybody else your house has a bad odor and can stand a good cleaning. Unfortunately, I have to announce that the republicans would crucify Jesus again if he came back arguing morality and charity toward our fellow human beings. Perhaps this is why Jesus' purported soon return is being delayed so long. Is there a preacher in the house? The only thing I regret about Obama is that he fails to see and treat the devil as the devils they are. Speaking Chinese to an African American or other ethnic group that doesn't speak multiple languages including Chinese won't cause any communication, no matter how long or loud you talk. Obama will likely get only one chance at the presidency. So, why is he wasting so much time trying to get the devil to help him do the Lord's or people's work. The devils of the world don't get down like that. They are about their master's (the devil) work! No wonder they can say screw Haiti and everybody who looks like them. This is just my perspective. Carry on chilluns. In Iron's world, Baquan, 2 plus 2 is 16. He speaks Deep South, a language you and I run from and will never understand.

Author

Walt

Date

2010-01-21T18:12:59-06:00
ID

155327

Comment

And I'm sick of this bull schick about the people speaking and causing the republicans to make gains of late. These people so often referenced as speaking for all of us or most of us, are nothing more than people the tea-baggers, white supremacists, Obama haters and haters of black folks have gotten to. These are not the masses or the realest among us. If you cut off a dog's sense of smell and feeds him nothing but bull shoot, after awhile he'll get excited when he sees bull shoot. This is what racist and bias think tanks are all about. This is what the repubs are all about.

Author

Walt

Date

2010-01-21T18:57:33-06:00
ID

155331

Comment

For what it's worth, I don't think it's an ad hominem attack to point out that Iron is often contrarian to the detriment of productive debate. Any more than it's ad hominem to say that Walt went way off the deep end by saying that Republicans would happily crucify Jesus. Holy hyperbole, batman! Anyway, I eagerly await a substantive response from Iron to Todd's excellent points. Prove baquan wrong by addressing how it is that Obama supports "nationalized health care."

Author

Brian C Johnson

Date

2010-01-21T19:25:57-06:00
ID

155333

Comment

Yeah, I'm waiting, too, Iron. Bring it.

Author

DonnaLadd

Date

2010-01-21T19:31:13-06:00
ID

155343

Comment

Gee Walt, perhaps you paint with an even broader brush. Just because someone has a more conservative opinion than you when it comes to economic policy does not make them a racist klan member.

Author

bill_jackson

Date

2010-01-22T10:40:12-06:00
ID

155352

Comment

One problem is there's a good number of things to cross-reference. If you're waiting for me to do this all by myself, it'll be a bit. :)

Author

Ironghost

Date

2010-01-22T13:37:49-06:00
ID

155363

Comment

Yo Reximus, how you be, man? Thanks for asking me a question. Nall, Rex I don't paint anymore. Once I got out the cotton field I stopped all manual labor of all natures for as long as I could. So, I ain't painting. I'm merely representin'. You see my buddy Rex, some people do and some people don't. I've learned over the last 20 years or so that the GOP is a dodo organization. I ain't hatin' on y'all, though. If a ant need an ant bed. A mole a molehill. Then a vile racist no matter the color or sex needs a home too. We don't house those anymore over here at the Democratic republic. We kicked Zell Miller and Trent Lott both out while they lived and we posthumously kicked out Jeff Davis, Robert Lee, Jim Eastland, Guvner Bibo, et al. I didn't say in the post you referenced that all republicans were racists or white supremacists. I happen to know 2 or 3 aren't. I merely said your political and economic home is the home of those virulent people. You are my brother Rex and I love you. The door will always be open for you to come over to the right side. We don't hate over here. We demonstrate love, charity, faith, and morality toward all mankind. It's alright to be and look different over here on the outside. Cheers. Have a good weekend. We out!

Author

Walt

Date

2010-01-22T17:41:10-06:00
ID

155364

Comment

Let me say also that I finally heard what Ms. Huffington said. It was great commentary and I hope it's true, although I'm not convinced it's all that matters. Let me say also that WMartin also gives great commentary regularly, although I often disagree with him slightly on occasion, and drastically on others. As everyone should knows, I quite open-minded for the truth, and I realize I'm just a mere vessel with an opinion. I'm well aware that I'm pimping, though. Smile.

Author

Walt

Date

2010-01-22T17:58:14-06:00
ID

155391

Comment

OB, on Jan 20, you wrote: "Republicans are so terrible that a (R) won Teddy Kennedy's seat." Brown is not a Republican. He is a registered Independent.

Author

justjess

Date

2010-01-25T10:03:46-06:00
ID

155425

Comment

Let the record reflect that Iron punked out on providing the promised citations that would back up his absurd claim that the Democratic health care bills would establish "nationalized health care," unless he's hard at work on a thesis-length work. We also have no support for his contention that cap-and-trade is "socialist." This failure lends support to baquan's original claim that Iron is a contrarian who offers little of substance to support his arguments.

Author

Brian C Johnson

Date

2010-01-25T15:14:41-06:00
ID

155434

Comment

Come on now, y'all; we all know that if Iron wanted to answer the question he could without any problems whatsoever. All he has to do is go the GOP website and look up crock answers. Sorry, I meant stock answers. Then he could answer the question in perfect fashion with the GOP agenda. This way Iron could save his brain power for when it's needed to criticize Obama and the Democrats or Demorats as they used to call us when a large part of the dumb constituency believed they were the party of moral values, fiscal responsibility and were against abortions ( that is, until they needed one). Otherwise, Iron could wrongly be labeled a hit and run puncher or a person who throws rock then hides behind a big building to avoid any throwbacks or comebacks. I've known Iron for 5 or 6 years now and Iron is a man of princely grace, immeasurable intellect , an open mind, and he is un-thumpable, contrary to Brian's assertion. (Yeah, that's a word, otherwise, I wouldn't have made it up). Iron is where he is and unmovable because he stands on a solid foundation. Some of us soldiers are with you all the way Iron and are waiting on you to show Todd, Brian and Baquan what you got. The Pittsburg Stealers lost, the Cleveland Cavaliers lost too. Iron, I need to see someone I'm pulling for win for a change, else we supporters are depressed and crestfallen.

Author

Walt

Date

2010-01-25T17:55:30-06:00
ID

155439

Comment

Dear Brian and Walt: I. Have. Been. Busy. I have this thing called "a life". I have other people whose needs come first. I respond to illogical rants on the JFP when I get a freaking chance. Since the Health Care and My definition of Socialism isn't anywhere near the OP, I'm not in a rush to finish it. So either hold on or, well, don't.

Author

Ironghost

Date

2010-01-25T20:29:08-06:00
ID

155440

Comment

Iron, Todd's objections were not "illogical rants." He called you on your bull shit, and you scurried back to your "life."

Author

Brian C Johnson

Date

2010-01-25T22:41:28-06:00
ID

155447

Comment

[quote]Brown is not a Republican. He is a registered Independent. [/quote]Er, no. He was a registered Republican while serving in the state Senate: http://www.mass.gov/legis/member/spb0.htm and all news reports indicate that he is a Republican. He did downplay his Republican affiliation throughout the campaign, appealing to independents and moderate Republicans for support. He seems to be a moderate Republican himself, and I predict he will be labeled a RINO once he has a voting record in Washington and if he is seen as too willing to compromise with Democrats.

Author

Jeff Lucas

Date

2010-01-26T09:55:45-06:00
ID

155450

Comment

I haven't followed that race closely -- Massachusetts is a long way from Mississippi during Best of Jackson season -- but I did hear from people more plugged in that he is a closet tea-party guy. Is that not true? And y'all, don't be so hard on Iron. He likes to make unsupported proclamations and then scurry. He's OK.

Author

DonnaLadd

Date

2010-01-26T10:19:05-06:00
ID

155451

Comment

Thanks Jeff for the link to Brown's Party status. I followed his election very closely and I can tell you that he stood on an Independent platform. He claims to be pro-choice and have many ideas consistent with Independent/Democratic views. At best, I think that Brown has not put on his REAL pants, shirt, coat and tie since posing nude for his centerfold shot. LOL! He seems to be an anyway the will blows type of politician. Time will tell.

Author

justjess

Date

2010-01-26T10:39:22-06:00
ID

155461

Comment

When I heard the second half of this story on Morning Edition this morning, I thought it was ironic how it spoke exactly to why Iron is spouting the unsupported rhetoric that is dominating GOP talking points on health insurance reform. To get to the meat of it, click to about 2:30 when they start talking about Mike Enzi (R) and how he actually tried to get some bi-partisan traction in the Spring; GOP's reaction to this crazy activity by one of it's own..."Uh-uh." Another favorite Republican proposal is the idea of selling insurance policies across state lines. That would let people in one state buy cheaper insurance in another state. But without nationwide insurance regulations and a ban on insurers discriminating against people with pre-existing health conditions, the insurance might not cover as much. The idea also has alarmed state insurance regulators, who would no longer know who would be in charge of regulating what. In fact, the idea has been so controversial, says Dave Kendall, of the centrist Democratic think tank Third Way, that Sen. Mike Enzi, a Republican from Wyoming, failed to get members of his own party to go along with it. It's really pretty simple...the GOP is trying to kill this bill in order to hurt Obama; that might seem obvious, but it's worth nothing that their current ideological claims (socialism, blah, blah) are ridiculous when you consider that the healthcare plan is fundamentally the same stuff that the GOP has touted in the past. Beyond that, the story points out that while the GOP's compromise plan of today is basically a combination of tort reform and nationwide health-care plans, the truth is that these are proposals they couldn't pass THEMSELVES when they controlled Congress. Republicans have long advocated for a bill that would cap so-called noneconomic damages — those for victims' pain and suffering — at $250,000. It passed the Republican-led House eight times between 1995 and 2005. But it never even won a majority in the Republican-controlled Senate, despite several attempts. Now that we're close to getting what the GOP has said it wanted in the past, they run with their hands flailing over their heads, dive behind the skirts of Glenn Beck and act like anything to the left of Ayn Rand is communism. The national GOP is the "party of No," and their calculation is to keep dragging their feet so that anything Obama wants will fail. Actual governance to help actual people..."meh." "We had an opportunity to approach this in a bipartisan way, and Republicans made it very clear they were interested in taking down the president by defeating health care reform," Kendall said. "So I don't think it's a real offer." Remember -- this is the same GOP that gave us Medicare Part D and Medicare Advantage. They sure as hell aren't afraid of high-cost entitlements, and they certainly don't mind when they're also giveaways to industry (in this case, big pharma and insurance companies). But what about real healthcare issues facing PEOPLE (by which I mean actual people...humans... not the "personhood" of corporations) TODAY? Pre-existing condition? Medical bankruptcy? Spiraling premiums? Sorry folks...in the party of No, even past GOP legislative initiatives are now "socialism."

Author

Todd Stauffer

Date

2010-01-26T12:14:46-06:00
ID

155462

Comment

So sad that intelligent folks like Iron get duped so easily because they just listen to the talking points without doing the homework. Obama was elected by a majority of the American people in large part to reform health care (among other things). Republicans want to beat him so badly that they are lying to the American people and getting the naive to pass around their "socialism" lies in order to kill a centrist health-care plan very similar to one they proposed--all because the insurance companies tell them to do it on their behalf. It's so tragic, and the American people pay for the stupid politics. I'd call that crap in an *ugly* box.

Author

DonnaLadd

Date

2010-01-26T12:18:57-06:00
ID

155463

Comment

All that said, many on the left deserve to be kicked in the shins, too. I think of all the people I've heard say, "What has Obama done for me lately" because he didn't sweep into office and try to pass dramatic gay-rights or women's rights or other legislation. He doesn't give them what they want immediately, so they yell and scream against him. Meantime, everyone will up screwed on health care. Sometimes you do think this partisan nation gets what it deserves. Sigh.

Author

DonnaLadd

Date

2010-01-26T12:25:01-06:00
ID

155472

Comment

What Todd and Donna said. The Republicans express concern bordering on hysteria about entitlements and budget deficits. The main driver of budget deficits is Medicare, not because Medicare is poorly administered but because all health care costs are growing at an unsustainable rate. The private-sector projections are apocalyptic. But Republicans did everything they could to demonize reform that could have contained costs, namely the public option and cost-controls in Medicare. Now, Republicans are celebrating their political victory over Obama, but they're like mutineers on a sinking ship. If we don't contain health care costs, the economy is doomed.

Author

Brian C Johnson

Date

2010-01-26T13:45:47-06:00
ID

155476

Comment

Now, Republicans are celebrating their political victory over Obama, but they're like mutineers on a sinking ship. If we don't contain health care costs, the economy is doomed. And guess whose fault that will be: the politicians who don't have the balls or the morals to stand up to corporate vultures. Once again. Iron, your people can "win" this battle by lying and lying over and over again, and throwing around uneducated garbage about "socialism," but winning this battle is going to lose the war for us all. So go ahead on.

Author

DonnaLadd

Date

2010-01-26T13:57:43-06:00
ID

155493

Comment

It appears that partly in response to the MA election, discontent and dissatisfaction by the liberal base, and the general anti-Washington sentiment across the country, the President is trying not to lose any more ground by countering with a more populist message. Last week he borrowed a page from Teddy R. by vowing to break down the monopolies of the giant-monster-mega-banks, now he's announced his intention to place a 3-yr freeze on non-security discretionary spending. Both sound like excellent ideas to me. And it would be hard in this economic climate for Republicans to counter such moves at the risk of offending middle and working class folks who are angry at the abuses of both Wall Street and Washington.

Author

Jeff Lucas

Date

2010-01-26T15:39:09-06:00
ID

155509

Comment

Iron, I always knew you were light in the ___! The head too, apparently. Might a suggestion to get a life be appropriate at this time. All my lying about you were for naught. We will soon see if Obama's win was a good or even divine victory for America or mankind, or was a temporary feat of good overcoming evil for the masses of the people, or a mere wake-up call or blow against any pretense of inclusion or having finally overcome race, or a clarion call or example of what America still largely is - a fearful and white supremacist country led by a few virulent racists who will say what the masses want to hear and secretly still believe. Or was Obama's win what the Birthers, Tea-baggers and like kinds are saying it is. If we know the latter isn't even remotely true, then why the frantic or frenetic, hysterical or apocalyptic view prevails? If we don't think, Limbaugh, Beck, Hannity, Coulter and the likes know something about the masses of people then I think we're fooling ourselves and engaging in fantasy about who we largely still are. These people should be laughed at and ridiculed out of business. Yet they are stars with a growing population of supporters and fans. This is why I don't take quickly to organizations and persons claiming to be progressive, Christian or the New South or New Americans. This brother requires proof beyond a job, hand shape, smile, compliment, or joint attendance at meeting, et al. Perhaps the next three years will be the undeniable test of what the republican party really is or has become, in case any credible doubt remains in the minds of any sensible beings. I'm all for the truth coming to the light, and I pray that a day will soon come when neither the before mentioned persons nor the GOP will be able to lie about their real aims and goals, because the evidence will be so overwhelming that not even Iron and Bubba can't find the bull schick to aver otherwise.

Author

Walt

Date

2010-01-26T18:52:02-06:00
ID

155547

Comment

FedUpBlackNews Watch is reporting that Barry Steve Obama is planning to tell the republicans where to go tonite. I gotta run home to watch this.

Author

Walt

Date

2010-01-27T17:48:39-06:00
ID

155548

Comment

I really wish I could watch too. Although from the way his press secretary sounded this morning talking about capital gains tax cuts and tax incentives for small businesses I thought he was switching parties. LOL

Author

WMartin

Date

2010-01-27T17:52:24-06:00
ID

155550

Comment

I understand why he's tried to bring people together. But with the nastiness and lies emanating from the Republican side of the aisle on health care -- and on plans very similar to what *they* proposed against Clinton, I think he should take the gloves off, and hit 'em below the populist belt. He was elected because this country wants a change from the corporate-owned rascals. He needs to bring us change. Of course, they're going to get upset about it, lie, kick, scream, spread rumors. That's what people do when others start telling the truth and challenging them. Bring it, President.

Author

DonnaLadd

Date

2010-01-27T18:06:33-06:00
More like this story
More stories by this author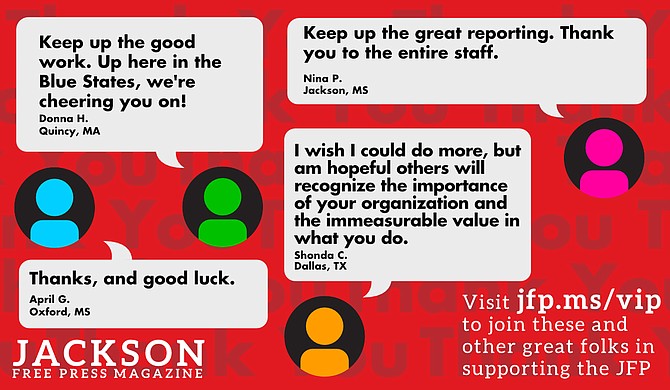 Thanks to all our new JFP VIPs!
COVID-19 has closed down the main sources of the JFP's revenue -- concerts, festivals, fundraisers, restaurants and bars. If everyone reading this article gives $5 or more, we should be able to continue publishing through the crisis. Please pay what you can to keep us reporting and publishing.