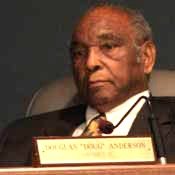 Hinds County Supervisors approved using federal stimulus bonds for two private development projects today. Supervisors approved a motion to provide $2 million in Recovery Zone Facility Bonds to the Jackson-based LEAD Group, LLC, which is constructing a Sleep Inn on Gallatin Street in downtown Jackson. The board also voted to provide $1.76 million from the same bond fund as an incentive to develop the Mississippi Valley Title building.
No developer has committed to buying the building, however, and the county is running out of time to allocate its Recovery Zone Bonds. Gov. Haley Barbour informed supervisors roughly three weeks ago that they had until April 1 to allocate the bonds, or would risk losing them to the Mississippi Development Authority.
Only one project, the Sleep Inn, was on the meeting agenda. Supervisor Doug Anderson raised the possibility of using bonds for the Mississippi Valley Title building, whose purchase several years ago he supported as part of a failed plan to build a $14 million parking garage in downtown Jackson. Anderson suggested that the county devote $2.5 million to the Mississippi Valley Title building and only $1.2 million to the Sleep Inn.
"I think that this is an opportunity for us to rid ourselves of a white elephant: the Mississippi Valley Title Building," Anderson said. "We're not every going to get rid of that building unless we do this."
Blake Wallace, director of the Hinds County Economic Development District, told supervisors that the promise of bonds would likely not make the project more attractive to developers, however.
"I've been involved with the (Mississippi Valley Title Building) for a long time, and I've been told that the reason a developer will not do that project is because they first have to buy the building and then they have to put another $2.5 million to $3 million in it," Wallace said. "I don't see that dynamic changing just because you put $2.5 million in bonds on the table. They're still in the same situation. That funding source is there, but they still have to pay them back."
After approving Graham's request for $2 million for the Sleep Inn, the board voted 3-2 in favor of providing $1.76 millon in bonds for the Valley Title building's development. The incentive is contingent on finding a buyer within 45 days. Graham and Supervisor Phil Fisher voted against the measure.
Supervisors also voted unanimously to activate 19 emergency personnel radios purchased by the city of Clinton in December. The radios had become a contentious issue earlier this year, when Fisher--a resident and former Alderman of Clinton--accused the board of jeopardizing public safety by delaying the radios' activation. Emergency Operations Director Jimmie Lewis had opposed the activation because of concerns that Clinton had purchased the radios improperly.
More stories by this author
Support our reporting -- Follow the MFP.