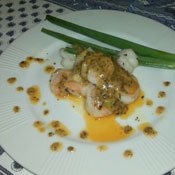 The Super Bowl. It is the High Holy Day for football fans across the world. It causes a statistically significant increase in the consumption of chicken wings and avocados that can be tracked and quantified. It turns casual fans into jersey-wearing fanatics. Even the commercials are special.
I've been to three of these spectacles in person and since I have known what was going on I've watched all the others on TV. Even in 2001, when I was out of the country and had to see the whole thing broadcast in Spanish while sitting in a hotel lobby, I was watching.
But nothing, not even the '72 Dolphins perfect season compares to this year. The 44th Super Bowl is what I have been waiting for all my life. Just watching the boys in black-and-gold make it this far is beyond my wildest dreams. The Saints in the Super Bowl is pure redemption for all of those bad years, all of those tearful seasons watching Archie try his best to carry New Orleans out of mediocrity.
Forget guacamole and salsa! This Super Bowl calls for party food New Orleans style! A big pot of gumbo, shrimp, Cajun sausage, fried crawfish balls, bourbon bread pudding and even a Creole cheese dip.
To get your beer as cold as you can, fill a large tub or ice chest with Turbo Dog or whatever Louisiana beer you can find. Cover with ice and top with 1 cup of rock salt. Add cool water until the level of water is halfway up the sides of the bottles. The beer will get so cold it will hurt your teeth.
Make all the food ahead of time because you don't want to miss a single tick of the game clock or an opportunity to shout "Who Dat" at the top of your lungs.
Laissez les bon temps roulez!
Deconstructed Shrimp Boil
(Serves 10-12)
2 pounds peeled and deveined large shrimp (raw, tails on)
4 tablespoons olive oil, divided
2 pounds andouille sausage
2 large red onions
12 small red potatoes
1/2 cup canned chopped tomatoes
1 red bell pepper, cut into 1/3-inch-wide strips
6 cloves garlic
1 yellow bell pepper
1 green bell pepper
1 tablespoon fresh thyme
1 tablespoon fresh rosemary
1 bunch green onions
2 cups chicken stock
10 tablespoons Creole mustard (such as Zatarain's)
3 teaspoons balsamic vinegar
2 tablespoons Cajun seasoning
1 bottle liquid crab boil
Slice onion and bell peppers into thin strips. Finely chop green onions, garlic, thyme and rosemary. Slice andouille into 1-inch rounds. In a large mixing bowl, liberally season shrimp with Creole seasoning until coated on all sides. Drain tomatoes.
Boil potatoes in a large stockpot with crab boil, according to the direction on the bottle. Set cooked potatoes aside, covered, in a large mixing bowl.
Heat a large iron skillet over high heat and add two tablespoons olive oil. Add sausage pieces and cook until browned. Transfer to a large mixing bowl. Add shrimp to skillet and cook for about three to five minutes making sure not to overcook. Put in bowl with sausage.
Add to the skillet remaining olive oil, garlic, onion, bell peppers and thyme. Cook until onions are translucent. Add tomatoes, broth, mustard and vinegar. Stir until liquids are reduced by half and consistency is thick enough to coat the back of a spoon. Return sausage and shrimp to skillet and add potatoes. Simmer until evenly heated (about three minutes).
Place in a large bowl and garnish with chopped green onions.
Raisin Bourbon Bread Pudding
(Serves 12)
For the Pudding
1 loaf crusty French bread
1 loaf ciabatta bread
1 quart whole milk
1 6 ounce bag white raisins
1/2 cup good Bourbon
3 sticks unsalted butter
1 cup brown sugar
1 cup granulated sugar
1/4 cup confectioner's sugar
1 cup chopped pecans
2 tablespoons vanilla extract
1 tablespoon cinnamon
1/2 teaspoon ground nutmeg
6 large eggs
1/4 teaspoon salt
For the Sauce
1 cup Bourbon
1 cup brown sugar
1 stick butter
Pre-heat oven to 375 degrees. Break the bread into 1" cubes and place in a large mixing bowl. Melt two sticks of butter in a large glass bowl. To the melted butter add: brown sugar, granulated sugar, cinnamon, nutmeg, salt and Bourbon. Mix thoroughly until sugar is dissolved. Add sugar mixture and eggs to the bread and blend with your hands until evenly distributed. Add enough milk to moisten all of the bread and mix thoroughly with your hands. Add raisins and pecans and mix again until the fruit and nuts are evenly distributed. Add more milk until all of the bread is wet but no milk is standing in the bowl. This last part is tricky, but trust your instincts and practice. Too much milk is less of a disaster than too much, so err or the heavy side.
Spoon the mixture into a greased roasting pan or high-sided baking dish and spread evenly around the pan. Cut the butter into ten or twelve pats and place evenly on the top of the mixture. Sprinkle the mixture with half of the confectioner's sugar. Bake in 375 degree oven for 45 minutes. Remove and allow to cool for at least 15 minutes.
Cook the sauce. In a small saucepan, heat Bourbon until barely simmering. Add sugar and cook until completely dissolved. Add butter and cook until all is incorporated.
To serve, cut the pudding into squares and place in a shallow bowl. Top with Bourbon Sauce and sprinkle with powdered sugar.
Chicken and Sausage Gumbo
(Serves 10-12)
Gumbo (better if done a day ahead of time)
1 whole roasted chicken
2 pounds Andouille sausage
2 large yellow onions
12 cloves garlic
1 bunch celery
2 green bell peppers
1 bunch parsley
2 bunch green onions
1 6 ounce bag frozen chopped okra
1 tablespoon oregano
1 tablespoon thyme
1 teaspoon cayenne pepper
1 teaspoon gumbo file
4 whole bay leaves
3 quarts chicken stock
1 cup all purpose flour
1 cup peanut oil
Creole hot sauce to taste
Creole seasoning (filé) to taste
Rice
2 cups basmati rice
4 cups water
1 tablespoon butter
1/2 teaspoon salt
Remove all meat from chicken and chop roughly. Cut sausage into half-inch slices. Chop onions, garlic, celery and bell peppers. Finely chop parsley and green onions.
Make a dark roux by combining flour and oil in a large, hot stockpot. Stir constantly until the roux is chocolate brown. (Do not allow your roux to burn. If it does, throw it out and start over.) Once the roux is sufficiently dark, add chopped onions, celery, garlic, bell peppers and half of the green onions. Cook until they begin to sweat and are fully coated with the roux. Add oregano, thyme, chicken and sausage, and cook for an additional couple of minutes, making sure that the roux and herbs coat everything. Add bay leaves and chicken stock and bring to a light boil. Reduce heat and simmer for at least one hour. Fifteen minutes before serving, add okra and Creole hot sauce and seasoning. Taste and season accordingly.
In a separate large saucepan, combine the salt, butter, rice and water. Bring to a boil. Stir once, cover and reduce heat to simmer. Cook for 18 minutes and remove from heat. Allow to rest, covered, for four additional minutes. Remove cover and fluff with a fork.
Ladle the gumbo into a shallow bowl and top with a small spoonful of rice. Garnish with chopped parsley and remaining green onions.
Boulettes
(Serves 10-12)
2 pounds crawfish tails (with fat)
1 yellow onion
1 green bell pepper
4 cloves garlic
1 egg
1 stalk celery
2 Yukon Gold potatoes
1/2 teaspoon cayenne pepper
1 teaspoon salt
1/2 teaspoon black pepper
2 cups breadcrumbs
1 bunch parsley
1 bunch green onions
Peanut oil for frying
Finely chop or grind crawfish tails and fat together. Mince onions, bell pepper garlic and celery separately in a food processor. Cut potatoes into 1-inch cubes. Beat the egg. Finely chop green onions and parsley and set aside for garnish.
Boil and mash potatoes. Add all ingredients (except for bread crumbs, green onions and parsley) to the mashed potatoes and mix thoroughly. Taste for seasoning and adjust accordingly.
Roll the mixture into balls and coat with breadcrumbs. This can be done by spreading the breadcrumbs on a sheet pan and rolling the balls in the breadcrumbs.
Heat oil to 350 degrees and cook breaded balls until golden brown. This is best done in a deep fryer, but works fine in a large iron skillet if you keep an eye on the temperature and don't allow the balls to cook unevenly.
Serve on large platter, garnished with parsley and green onions.
Creole Cheese Dip
(Serves 12)
1 pound yellow Velveeta cheese
1 pound white Velveeta cheese
1 8 oz. block cream cheese
1 pound breakfast patty sausage
1 can Rotel tomatoes
1 jalepeno pepper
1 red onion
1 bunch green onions
1 tablespoon garlic powder
1 teaspoon Creole seasoning
1 cup beef stock
2 tablespoons fresh oregano
1 tablespoon olive oil
Cut cheese into 2" cubes. Finely chop jalapeno pepper, red onion, green onion and oregano.
In a large saucepan, heat olive oil and sauté red onions and jalapeno pepper until translucent. Add sausage, oregano, creole seasoning and garlic powder and cook until well browned. Reduce heat and add 1/4 cup of beef stock and all cheese. Melt until smooth, stirring constantly. Add tomatoes and remaining beef stock, stirring until all is incorporated and the texture is velvety.
Serve in a large bowl, topped with green onions. Serve with black corn chips if you can find them. It makes a nice black and gold dip.
More stories by this author
Support our reporting -- Become a JFP VIP.
The news business has changed dramatically in the past year, and we need your help more than ever to keep bringing you important stories about Jackson and the Metro. Become a JFP VIP with an annual membership or you can Sign up as a monthly supporter. Thanks for anything you can do to empower our journalism!