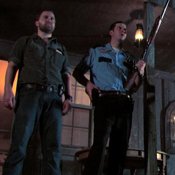 Watching "Night of the Loup Garou" is like crowding into your friend's basement to screen a film you shot on the weekends and your evenings off. It's a labor of fan-boy love, a genuine outpouring of heartfelt sentiment and glowing nostalgia that could only come from children of the 1970s and '80s: children who were raised on "Halloween," weaned on "Nightmare on Elm Street," and brought up with "Gremlins" and "Aliens."
"Night of the Loup Garou" is the twisted progeny of Oxford filmmaker Micah Ginn and his friend and colleague Matthew Nothelfer. After working in the California film industry for six years, Ginn returned to Mississippi and is now a producer/director for the Department of Media and Documentary Productions at Ole Miss. In spring 2008, after wanting to make a feature film for almost a decade, the co-writers/directors finally embarked on the hectic and grueling shoot.
Interviewed by phone from Oxford, Ginn reflected on the beginnings of the 10-month production: "We both said that the horror genre was what we wanted to work in because it gave us a built-in excuse to limit our sets and lighting design and put it into an arena we could handle on a very low budget. It gave us an opportunity to pay tribute to the types of films we like and that we knew we could pull off with limited means."
Chronicling the efforts of American scientists and a half-mad Russian hunter who corral a Cajun werewolf run amok in Taylor, Miss., "Night of the Loup Garou" is blessed with a self-aware sense of humor and a bevy of amiable—if amateurish—performances. Though the script serves up a veritable smorgasbord for the enraged lycanthrope, it is not mean-spirited or misanthropic, and it effectively channels the good-natured fun of its cinematic pedigree.
"You can occasionally jump or get spooked, but at the same time, there's a laugh coming around the corner, so you're never totally terrified like I was when I saw 'The Exorcist' as a kid," Ginn says. "There's no quarter for the scared in that thing. Even the Freddie Krueger movies always had one-liners and elements that were sort of a wink at B-movies, camp movies."
Shot and processed to "make it feel like a lost '70s movie that no one knew was out there," as Ginn says, the picture understands its roots well, and the cinematography is filled with clever references to what he calls the "heavy hitters of the genre."
"That was more Matthew," Ginn freely acknowledged. "He has a much better cinematic vocabulary. He shot the entire film. The bulk of the shooting, framing and composing of shots was on Matthew."
Still, Ginn's own performance as an ornery sheriff's deputy—delivered as a subtle nod to Bill Paxton's turn in "Aliens"—is sure to please any horror aficionado. After working in Paxton's production company, American Entertainment, Ginn developed a good impression of his boss.
"I never did my impression for him," Ginn says. "I was always a little timid, but they say that imitation is the sincerest form of flattery, and for me that's true. I think Bill Paxton is not only a great actor but a great guy. He gave me a whole lot of breaks early on. This is my tribute to a guy who, whether he realizes it or not, was a great source of inspiration and hope for me."
Jackson native Laura Cavett, whom Ginn calls "the backbone of the production," designed the Loup Garou costume and produced the gore effects. The werewolf suit was constructed from multiple pieces and could take up to 45 minutes to assemble. "We hardly ever wore the whole thing since the stilts were incredibly painful to wear, especially for guys who had never worn high heels before," Ginn says.
Though the effects don't often transcend the restraints of the limited budget, the work exudes a homespun talent that further highlights those moments of sanguinary brilliance. Ginn admits that parts of the film can be gruesome, but he hopes that audiences will appreciate the spirit in which it's all intended.
"When I was a kid, and we would make movies in our backyard, we had people getting blown up with hand grenades and sticking knives in peoples' eyes and putting ketchup all over our shirts. It was very silly gore, although the implied violence is gruesome to consider. Still, it made people laugh more than cringe, and in this film most of the gore is pretty laughable. It's not so real that you cringe," he says.
You can catch "Night of the Loup Garou" during the Oxford Film Festival Friday, Feb. 5. The film screens at the Malco 3 at 9:15 p.m. Be sure to stay in your seats as the credits roll for a hint of where the Cajun Wolfman might strike next. "We're working very hard to come up with the financing to do a sequel," Ginn says. "The second would have a little more action. Not that the first was devoid of action, but, I would like to have more explosions this time around." Will Morgan writes from Madison. You can read his film reviews here.For festival info, visit http://www.oxfordfilmfest.com.
More stories by this author
Support our reporting -- Follow the MFP.