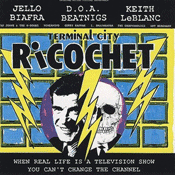 If you choose to stay in on All Hallow's Eve, here are some suggestions for frightful listening, creepy reading and horrific viewing.
Thump in the Night
I, Braineater "Modern Man"
Anthrax "Among the Living"
The Birthday Party "Release the Bats "
The Cramps "Surfin' Dead"
The Damned "Nasty"
Danzig "Long Way Back From Hell"
The Mumlers "Coffin Factory "
White Zombie "I'm Your Boogie Man (Sex On the Rocks Mix)"
Rob Zombie, Trina and Lionel Richie "Brick House"
Roky Erickson "If You Have Ghosts"
Ryan Adams & The Cardinals "Magick"
Richard Thompson "Psycho Street"
John Murphy "In the House, In a Heartbeat"
Teenage Head "Flamin' Groovies"
The Dickies "Booby Trap"
Psychedelic Furs "The Ghost in You"
Fishbone "Bonin' In The Boneyard"
It Came From the Bookshelf
"The Walking Dead" (Image Comics, reprinted 2010, $34.99) has spent the last six years building a following based on solid storytelling, moody black and white artwork and respect for the guy who laid the groundwork: George Romero.
"The Invisible Man" (The British Library, reprinted 2010, $23.99) by H. G. Wells. A classic piece of literature from 1897. Witness an intelligent and clever, but otherwise harmless individual rapidly lose not only his visibility but his identity and sanity as well.
"At the Mountains of Madness" (Del Ray, 1991, $5.99) by H.P. Lovecraft. Another classic (1936), this book is a good place to get your feet wet in the macabre world of Lovecraft's Cthullhu mythos.
"The Rising" (Leisure Books, 2004, $7.99) by Brian Keene. Brian Keene gives his zombies speech, intent and an unholy goal. The start of Keene's zombie trilogy begins with a bang, never whimpers and will leave you rushing for the next two books, "City of the Dead" and "Dead Sea."
"Bachman Books" (Plume, 1996, $15.98) Before Stephen King became Stephen King, and before his novels became formulaic and predictable, King wrote these four excellent and varied short stories under the name Richard Bachman.
"Criminal Macabre: The Complete Cal MacDonald Stories" (Dark Horse, 2007, $12.95) by Steve Niles. Niles' Cal MacDonald stories don't disappoint. This hard-nosed, hard-living detective takes cases involving vampires, werewolves, zombies and more.
"I Am Legend" (Tor Books, 2007, $14.95) by Richard Matheson. This influential story brought the vampire concept into the modern era along with realizing the viral infection implications of vampirism in a scientific context.
"Pontypool Changes Everything" (ECW Press, 2009, $19.95) by Tony Burgess. Burgess imagines a virus caught via language and the small town of Pontypool, Ontario, experiences a horrific meltdown. Play "Communication Breakdown" by Led Zeppelin over and over while reading.
"Hellblazer: Original Sins" (Vertigo, 1997, $19.99) by Jamie Delano. John Constantine is a magician, a con man, and likely to get you killed. Demons, voodoo priests and chicanery result in a hells-a-popping look at what happens when your appetites get the best of you.
Eye Candy
"Behind the Mask: The Rise of Leslie Vernon" (2007) A logical updating of the Freddy/Jason/Michael school of horror, this film mixes humor, an alternate look at the slasher film antagonist and a splattering of social commentary.
"The Descent" (2006) Friends, caves, claustrophobia and monsters. This film would have been just as scary without the creatures, but they do add to the sense of dread.
"The Last Man On Earth" (2007) This film is perhaps the closest take on "I Am Legend" made and a direct inspiration for "Night of the Living Dead."
"Mr. Frost" (1990) Jeff Goldblum as the devil? Trust me, it works in this low-key British flick.
"The Orphanage" (2008) Guillermo Del Toro doesn't just make a horror film, he creates lyrical, visually arresting fairy tales of macabre beauty.
"Near Dark" (2002) "Near Dark" is as down and dirty as vampire movies get. This is the antithesis of "Twilight," although "True Blood" fans might find it of some interest.
"Dog Soldiers" (2007) Every once in a while someone makes a good werewolf movie. No shirtless male models, no transformations at will, "Dog Soldiers" is all feral snarling savagery.
"In The Mouth Of Madness" (2000) John Carpenter channels H.P. Lovecraft for a reality warping roller coaster ride involving a missing horror novelist, a town that doesn't exist and a new reality.
"Videodrome" (1998) Director David Cronenberg makes idiosyncratic horror films that deal with whatever he is obsessing over, and in Videodrome it was the advent of cable TV and the role it plays in our society.
TV Rots the Brain
"The Walking Dead" debuts on AMC Sunday Oct. 31 at 10 pm. Feast your eyes on television's first serious attempt to transfer zombies to the small screen. AMC's reputation for quality series (Mad Men, Breaking Bad) bodes well for this adaptation of Robert Kirkman's comic, directed by Frank Darabont and starring Andrew Lincoln.
Previous Comments
ID

160638

Comment

I like the list a lot! I haven't seen "The Walking Dead" yet but I'm sure I'll catch a rerun.

Author

KendallVarnell

Date

2010-11-01T12:33:26-06:00
More like this story
More stories by this author
Support our reporting -- Become a JFP VIP.
The news business has changed dramatically in the past year, and we need your help more than ever to keep bringing you important stories about Jackson and the Metro. Become a JFP VIP with an annual membership or you can Sign up as a monthly supporter. Thanks for anything you can do to empower our journalism!