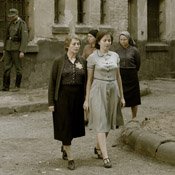 In March 1944, Hannah Senesh, a young Jew from Budapest who had immigrated to Palestine five years earlier, parachuted into Yugoslavia in an effort to make contact with Hungarian Jews, establish resistance movements and carve out routes of escape from eastern Europe. Senesh was single-minded in her purpose, driven by her desperate need to find her mother and spirit her away before the Final Solution would ultimately descend upon the last bastion of Hungarian Jewry.
"Blessed is the Match: The Life and Death of Hannah Senesh" is a taut and harrowing documentary by director Roberta Grossman that catapults us headlong to its inevitably fateful end without blinking-never pulling away from its story of blind, unreasoning hatred and love unbound by caution and nonplused by fear.
Through the use of an excellent collection of family photographs and stock footage (and the somewhat less successful inclusion of dramatic re-enactments), the film brings Senesh's poems, journals and letters to life-unfolding a tale of family and youth crashed and spent on the rocks of war and bureaucracy; of tragic timing, unbelievable coincidence and bittersweet partings.
After months of training for the rescue operation, Nazis captured Senesh only hours after she crossed the Hungarian border. Broken and tortured, she was finally imprisoned with her mother in a Gestapo gulag. Though they were kept in separate cells, Senesh's mother would stand at a dirty window all day just to catch a glimpse of her daughter. Senesh buoyed her fellow prisoners with defiant hope and selfless courage, but was cruelly executed before Soviet troops could liberate the prison.
Senesh's tragic story is at once darkly familiar and hauntingly unique, bringing to light events from the war mostly unknown to western (and certainly Gentile) audiences. Hannah's life and her memory are crowded with contradictions, each disparate but equally true. She was aloof and distant, and yet caring, passionate and fueled by unflagging idealism. She was youthful, impetuous, perhaps even foolhardy; and yet her devotion to her people and her family gave her undeniably great courage, a wisdom beyond her years, and a strength of character worthy of emulation.
Hannah Senesh is the titular match of the film's title: a seemingly small and insignificant sacrifice ignited by the fires of love and patriotism, but ultimately consumed by the conflagration of a worldwide war. Her existence on this earth was snuffed out early, but her indefatigable spirit has marched on, giving hope to millions for decades. Senesh burned brightly in the darkness, bringing encouragement and a sense of noble dignity to those who fought beside her, those who suffered with her in the gloomy prison halls, and those who looked to her for inspiration throughout all the bleak and dirty days of Israel's fight for survival.
A fitting end to this year Jewish Film Festival, "Blessed is the Match" is a masterful and engrossing story of courage in the face of wickedness, hope amid the darkest despair; a film that provides thoughtful meditation on the past while engendering a sense of pride and purpose for the future.
Will Morgan writes in Madison. You can read his film reviews at http://www.parents-kids.com/media_matters.
Jewish Film Festival Info
by Lacey McLaughlin
The Ninth Annual Jewish Cinema South Film Festival is in collaboration with Millsaps College's Jewish Culture Organization and Jewish Cinema South, a program of the Goldring/Woldenberg Institute of Southern Jewish Life in Jackson.
Tickets are $10 per screening ($5 for students with ID). A festival pass for all four films is $25. Admission is free for "Impossible Spy." To order tickets or for more information, visit http://www.isjl.org or call 601-956-6215.
• "Impossible Spy" Jan. 20, 7:30 p.m. at The Auditorium (622 Duling Ave.); free.
Films at Millsaps College Academic Complex Recital Hall (1701 N. State St.)
• "Pinchas," Jan. 21, 7:30 p.m. followed by "Unsettled"
• "Hey Hey It's Esther Blueburger" Jan. 23, 7:30 p.m.
• "Blessed Is the Match: The Life and Death of Hannah Senesh," Jan. 24, 2 p.m.
More stories by this author
Support our reporting -- Follow the MFP.