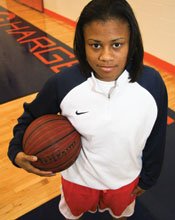 At first glance, Alisa Ross appears to be a shy 17-year-old senior at Callaway High School. Standing 5-foot-6-inches tall, Ross, like other high school students, enjoys spending time with friends and family, going to church and shopping at the mall. But catch her on the basketball court, and she lights up with a fire in her eyes and a million-dollar smile after making a shot.
Ross is a self-proclaimed "gym rat" who spends every chance she gets working on her game, and it has paid off. She is one of the top female basketball players in the state of Mississippi. Ross has been honored in several Mississippi publications and websites as one of the top basketball prospects in the state. At the beginning of the year, a committee of coaches selected Ross to play in the 2010 Mississippi Association of Coaches All-Star basketball game.
The Jackson native has some pretty lofty goals as she finishes up her high-school career. "I would like to make the players around me better, win the 5A state championship, ... and be named Ms. Basketball," Ross says.
She is an excellent passer, nearly doubling her assists from her junior year. Although her scoring is down this season so far, Ross still puts up a number of points on the scoreboard. She averages 15 points per game with three assists, 3.7 rebounds and two steals.
Even though she spends much of her time playing basketball, Ross does not let her studies slide. She has a 3.0 GPA and has qualified with the NCAA Clearing House with her ACT score of 16--making her eligible to play for NCAA division I or II sports in college.
Ross plans to retake the ACT because she wants an even better score.
As her days at Callaway begin to dwindle, Ross is looking forward to the April signing period for college basketball. She has seen interest from the University of Southern Mississippi, the U.S. Naval Academy, the U.S. Air Force Academy, Jackson State University and several others.
"Staying close to home would be nice," she says. "My parents have been great support to me, and I like the idea of knowing they can come watch me play on a regular basis and not need to take a flight to see me play."
The teen credits her father, Anson Ross, for her love of basketball.
"He was the one who got me started playing and coached me to be a better player," she says.
Ross is looking forward to playing at Jackson Public Schools Pepsi Tournament Dec. 28 through 30, and the Martin Luther King Lady Hoop Festival in Vicksburg featuring top Mississippi and out-of-state teams Jan. 15, 2011.
More stories by this author
Support our reporting -- Follow the MFP.