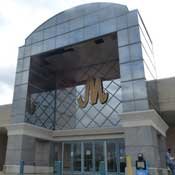 Developer David Watkins says that his plans to renovate parts of Metrocenter Mall are unaffected by a last-minute rescue from foreclosure and the collapse of a proposed deal with Jackson Public Schools.
Texas-based Jackson Metrocenter Mall Ltd., which owns portions of the mall excluding several anchor stores, avoided foreclosure this week by bringing its mortgage payments up to date. The company had until Wednesdsay to make the overdue payments. Watkins told the Jackson Free Press today that keeping the mall in the same hands for the moment actually benefits his company, Watkins Development.
"This (threat of foreclosure) took us by surprise," Watkins said. "I wasn't quite ready to take on another large financial obligation for buying the core, and I'm glad that they brought it current."
Watkins Development Vice President Jason Goree told the Jackson Free Press earlier this month that the "negative connotations" of foreclosure could hurt future development efforts. Watkins Development is in talks with the Texas company, but the two parties have not agreed on a price.
Another mall property, the former Belk department store, could see changes within 60 days. Watkins Development already owns the 250,000-square-foot property and has plans to redevelop the building as an "office plaza," with office space, a new food court and new retail tenants such as a drug store. The $27 million project will start in early 2011 and should finish by "the middle of the year," Watkins said.
"We believe that that will stabilize the mall and then give us a chance to continue the negotiations with the owners," Watkins said.
Watkins had previously shopped a plan to Jackson Public Schools that he argued would save the district money by moving its administrative offices to the mall. JPS Superintendent Lonnie Edwards presented Watkins' offer to the school board in July but never submitted it for a formal vote. In October, Watkins withdrew his offer.
"We couldn't get them to act," Watkins said.
The JPS and Belk renovations were part of Watkins' proposed master plan for redeveloping Metrocenter that could cost $250 million and would bring entertainment-oriented tenants, such as a 15-screen movie theater, to the space, he said.
Metrocenter also figures in a city-sponsored economic-development strategy for the Highway 80 corridor that the city will unveil no later than mid January.
The product of a year-long planning process, the strategy will offer recommendations for landscaping, land use and transportation, as well as business development along Highway 80.
Jackson Mayor Harvey Johnson Jr. touted the development plan as part of a brighter future for the mall at a press conference yesterday. The mayor also urged Jackson residents to patronize the mall during the holiday shopping season.
Shopping at Metrocenter "sends a signal that we have buying power right here in Jackson, Mississippi," Johnson said.
More stories by this author
Support our reporting -- Follow the MFP.