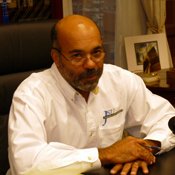 Carolyn Meyers doesn't look much like her predecessor at Jackson State University, Ronald Mason, on paper or in person. The tall, arguably aloof Mason was not a researcher by training, having received his bachelor's and law degrees from Columbia University. A former administrator at Tulane University in New Orleans, Mason fended off public outcry over several issues.
Meyers, by contrast, is compact and cordial. She will inherit Mason's messes all the same, though; chief among them a controversial proposal to merge Mississippi's two other historically black state universities, Mississippi Valley State and Alcorn State, into JSU—and renaming the combined institution Jacobs State University, after former slave and JSU founder H.P. Jacobs.
Mason shopped the proposal around to black legislators in January, but when a copy of the plan leaked, public opposition quickly doomed the idea. Mason's proposition followed a call from Gov. Haley Barbour to consolidate the state's three HBCUs as a cost-cutting measure.
Both schemes were effectively dead on arrival in the state Legislature, however, where House Universities and Colleges Committee Chairman Kelvin Buck, D-Holly Springs, vowed that no merger bill would clear his committee. Barbour reiterated his call for consolidation this November in his budget recommendation for the upcoming fiscal year.
Meyers largely steered clear of the merger idea in her remarks to faculty, administrators and students during a Dec. 1 visit to the JSU campus.
"I am focusing on the Jackson State University that we have today and how we can move that entity ahead," Meyers said. "But I certainly would encourage all the stakeholders involved, if and when that time comes, to be involved in (determining) what's the best course for the universities involved."
While the threat of merger may no longer be imminent, Jackson State also faces a daunting budget situation in the next few years. Barbour has proposed a 3-percent cut in state funding for universities for next school year. In the following school year, 2012-2013, state funding for the Ayers settlement, which has supported JSU's schools of engineering and public health, and its urban and regional planning program, will drop by one-third.
Meyers said that she hopes to redouble JSU's fundraising appeals to alumni, as well as tap other sources.
"I want to impart to them, a sense of urgency—that these are really the times (and) that we really need their help and their support," Meyers said at a press conference following her Dec.1 confirmation.
Even as she contends with a shrinking budget, Meyers must also manage the university's increasingly visible role in Jackson's economic development. Mason infuriated a number of residents near the JSU campus in 2008 with an effort to use "quick-take" eminent-domain proceedings for a development at Dalton and Lynch streets. After failing to secure the assent of area homeowners to sell their land, Mason and the Jackson Redevelopment Authority pushed for special legislation authorizing an accelerated version of eminent domain.
The bill failed after community activists swamped the offices of several Jackson legislators, and Mason eventually apologized for the affair.
The university still has plans to develop the 50-acre residential project, though hiccups in financing have delayed it. This fall, JSU's Center for University-Based Development opened One University Place, the largest private development in west Jackson in 30 years.
More like this story
More stories by this author
Like independent media outlets around the world, the Jackson Free Press works hard to produce important content on a limited budget. We'd love your help! Become a JFP VIP member today and/or donate to our journalism fund. Thanks for considering a JFP VIP membership or one-time support.