I remember the first time I saw Josh Hailey. I was covering the City of Ridgeland Chamber of Commerce banquet for the Madison County Journal in 2009. At this suburban hobnob where conformity is king, Hailey was clad in a colorful ensemble and his hair was in dread-locked pigtails. He was supporting Nicole Marquez as she took shaky steps to the podium to speak. Marquez had recently regained her ability to walk after falling from the roof of her sixth-floor New York City apartment building and came to thank the community for its support.
I mistakenly made a snap judgment and labeled Hailey as just another eccentric hipster. But when I watched the way he interacted with people in the room, my impression quickly changed. Despite the fact that a few Ridgeland Chamber members stared wide-eyed, not knowing quite what to make of Jackson's beloved artist, Hailey threw his arms around people's shoulders and greeted everyone with a smile.
Later, when I started getting plugged into Jackson, I realized that Hailey is an integral part of the community--adding a huge dose of fun to everything he touches. But it wasn't until last week when I attended "I Love Mississippi" Jackson Retrospective--Hailey's final exhibit before he departs for Los Angeles--that I really understood the scope of his impact on the Jackson arts scene.
The show included an exhaustive amount of artwork--many works in collaboration with other local artists--local bands, improv performances, costumes, a hot-dog cook off, T-shirt-making stations, and other bells and whistles. But the show exemplified Jackson's arts community and its fullest, most beautiful potential.
As I looked at the Jackson skyline from the Arts Center of Mississippi's balcony, I felt inspired and exhilarated. Even though Hailey's dream of setting a large statue on fire outside the Arts Center didn't pan out (apparently insurance is hard to find for burning large structures downtown), the exhibit was a culmination of the groundwork Hailey and other artists started almost a decade ago with high hopes and lots of passion.
Over the past week, I've talked to several Jacksonians about what happens after Hailey leaves. I initially worried that his absence would create a large gap in the community. Melvin Priester Jr., who has worked with Hailey on several projects, likened him to the Ferris Bueller of Jackson--bringing people together and creating fun.
Jackson artists Ginger Williams and William Goodman were two of the pioneers of Jackson's artistic renaissance. Williams says that Hailey became part of her extended family and that the small group supported each other. In a world where competition is fierce--the art world can be cut throat--Jackson is a unique place where artists can grow and learn from each other.
In the "I Love Mississippi" film Azod Abedikichi created about the months leading up to the exhibit, Hailey explains the need to branch out and leave Jackson. He says he wishes he could make a living hanging out with his friends and making art. But until he can find a way to monetize that, he wants to expand his horizons and take time for discovery.
In September, Hailey explained to me why he felt he had to leave Jackson. For the past several years, he has burned the candle at both ends, he said. Hailey's work went beyond just creating art for his studio. He has hosted karaoke at Ole Tavern, worked with children at Jackson Public Schools and other organizations, produced a CD with his band J-TRAN, organized events and much, much more.
A few people have expressed concern that without Hailey, Jackson's art scene is going to take a turn for the worst. I disagree. Hailey and other artists have created so much momentum and inspiration for Jackson's future. Abedikichi's film shows a revolution. So many people came together over the past five months to help Hailey create and prepare for the show. He transformed his house into a creative world where anyone was welcome, as long as they had a desire to express themselves. In preparing for the exhibit, Hailey says he has never pushed himself so far to do something he really cares about.
Instead of seeing Hailey's departure as bad for Jackson, I think we should view it as a passing of the torch and a new era for the city. This is an opportunity for more people to step up and create their own world of fun and creativity to share.
Recently, the Jackson Community Design Center brought David Koren, executive producer of FIGMENT, a New York City collaborative and participatory arts organization, to Jackson. Koren's organization hosts a community-based arts festival in New York each year that brings 25,000 visitors. Koren and the JCDC want to bring this festival to Jackson but need the support and interest of our community to make it happen. The JCDC is currently forming a steering committee and needs more people to help raise funds, contribute art and volunteer. This free community-based festival would change the landscape of Jackson and build an even stronger network of artists. But without people stepping up to the plate, it could fall apart.
This is just one example, though; the possibilities are endless for inspiring creativity in our city. What else can you do? Host a house concert or a craft party, bring sidewalk chalk to kids in your neighborhood, buy local art, attend art exhibits and support local artists. We can all be Josh Hailey.
For more information about FIGMENT, visit figmentproject.org or FIGMENT JXN on Facebook.
Previous Comments
ID

161228

Comment

Good one, Lacey. I'm sure many of us are thinking along the same lines. Josh's J-TRAN song on last year's "Merry Christmas Jackson" CD was the most hilarious and wonderful thing. I think it was called "Give it away" and they did the greatest video. We will miss Josh around here. Who else has the nerve to wear a gold lame bikini bottom out in public?

Author

Izzy

Date

2010-12-08T14:03:09-06:00
ID

161240

Comment

In saying the Josh is Jackson's Ferris Bueller, I was trying to point out something more than that he brings people together. I was trying to point out that radically different people love him. Sportos, mortorheads, bloods, sluts, dweebies . . . they all think he's a righteous dude. Also, it should be noted that he gives good kids bad ideas and it makes it difficult to govern effectively. http://www.youtube.com/watch?v=VAUW22XrnQw

Author

mpriesterjr

Date

2010-12-08T19:57:10-06:00
ID

161242

Comment

Josh will be missed. He is a rare soul and LA will be the better for his arrival. I always marveled at his ability to "just be him" never caring whether or not you liked it. And I can respect that. He's definitely helped me several times. I think the great thing about Jackson and the thing that draws folks like Josh here is that we will continue to innovate regardless of the players. Let us recognize his genius without asking "when will the nxt step up" they already have. Daniel Johnson, Melvin Priester, Daniel Guaqueta. They've BEEN here. Josh was a VERY key part. But as we do, we shall survive without a hiccup.

Author

Kamikaze

Date

2010-12-09T07:21:12-06:00
ID

161246

Comment

Big ups to mpriesterjr for the Ferris Beuller reference. I agree with Kaze, in that the arts scene will move forward. Good leaders, such as Josh, inspire other good leaders. And we have quite a few of those left in his wake to carry us forward.

Author

gwhiz

Date

2010-12-09T12:38:57-06:00
More like this story
More stories by this author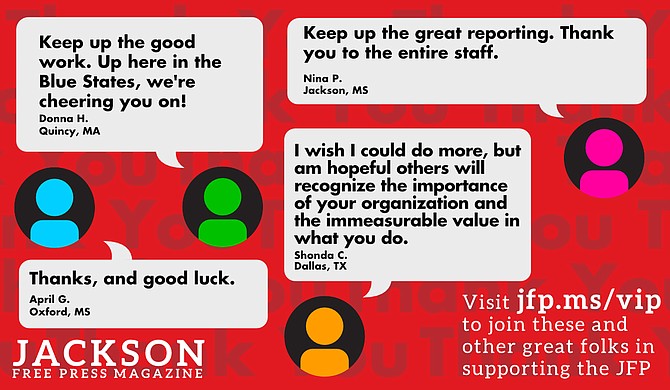 Thanks to all our new JFP VIPs!
COVID-19 has closed down the main sources of the JFP's revenue -- concerts, festivals, fundraisers, restaurants and bars. If everyone reading this article gives $5 or more, we should be able to continue publishing through the crisis. Please pay what you can to keep us reporting and publishing.