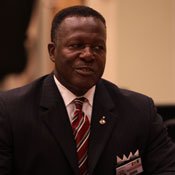 The controversy surrounding Jackson Public Schools Superintendent Lonnie Edwards, whose former Georgia school district spent $16,169 on copies of his book, isn't relevant under existing state law, Mississippi Ethics Commission Executive Director Tom Hood said Monday.
During a press conference last week, Edwards said he did not coerce his former district to purchase his book, "A Teacher's Touch: Reaching Beyond Boundaries," and had not sold any books to JPS. The book cost $19 for hardcover and $7.50 for paperback.
"People need to quit comparing what has reportedly happened in Georgia to what has reportedly not happened in Mississippi. This is like comparing apples to oranges now," Hood said. "People in Mississippi need to understand that they can't do that; they can't do business with their school districts."
Hood said existing Mississippi state laws prohibit school-district employees from obtaining a contract, subcontract or vendor services, or having a material interest in a contract or vendor for the district where they work or in any other districts in the state. Specifically, Mississippi code Section 37-11-25 states that it is unlawful for district employs to be "interested, either directly or indirectly, in the proceeds or profits of the sale or rental of any book, furniture, equipment or other property to be used in any public school."
The Atlanta Journal-Constitution reported Aug. 15 that several administrators in the DeKalb County, Ga., school system used school funds to purchase books they wrote. A school district internal investigation into the book sales resulted in the firing of two principals who authorized funds to buy their own books, and the demotions of two others who sold their books to the district.
Edwards worked in the DeKalb school system from 1971 to 2004, rising to the position of assistant superintendent. During his time there, the district spent $12,745 to buy copies of his book, according to the Journal-Constitution. DeKalb County Schools spent another $3,424 on the book after Edwards left the district.
"A Teacher's Touch" tells the story of Edwards' relationship with Nancy Johnson Miller, a disabled student at the DeKalb County school where he taught physical education in 1971. Miller was born without fingers, and Edwards, who was the first black teacher in the school, helped her gain confidence in her abilities. At the news conference, Edwards showed a television clip to reporters and approximately 20 JPS staffers of his 1996 appearance on Sally Jessy Raphael's talk show "Sally," where he was featured for making a difference in Johnson Miller's life.
After an hour of defending the books' purpose and skirting specific questions on how the DeKalb school district used his book, Edwards told reporters that schools purchased approximately 100 books for libraries in the DeKalb County School System.
"I couldn't put myself, as the district-level administration, personally involved in that kind of thing," he said. "But when they asked to buy it, I made it available for them and told them they could get it from Border's bookstore in Buckhead ... or churches selling it around the city."
Edwards said he did not approve purchases of the books, and that schools could have bought the book with their own resources. "I don't know how they bought them," he said. "The schools bought some; some employees bought them. Some of the other staff might have bought them from various areas of revenue. If they wanted to buy the book, I don't know where they got their resources from."
The Jackson Free Press submitted a public-records request Wednesday, Aug. 18, for any purchases the district has made of "A Teacher's Touch." The district has until Aug. 27 to respond to the request under state law.
JPS board attorney Dorian Turner said the district follows state law and the districts' conflict of interest policy, and in the event that an employee sold goods to the district, it would be up to the school board to determine a disciplinary course of action. The school board can also submit cases to the state ethics commission for an opinion. This can be difficult, however, if the school board is the entity approving such purchases.
Jeff Dickerson, communication consultant for the DeKalb County School System, said the district is not pursuing action against Edwards because at the time of his employment no school district or state policy regulated selling and purchasing district employee's goods or services. DeKalb school-board members, however, are currently pursuing such a policy.
"The school system is not investigating Edwards. No local law enforcement is investigating Edwards," Dickerson said. "At the time the book sales were made, there was no (policy) prohibiting the sale of goods and services by employees to the school district. And, in fact, there is still no prohibition."
DeKalb County Interim Superintendent Ramona Tyson told the AJC that the use of funds to buy the books was "unethical" and "disturbing." The fired principals, however, told the AJC that the district knew about the purchases for years but did not take action until reporters started asking questions.
Previous Comments
ID

159596

Comment

On Friday, JPS responded to our public records request and stated that the district hasn't used any funds to purchase Edwards' book.

Author

Lacey McLaughlin

Date

2010-08-30T15:12:54-06:00
More stories by this author
Support our reporting -- Follow the MFP.