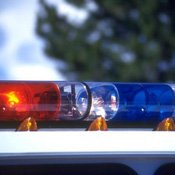 The Jackson Police Department is searching for a suspect believed to have shot and killed a man outside the Texaco station on North State Street last Sunday morning.
Today, at the department's weekly COMSTAT meeting, Deputy Chief Brent Winstead said JPD has issued an arrest warrant for Darel Tillis, 29, who they believe shot and killed 28-year-old Michael Olowo-ake.
Winstead said this was not a random shooting; The JPD determined that the two men knew each other.
"Anytime there is an incident like this at a business it creates alarm in the community," he said. "But it appears that these two mean knew each other. When you go out, you always have to be aware of your surroundings."
Though this was the second shooting to occur in a week, JPD reported that there have been 15 homicides this year, the same number as this time in 2009.
The department is working to combat crime by extending the involvement of its Quality of Life squad. The squad is currently organizing a convenience store coalition to educate business owners on crime-prevention and increase officer presence.
Overall, violent crimes are up 30 percent this year compared to 2009 figures. Violent crime totals from 2009 were 10 percent lower than the year before. Property crimes are down 1.1 percent for the year to date. Last week, officers reported three fewer property crimes than the previous week.
Violent crime totals for the year are up in three of Jackson's four precincts: Precinct 1, in south Jackson, has seen a 40 percent increase in violent crime and 10 percent increase in property crime. Precinct 2, which covers west and central Jackson, has reported slightly fewer property crimes and almost 50 percent more violent crimes. Precinct 4, in northeast Jackson, has seen a 3 percent drop in property crime for the year to date and a increase in violent crime from 48 at this time last year, to 78 this year.
Anyone with information on the whereabouts of Darrel Tillis should call JPD at 601- 960-1234.
Read this week's COMSTAT report (PDF)
More stories by this author
Support our reporting -- Follow the MFP.