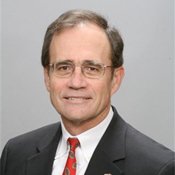 A member of the Two Lakes of Mississippi Foundation rattled the Rankin-Hinds Pearl River Flood and Drainage Control District Levee Board at its meeting this morning with another attempt by state officials to usurp the authority of the local Levee Board. Board attorney Trudy Allen told the board that Secretary of State Delbert Hosemann has listed the Levee Board, which to date has operated independently of the state, as a state agency in Mississippi's 2010 Blue Book of state agencies.
The Mississippi Department of Archives, which has attempted to define the designation of the levee board in the past, asked Attorney General Jim Hood to render an opinion on the issue. Allen asked the board to authorize 10 hours of research time in order to argue before Hood whether or not the Levee Board should qualify as a state agency and should maintain its independence. The board gave her 15 hours, for the sake of thoroughness.
Allen said some board members might consider being a state agency a good thing in terms of funding, with the possibility of state money entering the budget. But she said she fears the board would more likely have to run its budgetary matters by the state Legislature, even though the district funds itself though local property taxes. She also said the board might have to dismiss many of its engineering employees, who would then have to re-apply for their positions.
Board members were leery of becoming a state agency.
"This might be the most inexpensive time to fight this battle," said Richland Mayor Mark Scarborough. "If they determine we are a state agency we'll have to follow all the guidelines and budgetary processes, and if we decide later we want to fight it, it'll cost even more for us to do it. If we don't squash it right now, we're going to become a state agency."
Allen said she was not sure how likely the state agency designation would make the board more beholden to Mississippi Gov. Haley Barbour, who already makes an appointment to the levee board--board member Leland Speed. She said she planned to begin research on the matter immediately with the board's approval.
Scarborough repeatedly asked Allen what prompted the secretary of state's eagerness to designate the board as a state agency, but Allen had no solid answers. Hosemann's spokeswoman Pam Weaver said the Secretary of State's Office lists all boards and commissions in the bluebook, but did not explain the the reason for designating it as a state agency.
The latest attempt to gain authority over the Levee Board comes three months after the Levee Board rejected the $1.2 billion Two Lakes development plan in lieu of following the U.S. Army Corps of Engineers' advice to pursue levees immediately. Today's effort comes just weeks after several pieces of legislation designed "to revive John McGowan's Two Lakes plan," as the Northside Sun described the legislation, died without being brought up for a vote. A number of current and former state officials--some with land very close to the Two Lakes development footprint--have tried since December to find a way to circumvent the Levee Board's authority.
Hosemann, who was not present at the Levee Board meeting today, has been listed as secretary/treasurer and director of the Two Lakes of Mississippi Foundation on its Form 990 since it was created in 2000. Hosemann is in previous minutes of the Corps of Engineers arguing in favor of Two Lakes. Other directors are: Sam Begley; Dr. Samuel White Jr.; Joe Lauderdale; and David Russell, president of McGowan Working Partners.
House Bill 1548 would have created a 12-member legislative committee to study all "flood and drainage control districts" in the state, but died March 10 because it did not come up for a vote. Had it passed, the committee would have been empowered to recommend to the state Legislature how the districts should operate. The Northside Sun, an avid support of McGowan and Two Lakes, made no secret that the bill, and similar ones that did not survive the session, was meant to "particularly" target the Levee Board because it is not supporting McGowan's ambitious plan, which would create 10,000 acres of expensive waterfront property, much of it owned by him, his family members or his associates. McGowan claims a much lower price tag for his vision--$336 million--than the Corps and other experts say is possible, considering the massive environmental mitigation it would require if got through federal vetting.
In December, after years of wrangling between Two Lakes supporters and those who question its viability, the Levee Board voted to pursue levees with the caveat that the Corps consider a smaller-scale lake impoundment for economic development. Five members of the Levee Board voted for moving ahead with a levee plan, including all local mayors: Jackson Mayor Harvey Johnson Jr., Pearl Mayor Brad Rogers; Flowood Mayor Gary Scarborough; Richland Mayor Mark Scarborough; and Board Chairman Billy Orr, appointed by the Rankin County Board of Supervisors. Two members voted against: Mississippi Fair Commission representative Leland Speed and Socrates Garrett, who represents the Hinds County Board of Supervisors.
Other members of the Levee Board criticized Speed earlier this year for a potential conflict because his family owns property that would become waterfront under the Two Lakes plan. As a result, he donated part of his family's land to Mississippi College.
Previous Comments
ID

157225

Comment

Strangely, the Northside Sun, cheerleaders for Two Lakes at any cost, hasn't updated their Web site in recent weeks. But it was amusing to pick up their paper last week in McDade's and see that they were reporting as fact on page one that all the legislative Pearl-related bills were put forward "to revive John McGowan's Two Lakes plan," as Adam has been reporting for months, even as Two Lakes supporters tried to downplay our reporting as "conspiracy theories." No, it was obvious. Sometimes powerful people really do get together and cook up schemes to get what they want from politicians (can we say Better Jackson PAC?). Keep an eye out tomorrow for an update on this whole state-agency fiasco, and find out which Two Lakes Foundation board member actually created this ruckus. Apparently, since this story yesterday, the effort has been withdrawn. The Levee Board still stands for another day. Another bullet dodged.

Author

DonnaLadd

Date

2010-04-13T22:21:56-06:00
ID

157240

Comment

Adam has an intriguing update out today on the "How the Levee Board Turns" saga that he reported in the Daily Monday. In a nutshell: • The Archives withdrew its request from the attorney general's office. • Levee Board attorney who told the Levee Board that it was secretary of state behind the "agency" effort said that she was mistaken about it being secretary of state (and Two Lakes Foundation member) who submitted the Blue Book request. • Another Two Lakes Foundation director, Sam Begley, had made the request to the Archives -- in order to get information about the Levee Board, he told JFP. • Good news: another Levee Board crisis averted.

Author

DonnaLadd

Date

2010-04-14T13:17:04-06:00
More stories by this author
Support our reporting -- Follow the MFP.