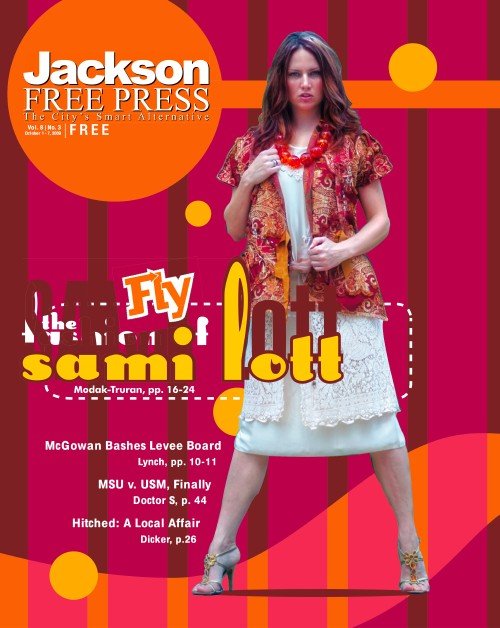 "I love your wrap," drawls a genteel lady from the veranda of her Victorian on State Street. "It's a Sami Lott," I say with a smile.
Lott, a couturier with a gallery on North State Street, designed the wrap from Battenberg lace and then hand-dyed it a delicious shade of lavender chocolate. I first wore it for the closing ceremonies of the International Ballet Competition at Thalia Mara Hall a few years back.
Woven with gold thread—a signature of Lott's designs—patrons can wear the lace frocks multiple ways, like her other pieces, for one-of-a-kind versatility.
In subdued hues, Lott's lace garments, particularly those with a fanny wrap and a chiffon bow, evoke the attitude of the 1920s and '30s when women swore off corsets and convention for liberation and modernity. The lace work is vintage, the style fun, the appeal timeless.
Lott's lace frocks look elegant and glamorous with long strings of pearls over a silk charmeuse gown, but they also look fabulous over a pair of jeans and cowboy boots.
New Orleans to Jackson
"A woman who wears my clothes is very sure of herself and has a strong sense of her own style," Lott says at her studio. "They are not only my style, but they are your style, too. I like for people to put their own kick on it."
Despite their dramatic flair, Lott's clothes are easy to wear, and many of the fabrics are washable.
"When a woman comes into my shop for the first time and asks, 'where am I going to wear this?', I say you can wear it anywhere," Lott says. "Many of the designs can be tied, wrapped and worn upside down or inside out." She then proves it with one of the jackets.
"That's the reason I don't have a tag in my garments—because they are reversible."
The genius of Lott's designs is that they take on the personality of the women who wear them, and they look great on all body types. "Lott's clothes are designed for a spirited woman," says JoAnne Prichard Morris, a book author and editor (and consulting editor of the Jackson Free Press) who is known for her vitality and wit. In gem tones cut from elegant taffetas and tapestries, the design and fabrics complement Morris' bold style.
"I have classic designs with an eclectic feel and a whimsical twist," Lott says.
Although Lott is referring to her clothes, the same can be said about the designer. She infuses her own personality into her fashion. "I do my own thing," Lott says. "I'm not about what colors are in or any of that. Yeah, I definitely do my own thing." Lott chuckles at the thought.
The soft-spoken beauty from New Orleans sparkles when she talks about her designs. Lott turned to fashion design 25 years ago after working in vintage clothing boutiques. "I had a unique way of dressing, and some people really liked the way I dressed and asked me to design for them. So I started designing a line of clothes for the store."
Lott's first designs were made from linens; then she got bored and branched out. "I got tired of linens so I started combinations of suede with lace, suede with chiffon and some very different combinations," Lott says. "Actually, I was way ahead of the fashion curve. As I was designing, I would see things pop up in the magazines, and I would have come up with that like five or 10 years before. "
With the success of her designs, Lott opened her own shop in New Orleans' French Quarter. The boutique was called Sami Lott Designs—the same name as her shop in Jackson—and carried only her exclusive designs. Over 20 years, Lott had shops on Magazine Street, Royal Street and St. Louis Street in New Orleans. "At one time, my sister and I owned two stores together," she says.
After 20 years of owning boutiques and after her sister got ill, Lott closed the New Orleans stores and started doing private trunk shows in Chicago, San Francisco, Washington, D.C., Houston, Dallas and other parts of the country. The trunk shows started bringing Lott's clothing line to a wider audience.
But then tragedy hit on multiple fronts.
"My sister died a few months before the hurricane," Lott says. "My mother and sister died around the same time."
Then Hurricane Katrina wiped out her home and business in New Orleans. "Hurricane Katrina brought me to Jackson," Lott says. "I already had clientele up here so when I got here, I went ahead with private trunk shows, and then, shortly after that, … I think it was November 2005 … I opened up the shop."
Lott opened in the former post office across from Millsaps College, which fringes the Belhaven neighborhood at 1800 N. State St. "I met this wonderful Asian woman, who said, 'Lott, I have this wonderful room for you to meet your customers in,' and I responded, 'Yes. Yes. I'll take it.'"
The couturier decided to sell more than her own clothes in the new space. "I went to the Mississippi Museum of Art and met some artists and told them that I was opening up this little shop on State Street, and I needed some art work." That invitation led to Lott partnering with visual artists. "They had paintings, and I had clothes," she says.
When the owner offered to sell Lott the building, she again acted decisively. "I love this building, I love it ... and I then bought the building," she says.
Still, many people—even in the immediate area—don't even know that a fashion house now lives among them. "I've kept the business on a small scale and at my own pace," Lott says. "I've had people sell for me and do all those things, but I'm not terribly organized, and I like to keep it simple."
Texture, Flow and a Bit of Diva
With her polished, bobbed hair, Stacy Ferraro, an attorney specializing in death-penalty work, takes on the world in a long red tapestry jacket one day, lace and linen the next.
"Sami's stuff is so different," Ferraro says. "When I go to New York, where I used to live, people always ask, 'where did you get that?"
Monica Carey Lanos, another of Lott's dedicated patrons, looks gorgeous in the leather white and black jacket Lott made for her. Her jacket was the envy of the photo shoot we did at The Plaza building on Sept. 19, and we all wanted one just like it. In the green tapestry coat, Lanos steps forward to take on the world.
Lott's work is rich in textures, and her designs use tapestry, linen, leather, suede, satin, taffeta, chiffon, cashmere, and other exquisite fabrics from all over the world. The fabrics are rare, and the colors come in eye-popping shades of garnet reds, burnt oranges, violet purples, electric and middle blues, metallic fuchsias and vivid golds.
Buyers can wear Lott's signature rice-linen blouses as part of a layered look for fall and winter, or wear them alone in spring and summer. She hand-sews each blouse from embroidered vintage tablecloths; no two are the same.
"They have hand-drawn threads, and are very precious pieces," Lott says.
The designer also works in a wide array of prints, such as geometrics, stripes, floral patterns, Asian and African motifs. She accents her works with hand-made fringe for a lioness mane, tiny rosettes and ribbon embellishments. Her genius comes in the way she puts textures, colors and prints together.
"I have a unique flair for fabric combinations," Lott says. "My designs are basic and simple, but the fabrics are most unique. And I search for the most beautiful fabrics I can find."
"The fabrics tell the story," says Morris, a long-time patron of Lott's clothing line. A rich red tapestry jacket with black pants tells a story of passion and power. A bright purple taffeta coat embodies spirit and verve.
"It's all about the texture and flow," Lott says modestly.
For the fashion forward, Lott designs "attitudeness" hats. My word, not Lott's, but one look at the hats, and you know that only a woman with big-time attitude can pull it off. A National Geographic magazine cover inspired one of Lott's hat designs—a red straw chapeau with wooden sticks in the front brim.
The hats are as unique and eclectic as Lott's clothing line—which appeal to the inner diva in women who don't mind standing out in a crowd. (They might even want to.)
"I have about 35 outfits," says artist Miriam Weems during a fall fashion trunk show at Lott's studio. In packing for a trip to Las Vegas, Weems reports that she is bringing "one pair of black pants and a different Sami Lott top for every night we are there." Lott's clothes are quite popular with the colorful Vegas crowd, it seems.
"Lott, you're a genius," says Jonah Monet, a professional model who owns a beauty salon in Lott's boutique. "I love Lott's clothes because they embody old-world romance with a new modern twist."
House of Couture
An eager crowd has already gathered outside the boutique when I walk over for her fall trunk show in August. She arrives a few minutes later in an apple-red pick-up truck, which seems utterly too practical and monochromatic for the eclectic fashion designer. She is dressed for work in a painted peach silk ensemble, which daintily flutters as she rushes in her high-heeled mules to the trunk. Lott's spotted Dalmatian is not with his mistress today.
"Darlin', I'm sorry I'm late," she says as she stuffs her arms with the latest treasures in her fall collection. Lott had been up most of the night sewing. She coos to the crowd of ladies at the door that she has some new things that they will "absolutely love."
Illuminated by soft natural light from generously sized windows and a warm glow of a crystal chandelier, the boutique's main room embodies parlor charms. The atmosphere is gallant and affectionate. Lott is a majestic mistress of couture, lavishing individual attention on long-time customers, while welcoming newcomers as if they are old friends.
With the rise of the one-stop-shop franchise, shoppers will find precious few stores like this one—Lott's boutique is a rarity and a special place.
The shop expresses her style. A wall-sized gilded mirror off to the side reflects a menagerie of colors, prints, textures and embellishments. Paintings, metal sculptures, an Etruscan bust, pockets of jewelry, candles and a zebra carpet fill in the unoccupied space. The room, like Lott, is in constant motion, existing in a state of transformation.
Lott claps with unabashed delight as one her customers tries on a red, fur-trimmed cashmere shawl. "I love seeing my clothes on customers. They look so beautiful!" she exclaims about the ladies.
The clothes are haute couture, which is a French phrase for "high sewing" or "high dressmaking." Haute couture implies artistry, superb craftsmanship and luxurious fabrics.
"Many people dismiss haute couture as being something that is only for those who are very wealthy," wrote couturier Christian Dior in "The Little Dictionary of Fashion." "But it is possible for a woman to be elegant without spending very much money on her clothes, if she follows the basic rules of fashion, and is careful to choose the clothes that suit her personality."
Lott's designs complement different personalities and can be trussed up fancy and simple, elegant and timeless, or young and fun. "I have a basic thing about what I am going to do, and even when I come out with a new design, it's not anything I have sketched," says Lott about her process. "I'm into the fabrics and whipping them around and sewing them up" and discovering the garment. She does all her own sewing, and she assesses the success of her design by the way the piece flows when worn.
Lott has four different collections, which are available at her boutique, at private trunk shows and other shops around the country. One collection is "lace and vintage"; another is "exquisite European imported fabrics"; the third collection mixes silk and suede; and the fourth collection consists of hand-fringed, special-trim and hand-dyed tapestries.
Her signatures for all the collections is her gold thread and a signature pocket.
While haute couture clothes are not marked with price tags, Lott's frocks do not require a bank loan to pay for a garment. Her prices are in keeping with the prêt-à-porter (ready to wear) lines of contemporary designers sold in the area. "I price my clothes for the market," Lott says.
At the Plaza photo shoot, the clothes seem to energize the models. "My designs are not rack clothes," Lott says. "They come alive when you put them on."
Click here to view a gallery of Sami Lott's fashion designs!

More like this story
More stories by this author