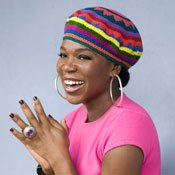 India.Arie's music is poetry. Her sound is eclectic: a fusion of R&B, gospel, soul and jazz. Her songs range from spiritual and introspective to playful and political. Her lyrics speak about the challenges of our society and the highs and lows of relationships.
India.Arie, 33, was born in Denver, Colo, but moved to Atlanta, Ga., at the age of 13. Her mother, Joyce, is a former singer and her father, Ralph Simpson, played in the NBA.
Arie has received 17 Grammy nominations, two Grammy Awards and four NAACP Image Awards. She plays both the guitar and flute. In February, Arie performed for the President and the First Lady at "In Performance at the White House-Celebrating the Music of Steve Wonder." In honor of Wonder's receipt of the Library of Congress Gershwin Prize.
Her first single, "Video," has become an anthem for girls and women as a celebration of the bodies God has given them. Early this year she released "Testimony: Vol. 2, Love & Politics," her fourth studio album. On the heels of her spring and summer tour, she appeared on "VH1: Divas 2009" which aired Sept. 17. She performed the song "Video" with British singer Adele.
Arie will perform on Thursday, October 1 at the MSU Riley Center in Meridian. She spoke to the JFP by phone last week.
Recently you performed on "VH1 Divas 2009." How does it feel to follow in the footsteps of Tina Turner, Patti Labelle, Diana Ross and other female legends?
I was thinking, "What am I doing here?" I sang with Adele, and we complemented each other. My music is about living in the moment, and the experience was perfect for my music.
I know "VH1 Divas" supports the Save the Music Foundation. What are your feelings on music education in schools and its impact on youth?
I can only speak for myself. When I first heard about (schools) shutting down music programs, I was like, "you can't do that." Children need that. It didn't make sense to me. Because for me that's why I did well in my other subjects, so I would be able to participate in music class. Obviously, people have talked about how it helps to develop your brain, but I think some people are predisposed to music. And if you don't have that outlet at school where you get it, it just didn't make sense to me.
"Testimony: Vol. 2, Love & Politics" came out earlier this year. How is your sound and message different from previous albums?
I don't touch on any subject I haven't touched on before. There have been times in the past when I would say, "I can't say that like that," or, "I'll keep this song for later." The message of the album is more bold֖the politics of relationships, things going on in the world, love, spiritual ideals like forgiveness and self-acceptance.
I think the biggest shift for me is the sound of the album. It's mostly live with programmed elements on top. I was always told that wouldn't work in a commercial sense, so I didn't (do it). This time I jumped out there and did it. … It hurt too much not to do it. I had to listen to myself and do what I felt in my heart … "River Rise," "Long Goodbye" and "He Heals MeԖ–(are) three of my favorite songs ever.
Tell me about the Fall Soulbird Tour? What can fans expect?
I always find that people are surprised by the improvisational nature of our show … Sometimes people are surprised by the playful nature of my show. Some people, who don't know my music as well, think I'm very serious. But people who know my music really well, who live with it and relate to it … know I'm playful and I roll my neck, and I have my relationships. People come to my show and are surprised by that. They think I'll be stoic and stiff, and I'm not at all like that on stage. I'm always trying something new.
In your song, "A Beautiful Day," you sing about life being a journey and that there are no mistakes, and to lay down regrets. How do you embrace that in your own life?
I'm always thinking about whatever the current challenge is and how to fix it, how to be better, how to be a better person, how to go back and right any mistakes I've made with people. Sometimes you have arguments or things happen with people you don't know or friends you do love, and you know you were wrong ... I'm the type of person that will go and apologize to someone even when it makes me scared. … My spiritual growth matters more than anything. It matters more than my career֖ more than anything. That's my first priority. I don't think that I always hit the mark with those things by any stretch of the imagination, but I try.
Several of your songs have talked about body image and acceptance. But how can girls and women of color embrace themselves amid the negative influences of other "scantily clad" artists and "video girls"?
It doesn't come up around my music because I have no desire to be that kind of artist֖no desire. It used to come up during my first album cycle.
But, let's be logical about how life works. No one likes the same thing. There are going to be some people who think I look beautiful and some people who are going to not think I look beautiful.
I'm a citizen of the world. I've been all over the world, and some places people don't wear deodorant, and some places people don't shave their armpits. And some places it's OK for women to be thick and wear their tight pants … so I'm going to do what I want to do. … To me that's what a diva is … someone who does what they want to do, and how they want to do it.
In 2002, you recorded the song "Just Another Parade" with Mississippi natives Cassandra Wilson and Rhonda Richmond. Tell me about that experience.
It was earlier in my career, and I was thinking, "Cassandra Wilson knows who I am." That's all I thought about: "She knows who I am." And I remember the first thing I said to her after "hi" was, "Why did you want me to come do this?" I couldn't imagine why at all.
Her answer was she wanted to show the world that jazz is more than what they think it is. She said I had elements of that.
I didn't understand at the time, but I get it now. And it was also cool because usually in urban music, which is the direction I got pushed, … everything is overdubbed, overdubbed and layered and layered … it could take a week. With Cassandra Wilson they did everything in the room, in the moment, including the vocals. Everything at the same time. I'd seen it on TV, but I'd never had that experience. That was cool, and I enjoyed (it).
What are you listening to these days?
That's funny. I never remember when people ask me. I really like Chrisette's second record֖Chrisette Michele. I was surprised by where she went, and I really like what she did. And (I like) Joni Mitchell a lot-֖"Court and Spark," and the album "Blue." It's kind of like new to me. I'm obsessed with her. Those are my two favorite things right now.
Previous Comments
ID

152260

Comment

I love her lyrics. The girl is deep!

Author

Walt

Date

2009-09-23T17:01:18-06:00
ID

152272

Comment

India.Arie is awesome! Her lyrics mean something, and they're not lewd or rude. "Video" is definitely one of my anthems, which I have on my Hypster playlist: http://hypster.com/profile/lwill74-249123.html

Author

LatashaWillis

Date

2009-09-24T06:24:05-06:00
More stories by this author