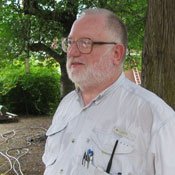 See also: A Delta Manhunt, with Booze and Guns, Sept. 2, 2009
See also: A Sordid History: Manhunt Leader Has History of Violence - Sept. 9, 2009
When Bruce Dunagan heard that Tallahatchie County prosecutor John Whitten III was involved in a vigilante-style manhunt last month, in Sumner, he wasn't surprised. Dunagan, who was Biloxi's police chief during Hurricane Katrina, remembers Whitten testing the limits of the law in the aftermath of the 2005 storm.
Whitten arrived in Biloxi as a colonel in an all-volunteer organization called the Mississippi State Guard, which the governor can call on to assist the National Guard during natural disasters. The police chief though, had never heard of the Mississippi State Guard until a week after Katrina hit, when he started hearing complaints about military officers at Biloxi High School, which was serving as a special-needs shelter.
"A lot of the complaints were that they're all drunk, they've got weapons, they've got machine guns," Dunagan told the Jackson Free Press last week.
Dunagan decided to visit the high school with officers from the Biloxi Police Department and members of the Mississippi National Guard. When he arrived, he saw that Whitten, along with roughly five other State Guard members, had set up offices inside the school. His officers found a loaded .45-caliber pistol in one of the offices, which they confiscated.
"They are all dressed up in battle fatigues, and unless you look closely at their uniform at the tab—over the right pocket it says 'Mississippi State Guard'—you wouldn't know," Dunagan said. "Everybody thought they were National Guard. I did. The police officers up there did."
After initially brushing off Dunagan's request to see his orders, Whitten turned them over. They revealed he was to report directly to the civilian nurse in charge of the shelter.
"He said he hadn't been drinking, but he certainly struck me—from many years in law enforcement—as being under the influence," Dunagan said.
Dunagan then took his officers outside the school, where they searched Whitten and his fellow state guardsmen's vehicles. Among the weapons they found, Dunagan said, were fully automatic M-16 rifles, "ammunition you wouldn't believe, every kind of weapon, bayonets, a machete."
Whitten explained to Dunagan that he had brought the weapons after hearing news reports of dire, unsafe situations. Thanks to his federal Class III firearms license, he is allowed to own military rifles. Nevertheless, Dunagan said, the small armory was dangerous in an emergency situation.
"That's all well and good up at their gun club, but not down here," Dunagan said. "They were all out there playing war in the middle of this big disaster. We had better things to do than to be going out with these characters."
Dunagan's officers confiscated all the weapons, and the disarmed State Guard contingent decided to leave. With the rest of the city requiring his attention, Dunagan did not pursue an investigation of the State Guard's actions himself. He contacted the U.S. Department of Homeland Security, which, he believes, allowed the State Guard to conduct its own investigation of the incident. The only investigation report he read was written by State Guard members.
"It's kind of the fox checking itself out," Dunagan said. "I read a part of this report, and, boy, you talk about a sorry report. They never even interviewed the doctors (at the shelter)."
When Hurricanes Ike and Gustav threatened the Coast again in 2008, Dunagan took precautions to prevent a similar run-in with the State Guard. "I put out orders to my people that if we run into these characters at the shelters again, make sure they don't have any weapons, just thank them for coming and tell them we really don't need you—in a polite way," he said.
Repeated calls to Whitten's office were not returned.
On its Web site, the Mississippi State Guard is described as the "state's reserve to the Mississippi National Guard." Federal law authorizes states to organize their own defense forces, which may not be drafted by the federal government but remain under authority of the U.S. Army National Guard. The site notes that the State Guard "was most recently called to duty to assist with relief efforts" during Hurricanes Katrina and Gustav but gives no further details.
A call to the Mississippi State Guard commander Ben Gaston was not returned.
Dunagan's description of his run-in with Whitten is similar to the Aug. 20, 2009, incident that landed Whitten in the news. According to some eyewitnesses, Whitten was the leader of a group of armed citizens who assisted law enforcement officials in a search for Will Pittman, a burglary suspect in the Delta. Multiple sources told the Jackson Free Press that Whitten and other armed citizens were drinking and that they heard multiple shots fired during the manhunt.
Previous Comments
ID

152062

Comment

Sounds like the local ATF office should be requesting more agents to closely monitor this group of misfits. I would also be very interested to find out what connections they have to officials in state government.

Author

Jeffery R

Date

2009-09-18T13:04:34-06:00
ID

152065

Comment

Jeffery- the State Guard is part of the Miss. Defense Forces just like the Miss National Guard. Not some redneck militia group. Every state can have State Defense Force by law, 22 do, like the Miss State Guard. Some are really large forces, the Texas State Guard even has two Air Wings. http://www.ngms.state.ms.us/history/Lists/MS%20State%20Guard/AllItems.aspx http://en.wikipedia.org/wiki/State_Defense_Forces The Miss State Guard is not authorized arms except under direct orders from the Adjutant General of Mississippi National Guard, but there was one armed military police unit of the State Guard. Whitten seems to have a few screws loose, maybe more than a few, he has no business being in the State Guard. They should have court martialed him already.

Author

BubbaT

Date

2009-09-18T13:39:07-06:00
ID

152086

Comment

Whitten is a straight-up damn nut. I've had dealings with his crazy butt too years ago. I can't remember exactly what crazy crap he did back then. I and Southern Echo went to Charleston or Sumner to speak with the community about him.

Author

Walt

Date

2009-09-18T16:43:20-06:00
ID

152099

Comment

I agree Mr. Witten has more than a few screws loose, but in both Biloxi and Sumner, he did not act alone. Acting as Colonel, it sounds as if at least a few others from the MS State Guard were involved. If the MS State Guard is a legitimate, professional orgnization as BubbaT suggest, why in both Biloxi and Sumner were they combining alcohol and firearms? Why brush off the first request to see orders? No professional organization would act in this manner. Is this organization the avenue in which Mr. Whitten obtained a Class III firearm license, M-16 rifles, ammunition and an armored personnel carrier? If the MS State Guard is a legitimate, professional organization, they would distance themselves from Mr. Whitten immediately, take back all firearms, ammunition and the armored personnel carrier and inform the public of this action. As Jeffery R., I am also curious as to any connections the MS State Guard have with state government; specifically Governor Barbour. Orders to travel to the Coast after Hurricane Katrina came from somewhere. Mr. Whitten should loose his firearms license for combining alcohol and firearms while acting on orders to protect a special-needs population. This also extends to combining alcohol and firearms while becoming involved in a manhunt in which he had no orders to participate. Disbarrment is appropriate. The Mississippi court system does not need someone with Mr. Whitten's proven lack of judgement and lack of respect for the law.

Author

Bob Lowery

Date

2009-09-18T21:19:45-06:00
ID

152104

Comment

So let me see if I follow you, Walt. You've had "dealings" with him, but you can't remember why or where? But you can authoritatively assert that he "can lie with the best of them"? Based on what? Second-hand information? I've been following this story since the beginning and it seems to be race baiting pure and simple. That's probably why it hasn't been picked up by more of the media outside of MS. other than a brief blurb in the Associated (with terrorists) Press. The story is screwy every which way from Sunday. It was reported that it was a white mob. Then it was reported that it was "mostly white". It was reported that a tank was used and the gun was fired into the field. Then it turned out that it was an APC without a gun. Here we have Dunagan saying that they were "playing war", but he doesn't seem to explain how (or the JFP left that part out). We're supposed to believe that they were drunken idiots "playing war". I would think that if that were true, they would have been carrying more than just their sidearms. Instead, their other weapons were locked in their cars. The whole story is screwy and convoluted. The NAACP and the ACLU are supposed to be all over this, but when I checked their websites not long ago, it didn't seem to even be on their radar. Even Rep. Thompson doesn't seem to be TOO concerned. And if one bothers to look back, one can find some screwiness with Thompson as well. For such an allegedly horrid story, it's not registering with the media at all. Neither does it seem to be all that important to those who are apparently upset by the whole kerfuffle. That's probably why the JFP had to go trolling to find somebody, ANYBODY who could offer a juicy tid-bit.

Author

Rob S

Date

2009-09-19T00:11:17-06:00
ID

152107

Comment

Bob- the State Guard is a legitimate orgnization, if you had looked at the links I posted you would see the State Guard was established during WWII when all the guard units were called up. Yes the have a connection to State government, They are part of the State Defense Forces, just like they are in every state. They answer to the Adjutant General of Mississippi National Guard and the Govenor he is the Commander in Chief of the Mississipp Defense Forces. There are units all over the State, seems like Whitten trys to use his as his on little army. The State Guard can't take the weapons and APC from Whitten, they are priviatley own, they are his. The State Guard has no weapons or APC. The State Guard was used here in Jackson during Katrina to help out.

Author

BubbaT

Date

2009-09-19T13:04:32-06:00
ID

152108

Comment

I can't see wherer Whitten "tries to use his as his own army". They volunteered to assist in the manhunt of a burglar. Plus he offered the use of the APC as an all-terrain vehicle, but they didn't need it. So what? A thought occurs: If Dunagan was so worried about Whitten being "under the influence" and having these weapons, why wasn't Whitten arrested instead of being asked to leave? Seems pretty neglectful to me.

Author

Rob S

Date

2009-09-19T14:27:31-06:00
ID

152111

Comment

Rob, the JFP didn't troll for a juicy tidbit. In fact, while Ward was in D.C. enjoying a journalism fellowship to learn more about early chilhood education, a law enforcement official aware of what happened then suggested that we call the former Biloxi police chief. Ward followed up when he returned and reported the story. The story, as told to us, does not indicate a situation that would please law enforcement, regardless of when the "State Guard" was established. As far as other media in the state, we are perhaps the only media outlet in the state that is growing; most others are shrinking and barely have the resources (or passion) to cover the basics, much less engage in enterprise journalism such as Ward and Adam have been burning up lately. We are also very fortunate to have gained a very strong statewide network of sources due to our investigative reporting; most national media outlets don't have the sources in the state to tell them things, and you can't just re-report actual enterprise stories because you don't have the primary sourcing. Ward's recent JPS tutoring funds story is in the same category; other media can't do the story because they just don't have the sources and documents we have. Enterprise reporting is very different from finding a document in a court file and putting a PDF out. And it's harder to copy without attribution.

Author

DonnaLadd

Date

2009-09-19T15:06:45-06:00
ID

152117

Comment

That's well and good, but it seems that others could have taken the AP story and done something with it. It seems that if the ACLU, NAACP and Rep. Thompson wanted to get the word out on it, they would. I would also think the Clarion Ledger might have more on it than a short article. The whole thing just smells like much ado about nothing from what I've seen so far and the assertion that this was a bunch of drunk racist bigots seems unfounded beyond what some want to believe.

Author

Rob S

Date

2009-09-19T16:18:08-06:00
ID

152119

Comment

Rob S., you must have missed the first story Ward did; he accompanied Derrick Johnson from the NAACP on this story; they consider this a very big deal. Then The Clarion-Ledger reported much of what Ward had already reported a week or so later. They will often wait several weeks after we've brought a big story out into the open to follow up, presumably so people don't noticing they're following up something we did. And right now, they're really dragging their feet, news-wise, thanks to the condition of their mother corporation. Also, the phrase "a bunch of drunk racist bigots" is yours as far as I can see -- certainly not that of Ward or the JFP. If you want to criticize us, criticize something we actually said, please. Otherwise, it's a waste of all of our time.

Author

DonnaLadd

Date

2009-09-19T16:36:45-06:00
ID

152120

Comment

Donna- I don't doubt that Whitten just what they said he did on the coast sounds just like him, but the State Guard has alot of good people in it, mostly retired military, who do good and help in stiuations like Katrina, just don't to see them all being made out to be redneck militia. I did good bit of research on them a few years ago,was thinking about joining but after finding out there were a few people like Whitten, in it, I decided not to.

Author

BubbaT

Date

2009-09-19T16:49:59-06:00
ID

152121

Comment

BubbaT, it does not seem that these folks are "being made out to be redneck militia" by JFP or anyone else. They appear to be able to handle that little job without any outside assistance.

Author

blkjazz

Date

2009-09-19T16:57:42-06:00
ID

152122

Comment

I'm not criticizing you. I'm saying that that's the impression given over at that WeAllBe blog and a piece on Examiner.com. This story does include that Whitten was "under the influence" and the others were drunk. All's I'm saying is that I don't want to see reporting that casts the state where I grew up as a bunch of racist bigots. If the story is true as reported here (http://www.weallbe.blogspot.com/), I'll be the first to condemn it. So far, from what I've read, it just doesn't make sense to jump to that conclusion. I don't know Whitten from Jack, but I haven't seen anything to conclude that this whole thing was anything other than folks helping to look for a robbery suspect.

Author

Rob S

Date

2009-09-19T16:58:02-06:00
ID

152123

Comment

Rob, here are the earlier stories that Ward did on this issue, exposing much of what is reported to have happened for the first time: A Delta Manhunt, With Booze and Guns - Sept. 2, 2009 Sordid History: Manhunt Leader Has History of Violence - Sept. 9, 2009 For the record, it is irresponsible journalism (and the kind that has long dominated in Mississippi) that does not report facts because someone thinks it'll "make the state look bad." It's that kind of defensiveness that holds us back -- and keeps otherwise-good people from speaking out against idiots in our midst. Oh, and that makes us look bad because we can't distinguish between bad individuals and the state as a whole. Personally, I know there are many good people in the state; and it's up to all of them to speak out against problems and the people who cause them. *That* is what will make us look better, not sugarcoating realities.

Author

DonnaLadd

Date

2009-09-19T17:07:10-06:00
ID

152125

Comment

BubbaT, feel free to forward or drop us any research on the State Guard for a follow-up focusing closer on the group. I've heard a variety of things at this point, and even differing reports on when the group really started. We'd appreciate any help you can give. One thing quickly: Does the group have non-white members to your knowledge?

Author

DonnaLadd

Date

2009-09-19T17:17:29-06:00
ID

152127

Comment

"*That* is what will make us look better, not sugarcoating realities. " Which is not what I'm suggesting at all. BTW, how responsible is the "reign of terror" bit?

Author

Rob S

Date

2009-09-19T17:48:52-06:00
ID

152129

Comment

. BTW, how responsible is the "reign of terror" bit? Where are you quoting that from? I look at a lot of articles, etc., every day. (Fixed the broken link. Thanks.)

Author

DonnaLadd

Date

2009-09-19T17:57:01-06:00
ID

152131

Comment

Donna- they had a website a few years ago, but it seems to be gone. They have an office at the National Guard Base here in Jackson. They did have non-white members a few years ago,from what I saw in the unit pictures, but not sure if they do now. Wish I had kept the info I collected but don't have any of it now.

Author

BubbaT

Date

2009-09-19T18:52:08-06:00
ID

152133

Comment

"The time for individuals or a group of individuals to have a reign of terror on a town in Tallahatchie is long overdue," (NAACP President)Johnson said. Speaking of responsibility, there's also the responsibility not to create another Duke Lacrosse kerfuffle. There doesn't need to be lives destroyed because so many, including the media, wanted to believe "rich, white, Southern boys" assaulted that woman.

Author

Rob S

Date

2009-09-19T18:55:15-06:00
ID

152134

Comment

That's not a good analogy, Rob. It is known that Mr. Whitten has done a number of things over the years that some people would characterize as pretty scary. That's a different situation than a situation that turned out not to be fact-based at all. You can't compare apples and oranges.

Author

DonnaLadd

Date

2009-09-19T19:05:16-06:00
ID

152135

Comment

Too bad, Bubba.

Author

DonnaLadd

Date

2009-09-19T19:05:45-06:00
ID

152136

Comment

Donna- They had an old msn site but it's not there, but if you search Mississippi State Guard on MSN.com, there are some pictures of the unit from Meridian.

Author

BubbaT

Date

2009-09-19T19:21:21-06:00
ID

152138

Comment

Just a point of clarification: There isn't a "Class III license" that permits ownership of Class III weapons. Class III weapons are legal for all citizens to own (dependent on local laws); each purchase is accompanied by a $200 tax stamp and an extensive background check. The weapon owner may not transfer the weapon privately. Class III weapons include fully automatic firearms, suppressors, and short barrelled rifles and shotguns. Additionally, firearms dealers with a regular FFL (Federal Firearms License) may not sell or transfer Class III weapons; a Class III FFL is required. Typical Class III weapon purchases require the approval in signature by the local head of law enforcement; however, there are legal means of purchase that do not require any local LEO approval.

Author

Mark Geoffriau

Date

2009-09-19T20:35:29-06:00
ID

152140

Comment

It's not apples and oranges at all. You'd be right if Pittman were white though.

Author

Rob S

Date

2009-09-19T21:13:22-06:00
ID

152150

Comment

Where is the grey area here? Seems as if it is pretty obvious that this guy has stepped over the line numerous times. Sounds like a lynch mob to me.

Author

Goldenae

Date

2009-09-21T08:43:26-06:00
ID

152188

Comment

Yes, Rob S that's the facts. I could make a few calls and have my memory jarred. It won't help your hero Mr. Whitten though. I just didn't want to state the wrong facts about him. The incident I'm thinking of occurred some 13 years or so ago.

Author

Walt

Date

2009-09-21T17:26:20-06:00
ID

152190

Comment

"I won't help your hero Mr. Whitten though." My hero? As I've mentioned, Walt, I have no idea who he is and have never heard of him before a high school friend mentioned this story to me. So please, do tell me how he's my "hero". I'd sincerely like to know how that works and since you seem to be an authority, surely you can explain.

Author

Rob S

Date

2009-09-21T17:36:34-06:00
ID

152259

Comment

Yo Rob, I don't know what you're talking about at this point. So, I'll pass on any further commentary unless you can make it plain.

Author

Walt

Date

2009-09-23T16:51:35-06:00
More stories by this author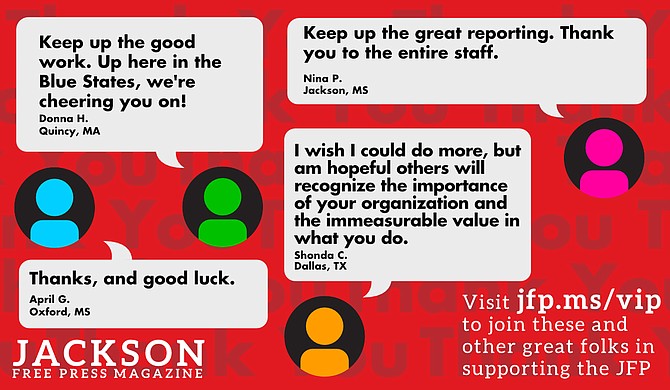 Thanks to all our new JFP VIPs!
COVID-19 has closed down the main sources of the JFP's revenue -- concerts, festivals, fundraisers, restaurants and bars. If everyone reading this article gives $5 or more, we should be able to continue publishing through the crisis. Please pay what you can to keep us reporting and publishing.