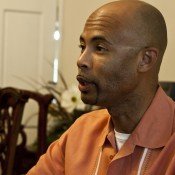 Federal authorities are investigating an Aug. 20 incident in which armed white citizens, using a military vehicle, helped search for an unarmed black burglary suspect in the Delta.
U.S. Rep. Bennie Thompson, of Mississippi's second congressional district, confirmed to the Jackson Free Press Monday that the FBI and the U.S. Department of Justice are investigating the manhunt, which took place outside Sumner in Tallahatchie County.
"Anytime one takes the law in their own hands—if it's in this situation or others—it's absolutely illegal," Thompson said. "While people have the right to protect themselves, they don't have the right to put other people at risk at any time."
The Mississippi NAACP and ACLU have also condemned the incident, which NAACP President Derrick Johnson said should be investigated as a "racial hate crime."
"The time for individuals or a group of individuals to have a reign of terror on a town in Tallahatchie is long overdue," Johnson said.
Here Comes the Tank
The Jackson Free Press accompanied Johnson on a fact-finding trip to the Delta on Sunday, Aug. 30.
At his home in Clarksdale, Tallahatchie County Sheriff's Deputy Willie Booker said that the target of the search was Will Pittman, a 28-year-old black man from Sumner. Around 2:35 p.m. on Aug. 20, Booker received a call reporting a burglary at a home on the outskirts of Sumner.
Booker, who says he spoke to FBI agents Tuesday, went to the house and discovered a flat-screen television lying in the center of the kitchen floor, along with several guns belonging to the owner, Pat Ryan. Booker assumed that Ryan interrupted a burglary in progress and that the suspects had fled.
After receiving a tip that Will Pittman may have been involved, Booker called Ellis Pittman, Will's father and an attorney in Clarksdale, informing him that police were looking for his son and asking for his cooperation. On the instructions of Tallahatchie County Sheriff William Brewer, Booker also called for assistance from a Parchman State Penitentiary K-9 unit and officers from the police departments of nearby Tutwiler and Webb.
With the other officers, Booker began searching the woods and cotton field near Ryan's house on Cassidy Street. Soon, a civilian joined the manhunt: Tallahatchie County prosecutor John Whitten, who also serves as the town of Tutwiler's attorney. Whitten arrived at the field in a Jeep with another man, whom Booker identified as Brian Smith. Booker said he saw Smith and Whitten drinking beers as they sat in the jeep.
After conducting a fruitless search of the field, Booker returned to the burglarized house. "When I went back to the house, I heard Pat Ryan saying he was going to go down there and shoot up the field," Booker told the Jackson Free Press.
Soon afterward, making another pass by the field, Booker overheard another troubling statement. "I heard Whitten telling the guy in the Jeep with him that he was going to go back and get his tank," Booker said. "(To) flush him out of the field."
Booker called Sheriff Brewer and warned him that citizens were threatening to bring out a tank for the search. Brewer told him to leave, Booker claims. As he was leaving, Booker saw an armored personnel carrier driving toward the cotton field.
Like It Was a Party
At roughly the same time, Cornelius Pittman arrived in Sumner, having heard from Will's girlfriend that the police were looking for his brother.
When Cornelius came to the gravel road near Ryan's house, he discovered a group of mostly white men standing around their trucks, drinking beer and holding weapons. The armored personnel carrier, which he describes as being the length of one-and-a-half SUVs, was parked nearby. One man was carrying a shotgun and wearing a bandolier of shotgun shells.
"When I initially pulled up, folks were drinking beer and getting guns like it was a party," Cornelius said.
Cornelius introduced himself to the first man he encountered and explained that he was there to get his brother to surrender peacefully. The man directed him to John Whitten, explaining that Whitten's brother lived in the burglarized home.
"I go up and shake Mr. Whitten's hand, and the first words out of his mouth are he's going to kill whoever's out there," Cornelius remembered.
Whitten, who was wearing a pistol on his side, told Cornelius that he had one minute to find his brother.
As Cornelius searched the woods bordering the cotton field, he says he saw Officer Michael Daves arrive in a Mississippi Department of Corrections truck. Daves works for MDOC as a K-9 officer and for the Tutwiler Police Department. Daves brought with him James Nichols, who was wearing a town of Tutwiler Police T-shirt, a police badge on his belt and a gun.
Nichols was not a Tutwiler police officer, however. According to minutes from a July 7, 2009, meeting, the town's Board of Alderman approved transferring Nichols from the police department to the town's Public Works Department "as a maintenance man and machine operator."
Nevertheless, Nichols identified himself in an Aug. 21 statement for the Tutwiler Police Department as "Officer James Nichols" and claimed that Daves had called him "to assist along with thermal imaging equipment."
"As we attempted to enter the woods, several rounds of gun shots were heard," Nichols wrote in his statement.
Cornelius says that he heard roughly 10 shots. Daves then called someone on his radio to inform them that civilians were firing weapons, Cornelius says. Finding no sign of his brother, Cornelius returned to his GMC Denali. He planned to talk to one of the other burglary suspects about Will's whereabouts, but found the armored personnel carrier blocking the road.
"The gentleman with the shotgun that was on the tank—he tells me I need to talk to John," Cornelius said.
Ready to Fire
Still wearing his gun, Whitten demanded to search Cornelius' car, including the trunk.
"I go back to raise the trunk, and they stand back with their guns, ready to fire," Cornelius said.
After searching the car and finding nothing, Whitten still did not let Cornelius leave. As they waited for a sign of Will, Whitten threatened to burn or trample the woods even if it killed Will, Cornelius alleges.
Finally, around 8:50 p.m., Sumner police received a phone call that Will, covered in mud, was asking to use a resident's phone. Nichols and Daves met a Sumner police officer at the resident's house and took Will into custody.
Cornelius followed them to the Sumner jail, where he was told to find clean clothes for his brother. Several minutes after he left the jail, Ellis Pittman arrived, having heard from Tutwiler police officer Terry Tyler that his son had been arrested.
Ellis Pittman arrived at the jail to find a motley assortment of law enforcement officers. In addition to officers from Tutwiler, Sumner and the county, Tutwiler Alderman Chris Hooper was present.
"It was obvious something was going on when I pulled up," Ellis Pittman said.
Pittman demanded to see his son—not as his father, but as his defense attorney. The jailer, Marcus Brown, informed him that he had to wait for the lead investigator to arrive. Fuming, Pittman stepped outside, where Tyler and Cooper informed him that Nichols was with Will in the jail. The news made Pittman irate.
"I went back into the jail in a very less-than-professional way," Pittman admitted.
After shouting down the jailer, Pittman was allowed through to his son's cell, where he saw James Nichols standing outside the door, still wearing his gun, badge and police T-shirt.
"All these law enforcement personnel are sitting out front, and there's a non-law enforcement person, white male, back with him with a gun on," Ellis Pittman said. "I worked in the penitentiary, in maximum security for seven years. You do not take a gun in the back of no jail, nowhere in this country."
Will was apparently unharmed, and he was released on bond later that night. He still faces charges for the burglary. His father says that although Will has had trouble with the law for drug possession in the past, he has no previous involvement in burglaries.
Whitten could not be reached for comment Monday or Tuesday or to confirm that he owned the armored personnel carrier or that he participated in the incident. On Aug. 25, the Associated Press reported that Whitten called the allegations baseless.
Rep. Thompson, who chairs the House Homeland Security Committee, said that private citizens could only acquire military vehicles through an approved organization.
"If it was something that was surplussed and acquired that way, that's one way," Thompson said. "But you would have had to buy it with some eligible entity, some nonprofit or unit of government."
Reached Tuesday for comment, Nichols said that some private citizens were drinking alcohol by the field but emphasized that no law enforcement personnel were drinking. Nichols said no tank was present, but confirmed that there was a vehicle with tank-style "tracks."
Nichols also said that while "there were shots fired, it wasn't law enforcement."
"Nobody in law enforcement would act that ignorant," Nichols said. "Ain't nobody that damn stupid to start shooting guns when they've got officers in the woods."
Nichols averred that while he is not currently employed with the town of Tutwiler as a police officer, he was serving as one on Aug. 20, which was within the scope of his current contract, he claimed.
"I was hired onto this city as a police officer," Nichols said. "They needed some help with the city, and I volunteered to help them."
Nichols was reluctant to comment at length, though, citing the ongoing federal investigations.
"There's proceedings fixing to take place," Nichols said, "and I'd really rather not get into this, because it's fixing to get really stinky."
Read the documents related to this story:
Town of Tutwiler July 21 Alderman's meeting minutes
Officer James Nichols' statement
Previous Comments
ID

151499

Comment

Holy crap, that sounds like a really bad movie. All that was missing was villagers with pitchforks, but I guess if you can mix in an armored personnel carrier that omission can be over looked. The necks really stepped their game up in this instance.

Author

bill_jackson

Date

2009-09-02T12:58:29-06:00
ID

151503

Comment

Unreal. Why am I getting flashbacks of Rosewood, FL circa early 20th century?

Author

Renaldo Bryant

Date

2009-09-02T13:27:00-06:00
ID

151510

Comment

Blackwood- why are you? While the two indcidents are wrong they are neither alike. Didn't see anything about anybody getting lynched in Sumner or houses burn or mass killing like in Rosewood. The mob was hunting someone who was caught in the middle of a robbery. And if you re read the article Cornelius Pittman said it was mostly white people hunting his brother so I would assume that means people of color were also. It was wrong for them to hunt him like that unless they were asked to by law enforcement but don't make it out to be worse than it was.

Author

BubbaT

Date

2009-09-02T15:56:20-06:00
ID

151511

Comment

Bubba, it's BlackWATCH. And if you don't see the dangers in that piece of a potential lynch scene, then you need to wipe the sleep out of your eyes. Thank God it didn't get that far. No one is making this worse; this scene should scare the hell out of people. And what do you expect from African Americans whose parents and grandparents lived in fear of lynching (and in many cases they did, too). Good golly, man, find some empathy with what other people have experienced and quit scolding people for making really obvious comparisons. Why do some of you come here, and before comment on what is actually in the story, you start scolding others for their reaction to it? It is your way of avoiding the horrors we're reporting? I doubt it's purposeful, but you really ought to spend some time thinking about your reactions to some of these stories. BTW, apparently some black people were enlisted to help dispose of Emmett Till's body, but that doesn't mean it wasn't a lynching.

Author

DonnaLadd

Date

2009-09-02T16:11:19-06:00
ID

151512

Comment

If you can't have a few cold beers during a manhunt, well, what's the point? JK. Seriously, that sheriff needs to be reprimanded if not thrown out of office.

Author

bill_jackson

Date

2009-09-02T16:16:32-06:00
ID

151513

Comment

BTW, if anyone reading this has more information on this or other similar events in the area there, please e-mail [email protected]

Author

DonnaLadd

Date

2009-09-02T16:20:19-06:00
ID

151515

Comment

Sorry for the name mis-spelling was typing and talking to daughter,trying to finish post in a hurry to take her somewhere and didn't proof read. I said it was wrong didn't I? Do you really think they would have lynch him or shot him if they had found him? I don't. I am not hiding from the horrors of what you are reporting(I knew about it the day it happened there's even a website that was set up the next day reporting it) I just don't see the comparisons One was a lynch mob that lynched an innocent man, burned houses, killed black people and one was a bunch of rednecks hunting for a suspect caught in the middle of burglarizing a home. Neither was right but one does not compare to the other in my opinion. Tallahatchie County is a hell hole of racial hatred, I know that for a fact, There was a women from the state health dept here in Jackson about 15yrs ago that got chased and run off the road by bunch of those redneck heathens just because she was black. I talked to her about right after it happen but I don't think she ever reported it to anybody. Scared her to death. That's just plain wrong. While it has not been said the law enforcement asked for help, I have help them in searches for suspects before when we lived in the Delta, they don't have the manpower or resources like depts. around here do. Even found a peeping tom in hiding in the back of my truck after we had been searching for him for 2 hours. He was armed with a butcher knife and made a few lunges at me with it, but I didn't do anything but keep cornered till the cops got ran over from across the street.

Author

BubbaT

Date

2009-09-02T16:38:56-06:00
ID

151529

Comment

I can't be silent any longer. The Tallahatchie situation went way beyond control. And we don't have to go to Rosewood for examples. Read the Prologue to the biography of Fannie Lou Hamer and you will see that similar things have happened for less reasons right there in the Delta. But several questions remain unanswered. Why didn't Deputy Sheriff Booker take a full report (or JFP didn't indicate he had a full report) when he investigated the break-in. I think the answer is important. We all know that the Tea Party is active and the blogs on their "membership" website encourage racial hatred. They aren't at the bottom of the page, but literally front and center of the page. Yes, someone assuming I was among the happy Tea Party goers sent me the link and I have watched it to see what they are up to. They are encouraging activism. And although the "Party" may not have an official opinion of racism, the folks who are blogging certainly do. Never underestimate the gall of a white man in the Delta. Lots of folks up there live their lives like there is no tomorrow so party while we can. I know. I lived there among them. Rep. Thompson, the FBI and the Department of Justice better go in there with the same attitude as President Kennedy's Federal Marshals. As long as white folks can lie and call it the truth, they'll try. As for "mostly whites" phrase, it could refer to other nationalities rather than race.

Author

deltabelle

Date

2009-09-02T18:43:57-06:00
ID

151531

Comment

I mean this with due respect, but with this story unfolding in the Delta this past week, why was Jerry Mitchell's front-page story Sunday a rehash of Adam Lynch's story in the JFP from over a month ago about the financial problems of the Civil Rights Museum?

Author

DonnaLadd

Date

2009-09-02T18:53:07-06:00
ID

151532

Comment

I said it was wrong didn't I? Do you really think they would have lynch him or shot him if they had found him? I don't. I don't know, Bubba. Plenty of other angry group of beer-guzzling civilians have done just that in this state. And a lot of them were "good" family men, too, or overworked, or whatever. Adding insult to injury, when those things happened in the past, either no one in the state bothered to care enough to do anything, or they started making excuses for them. I'm not in the mood for either option any longer.

Author

DonnaLadd

Date

2009-09-02T18:54:25-06:00
ID

151535

Comment

Considering those idiots up there have pretty much ruined this case on every level imaginable, they deserve what scorn they get.

Author

Ironghost

Date

2009-09-02T21:38:57-06:00
ID

151536

Comment

Iron- referring to them as idiots is a compliment to some of them, if you knew them.

Author

BubbaT

Date

2009-09-02T21:58:53-06:00
ID

151537

Comment

Mr. Schaefer thanks for coming to Tallahatchie County and thoroughly investigating this incident. Clearly, this story is based upon statements you received first hand from the people that were present and would talk to you. Will was accused of committing a crime, I have no objection to my son being charged, arrested, indicted and a jury determines his guilt or innocent. Like my son, John Whitten has been accused of a crime (aggravated assault) and all I seek is for the same justice to apply. John should be charged, arrested, indicted and a jury determines whether John is guilty or innocent. It would be equally wrong for me to gather a group of friends and go chase John down with guns. Like John and his group, my friends and I believe that a crime has been committed. Do we not have the same rights as John and his friends to go after who we believe to be the suspects? Of course, we do not! We live in a civilized society and the fact that laws govern us is what makes us civilized. Regardless of what Will was accused of, law enforcement and not drunken men should have handled the matter. Yes, I agree a person has a right to protect his home. However, that right does not extend to going on a drunken manhunt to kill when your life is not in danger.

Author

Ellis Pittman

Date

2009-09-02T22:29:08-06:00
ID

151538

Comment

The word 'thugs' comes to mind...

Author

Jeff Lucas

Date

2009-09-03T05:55:31-06:00
ID

151539

Comment

Some More Info On Story... Mob Rule In Sumner, MS: http://weallbe.blogspot.com/2009/08/breaking-newsmob-rule-in-sumnerms.html W.E. A.L.L. B.E. Radio Special: Mob Rule In Sumner, MS: http://www.blogtalkradio.com/weallbe/2009/08/27/Tha-Artivist-PresentsWE-ALL-BE-News-Radio Round 2: "Mob Rule In Sumner,MS" Update & Online Townhall Meeting With Tallahatchie County Citizens... http://weallbe.blogspot.com/2009/09/round-2-mob-rule-in-sumner-update.html W.E. A.L.L. B.E. Radio Special: Online Town Hall Meeting... http://www.blogtalkradio.com/weallbe/2009/09/03/Tha-Artivist-PresentsWE-ALL-BE-News-Radio

Author

w.e. a.l.l. b.e.

Date

2009-09-03T06:36:39-06:00
ID

151543

Comment

Thank you, Mr. Pittman, for posting.

Author

DonnaLadd

Date

2009-09-03T09:52:22-06:00
ID

151588

Comment

Amen! I agree.

Author

Walt

Date

2009-09-03T17:51:22-06:00
ID

151608

Comment

Here's a great comment about this story posted on a blog in Arkansas: The story in the Free Press is as "good as it gets" to being a news story that reads more like the outline of a movie script. Telling stories like a movie: that's how we roll! ;-)

Author

DonnaLadd

Date

2009-09-04T11:15:39-06:00
ID

151757

Comment

Funny, The Clarion-Ledger finally ran a story about the manhunt story, the tank allegations, etc. a full week after Ward's above -- and it was written by the AP the day before. Do they have *any* reporters left over there?

Author

DonnaLadd

Date

2009-09-10T12:16:28-06:00
ID

151758

Comment

Here's Ward's follow-up story this week.

Author

DonnaLadd

Date

2009-09-10T12:17:33-06:00
ID

152124

Comment

And here's Ward's follow-up story *this* week: Delta Manhunt Leader's 'Guard' Disarmed After Katrina - Sept. 18, 2009

Author

DonnaLadd

Date

2009-09-19T17:11:27-06:00
ID

152130

Comment

Oh, do you mean the NAACP's Derrick Johnson's quote? That's a statement of his opinion based on the facts; that's not up to us to decide about. To be honest, I don't know if we're talking about a "reign of terror" or not. Some things certainly sound like people ought to take a second look to see what's going on, though.

Author

DonnaLadd

Date

2009-09-19T17:58:48-06:00
More stories by this author
Support our reporting -- Become a JFP VIP.
The news business has changed dramatically in the past year, and we need your help more than ever to keep bringing you important stories about Jackson and the Metro. Become a JFP VIP with an annual membership or you can Sign up as a monthly supporter. Thanks for anything you can do to empower our journalism!