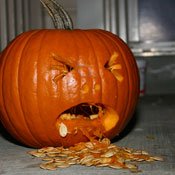 Survey a random crowd of people for their favorite Halloween-related activities, and you'll hear costumes, candy, parties and, probably, carving a pumpkin. But before you get to the fun of carving a memorable face, you have to remove something: pumpkin innards.
What to do with all those pumpkin guts? For starters, pumpkins have lots of seeds that can be easily slow-roasted. You'll need to separate the seeds from the icky, stringy pulp and rinse them in a colander before you put them in the oven. Pumpkin seeds are tiny little pods full of essential vitamins and minerals, including vitamin E, which is a great antioxidant that helps heal skin, including scars and sunburn, and also helps prevent heart disease.
Now that you have the seeds taken care of, what about all the pulp? And what if you have one of the smaller "pie" pumpkins? Make risotto. I have a friend who makes butternut squash risotto, and every time I think about it, my mouth waters. I also had the great fortune recently of eating triple pumpkin risotto in Boston, Mass.
While the seeds are an essential part of the finished product, it is the pulp and flesh that are most important. When you are at the simmering-broth stage of making risotto, throw in the pumpkin pulp to create a nutty, rich flavor. Also, cut out some pieces of the pumpkin flesh or shave it down as best you can while leaving the pumpkin intact for presentation. The flesh can be steamed or lightly oiled and roasted in the oven, then diced and added to the final stages of the risotto.
The last part of this delicious (and probably evil) dish is the pumpkin oil. This nutty and viscous oil is made from roasted seeds, and you may be able to find it in specialty food stores. Lightly drizzle the oil across your plated risotto. If you can't find pumpkin oil, just add in more of the pumpkin bits, and splurge on some lobster and pair it with the risotto. Add some crumbles of goat cheese, and you have a rich, delicious comfort food that uses nearly every part of your pumpkin.
More like this story
More stories by this author