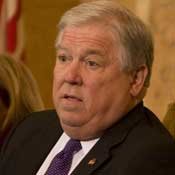 A new Mississippi program that will use federal welfare funds to help hire new employees has many policy analysts excited. The Subsidized Transitional Employment Program and Services, or STEPS Program, which Gov. Haley Barbour announced Sept. 15, uses the state's $43 million share of the welfare funds in the stimulus package to subsidize the cost of hiring 3,500 new full-time employees for private businesses across the state. The state will cover the full cost of hiring a new employee for the first two months of employment and then gradually decrease its contribution over six months.
"Always the most critical time for employers is the hiring of a person, because they have to invest and make sure they know the task," said Stan McMorris, director of customer operations for the state Department of Employment Security, which will administer the program. "There's a lot of effort on the front end for an employer."
The program is still awaiting final federal approval, but McMorris said that his staff would begin training in a matter of days.
The program would put Mississippi in the company of roughly 10 states that are using welfare stimulus dollars to subsidize employment. In Tennessee, Democratic Gov. Phil Bredesen is using $3 million to subsidize some 300 public- and private-sector jobs in Perry County, which had a 25 percent unemployment rate after an auto manufacturing plant closed. New York and California are also using stimulus funds to expand their existing subsidized employment programs. Los Angeles County alone expects to employ 10,000 people with its share of the funds.
"I think it's an exciting development for Mississippi," said Ed Sivak, director of the Mississippi Economic Policy Council. "This represents an opportunity to get folks into a broad range of positions where they can be developing skills and hopefully stay on with that job and move up the ladder."
As required by federal legislation, the program will only be open to people with a child under 18 making below 250 percent of the federal poverty guideline. For an individual, that means making less than $27,075 per year, and for a family of four it means an annual income below $55,125.
Those requirements will ensure that the program reaches one of Mississippi's neediest groups: working families. MEPC estimates that 40 percent of the state's working families have incomes below 200 percent of the federal poverty guideline, the second-highest figure in the nation. The national average is 28 percent.
"By developing this program you've got an opportunity to shine light on a group of people that employers may not usually take a look at," Sivak said.
Ideally, the jobs created by the STEPS program will lead the way to better-paying, higher-skilled work for the new hires.
"When you can get an opportunity for a low-skilled person to get a job—and it may be through a subsidy—while that person is on the job, they're getting training," Sivak said. "If you work at a fast food restaurant, and you learn how to balance your drawer, you're getting skills as you're doing that job."
Marianne Hill, an economic researcher with the state Institutions of Higher Learning, said that subsidized jobs must include training if they are to be effective. "There are some cases where it's worked, but it's been in the context of a broader picture where there's some kind of training involved," Hill said. "The more safeguards you have, the better."
But a job is not always enough. Liz Schott, who studies federal welfare programs for the Center on Budget and Policy Priorities, says that even with training, additional services are necessary to ensure that new hires keep their jobs and benefit from them. Parents of pre-school-age children need childcare if they are going to take a job outside the home.
"They get a paycheck, and that's good, but they may be set up for failure and not getting the supports they need," Schott said.
While Schott lauded the value of a well-supported subsidized employment program, she noted that Barbour was making a statement in how he's choosing to spend the state's $43 million welfare boost. By devoting all of the state's welfare stimulus funds to the STEPS program, he leaves the state's direct cash-assistance programs without an increase.
"They're basically saying, 'We're only going to give money to people who are working; we're not giving money just to poor families with children,'" Schott said.
The STEPS program does not specifically provide for services beyond the job, but McMorris emphasized that the state will be watching the program carefully. When potential employers apply for the program at the state's WIN Job Centers, center staff will verify that they are offering a position that is actually new and not seeking to replace an existing employee with a federally subsidized one. State guidelines bar occupations that are "controversial in nature," like bartending, from the program. State auditors will also check on participants for two years after their participation in the program to see if they remain employed and if their earnings increase.
State officials are trying especially hard to solicit participation from small businesses, McMorris added. In addition to an advertising campaign, the state is also reaching out directly to small business associations. McMorris is confident that many business owners are already aware of the program.
"We get calls every day from employers checking up on it, wanting to know when they can start," McMorris said.
More stories by this author
Support our reporting -- Become a JFP VIP.
The news business has changed dramatically in the past year, and we need your help more than ever to keep bringing you important stories about Jackson and the Metro. Become a JFP VIP with an annual membership or you can Sign up as a monthly supporter. Thanks for anything you can do to empower our journalism!