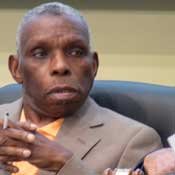 The Jackson Public Schools Board of Trustees renewed a popular music education program last night, after its failure to do so last month resulted in weeks of outcry from parents and education advocates. Board members voted 4-0 to approve the district's contract with the Mississippi Symphony Orchestra, which provides concerts to all JPS elementary schools and string instruction to over 400 students.
Board members Ivory Phillips and Delmer Stamps, both of whom originally voted against approval, joined program supporters H. Ann Jones and Jonathan Larkin for the unanimous vote. Board President Sollie Norwood was absent at yesterday's meeting and at the Oct. 20 meeting when a 2-2 vote on renewal put the program on hold.
Phillips and Stamps both cited the district's budget shortage as reasons for their original "no" votes. The district must make $6.1 million in cuts this year. At yesterday's meeting, Stamps urged Superintendent Lonnie Edwards to speed up a cost-benefit analysis of all district programs. Before voting in favor of the contract, Phillips said that he had felt insulted by the critical comments he received after his Oct. 20 vote.
"I was a little disappointed that some folks assumed that I didn't value the arts," Phillips said. "I just want to remind folks that it was myself, last year, that said that this program ought to be expanded so that the children in every school would have the opportunity. But people have short memories if it's something that they really want to attack you about."
Robert Blaine, director of the orchestral studies program at Jackson State University and the parent of a student in the music program, spoke in support of the contract at yesterday's meeting. He said he was "very, very pleased" with the board's decision. Blaine agreed with Phillips that the program should expand its reach in the district and pointed to a similar program in Memphis. The Memphis program grew from using out-of-district professionals to employing full-time music instructors who rotate through schools.
"They started exactly where we did and they have taken their program and moved to the next stage of implementation," Blaine said. "That's really what I think this program is going to have to move towards to serve the entire district."
Phillips also said that he wanted more specific information about the program, specifically how much of its total cost went to instruction as opposed to performances.
The music program's performance component, which includes concerts with the full Mississippi Symphony Orchestra and its smaller ensembles, accounts for less than half of the program's total cost, according to MSO Executive Director Michael Beattie. String instruction makes up roughly 57 percent of the program's cost, Beattie said. With the school year nearly a third over already, the contract that board members approved yesterday will cost JPS $211,000, rather than the original cost of $300,000 for the full school year.
"We're thrilled for all of the students who are affected by this program, and we're looking forward to continuing our partnership with JPS in making this program as vital as can be and in growing it," Beattie said. "We're glad to see it up and running."
Board members also tabled a vote on a proposed anti-bullying policy after hearing several points of concern during the meeting's public comment period. Sarah Young of the Mississippi ACLU told board members that the version of the proposed policy posted for public notice on the JPS Web site differed from the version that board members were considering.
"We don't believe that the public actually got to see the policy that you're voting on tonight," Young told the board.
John Yu, a JPS graduate and intern with the Mississippi Safe Schools Coalition, took issue with gaps in the proposed policy. Despite stating the district's disapproval of bullying, the policy did nothing to specify recourse for victims of bullying, Yu said, adding that a better anti-bullying policy would explain how to report bullying and list protected categories of students.
"Students don't know what to do when they're bullied," Yu said.
More like this story
More stories by this author