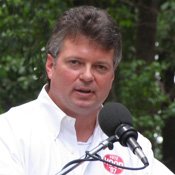 Mississippi Attorney General Jim Hood continued his efforts to combat cyber crime today, unveiling an Internet safety video created in collaboration with Comcast Cable. The video, which will be available to Comcast subscribers and on the attorney general's Web site, is aimed at parents and children.
Education on Internet safety can help children prevent cyber-bullying, control their online reputations and avoid exposure to potential predators, Hood said.
"Kids live their lives on the Internet now," Hood said. "It's so central to their lives, and parents don't fully understand what they're doing out there."
Hood noted that his many of the people investigated by his office's Cyber Crimes Unit for possession of child pornography are also suspected of child molestation. While law enforcement cannot prevent what Hood called the "mental disease" that afflicts some of the arrestees, proper education can keep children away from potential predators, Hood said.
Hood emphasized that parents, because they usually lag behind their children in adopting technology, must communicate with their kids about using the Internet. Unlike with drug use, parents can have little idea what their children are doing on the Internet.
"Sit them down at the computer and let them tell you what they're doing," Hood advised parents. "They love to teach you things."
Comcast Cable spokeswoman Frances Smith explained that the video's release is timed to coincide with the winter holidays, when many students will have greater access to the Internet at home.
"As a leading provider of broadband services in Mississippi, Comcast has a responsibility to ensure customers have the security information they need to enable parents to protect their children from the growing problem of Internet predators," Smith said.
The free video will be available on Comcast's Video On Demand service by the end of the week. Comcast cable subscribers can access the video at any time on channel 888, in the "My Community" Folder. The Attorney General's Office will also host the video on its Web site (http://www.ago.state.ms.us).
More stories by this author
Support our reporting -- Follow the MFP.