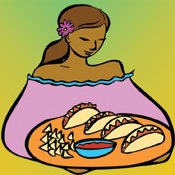 I've been yammering on and on for the past few weeks about how much I really love tacos. After living on the West Coast for two years, I became accustomed to the good stuff—genuine tacos that have not been changed to suit American taste buds. I also became accustomed to beautiful fusion tacos that showcased flavors people rarely associate with tacos. When you think of the word "taco," what comes to mind? Taco Bell? Crunchy? Ground beef? Cheese? Lots and lots of cheese? I am putting my foot down and urging you all to step away from those imposters.
OK, so they're not totally imposters, but I ask you to consider something your taste buds will appreciate.
Tacos are one of the easiest meals to make at home, and it is a fun experience to have with friends for a casual dinner party. By the time you assign everyone an ingredient, your meal is nearly complete. Something to remember about your ingredients is that fresh is best (I always harp on this and will continue to as it is truly important).You can easily find a lot of your ingredients at the various farmers' markets around town.
Let's start with the tortillas. I know the crunchy shells are the standby, but consider using flour or soft corn tortillas. You can buy both of these at any local grocery store, but keeping with my mantra, buy the fresh ones when you can. This is challenging in Jackson, but I've discovered a tortilleria in Pearl just off Highway 80 on George Wallace Drive. They make fresh corn tortillas every day and are worth the drive.
Next comes the fillings, and the sky is the limit. You can decide to go with traditional fillings or infuse your tacos with something more, like citrus salsas or protein-rich fish and shrimp. Either way, buy local when you can. We have ready access to locally and regionally caught fish, and you can hit up local butchers and farms for beef, pork and chicken. My favorite protein for tacos is spicy shrimp, but more on that later.
Taco fillings can and should include a range of cheeses (cheddar, Monterey Jack), produce (lettuce, cabbage, tomatoes, peppers, onions, cilantro, avocado) and sauces or salsas.
Salsas in my kitchen often act as the one element that brings everything together. Recently I introduced several friends to pineapple salsa. All it takes is chopped fresh pineapple, sweet onions, cilantro and the nice little kick of jalapenos. When combined with spicy shrimp, cabbage and a little sour cream, it will make your mouth sing. Another favorite is peach salsa, which calls for many of the same ingredients. It pairs nicely with chicken and chipotle peppers.
Keeping things simple is a good practice when making tacos. One of my all-time favorite combinations is barbacoa (oh, yes, cow head) served on fresh tortillas with cilantro, onions and a thin spread of guacamole. For the record, the guacamole I make never, ever contains sour cream. I prefer to focus on the nuttiness of the avocado so that I can highlight it with lime and cilantro.
No matter the direction you take with tacos, summer is coming quickly, and it is the perfect season to take your dinners outdoors and get a little messy.
Spicy Shrimp Tacos with Pineapple Salsa
1 tablespoon mild oil (safflower or olive)
20 – 30 shrimp, cleaned
1 heaping teaspoon cumin
1 heaping teaspoon cayenne pepper
1/4 teaspoon salt
1/4 head of sliced cabbage
1/2 cup sour cream
Tortillas (warmed)
Salsa
2 cups freshly chopped pineapple
3-4 jalapeno peppers, finely chopped
1 cup roughly chopped cilantro
1 cup chopped onion
Salt to taste
1 small lime
Make the salsa first, as the shrimp will cook quickly. Chop your pineapple and add to bowl. Add chopped onion, peppers and cilantro and mix well. Cut lime in half and juice into salsa, coating well. Add salt to taste. Set mixture in fridge.
Heat oil on medium heat, adding shrimp and coating in oil. As shrimp begin to heat, sprinkle generously with cumin, salt and cayenne pepper, making sure all shrimp are lightly coated. Continue to stir and cook all sides until shrimp are opaque. Remove pan from heat and begin building tacos.
Make each taco with three to four shrimp, a light smear of sour cream and garnish with cabbage and pineapple salsa.
Previous Comments
ID

147938

Comment

But what about the Taco Truck??? I would chase it around town every day to eat tacos like this one!

Author

andi

Date

2009-05-20T22:05:36-06:00
ID

147950

Comment

Splendid piece. I am always looking for a new surprise for my taste buds and this article is inspirational. Thank you Neola!

Author

gwilly

Date

2009-05-21T07:10:50-06:00
ID

147952

Comment

Andi! The taco truck is coming, I promise. I've had so much positive response that it has to happen now. gwilly, many thanks. :)

Author

nyoung

Date

2009-05-21T07:35:48-06:00
ID

147953

Comment

Yay!!

Author

andi

Date

2009-05-21T07:54:13-06:00
ID

147978

Comment

That sounds delicious! Thanks so much for the info on the tortilleria, I am over there ALL the time and had no idea! That beats making your own. If you want to do that, the County Market has all the ingredients. This is my favorite, USE LOCAL HONEY!!! I like to serve it with smoked, jerked pork wrapped in flour tortillas and with corn chips! yum. Feel free to bump up the jalapeno. Serve this tasty pineapple salsa with grilled or broiled fish, chicken, or pork. INGREDIENTS: 1 cup finely chopped fresh pineapple 2 tablespoons finely chopped purple onion 2 tablespoons finely chopped green onion 1 tablespoon finely chopped red bell pepper, optional 1 tablespoon finely chopped fresh cilantro 1 tablespoon honey dash ground red pepper, cayenne or chipotle 2 teaspoons finely minced jalapeno pepper, optional juice of 1 fresh lime, about 1 1/2 to 2 tablespoons 1/4 teaspoon black pepper PREPARATION: Combine all ingredients in a GLASS bowl; cover and refrigerate for an hour or more to blend flavors. Serve with grilled or broiled fish, chicken, or pork. Makes about 1 1/3 cups.

Author

noel

Date

2009-05-21T12:57:43-06:00
More stories by this author
Support our reporting -- Become a JFP VIP.
The news business has changed dramatically in the past year, and we need your help more than ever to keep bringing you important stories about Jackson and the Metro. Become a JFP VIP with an annual membership or you can Sign up as a monthly supporter. Thanks for anything you can do to empower our journalism!