Former mayoral bodyguard Michael Recio has pleaded guilty to a misdemeanor for his role in the 2006 demolition of a Ridgeway Street duplex, according to WAPT and a federal attorney with knowledge of the case. Recio was the last remaining defendant in a case that originally included another former bodyguard, Marcus Wright, and former Mayor Frank Melton. Wright pleaded guilty to a misdemeanor in October, and prosecutors dropped their charges against Melton after his death last week.
Recio, Wright and Melton beat state charges for the Ridgeway incident in 2007. They faced federal charges of willful deprivation of civil rights and conspiracy against rights, which each carried a maximum sentence of 10 years. Prosecutors dropped a firearms charge against the defendants after their first federal trial, which ended in a hung jury on Feb. 24.
Previous Comments
ID

147466

Comment

Thank heavens. This thing was all about getting Frank. I am happy that Recio and Wright both can now move on with their lives.

Author

Powerman

Date

2009-05-16T11:34:02-06:00
ID

147537

Comment

Powerman, I am glad this is over, also, for the city. Though I appreciate your position, I simply must respond to the quote that "This thing was all about getting Frank." This was all about prosecuting individuals who had been indicted for not following the law and violating the Constitution of the United States of America. Two of the 3, based on this article, have now pled guilty. Anytime any elected official or public servant deliberately defies the law under the guise of carrying out his/her own agenda, our very freedoms as Americans are at stake. If prosecutors ignore such behavior it enables it. And, I don't give a flip what the name of the elected official or public servant is, whether it is Frank or Tom or Harry. Though, it seemed that too often many of us in Jackson kept having a tendency to go off subject by focusing on the name and not the serious issues involved. And, when we did that rather than expect our elected leader and servants to be held accountable, we bought in to putting the law and the Constitution in second place and accepting and enabling unlawfulness were eleveated to first place. The legal debaucles have distracted us from all of the hard work that we as Jacksonians need to be involved in to try to build and maintain a healthy place to live. I just pray that we can now focus on that.

Author

J.T.

Date

2009-05-17T14:26:49-06:00
ID

147540

Comment

Agreed, J.T. This was about protecting the rights of individual citizens, even though who are not perfect and make mistakes. The federal government did the right thing, and in so doing, kept that group of people led by Melton from hurting my people. I'm glad it's over, too. (I will soon publish Melton's side of the story, by the way, which he had asked me to hold until after the trial ended.)

Author

DonnaLadd

Date

2009-05-17T14:32:16-06:00
ID

147554

Comment

With all due respect JT and Donna, If you believe that this was about protecting Evans Welch's constitutional rights there is a great big bridge that connects Oakland and San Fransisco...I own it and will it deed it to you for $50.00. Yes by the strict letter of the law there was a criminal case here; however, I can tell you as an attorney that these type cases are rarely prosecuted against officials when there is no damage to a person. Normally, a prosecutor would recommend a civil suit which Dennis Sweet has filed.

Author

Powerman

Date

2009-05-17T19:34:08-06:00
ID

147555

Comment

Additionally, if this was not about getting Frank why offer Wright the first and best deal, after all he is the one who admitted brandishing the gun??

Author

Powerman

Date

2009-05-17T19:40:08-06:00
ID

147560

Comment

Powerman, I am not interested in buying your bridge, though I seriously doubt that you own the Oakland Bridge. Prosecuting offenders who are violating the civil rights of a person effectively ends up protecting not only the specific individual whose rights were violated but the righs of ALL INDIVIDUALS because an elected official or public servant who violates the rights of one individual erodes the rights of all. The personhood of the individual whose rights were violated isn't the issue. Our Constitution was not written to protect only nice people. The issue is the violator. Not prosecuting would have been unacceptable. Powerman, you aren't the only legally trained person who blogs here. But since you indicate you are so trained, I am confused as to why you don't understand about accepting a defendant's plea and then presenting the testimony of one who has pled against other defendants. As you know, this isn't the first case in which this has happened and it won't be the last. Frank Melton was not a unique defendant in that respect.

Author

J.T.

Date

2009-05-17T21:01:09-06:00
ID

147561

Comment

You are right about protecting our constitutional rights, I don't dispute that. I am saying that if this were a different defendant the feds would not have been involved. It is highly unusual for federal prosecutors to come from Washington D.C. to prosecute a case. This is why we have U.S. attorneys in each state. Some one or some persons pushed this issue in Washington. I am not saying that the charges aren't legititmate, I am saying that the motive for enforcing the law in this case was political. Look at all of the famous civil rights cases we have had in our state, how many have D.C. prosecutors directly had a hand in them? Is a home really more important than Medgar Evers life? or the hundreds of civil rights cases where lives have been lost or people have been left permanently deformed. I don' think so.

Author

Powerman

Date

2009-05-17T21:20:32-06:00
ID

147562

Comment

As for plea deals you are right they aren't unusual; however, in this case Wright commmitted the most culpable offense. His brandishing a gun on a civilian without cause amounted to an assault. If he was not affecting a lawful arrest or his safety was not in danger, he had no right to pull his gun. Therefore why propose such a lenient deal to him, unless your objective is a bigger fish. Melton, on the other hand, (also crinminally culpable) did not threaten anyone with a weapon. He if you accept the testimony of Wright and others directed the destruction of property; this did not endanger any lives (yes I know that was wrong), but from a criminal perspective Wright's actions were closest to the intent of the constitution, which is the right of persons to feel secure in their homes and personal effects without unlawful searches and seizures. I don't want either action; however, someone pulling a 45 in my home would make more uncomfortable then busting out my windows.

Author

Powerman

Date

2009-05-17T21:28:39-06:00
ID

147600

Comment

Powerman, you and I would both agree that if a mayor of a capital city is indicted on charges of violating the civil rights of an individual, that is not a little matter. For by virtue of the power given a mayor in our type of government, the civil rights of all are definitely in jeopardy if the mayor is violating the civil rights of any. As far as feeling secure in my home, I don't want either an elected official or his big ole bodyguards coming during the middle of the night and sitting on my front porch or kicking in my front door or pulling a 45 inside it or even standing in my front yard beside a huge police van with guns pulled and flack jackets on in the middle of the night noising up my neighborhood. And, I sure don't want them knocking my house down. Who is holding the gun is important in one sense and absolutely not in another. All of this in my gut and soul and heart and mind reeks of Nazism. And the part of me that must stand up for what is right rises us with such energy and force that it is almost a separate entity and it simply stands there demanding that such violations be confronted. Maybe somebody else somewhere felt that way, too. I have no idea.

Author

J.T.

Date

2009-05-18T09:42:50-06:00
ID

147604

Comment

Does anyone know whether Recio is banned from being an officer of the law. Despite Powerman's objections, it's evident that Recio violated the law on a number of occasions to protect the mayor. An officer who has no respect for the rule of law should not be an officer.

Author

Brian C Johnson

Date

2009-05-18T10:47:33-06:00
More stories by this author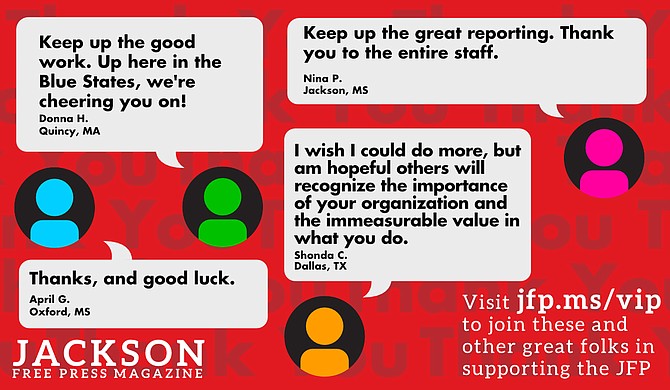 Thanks to all our new JFP VIPs!
COVID-19 has closed down the main sources of the JFP's revenue -- concerts, festivals, fundraisers, restaurants and bars. If everyone reading this article gives $5 or more, we should be able to continue publishing through the crisis. Please pay what you can to keep us reporting and publishing.