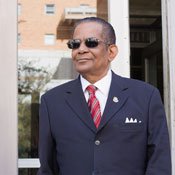 Fresh off an announcement of his re-election campaign, Mayor Frank Melton received two signs last week that his legal woes are not over. Jackson police officer Robert Watts filed a civil suit March 3 in Hinds County Circuit Court alleging that Melton had him transferred after he cooperated with the FBI in Melton's federal case. Two days later, Judge Dan Jordan set a date for a retrial of Melton's federal civil-rights case, after the first trial ended in a hung jury Feb. 27.
In his complaint, Watts, who had notified the city of his intention to sue in November, says that he spoke to the FBI during its investigation of the mayor prior to his July 9 federal indictment. Two days after Melton's indictment, Watts claims, the mayor approached him and told him: ӑI heard you have been running your damn mouth, but that is OK; I got you later, and you'll learn that,' or something similar."
Weeks later, then-Deputy Chief Ronald Sampson transferred Watts from his downtown assignment to the Precinct 2 night-patrol shift in West Jackson, known as "Charley Shift" because it has a high rate of violent crime.
"It is common knowledge throughout the JPD that JPD officers are assigned to Precinct 2's Charley Shift as punishment for work-related misconduct, or for challenging work-related injustices or authority figures, such as Defendant Melton," Watts alleges in his complaint.
Reached at City Hall, Melton said: "It's just not true," adding that he couldn't comment on the litigation.
Sampson told Watts that he was being transferred because Precinct 2 was "short-handed," but Watts' transfer order also moves two officers in the opposite direction, from Precinct 2 to his old downtown shift.
Watts has lost income as a result of the transfer from Special Projects, his attorney Dorsey Carson said. Carson added that Watts lost another special placement soon after filing his notice of intent to sue Nov. 18. He was removed from the Nov. 22 Capital City Classic football game after being originally assigned to it, Carson said.
"They pulled him off of that," Carson said. "From what I understand, the officers were shorthanded that day, although he was told that he was not needed."
Watts' suit names the mayor, the city of Jackson, Sampson and his then-immediate JPD supervisor Lt. Zachary Donaldson, who gave Watts his initial transfer notification, as defendants. Citing violations of his right to free speech, negligent supervision and emotional distress, he is asking for $250,000 in damages and additional punitive damages.
The defendants have 30 days to submit a reply to Watts' complaint.
JPD Chief Malcolm McMillin told The Clarion-Ledger in November that he was solely responsible for Watts' transfer and that the decision was based on Watts' performance. Watts' suit acknowledges that Sampson later told others that he had been transferred because of complaints, but states that he "has performed and continues to perform his work duties satisfactorily, without any substantiated complaint or incident."
Carson said he has found no evidence suggesting that McMillin knew about the mayor's threats. "We believe that command came directly from Mayor Melton through Deputy Chief Sampson, and we believe that a different reason was given to McMillin for the transfer request," Carson said.
"Watts' concern honestly is not the monetary amount," Carson added. "It really is to make sure that this doesn't happen to other police officers in the future, that they're not punished for doing their job."
For breaking news, visit http://www.meltonblog.com.
Previous Comments
ID

144636

Comment

What kind of city is frank trying to set up for the citizens of Jackson? Does he think that this dictatorial form of governing is going to continue to fly and that people are not going to complain when he makes these bold threats and uses others to carry out his dirty work? McMillin needs to put himself in check. frank will have him in the middle of a creek that he can't swim out of. Good folks just don't like this kind of behavior: It doesn't matter who is doing it.

Author

justjess

Date

2009-03-12T11:25:12-06:00
ID

144718

Comment

justjess is right Melton always think he can scare pople by using threats and other to intimidate people. Melton there are people out there that aren't scare of you or intimindated by you. You need to keep your mouth shut and quite lying and pray that this time you won't be sitting in a Federal Jail cell. I guess that you believe you are above man's law but brother one day you will be judge by God's Law.

Author

Tony Davis

Date

2009-03-15T14:00:05-06:00
More like this story
More stories by this author