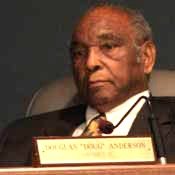 The Hinds County Board of Supervisors voted 4-1 last Tuesday to end its efforts to build a regional jail, after spending more than $400,000 on acquiring land and designing the facility. The jail would have housed 300 state inmates and 100 county inmates, but Corrections Commissioner Chris Epps revealed to board President George Smith last week that the state had no need for additional beds. The state currently has 600 fewer inmates this year than it did in 2008.
"Frankly, I'm glad this happened, in order to stop it," District 4 Supervisor Phil Fisher said. "I've never thought this regional jail was a good idea."
Like Washington, Yazoo, Chickasaw and Alcorn counties, Hinds County got the state Legislature's approval to build a regional jail in 2004. Hinds would have received $29.75 per day from the state for every state inmate it held at the jail.
Unlike those other counties, however, Hinds never signed a contract with the state ensuring a base population of state inmates. The Board also lagged in planning the facility. It assigned IMS Engineers to the project in 2007, only to take them off the project after the board's composition changed with the 2007 elections. In early 2008, the Board reinstated IMS.
"This is an action caused by inaction by the Board of Supervisors—the previous board, and to an extent, this board," Fisher said. "Hinds County did this to themselves."
Fisher added that IMS, which receives many of the county's engineering contracts, was overworked and responsible for the some of the delay.
"Instead of trying to find other architects and other engineers to work with, a majority of the Hinds County board is determined to work with just one vendor in each of those categories," Fisher said. "And the problem is they get behind on the work. It doesn't get done, and that's what happened here."
Fisher admitted that addressing overcrowding in the county's jails was not a priority for him, pointing to statistics on his Web site, which show that between 70 and 80 percent of the county's inmates come from Jackson.
"Most of my district is outside of Jackson," Fisher said. "These jail cells—this is a Jackson problem."
District 2 Supervisor Doug Anderson, who cast the lone vote in favor of the jail, acknowledged that the board was partly to blame for the project's dissolution.
"We were dragging our feet," he said.
Anderson added, however, that Epps had submitted a contract to the county two years ago. The contract required approval from the sheriff's department, but Sheriff Malcolm McMillin never signed Epps' proposal, he said.
"I think it's disgraceful for the Board of Supervisors to arbitrarily decide that we are not going to incarcerate these criminals that are running the streets," Anderson said. "It's just utterly ridiculous for us to buy the land, design the facility, and then decide that we're not going to build it."
McMillin disputed Anderson's claim that the sheriff's department was responsible for the lack of a contract.
"I don't think we'd ever gotten to the stage where a contract would be required," McMillin said. "There were so many ifs, ands or buts about it."
In an e-mail response, MDOC spokeswoman Suzanne Singletary said that MDOC sent Hinds County an inmate housing agreement, which required signatures from the sheriff and supervisors.
"MDOC provided the county an agreement," Singletary said. "The agreement was never signed nor returned."
While the state's $29.75-per-inmate-per-day would not have covered all costs of the jail, state funds would have paid for a significant chunk, Anderson said.
"It is well known that we make money off of the (newly-constructed county) penal farm, where we get $20 a day," Anderson said.
Fisher and District 3 Supervisor Peggy Calhoun have raised doubts that the state's contribution, which would equal roughly $3.2 million per year, would have sufficiently offset the jail's construction and operation costs, though.
The Board is now exploring the possibility of a 100-bed expansion of its county jail facility, Calhoun said. Fisher said that money for an expansion could come out of the county's remaining $14 million from a 2007 bond issue, but that he will only support an expansion if the county knows all costs beforehand.
"We're actually going to have to do it this time—if I have my way—in a professional and business-like way, and not harum-scarum," he said.
More stories by this author
Support our reporting -- Follow the MFP.