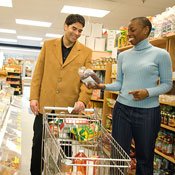 For every $100 spent at a locally owned business, $45 stays in the local economy. That is the finding of a study by Civic Economics, which found that shopping at a chain store only renders $13 back into the local economy. By shopping locally, residents can actively invest in their communities and reap the benefits of a stronger local economy.
When consumers spend money in locally owned shops, business owners are more likely than their corporate counterparts to invest that money back into the local economy, the study says.
Their money goes toward a variety of local entities such as suppliers, marketing personnel, accountants and printers, all necessary for businesses to survive.
The Mississippi Tax Commission reports that .18 percent of the 7 percent state sales tax, goes into the local economy when shopping inside the city's limits. Many local business owners are residents in or close to the community where their business resides.
As a result, when business owners make a profit, that money stays in the area through taxes—such as state income and property taxes—which is also true of the employees who work at the local business.
"Labor cost is between 50 and 70 percent (of a business' spending), and with smaller business it is closer to 70 percent," says Rod Aldridge of the Fondren Association of Businesses. "… If you have up to 70 percent going to wages, those wages turn right back into the (local) economy."
While shopping at locally owned businesses is the best way to keep money in the local economy, other options exist to support your community with your spending. First, don't buy anything online you can buy locally. If you must go to a big-box outlet, choose one within the city limits.
Shopping at locally franchised stores is better than shopping at chains owned by absentee corporations, but Renee Shakespeare of the Jackson Association of Neighborhoods says it can negatively impact local business.
"Franchise stores have volume buying power, and as a result of that power they are able to drive down prices. But in the process of driving down those prices, there are many larger businesses that drive many smaller businesses and manufactures out of business," Shakespeare said.
Shakespeare says the effects are similar with large corporate chains: "They are able to basically hold (small businesses) hostage," she added.
Aldridge added that shopping in local businesses also helps the boost philanthropy in the community.
"Small business owners generally get much more involved in their local communities—through contributing to non-profits, and spending their time and efforts or resources to those non-profits for whatever needs to be done," he said.
More stories by this author
Support our reporting -- Follow the MFP.