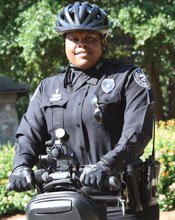 As I approach Smith Park, I spot a woman standing in a black long-sleeved JPD uniform, gun on belt, badge on shirt and dark shades over eyes.
As she sees me, Officer Colendula Green approaches me with a smile and calls out, "When I saw you, I knew you were Jonathan from the Jackson Free Press!" I no longer feel intimidated as we both laugh and begin the interview.
Now 32, Green grew up in Mt. Morris, Mich., where she listened to her father tell war stories about his fight to save some fellow soldiers' lives. After hearing about her father's heroic actions, she developed a zeal for making a positive difference in people's lives.
Green graduated high school in 1994 and then attended Kansas City Community College on a basketball scholarship. After Green's first year at KCCC, her cousin began talking to her about the possibility of attending Jackson State University.
"I was missing my family, and my cousin begged me to come with her to Jackson State in the fall, so I transferred," Green says. From 1996 to 2000, Green studied criminal justice at JSU, and in 2002, she completed the elementary education program.
Today, Green is part of the Downtown Patrol Unit for the Jackson Police Department, and has been a member of the JPD for four and a half years. Her goal is to have an effective and positive approach with the citizens of Jackson.
Encouraging Jacksonians to have a greater trust for officers and practicing proactive policing is the focus of Green's daily work.
"My first approach is treating everyone that I come in contact with like a human being," Green says. "I enjoy the opportunity in helping others from all walks of life and every socioeconomic status."
When she is not arriving for duty an hour early, Green takes pleasure in writing poetry, drawing, playing basketball, working out and reading. She enjoys Jackson because the area is "laid back, pleasant and up-and-coming."
Green also is busy raising two boys. Although she says it is a difficult task to accomplish sometimes, living a healthy, balanced life is important to her.
"I have a stable life with my two boys. We enjoy going out to eat, the Jackson area museums, the city's parks, and being a loving family," she says proudly.
More stories by this author
Support our reporting -- Follow the MFP.