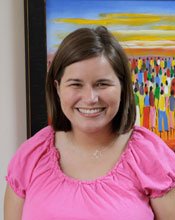 After graduating from Starkville High School 1999, Emily Sanford began studying biological engineering at Mississippi State University. She shifted her studies to biochemistry and molecular biology during her junior year, and when she got to her senior year, she began to re-examine her major, yet again.
"I know I want to help people, and I can do the science," she thought, "but for me, my heart isn't into this."
When she graduated in 2003, Sanford was still unsure. Instead of entering the work force just yet, she opted to participate in Mission Year, a program that allowed young adults to live and work in an inner city in America for a year. Sanford packed her bags and headed for Oakland, Calif.
"It was like the Christian 'Real World,'" Sanford, now 28, says of her stay in Oakland. She volunteered at a homeless shelter and health center, and her roommates hailed from Northern Ireland, Southern California, Long Island and Minnesota.
It was this experience that led Sanford to attend seminary school in 2004. She went on to Duke Divinity School where she received her master's in social work and also in divinity. During the summers, Sanford volunteered in a number of places, including Trinity United Methodist Church and Revels United Methodist Church in Greenville, Miss., where she did racial reconciliation work. This led to her appointment as the pastor of students at Galloway United Methodist Church in Jackson.
Sanford works with young people at Galloway and is in involved with the church's "Grace Place" program, which serves the homeless in Jackson.
"Amazing people with amazing stories," she says of the homeless people she works with.
Sanford isn't the only pastor in the family. She is the oldest child of five, and lives with her brothers Eric and Evan. Eric is the senior pastor at Alta Woods United Methodist Church in south Jackson. She stays connected with her family, which she says is important to her.
As a bulldog, Sanford says she is obsessed with everything MSU and also loves to follow Duke basketball. Although she was born in Jackson, her family moved to Starkville when she was an infant, so she also enjoys rediscovering the city.
"I love learning about new restaurants in Jackson … and also the distinctively Jackson things that I am still learning like Mistletoe (Marketplace) during Christmas and Fondren After Five."
Sanford also finds it important to make time for Sabbath and to take care of herself. "I'm in this for the long haul," she says.
More stories by this author
Support our reporting -- Follow the MFP.