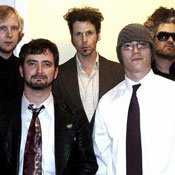 After performing at a local venue in Monroe, La., one night a few years ago, I quickly rushed my drums off stage to make way for the next band. Before I could get all my equipment out of the way, five guys in full suits began loading their gear on the stage. I recognized one of the men as an English teacher at my high school. I had heard he was in a band, but didn't envision him playing to the same crowd.
Suddenly, the lights flicked off, and the sound of punk guitar riffs began to emanate from the stage. One vocalist spoke lyrics into the mic as another yelled chaotically. I watched the whole set and loved what I heard. The men were all sweating through their suits by the second or third song, and it was one of the best shows I had seen in Monroe.
The Vidrines formed into a band during the coffee shop and open-mic scene in Monroe in 2004. The band started with six members: bassist Mitch Vidrine, guitarist Jamie Vidrine, drummer Jimmy Vidrine, vocalists Ronnie and Billy Vidrine and a keyboardist. They eventually lost the keyboard player because, "he decided to move to Houston and get a real job with real money," Jamie says.
It was difficult when the keyboardist left because many of the vocals and the other instruments followed the keyboard, but they accepted the challenge.
"We switched from more performance art—talking, esoteric stuff based on piano melodies—to having to go with straight-forward rhythm guitar, and basically became rock," Ronnie says .
The musical styling of The Vidrines streams from musicians like Tom Waits to early Black Flag hardcore punk. The band does not have a specific label for their music because of the diversity their backgrounds bring to the table.
"We enjoy playing together because everyone goes with any style a member brings; we aren't constrained to any one style," Jamie says.
Each member of the band goes by the last name "Vidrine." It is their way of showing their dedication to the band, and market it when they can, Mitch says.
Apart from their music, each member of the band has a strong education background. Both vocalists, Ronnie and Billy, are secondary teachers (Ronnie teaches English, and Billy works with hearing-impaired students). Jamie is a substitute teacher and is working toward a teaching degree for middle school math. Mitch, bass, works for the U.S. Air Force in sales and is also working toward a teaching degree. Johnny, drums, supervises the shut down of chemical and production plants in the tri-parish area.
Billy says that having such a strong education background plays a big part in the band's lyric-writing process.
"We try to bring an interesting perspective to what we write about," he says. "We are not writing our diary when we put stuff down, but I bring in authors like (Charles) Bukowski when I sit down to write."
Songs like "Pirates on DeSiard," which plays off a popular street in Monroe, shows the bands originality. An acoustic guitar strums in the background while vocalist, Billy, exerts emotional yells, lending a powerful but mellow feel.
The band is realistic about their goals as musicians, but the members hold strong to their desire to play music, no matter what.
"We all have day jobs and families to support. It would be kick ass if we could play music to pay our bills, but if we don't get to that level I can't think of anything better to do on a Friday or Saturday night than play music at some venue or on a someone's floor," Jamie says.
The Vidrines will play at Ole Tavern on George Street Aug. 8 at 8 p.m. Call 601-960-2700 for info.
More stories by this author
Support our reporting -- Follow the MFP.