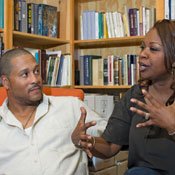 Cooking with love. That's the philosophy of Pat and Gina Neely, married co-hosts of Food Network show "Down Home with the Neelys," which they tape in their Memphis home. High school sweethearts, they reunited at their 10-year reunion and were married in 1994. They now own and operate three Tennessee-based family barbeque restaurants (you can even find them in the Nashville airport). They also have a line of their own Neely spices and sauces that can be found in local supermarkets across the U.S.
During a Lemuria signing event, the couple shared with me how happy they are with the end result of "their first baby":"Down Home with the Neelys: A Southern Family Cookbook." The conversation flows freely as the Neelys discuss their new cookbook and their love of family and food.
What was most enjoyable about the process of writing this cookbook?
Gina: You know, I guess when we were writing it, so many recipes resonated from my great grandma and other family members. … It's almost as if we were going back in life. And it made me think about how Pat and I got together and what that was like. I tell people all the time that you never really know who your soul mate is; he could be right in front of your face, and you don't know it. It sort of sneaks up on you and that's sort of what happened to Pat and me.
Pat: The best part about writing this cookbook was sharing it with my beautiful wife. Every time I look at the book and see Pat and Gina Neely, it goes back 30 years when I used to write letters to her in the 10th grade. For us to share this together, the same as we share the show, has only enhanced our relationship and brought us closer together.
What makes southern food "southern," and what does that label mean to you beyond just geography?
Gina: I think southern food is the type of food that sort of feeds the soul. It's that kind of food (that) if you have a bad day or something's just not working out, you can fix you a good banana pudding, kick your shoes off, unbuckle them jeans and eat. It's a real soul food—feeds the soul, nurtures the whole spirit.
Pat: You know southern food; when we first got into the network, they started referring to it as comfort food. We had never heard the words "comfort food." But if you ask me, "Pat, what's southern food?" (I'd say) fried chicken, mashed potatoes, cabbage, collard greens—you start talking about meatloaf, a great stew or chili, good hearty dishes.
What would you recommend to your fans who love southern food, but wish to balance that with a healthier dietary lifestyle?
Gina: Moderation. Like if you are diabetic and maybe can't have sugar, you can choose a Splenda or sugar substitute. It doesn't really change the flavor as much as you would think. I'm not a huge fan of smoked turkey neck bones for seasoning my greens—I'm not going to lie, I gotta have my ham hock—but some people feel that smoked turkey necks are healthier and a little better to season greens with.
Pat: One of the things we tell people is, Gina and I do what we call a recipe …
Gina: (finishing his thought) remix!
Pat: What we tell people is take our recipes and tailor them toward your diet or your taste buds.
Gina: Use it as a base and just build on that. … That's why the cookbook, I think, is so well-rounded—because we have dishes that vegetarians can eat. We have vegetarian chili and great salads in there; we have a little something for everybody. And great libations and cocktails.
What are some things that a home cook should always have in their pantry?
Gina: Smoky paprika, lemon pepper, Neely's dry rub and basil. All of those are great spices that you can build upon. We create a lot spices and marinades on our show, because we cook a lot of the same things that people cook, so you have to kind of put a twist to it. So you always wanna try and have a nice spice and marinade for anything.
Pat: Gina's the spice fairy, if you've seen Down Home with the Neelys. We have more spices then you can imagine. (Gina does a little fairy gesture with her hand, makes a sprinkle sound and smiles.) But I would say in a pantry, something that is a must is pasta. Because if you got Gina's spices, and you got my pasta, we can just about do anything.
On your show (and even being here with you today) one can see how much you enjoy being with each other. What tips would you give to couples on maintaining a loving relationship and friendship with their spouse?
Gina: Every relationship has it challenges, but I tell people if you don't put anything in, you can't get anything out. And making it a priority, creating balances, being dedicated and actually present in the relationship. Sometimes you have stop and slow down and really be present in your relationship.
Pat: One of the first things that comes in my mind is balance and boundaries. Boundaries in terms of, I don't cross Gina's boundaries in the kitchen (for instance). There's certain things she's passionate about—collard greens—so I don't deal with that.
Gina: And I don't go to the grill.
Pat: But I'll ask her if I can help pick them or pull the stems out: "Do you want me to boil the water, honey?" "You want me to turn them down, get them out?" But I think a key ingredient in any relationship—whether you're in the kitchen, whether you're working in a separate business or whatever—is mutual respect. You have got to respect her opinions. … You've got to have all the pieces.
Gina: And respecting individuality. Because at the end of the day, Pat is still who Pat is, and I'm still who I am.
Pat: And do we like everything about each other? … There's certain things we don't particularly care for, but the love overrules it, and then I understood to accept who she is and love her for who she is. Because some of the things I may not like about her as much make me love her even more.
And just to end this interview, I have to say I am one of the luckiest men on all the Earth because I married my first love. I met Gina when she was 15, and I was head over heels—just punch drunk in love with her. And we broke up and then we got back together. So I was able to really spend my life with the woman that I truly love. All the books we might write and all the shows we might do is just icing on the cake. My biggest reward is the three beautiful women in my life (Gina and their two daughters, Spenser and Shelbi).
More like this story
More stories by this author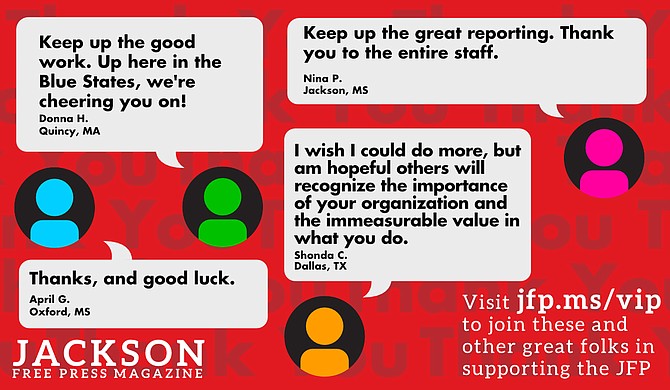 Thanks to all our new JFP VIPs!
COVID-19 has closed down the main sources of the JFP's revenue -- concerts, festivals, fundraisers, restaurants and bars. If everyone reading this article gives $5 or more, we should be able to continue publishing through the crisis. Please pay what you can to keep us reporting and publishing.