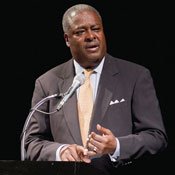 At a June 25 meeting at Koinonia Coffee House, Mayor-elect Harvey Johnson Jr. told Ward 5 residents that the theme for the city during his third term as mayor will be "responsibility." This not only applies to elected city officials, he said, but is also a call to Jackson residents to take part in their community to better it for themselves and for those around them.
"I look forward to working with each and every one of you, and I look forward moving this city forward because we need to do it together," Johnson told the crowd Friday.
At the event, Johnson focused on safety, crime, poverty, economic development and the role citizens play in bettering the situations that the city is facing. Among his chief priorities was public safety, Johnson said, adding a call to institute a crime-victims unit to ensure that victims of crime have protection during their particular cases.
Ex-offender re-entry is another major issue for the incoming administration, Johnson said. "There are too many young people coming back into our system that do not have the skills, and do not have the education to be an active participant in our job market," he said. Johnson encouraged employers to participate in re-entry programs.
The mayor-elect then spoke about poverty in Jackson—one out of four people in Jackson lives in poverty—and ways the city can address it. "We can no longer sweep it under the rug," Johnson said. He wants to combat poverty by putting people to work instead of relying on the welfare system.
Other issues Johnson addressed with the audience included school-board appointments and the need for a movie theater in Jackson.
Johnson called for Jackson residents to avoid going to movie theaters in outer lying suburbs for a month to show that Jackson is serious about bringing a theater to the capital city.
Inauguration Day Events
Friday, July 3
• 8 a.m. Prayer service at New Hope Baptist Church (5202 Watkins Drive)
• 11:30 a.m. Inaugural ceremony at Jackson Convention Complex (105 E. Pascagoula St.). Harvey Johnson Jr. will be sworn in as mayor of Jackson.
• 12:30 p.m. Reception at Jackson Convention Complex.
• 8 p.m. Inaugural Celebration at Jackson Convention Complex. Celebrate Johnson's inauguration with food, live entertainment and a cash bar.
All events are free and open to the public.
Previous Comments
ID

149233

Comment

Yeah Johnson but until you bring a movie theater downtown i cant miss Transformers, but i do agree that Jacksonians make all the surrounding movie theaters viable because of our patronage.

Author

NewJackson

Date

2009-07-01T17:57:17-06:00
ID

149234

Comment

I wish I could go to the events, but I'm going out of town. Bummer.

Author

golden eagle

Date

2009-07-01T18:13:41-06:00
ID

149236

Comment

As long as you're dreaming, get Jackson a copy of the Malco up in Madison. Especially the digital projection.

Author

Ironghost

Date

2009-07-01T19:11:05-06:00
ID

149241

Comment

A month-long boycott sounds very smart. I'll participate, but then I haven't been to a traditional movie theater since 1987 so that probably won't affect their bottom line much... ;o)

Author

Tom Head

Date

2009-07-02T03:00:34-06:00
ID

149243

Comment

While I'll agree Jackson needs a movie theater, a boycott isn't going to do anything but hurt our current options (which employ some Jackson residents). If Johnson isn't actively courting movie theater companies, or organizing Jackson residents for a phone/email/visibility campaign, a boycott is going to be viewed as sales tapering off due to recession woes.

Author

Deirdra Harris Glover

Date

2009-07-02T07:47:03-06:00
ID

149245

Comment

I don't agree with a boycott in this case, either. (Wal-Mart, yes.) I think it will take active, positive action, not to mention all of Jackson starting to live in all of Jackson to make the case for a movie theater here. And I can't imagine they would know they're being boycotted. It would only make the case to theater owners that our interest in movies has tapered off even more. In other words, as long as Jacksonians follow corporate businesses to the suburbs and not support our own, businesses will keep moving there, and then to a different suburb when the "flee" winds change, and it becomes a vicious cycle. So, it is up to us to support businesses in the city limits. Suburbanites would, too, if more of them understood the dynamics of being a bedroom community. If they're not careful, their company will up and move to a more vibrant area -- meaning the city, not the cookie-cutter suburbs. It benefits everyone in the metro to support city businesses.

Author

DonnaLadd

Date

2009-07-02T08:45:33-06:00
ID

149250

Comment

At first blush, I thought the boycott was a silly idea. But the more I considered it as a way to get theater owners and potential theaters owners to see the patronage that Jackson residents do give to theaters outside Jackson, I get the point. If they realize that demand is such that it could make a theater viable inside Jackson a smart capitalist will build one here. Unfortunately, I don't think enough people will pay attention to make a difference.

Author

WMartin

Date

2009-07-02T10:21:21-06:00
ID

149251

Comment

Jackson has had three (in my 38 years here) movie theaters: Meadowbrook Cinema 6, Metrocenter & "on the hill" near McDowell Rd. Jackson residents didn't do enough then or why else would they ALL be gone? Mayor Johnson better figure out why JPD doesn't question suspicious, bicycle-riding, two-purse toting men at 430 in the a.m. before he "pressures" Malco into business talks. http://www.youtube.com/watch?v=ylMuU8PrwZI "Background. My law partner had 2 purses stolen from her car last night. This is a clip of the perp in action, about a minute long. Watch the whole thing..then watch the perp, with purses hanging around his neck..waive at the JPD! Suspect not stopped...or even questioned...seriously...purses later found in bushes."

Author

GradyGriffin

Date

2009-07-02T12:08:51-06:00
ID

149252

Comment

I think you mean the Ellis Ave theaters, G_Griffin. I saw the first terminator movie there when it was the "dollar movies". But don't forget Cinema West off Lynch St. I saw Purple Rain about 80 times there and Rock and Roll High School at least fifty. I think it was the location of those places inside the city and their age that did them in.

Author

WMartin

Date

2009-07-02T12:26:28-06:00
ID

149253

Comment

Why did the movie theaters in Jackson close down? Lack of business? Crime? I remember going to the Meadowbrook a few times years ago, but they were all closed by the time we moved to the Jackson area.

Author

BubbaT

Date

2009-07-02T12:30:36-06:00
ID

149255

Comment

Mayor Johnson better figure out why JPD doesn't question suspicious, bicycle-riding, two-purse toting men at 430 in the a.m. before he "pressures" Malco into business talks. He was barely riding that bike. Wow, why didn't they stop him? I think Mayor Johnson's responsibility crusade needs to start with the people getting paid to protect our streets. Where is the responsibility to do what you are collecting a pay check to do? About the boycott, I don't think it's a move to pressure anyone. Only to show that their is a demand for the entertainment that a theater provides inside Jackson. Although maybe not the smartest move if no one pays attention except the theater operators and the demand in Jackson is perceived as small or none.

Author

WMartin

Date

2009-07-02T12:48:02-06:00
ID

149263

Comment

Metro Cinema 4, Meadowbrook 6, the single and double screen theatres, etc... were all old cinemas, and all went under with the evolution of the big multi-plex. Metro Mall & Cinema gave way to Northpark Mall & Cinema. When Northpark became the mall to go to, so did the theatre. Tinseltown was perhaps the closest plot of land close to downtown (5 minutes), and I imagine had cheaper taxes. Whereas Malco being the biggest, newest theatre with the most screen options, alot of folks end up doing that. They can afford the latest 3D tech, where the other theatres playing the same film may not be 3D, or digital, or on a screen thats huge. Some folks will see some films at their closest theatre to save gas, where others want to see their movies with the "grandest view" and best look/sound & puffiest seats, so they go whatever is the latest. That's why Northpark upgraded to Stadium Seating after Tinseltown moved in. Tinseltown was the hot stadium seating place, now its thought to be rundown.

Author

herman

Date

2009-07-02T14:03:00-06:00
ID

149264

Comment

BubbaT are you a jackson hater becuase you are always negative about topics concerning Jackson. Every post you reply on is negative trying to bring crime as an issue not to have any type of development. Eatoutoften get over it we are sorry your friend got her purse snatched but that dosent mean i cant enjoy a movie theater in Jackson.

Author

NewJackson

Date

2009-07-02T14:06:54-06:00
ID

149266

Comment

NewJackson- Nope don't hate Jackson. Where have I ever said anything negative about Jackson? I have never said anything about the crime in Jackson, the only thing I can remember saying about crime in Jackson was wondering why people thought crime was bad downtown and afraid to go there after dark, when downtown was a ghost town after 5 and who was going to rob them and that was probably 2 years ago. Just because I don't agree with every idea people have for Jackson, doesn't make me negative. I asked the question of why they closed because like I said I have no idea why they closed because all of them were closed by the time we moved from the Delta.

Author

BubbaT

Date

2009-07-02T14:31:12-06:00
More like this story
More stories by this author
Support our reporting -- Become a JFP VIP.
The news business has changed dramatically in the past year, and we need your help more than ever to keep bringing you important stories about Jackson and the Metro. Become a JFP VIP with an annual membership or you can Sign up as a monthly supporter. Thanks for anything you can do to empower our journalism!