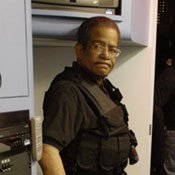 A federal judge heard arguments Friday on admitting evidence in the civil rights trial of Mayor Frank Melton and his former police bodyguard, Michael Recio. Most of the five-hour hearing concerned allegations of sexual misconduct made against star prosecution witness Marcus Wright, the mayor's other former bodyguard and co-defendant.
Defense attorneys want to introduce evidence that Wright pled guilty to a misdemeanor after government officials threatened him with the release of allegations made by Torey Smith, an incarcerated former male prostitute. In an affidavit from a Jackson Police Department Internal Affairs file, Smith suggested that Wright had sex with two male prostitutes in 2005.
Judge Dan Jordan did not make a final ruling on the issue but stated in a preliminary ruling that he would not admit any extrinsic evidence of whether the alleged sexual misconduct actually occurred.
"Don't expect any testimony today or ever about what happened that day," Jordan told attorneys.
Michael Recio's attorney, Cynthia Stewart, argued that defense attorneys should be allowed to make "low-key" references to the allegations against Wright.
"How would they be low-key?" Jordan asked Stewart. "They've been in the paper. Everyone in the room knows what they are. They seem pretty inflammatory to me."
Still, Jordan did not rule on whether defense attorneys could ask Wright if his concern over publicizing the allegations affected his testimony or his decision to plead guilty.
Testifying before the court, Recio said that Wright spoke to him soon after pleading guilty. Standing outside the apartment complex where they had worked as security guards, since leaving the police force, Recio said that Wright implied that the plea was coerced.
"Let me ask you something. Did you plead because of that situation?" Recio said he asked Wright.
Recio said that Wright responded, "You mean that lying boy? Let me put it to you this way: They told me if I plead to this, they won't go any further than this."
In direct questioning from Jordan at today's hearing, Wright told the court that prosecutors never threatened him with the release of the sexual-misconduct allegations.
Jordan also told defense attorneys that he would admit as evidence two incriminating statements Melton made to former Jackson Police Chief Shirlene Anderson. In testimony to a federal grand jury, Anderson said that Melton told her after the Ridgeway incident, "We did it. I did it," and on another occasion, "We did it. We tore that … up."
Stewart objected to admitting the statements, arguing that including the word "we" would unfairly incriminate Recio, since he was not guaranteed the opportunity to cross-examine Melton. Jordan disagreed and pointed out that "we" also could have referred to Wright and the young men who allegedly joined in the house's demolition. He added the caveat that Stewart and federal prosecutor Mark Blumberg could draft special jury instructions on the language in the statements.
In a post-hearing conference with attorneys, Jordan said that he will instruct the jury to find Melton and Recio guilty if they acted with a "bad purpose" to deprive someone of constitutional rights. By leaving out the phrase "evil motive," Jordan resolved a heated dispute over the required mental state for the civil rights charges.
Jordan also said that the trial's multiple delays will make finding an impartial jury much more difficult. He expects jury selection to take up to four days. Once attorneys settle on a jury, prosecutors expect to take five days laying out their case, and Reeves and Stewart each plan to use two days for their defenses, making an end date in the last week of February likely.
Previous Comments
ID

143191

Comment

Semantics mean a great deal when it comes to intent, and I think Melton and Recio suffered a blow with this formulation of "bad purpose" rather than "evil motive." Particularly in a state where many folks are religiously inclined, evil carries with it a lot of metaphysical baggage. But bad purpose? That's a baby step by comparison. I know that Above-the-Law Man is going to argue that he had the best possible purpose, that he was smothering the law with a pillow in order to uphold a higher law, to save the children, to free the whales. But getting drunk and setting teenagers loose with sledgehammers sure sounds like bad purpose to me!

Author

Brian C Johnson

Date

2009-02-02T08:58:18-06:00
ID

143194

Comment

melton dodged the hearing on last Friday by telling the Judge that he was giving the "eulogy" at the Murrah High Sc. student's funeral. This was another example of his stretching the truth. Fact is, melton brought a proclamation from the City (He did not read it) Instead, melton went into pleading his case saying that "they" are twisting his arm and trying to make him take a plea deal. "I am not going to do it." The family was upset that melton would use their love one's funeral to turn it into a court room and with his famous oratory delivery of "I, ME, MY." One family member talked to media about melton's disregard and disrespect for her relative.

Author

justjess

Date

2009-02-02T11:22:35-06:00
ID

143196

Comment

Here's what Melton did Friday afternoon, after the funeral: an interview with the Wall Street Journal.

Author

DonnaLadd

Date

2009-02-02T12:40:58-06:00
ID

143197

Comment

(Oh, and note Kate Medley's photo from our April 2006 ride-along with the mayor.)

Author

DonnaLadd

Date

2009-02-02T12:42:59-06:00
ID

143201

Comment

Just curious, does this violate the gag order? The interview with the WSJ?

Author

Puck

Date

2009-02-02T13:30:20-06:00
More stories by this author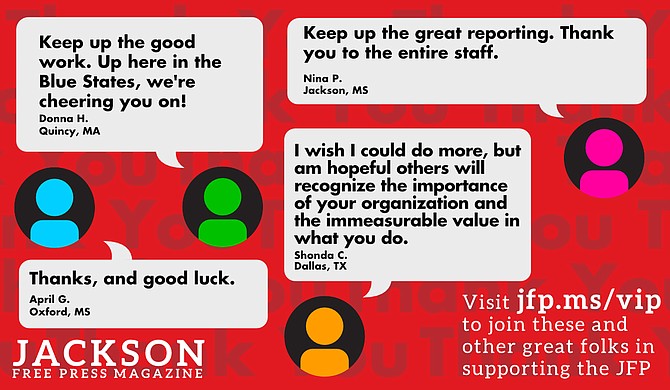 Thanks to all our new JFP VIPs!
COVID-19 has closed down the main sources of the JFP's revenue -- concerts, festivals, fundraisers, restaurants and bars. If everyone reading this article gives $5 or more, we should be able to continue publishing through the crisis. Please pay what you can to keep us reporting and publishing.