WASHINGTON - On the 36th anniversary of the Roe v. Wade decision, U.S. Sen. Roger Wicker, R-Miss., reaffirmed his belief that no one should be denied the right to life. Wicker also thanked the participants in today's March for Life rally in Washington, D.C.
"Thirty-six years after Roe v. Wade, the pro-life movement continues fighting for the unborn today in the nation's capital. I appreciate the dedication of the thousands of people from across the country that have come to Washington today to participate in the annual March for Life, and I join them in calling on the Supreme Court to overturn the Roe v. Wade decision.
"Our nation was founded on the belief that every person is entitled to life, liberty, and the pursuit of happiness. Those rights should not be withheld from the unborn. I pledge to continue working in the Senate to advance pro-life legislation that will protect the lives of the unborn."
During his tenure in Congress, Sen. Wicker has offered multiple pro-life bills, including the Life at Conception Act that declared that life begins at conception. Sen. Wicker has a 100 percent pro-life voting record from the National Right to Life group.
Previous Comments
ID

143145

Comment

...and I guess that this is the reason Wicker voted against the stimulus bill: He believes that "...ever person is entitled to life, liberty, and the pursuit of happiness." My challenge to Wicker is a greater focus on children in our State who are ALIVE but not well and are losing life secondary to gross neglect. Wicker,along with peole such a Rush Lumbaugh (sp),is betting on the failure of the Obama Adm. Don't these fools know that we have had 8 full years to TOTAL gov. failure and 4 more would defeat AMERICA - Not just Obama?

Author

justjess

Date

2009-01-30T11:34:07-06:00
ID

143148

Comment

Justjess, With the numbers the Democrats have in the house and senate it's up to them to succeed and nothing the Republicans can do can make them fail. So we will see. I don't think another four years, if the new administration does fail, will be the end all for America. We, as a people, are too resilient for that. This stimulus plan is a joke though. Have you read what it entails? There isn't a lot of stimulus in it. The Wall Street Journal describes it this way: In selling the plan, President Obama has said this bill will make "dramatic investments to revive our flagging economy." Well, you be the judge. Some $30 billion, or less than 5% of the spending in the bill, is for fixing bridges or other highway projects. There's another $40 billion for broadband and electric grid development, airports and clean water projects that are arguably worthwhile priorities. Add the roughly $20 billion for business tax cuts, and by our estimate only $90 billion out of $825 billion, or about 12 cents of every $1, is for something that can plausibly be considered a growth stimulus. And even many of these projects aren't likely to help the economy immediately. As Peter Orszag, the President's new budget director, told Congress a year ago, "even those [public works] that are 'on the shelf' generally cannot be undertaken quickly enough to provide timely stimulus to the economy."

Author

WMartin

Date

2009-01-30T13:55:09-06:00
ID

143176

Comment

I voted for Obama, and while I don't want to see him 'fail', I'm a little worried about the pricetag and some provisions of the stimulus package. It is frightening to me the amount of national debt we already are on the hook for with no end in sight, and I'm pissed with how the bank bailout (which I opposed) has been spent so far. If we are destined to spend this kind of money on a stimulus we should at least make sure we are spending it on worthwhile projects with plenty of oversight and accountability so even if it doesn't work we haven't flushed a trillion dollars down the toilet.

Author

Jeff Lucas

Date

2009-01-31T20:23:07-06:00
ID

143262

Comment

If people had the same microscope on Bush that we have on Obama, we would not be having this conversation. Did you have the same feelings about some of the provisions in the stimulus package that Bush let? I think we stand a better chance with Obama because of the transparency. MS does not have to worry. Barbour said that he does not want the money. If we are borrowing from China and so many of our jobs have gone to foreign countries, there can not be a guarantee that America will thrive. We have pissed too many people off and the toppling of a King and a pre-emptive strike against a country that didn't even have an airplane is a bit nuch. No WMDs. Just a bunch of lies. To kill that many innocent people will not be overlooked or forgiven by others.

Author

justjess

Date

2009-02-04T16:26:43-06:00
More like this story
More stories by this author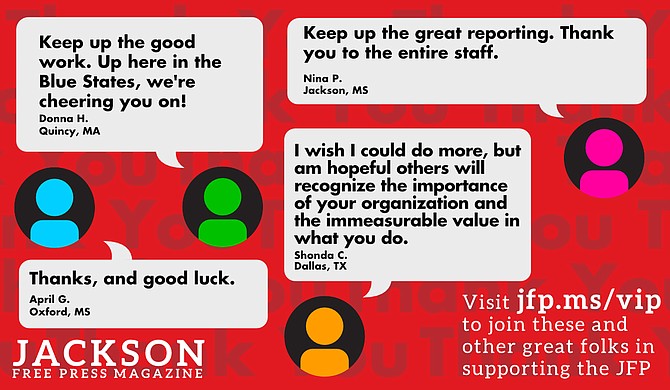 Thanks to all our new JFP VIPs!
COVID-19 has closed down the main sources of the JFP's revenue -- concerts, festivals, fundraisers, restaurants and bars. If everyone reading this article gives $5 or more, we should be able to continue publishing through the crisis. Please pay what you can to keep us reporting and publishing.