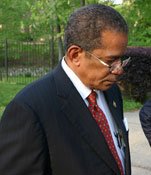 JFP's Melton Blog/Archive Here
Follow Melton trial on Twitter
On Feb. 10, jurors in the federal civil rights trial of Mayor Frank Melton heard from the government's star witness, former mayoral bodyguard Marcus Wright. Wright, who pled guilty to a lesser charge in exchange for testifying against the mayor and his other bodyguard, Michael Recio, offered damaging evidence of the mayor's past disregard for the law. Asked by prosecutor Mark Blumberg if he was nervous, Wright admitted that he was, but he betrayed little of that nervousness as he offered the trial's clearest account thus far of the Aug. 26, 2006, destruction of a Ridgeway Street duplex.
Blumberg began Wright's questioning by establishing that as police officers, he and Recio knew the implications of the Fourth Amendment, which guards against illegal search and seizure. He had also had conversations with Melton, Wright said, about how warrants work, which he said Melton seemed to understand. Wright's testimony joins that of Mississippi Attorney General Jim Hood, who told jurors Monday that he formally warned the mayor in May 2006 that his crime-fighting exploits were dangerously close to violating the law.
Despite that knowledge, Wright testified, in March 2006 Melton ordered a private car towed without a warrant or consent. Police Chief Shirlene Anderson told Melton that he could be arrested for the towing and that police had already checked the car, Wright said.
"He got angry," Wright said. "He told her he wanted to tow the damn car."
In order to justify the towing, Wright testified, Melton had Recio prepare documents with false reasons for the seizure.
Wright described another incident just two days before the Ridgeway raid. On Aug. 24 and 25 of 2006, Melton ordered his entourage to burn down abandoned houses on Congo Street near Lanier High School, against the advice of the Department of Environmental Quality. Told by a DEQ official that the burning was against environmental regulations, Melton retorted: "Look out your window and see if you see smoke." Afterward, he told Wright, "I guess I showed his ass."
Blumberg's questioning then turned to the events of Aug. 26, 2006. Wright said that Melton was "clearly under the influence" by the time he took the crew, including several young men, to the New Orleans Saints game at Memorial Stadium that afternoon. Melton drank scotch and water throughout the evening leading up to the raid, Wright testified. It was not until they were leaving the stadium parking lot, Wright said, that Melton announced his intention to "check on Bubba," Ridgeway tenant Evans Welch.
As the entourage pulled up to Welch's home, Wright entered the house through the back door, his gun drawn. Lawrence Cooper, a friend of Welch's who was drinking beer and watching TV when the Mobile Command Unit arrived that evening, testified Monday that Wright came through the back door, shined his flashlight into his face, stuck a gun to his head and ordered him outside. Wright told jurors that he did not remember if he cleared anyone from the house, but he did not dispute that he encountered someone.
Once Wright had cleared the house, he followed Melton along the side of the house as the mayor broke all the windows, as earlier witnesses have stated. When Melton finished, he walked up to people standing behind the house and said, "I want them f*cking people to know I'm not playing with them."
Wright said that he went home after the group's first visit to the house, which matches earlier testimony. He confessed to feeling reluctant when Recio called him later that night and told him to meet the MCU back on Ridgeway Street. Wright said that he stopped along Medgar Evers Boulevard on his way to the duplex to give the others more time before he arrived. Witnesses have testified that Wright pulled up at the duplex the second time behind the Mobile Command Unit.
Jurors also heard from duplex owner Jennifer Sutton on Monday. Crying as she looked at photos of the damage to her property, Sutton told the courtroom that she had not been contacted by any city official prior to the demolition.
As questioning continued, Sutton said that after the destruction of the Ridgeway duplex, on Sept. 5, 2006, she received a call from the mayor and two other people who did not identify themselves. An unidentified male voice offered to pay for repairs to her house, but the mayor struck the opposite tone, telling Sutton that city police had 37 counts against the property. "He was rude and loud, and I hung up," she said regarding Melton's phone call.
On cross-examination, Melton's attorney, John Reeves, hammered Sutton about the two civil suits, one federal and one state, she has filed against numerous parties including the city, requesting $250,000 in damages, and asked whether Melton offered to pay her during that Sept. 5 phone call. Sutton clutched her chest throughout the cross examination, and appeared to grow more pained as Reeves' questions continued.
"You want the taxpayers of Jackson to pay you $250,000 for that house we saw," Reeves asked her.
"I want what's right," Sutton replied. "That was wrong."
Previous Comments
ID

143480

Comment

This testimony sounds extremely damaging to Melton. It establishes a pattern of willful abuse by Melton, and it depicts a liquored up egomaniac intent on showing the world who's boss. I would loved to have seen this in person.

Author

Brian C Johnson

Date

2009-02-11T09:45:22-06:00
ID

143484

Comment

It's people outside of Mississippi who may have an even more sanitized version of Melton. Remember the Geraldo Rivera interview? That was so softball, it was more like tee-ball.

Author

golden eagle

Date

2009-02-11T10:12:57-06:00
ID

143487

Comment

Other than melton's interview with the Washington Post, we have not been given any national attention for this case. Keith, on MSNBC's "Worst Person In The World" named melton to this position after he stopped the school bus to "get a HUG". Detroit's Mayor made national news, daily. What's up with this?

Author

justjess

Date

2009-02-11T10:28:32-06:00
ID

143488

Comment

Yes, Golden Eagle, and at the end of Rivera's interview, he wished melton well and that he would have much success in what he was trying to do with us "DUMBASSES."

Author

justjess

Date

2009-02-11T10:31:48-06:00
ID

143492

Comment

Jess, I'm not sure what you mean, but there have been several national stories about Melton's federal trial. The WSJ wrote a stupidly framed, factually sloppy piece on it. The NYT mentioned it. Usually, the national stories frame it as a charismatic crime fighter who gets tripped up by the Constitution--in other words, the cartoon version.

Author

Brian C Johnson

Date

2009-02-11T12:17:01-06:00
ID

143494

Comment

I also remember the Los Angeles Times did a story on Melton as well. If you do a Google search, MSNBC, among other media, has been providing soem coverage of the trial.

Author

golden eagle

Date

2009-02-11T12:41:52-06:00
ID

143495

Comment

Thanks Brian, Thanks Brian, Baquan and Eagle. I guess I just missed those stories. Someone from the JFP gave a link to the WallStJ the other day. Let's just be frank and honest: Nobody does it like the JFP. I'm sure that lawyers from both sides and judges have read the detailed work of the JFP over the past four years.

Author

justjess

Date

2009-02-11T13:43:53-06:00
ID

143497

Comment

I haven't read all the Ledger's stuff, but I read Chris Joyner's "analysis" of Michael Taylor as a witness yesterday over lunch today. I think he really missed the point. Jurors now know that the young man was living with Melton was wasn't sending him to school, and that the mayor told him to destroy the duplex. I would rank Day 1 as a draw/leaning prosecution; Day 2 as a clear prosecution win, and Day 3 so far has leaned to the prosecution because Marcus Wright is so cool, and the defense has scored few points yet. Reeves is not impressive today so far, or in my view through the first three days. And he over-badgered Jennifer Sutton the first day. He also seems to keep getting legal points wrong, and forgets what witnesses have already testified. Cynthia Stewart is more impressive, if a bit silly in her faux-outrage at the witnesses. But that might work with the jury. So that's *my* analysis. Prosecution is ahead so far, but they should be, considering it's their time to shine.

Author

DonnaLadd

Date

2009-02-11T14:09:44-06:00
ID

143500

Comment

There's a good reason the mainstream national news services are so often called the "fly-by media" in terms of covering stories like Melton.

Author

Jeff Lucas

Date

2009-02-11T15:15:09-06:00
ID

143501

Comment

Funny to see how they characterize stuff that I was sitting there for. Take, for instance, this AP story about this a.m.: It makes it sound like Reeves scored a big victory on Wright's testimony about Melton being drunk. But it wasn't like that all. It sounded like Reeves was simply trying to desperately parse the word "drunk" and "impaired," and it didn't end up sounding like his testimony had conflicted in any meaningful way. And Wright was perfectly cool the entire time; he's been really impressive, composure and answer wise. At least this a.m. I'm not there now so don't know, but am about to post Ward's updates from the courtroom in the latest post.

Author

DonnaLadd

Date

2009-02-11T15:32:00-06:00
More stories by this author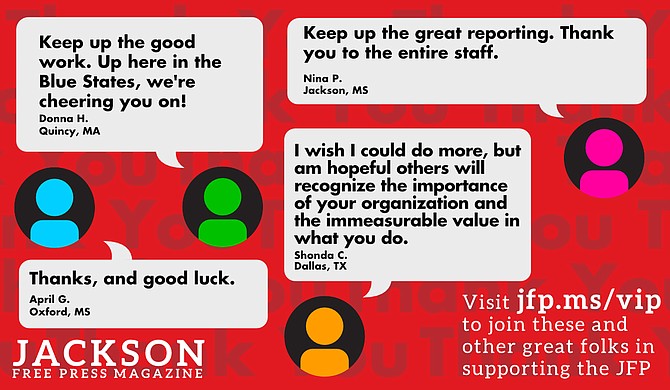 Thanks to all our new JFP VIPs!
COVID-19 has closed down the main sources of the JFP's revenue -- concerts, festivals, fundraisers, restaurants and bars. If everyone reading this article gives $5 or more, we should be able to continue publishing through the crisis. Please pay what you can to keep us reporting and publishing.