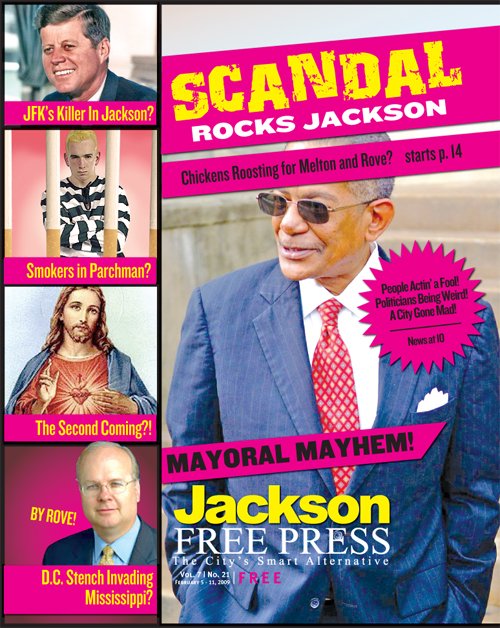 The thrice-delayed federal civil-rights trial of Mayor Frank Melton and bodyguard Michael Recio began this week, ending a long process of pre-trial maneuvering. Melton and Recio face three counts for their roles in a 2006 raid on a Ridgeway Street duplex that they claim was a haven for drug dealing. Their co-defendant in the 2007 state trial for the incident, former bodyguard Marcus Wright, pled guilty to a misdemeanor in October and will testify against them.
On Monday, Judge Dan Jordan began culling 95 potential jurors, a process that he expects to last three days. Opening statements are expected to happen late this week, with the trial taking up to three weeks.
Jordan heard the last of many pre-trial arguments over evidence on Friday. Most of the five-hour hearing concerned allegations of sexual misconduct made against Wright, the prosecution's star witness.
Defense attorneys wanted to introduce evidence that Wright pled guilty to a misdemeanor after government officials threatened him with the release of allegations made by Torey Smith, an incarcerated former male prostitute. In an affidavit from a Jackson Police Department Internal Affairs file, Smith suggested that Wright had sex with two male prostitutes in 2005.
Recio's attorney, Cynthia Stewart, argued that defense attorneys should be allowed to make "low-key" references to the allegations against Wright.
"How would they be low-key?" Jordan asked Stewart. "They've been in the paper. Everyone in the room knows what they are. They seem pretty inflammatory to me."
Jordan stated in a preliminary ruling Friday that he would not admit any extrinsic evidence of whether the alleged sexual misconduct actually occurred.
On Tuesday, Jordan further specified that defense attorneys could ask "generic" questions about Wright's guilty plea and whether he was influenced by the allegations. They cannot specify the nature of the allegations, however, he said. Jordan said he would allow Recio to testify about a conversation he had with Wright in the days after Wright accepted his plea bargain.
Testifying at the Friday hearing, Recio said that Wright spoke to him soon after pleading guilty on Oct. 7. Recio said that Wright implied that the plea was coerced.
"Let me ask you something. Did you plead because of that situation?" Recio said he asked Wright.
Recio said that Wright responded: "You mean that lying boy? Let me put it to you this way: They told me if I plead to this, they won't go any further than this."
In direct questioning from Jordan at Friday's hearing, Wright told the court that prosecutors never threatened him with the release of the sexual-misconduct allegations.
Jordan also told defense attorneys that he would admit as evidence two incriminating statements Melton made to former Jackson Police Chief Shirlene Anderson. In testimony to a federal grand jury, Anderson said that Melton told her after the Ridgeway incident, "We did it. I did it," and on another occasion, "We did it. We tore that … up."
Stewart objected to admitting the statements, arguing that including the word "we" would unfairly incriminate Recio. Jordan disagreed and pointed out that "we" also could have referred to Wright and the young men who allegedly joined in the house's demolition. He added the caveat that Stewart and federal prosecutor Mark Blumberg could draft special jury instructions on the language in the statements.
A Good Jury Is Hard To Find
In a post-hearing conference with attorneys, Jordan admitted that it will be nearly impossible to seat a jury that has not yet heard of Melton's legal troubles, given the trial's multiple delays. Even after jury selection, Jordan promised to be "heavy-handed" in protecting jurors' impartiality.
He added that the high profile of Melton and Recio's case required precise jury instructions.
Jordan said that he will instruct the jury to find Melton and Recio guilty if they acted with a "bad purpose" to deprive someone of constitutional rights. By leaving out the phrase "evil motive," Jordan gave prosecutors a victory in defining the required mental state for Melton and Recio's civil-rights charges.
"The phrase 'evil' has become overlaid with inferences of depravity and the occult," prosecutors wrote in a Dec. 1 memo to the court. "Using this term may misleadingly suggest that the jury may not convict unless it determines that a defendant's conduct was completely wicked and his character wholly degenerate."
Defense attorneys emphasized the "evil motive" requirement during Melton's 2007 state trial, at which he was acquitted. With only the less inflammatory language of "bad purpose" to attack, defense attorneys face a difficult task in arguing that Melton and Recio did not intend to violate the law, according to Mississippi College law professor Matt Steffey.
"This is walking a tightrope," Steffey said. "They have got only a tiny crack with which to defend their case."
Defense attorneys will also likely contend with a less local jury, as Jordan has called potential jurors from the entire Southern District, which extends to the Gulf Coast. Jurors from further away may be less likely to sympathize with arguments that Melton had the city's best interests at heart.
"One of the reasons the mayor's defense was successful in '07 was that he was judged by people who lived and grew frustrated with the crime problem in Jackson," Steffey said.
"Desperate times call for desperate measures," he added. "And if you don't share the sense of desperation that many Jacksonians did, then I think that spells trouble for the mayor."
The Prosecution's Do-Over
Federal prosecutors successfully maneuvered to address weaknesses in the state prosecution and arm themselves with more evidence.
"It is such a tremendous advantage to go behind a prior trial to see what went wrong and what went right, to get a do-over," Steffey said.
In the 2007 trial, defense attorneys repeatedly called the Ridgeway home a "crack house," an especially provocative description for jurors familiar with Jackson's crime woes. Seeking to eliminate that tactic, prosecutors asked the court to exclude all references to drug activity at the house.
"Reference to prior drug activity at 1305 Ridgeway Street would be unfairly prejudicial because it would serve no purpose other than to suggest to the jury that the defendants were acting in the best interest of the community," prosecutors wrote in a Sept. 29 filing.
Jordan delayed ruling on the motion after Reeves staked his entire defense on the drug evidence at a Nov.10 pre-trial hearing, saying that it would be "impossible to defend this case" without it. The mayor had to be able to explain why he visited the Ridgeway house, Reeves said.
On Dec. 19, Jordan ruled that the defense could introduce no evidence of drug activity other than Melton and Recio's awareness of prior illegal activity. He excluded any references to specific instances of drug dealing or use. He also specifically prohibited the use of "crack house" or other terms "because of their strong tendency to invoke passions or inflame the jury."
Prosecutors also successfully sought to exclude references to the defendants' good conduct and their state acquittal.
While disarming the defense, the government gathered reams of evidence against Melton and Recio, generating so much material that Jordan delayed the trial to give defense attorneys time to read it all. In October, prosecutors notified the defense that they plan to introduce evidence of other crimes committed by Melton. Those crimes include committing or ordering other unlawful searches, using a false affidavit to support an arrest and attempting to bribe police officers called before the grand jury that ultimately indicted the mayor.
"Unless either Officer Wright is discredited, or unless the mayor pulls off some astonishing testimony, it's very hard to see how the mayor and Officer Recio avoid conviction," he said.
'Sympathetic Old Man'
Despite the long odds, the mayor has factors in his favor. Ironically, his poor health may be one of those factors helping him in court. Doctors diagnosed Melton with end-stage heart disease, and he has been hospitalized three times since November. If he appears sick, jurors may question the point of trying a man for a crime in which no one was physically hurt, Steffey said.
"You have a sympathetic old man on the one hand and no victim of the same kind," Steffey said.
Reeves has hinted that he might introduce evidence to persuade jurors that the mayor had no "bad purpose" underlying his actions. Reeves told Jordan at the November pre-trial hearing that tenant Evans Welch had asked the mayor to help him with drug activity at his house. He made the claim again in a Dec. 8 court filing.
"Mayor Melton's defense is in part that … the tenant and the Mayor had a previously established relationship, the tenant reached out to the Mayor for help, and the Mayor responded to the location after being notified that drugs were again being sold on the premises," Reeves wrote.
Welch, a diagnosed schizophrenic, denied asking for the mayor's help. Still, Steffey said, Reeves' evidence could prove pivotal.
"If the jury believes that, then the mayor may more plausibly be able claim that he wasn't out there to hurt him, he was there to help him and things got out of hand," Steffey said.
Despite federal prosecutors' successes in pre-trial wrangling, they must still convince the jury that Melton and Recio intended to deprive Welch and duplex owner Jennifer Sutton of their Fourth Amendment rights. In the ambiguous realm of intent, Steffey said, the defense always has an argument.
"Whenever the question is what was on somebody's mind, then there is some room," Steffey said. "Because it's not enough, apparently, to show that they overstepped their bounds and did so knowingly.
Previous Comments
ID

143277

Comment

I guess you all like the first paragraph so much, it was printed twice! I'm gonna pick up the hard copy and read this.

Author

golden eagle

Date

2009-02-04T17:26:06-06:00
ID

143298

Comment

I fixed it, golden. I have the capability of correcting errors on the Web site. Just [[email protected]]email me[/email] when you find a mistake.

Author

LatashaWillis

Date

2009-02-05T06:26:12-06:00
More stories by this author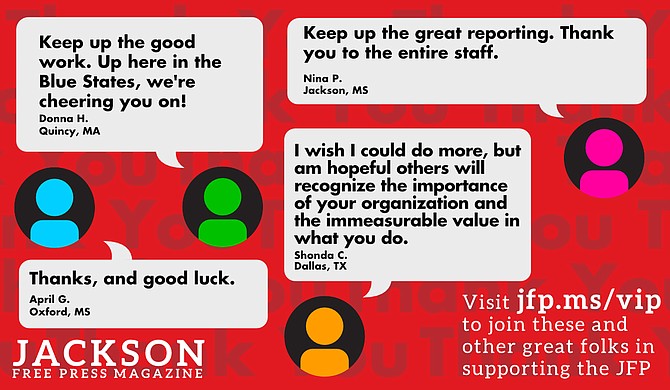 Thanks to all our new JFP VIPs!
COVID-19 has closed down the main sources of the JFP's revenue -- concerts, festivals, fundraisers, restaurants and bars. If everyone reading this article gives $5 or more, we should be able to continue publishing through the crisis. Please pay what you can to keep us reporting and publishing.