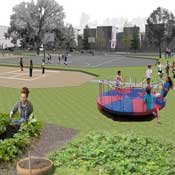 Change is afoot in North Midtown. The neighborhood between Millsaps College and Mill Street has suffered from urban blight for over a decade, but new housing developments and a new master plan for the area are promising signs of a turnaround.
The master plan, a joint project of the North Midtown Community Development Corp., Duvall Decker Architects and a host of community organizations, is remarkable because it responds to the expressed needs of actual residents. Over the course of four community meetings, planners heard residents' hopes and fears and helped translate them into a vision of the future. Residents wanted more recreational opportunities, so planners conceived of a neighborhood-wide network of bike and walking paths. Some residents worried that they would be left out of construction jobs for new developments, so planners added a recommendation that local service agencies target job training to the specific jobs available in the neighborhood.
During the Frank Melton administration, long-range planning like this all but disappeared from the city's list of concerns. Developers worked on their own projects without a conversation about how their individual efforts related to the city's overall progress. Mayor Harvey Johnson Jr., an urban planner by training, and his enthusiastic support for the North Midtown plan is a welcome indicator that planning is a city priority again.
It's essential, however, that Johnson's zeal for planning not lead the city to intrude upon North Midtown's autonomy.
In his excellent book, "Social Change 2.0" (High Point, 2009, $27.95), David Gershon relates a success story about a project to bring similar progress to a Philadelphia, Pa., inner-city neighborhood. It was important to get buy-in from the city, he says, but a balance is vital. Residents should not expect the city to do everything, and in return, the city must not try to control everything that happens. It is also vital to focus on sustainability: What do the residents need over the long haul, and how can they contribute to it happening?
Every neighborhood in Jackson can benefit from the kind of coordinated planning that brings residents, institutions and other stakeholders together, and city government must facilitate that work. Mayor Johnson and the city's Planning Department can and should encourage other neighborhoods to envision and develop their own master plans or to revisit existing ones. Neighborhood plans should complement each other, and city officials can make sure that this happens.
Ultimately, it comes down to residents. If you want a more livable neighborhood, join with others to decide how to get there and then take an action that leads to it. Then another.
Previous Comments
ID

154492

Comment

The neighborhood between Millsaps College and Mill Street. Would that be the Millsaps Arts District? I never thought of that area as "North Mid-Town." I think of mid-town as Fondren and the more in-descript area just north of Fondren like Meadowbrook/Northside Dr.

Author

herman

Date

2009-12-28T15:07:02-06:00
ID

154493

Comment

NoFo = North Fondren; also Broadmoor (although that's a more specific neighborhood with the WWII-named streets). I think of Millsaps Arts District as a pretty small block or two within Midtown, which I understand to be the whole area from West to Mill and Fortification to Woodrow Wilson. But Midtown is definitely established as the name for the neighborhood thanks for their neighborhood association, etc., probably an "up and coming" name (not a decades old one) but I've been hearing it the years I've been here.

Author

Todd Stauffer

Date

2009-12-28T15:24:23-06:00
ID

154494

Comment

From what I understand, Herman that area has long been called Midtown. And when you think about it, Fondren isn't exactly in the middle of the city, so it wouldn't make sense for this area to be called Midtown.

Author

DonnaLadd

Date

2009-12-28T15:24:38-06:00
ID

154495

Comment

Been here all my life and never heard of Midtown before this article. Interesting.

Author

Queen601

Date

2009-12-28T16:44:23-06:00
ID

154496

Comment

Yeah, it's interesting how and when labels are used. Like Woodland Hills vs. Fondren, etc... I'd love to see a sort of Jackson neighborhood history spotlight in the JFP. Explaining how and when the Millsaps "Arts District" came about, developed. And rotate through different spotlights of neighborhoods from a historical perspective. The importance/role particular neighborhoods played, or how and why they changed, etc... Why certain titles are used when, etc.. Would be an interesting read for many i bet.

Author

herman

Date

2009-12-28T16:54:21-06:00
ID

154497

Comment

I think of the Millsaps Arts District as everything behind Millsaps College and Baptist Hospital, Fortification to Woodrow Wilson. I guess I think of Congress St where 930 Blues Cafe is and George St. as downtown.

Author

herman

Date

2009-12-28T17:02:11-06:00
ID

154498

Comment

That's funny, Queen. I first heard of "midtown" when going through archives involving Frank Melton, used in context of crime in the area. That is, not as a nouveau-real-estate label like "nofo." So it's clearly been around a while. Like I said: depends on perspective and frame of reference.

Author

DonnaLadd

Date

2009-12-28T17:06:45-06:00
ID

154507

Comment

I also had never heard that area called "midtown" before this article and I lived on Millsaps Ave in the late 80's and my band has a practice studio on Wesley Ave now.

Author

WMartin

Date

2009-12-29T08:16:53-06:00
ID

154508

Comment

I've already expressed my disapproval for the "North Fondren" label, so I don't have to go back through that. Midtown is one I've heard of, used less than Millsaps Arts District.

Author

Ironghost

Date

2009-12-29T09:02:10-06:00
ID

154510

Comment

Well, maybe it was being used by certain people when speaking to other certain people. I doubt that it was used city wide. But hey that rock was heavy that I used to be under.

Author

Queen601

Date

2009-12-29T09:39:57-06:00
ID

154511

Comment

- http://northmidtowncdc.com/ - http://gsmidtown.org/ -- Good Samaritan "Midtown" - http://www.yellowbot.com/main-midtown-pharmacy-jackson-ms.html - http://www.cfgreaterjackson.org/html/wishbook/building.html (CORE description) - http://www.mississippi.org/index.php?id=651 MDA used a competitive process to select five non-profit organizations to administer this program. These organizations will implement this program in North Jackson, West Jackson, Midtown, Farish Historic Neighborhood, and Alta Woods. Click here for Jackson Housing Program neighborhood descriptions. Apparently it was called Midtown even back during the Ditto administration: http://www.usmayors.org/bestpractices/bp_volume_2/jackson.htm One of the most exciting projects the Jackson Metro Housing Partnership has underway is called the "Model Block." This is a two-block area of midtown Jackson that, until recently, was filled with dilapidated housing, overgrown lots and crime-infested single-bedroom apartments. and 121 just changed its name to the "North Midtown Arts Center." - http://www.jacksonfreepress.com/jfp.php/events/location/300 - http://onetoonestudios.org/

Author

Todd Stauffer

Date

2009-12-29T10:10:12-06:00
ID

154512

Comment

See, you really can learn something new everyday.

Author

WMartin

Date

2009-12-29T10:13:03-06:00
ID

154514

Comment

Indeed. Todd proved my point: The area has long been known as Midtown, even if that isn't the trendy name looking in from North Jackson. Personally, I've been glad to see that the area isn't being dubbed some new trendy name, and is being called Midtown.

Author

DonnaLadd

Date

2009-12-29T10:56:36-06:00
ID

154515

Comment

Ah, I slept through the Ditto administration.:-) No, I was actually living in Atlanta during that time. But I still hadn't heard of it since. WOW. WMartin, I learn something new EVERY time I come to this site...and that's for real. I haven't a problem with Midtown. Sounds trendy enough for me. Just didn't realize that's what it was called. Not a problem for the queen.

Author

Queen601

Date

2009-12-29T10:58:34-06:00
ID

154516

Comment

Queen, the sad truth is that not nearly enough people have probably talked about Midtown at all over the years, unless it was about crime. Fortunately, that is changing, and if we can keep the progress from gentrifying out the long-time residents, it'll be a good thing. It looks like that's what the new planners are trying to do. I wish them luck.

Author

DonnaLadd

Date

2009-12-29T11:03:28-06:00
ID

154517

Comment

Ditto, Donna! You're right.

Author

Queen601

Date

2009-12-29T11:08:50-06:00
ID

154518

Comment

[quote]Personally, I've been glad to see that the area isn't being dubbed some new trendy name, and is being called Midtown.[/quote] Now if I can ban "North Fondren" on the same exact principle, I'll be happy. :D

Author

Ironghost

Date

2009-12-29T11:27:20-06:00
ID

154519

Comment

Actually, I think "Midtown" is kind of a cool name (obvious references to Memphis) that you could see taking off. I think Midtown is up for a bit of a Renaissance anyway...maybe a little more involvement from students plus more neighborhood pride and a bit of an artist exodus from Fondren as Fondren gentrifies. There's a cool building (looks a little like 50s-era church offices) on Millsaps Ave and West Street that someone should turn into a studio or similar. Google Street view

Author

Todd Stauffer

Date

2009-12-29T11:51:45-06:00
ID

154520

Comment

I hear ya Queen, it's the reason I keep coming back to this site. I think most people think I post here with my mind made up already about whatever, and I guess most people do that. But, if my mind is made up there is no point in discussing anything. I like the discussions because I can usually test my ideas against other views that I don't normally have access to. Most of my friends here in town are so conservative that they think I'm the crazy left winger... they just have no idea. LOL

Author

WMartin

Date

2009-12-29T12:01:59-06:00
ID

154522

Comment

Aren't y'all sweet! ;-) I'm glad y'all feel that way about the site. I learn stuff here, too, from all of you. It was meant to be that kind of site from the beginning: arguments can get heated (looking at you, WMartin), but it doesn't matter if you're here to actually discuss, rather than tear down and trash people you don't like. I don't always (usually?) agree with you, WMartin, but I've never thought you were here for the wrong reasons. Those who aren't *always* end up showing their true colors either here or on other sites; they can't help it, and it doesn't matter whether they're conservative or liberal. (Some of the biggest jerks I've dealt with on the site have been "liberal.") Fortunately, the wild-west trend of bashing people and businesses anonymously online (and media outlets allowing it) is passing quick, unfortunately with the help of the courts. The irony is that the standards that have long applied to us journalists (re sourcing, libel, factchecking, corrections, etc.) are going to end up being applied to everyone posting and commenting online by the courts due to many people's inability to self-regulate and control their obsessions. Cheers to all of you for creating great discussion here day in and day out. You've all helped the site be what we meant it to be since it launched in 2002. ;-)

Author

DonnaLadd

Date

2009-12-29T12:23:50-06:00
ID

154525

Comment

Now I have to chime in here to say, I have read some of THE most ridiculous things ever on this site as well. LOL. But, I, like you WMartin come here with a willingness to hear from those who don't share in my opinion. I want someone to "attempt" to change my mind because I have such strong opinions. I read everything (for the most part) but only comment when I feel passionate about a particular topic which usually leads to a very strong stand. I've had to get off this site and go for a walk or smoke a newport (when I smoked) just to keep from throwing the computer out the window. LMAO. Yet, at the end of the day it's the discussion that makes this site different from many others. I don't just like talking as I have made clear. I like discussion for resolution and understanding. Some people like to come on here to say stuff they don't have the guts to say to us face to face. Those people can kiss my grits. But those who have passionate opinions that happen to be different from mine, I cherish. many have ran off and started their own blogs which I choose not to follow....but that's just me. Then others are here, reading, and refusing to comment...here, that is. But we know...we know they're there!!! It's a great place to come and get caught up on all that truly matters in Jackson. i appreciate the opportunity to be able to voice my opinion. When I'm wrong, I say I'm wrong. When I've made arguments that turn out not to really support much (and believe me, don't start nothing if you not ready to go all the way with it -- Donna don't play that); so, I reluctantly but gladly throw the towel in and move on to another thread. :-)

Author

Queen601

Date

2009-12-29T13:51:34-06:00
ID

154527

Comment

(and believe me, don't start nothing if you not ready to go all the way with it -- Donna don't play that) Tee, hee, Queen. You're a doll. (And I'm glad you quit smoking; Jackson needs you as healthy as possible!) And you're right, of course: Discussion doesn't mean a bunch of people who agree with each other. It means bringing ideas, evidence, thinking to the table, and not dwelling on the personal. One thing doing this site has taught me is to not get caught up in the negative and people who are just playing negative. They don't matter; how many have we seen come and go? The arc of history is long; we just make keep taking deep breaths and doing the right thing. And then waiting. ;-)

Author

DonnaLadd

Date

2009-12-29T13:56:20-06:00
ID

154528

Comment

Well, as you know I have had some very strong opinions about that too in the past, but it was time.

Author

Queen601

Date

2009-12-29T13:59:03-06:00
ID

154529

Comment

Todd: I think that used to house some type of church offices. Methodist or some such. It was a regional type office. Sad to see the neighborhood's gone to heck that fast.

Author

Ironghost

Date

2009-12-29T14:10:28-06:00
ID

154538

Comment

I'd really love to see a map of Jackson, with shaded areas representing different neighborhoods/areas/districts so people can learn what all these terms mean. I'm still stumped about where most of these neighborhoods begin and end.

Author

Tom Head

Date

2009-12-29T17:05:39-06:00
ID

154543

Comment

I agree, Tom. What do they call the area bounded by State to the west, Northside to the south and Manhattan to the east? That's where I live.

Author

golden eagle

Date

2009-12-30T08:57:10-06:00
ID

154547

Comment

GE: you live in the Broadmoor subdivision. I'm not sure if the church or the subdivision came first. B'Moor moved up Madison way over a decade or so, I think.

Author

Ironghost

Date

2009-12-30T10:36:39-06:00
ID

154559

Comment

People, Call it MidTwon, N. Boradmoor, Doodieville, what ever. Hate to get this topic back on point, but in my opinion the city and the Mayor should play more of a major role in the development of Midtown, just as the city should take a larger role in the development of downtown...as it relates to the disproportionnate allocation of city tax dollars and resources away from the primary generators of city income (residential neighborhoods ) towards the gentrification projects of the minority elitist, creative and business community. What is happening here is the beginning of your your basic gentrification. I saw it happen in Cleveland, Ohio during my college years as the Cleveland Clinic Foundation (CCF) played this game to the hilt. News release..CCF committed to turning around blighted neighborhood as a good neighbor. Truth, the CCF pulled a land grab of epic proportion, utilizing thta scarcest city resources....the political will to tax residents for improving city infrastructure. Now the development of the blighted Cleveland area (and probably true for MidTwon) was a good idea, but the city fathers did not insist on an equitable formula to insure that the improved area would not dump thousands of here-to -for "inner city residents" out on their tookuses (sic). Now lets keep in mind that Millsaps College (my wife's MBA ala mater) is that august institution that feels so close and connected to its surrounding Black community that it built two fences, back to back and one foot apart, to separate itself from that same community. The first fence was one of those imitation wrought iron deals that was constructed in the 80's no less that three months after JPD chased a fleeing rime suspect across its campus. The second fence is your standard, run of the mill black chain link fence...with three strands of barbed wire at the top. This being said...I am suspicipous of Millsaps motives. I would like to see the city develop a formula taht not only devotes the scarce political will to tax its citizens for developments downtown and in affluent areas (like the country club on the corner of Lakeland Drive and Meadowbrook - the name escapes me), but to use that opportunity to also fund projects in residential neighborhoods. The affluent, business and creative class taxes are called "tax abatement", "TIF's", "interest free loans", "city backed bonds", etc. The results of these

Author

FrankMickens

Date

2009-12-30T12:51:56-06:00
ID

154560

Comment

Okay, back off topic. I do recall Dad calling that area behind Millsaps "Midtown". He'd lived down there in the late 40's. I do agree with Tom; a map of Jackson with neighborhoods labeled would be fascinating.

Author

Ironghost

Date

2009-12-30T13:10:41-06:00
ID

154561

Comment

(continued) The affluent, business and creative class taxes are called "tax abatement", "TIF's", "interest free loans", "city backed bonds", etc. The results of these tax measure is the proportionate reduction of city services for parks, trash pick up, mass transit, police protection, after school center programs, etc. Mayors Johnson's 1998 Bond Issue was a model of planning and implementation as almost every area of he city benefited from the bond issue. I would encourage Mayor Johnson to utilze his planning and managerial genius to create a check list of projects that those wanting city tax largess to utilize their entrepreneurial, financial and talent for self serving greediness to fund projects away from their primary goal, be it downtown hotel, affluent neighborhood country club, commercial district parking garage, what have you, and direct it towards, say for example funding, creating or adopting a park in a neighborhood that is far removed from their financial focus. Want millions of dollars in loans, tax abatements or TIFs for ten years? then , commit to one of our ancillary projects, and back it up with a performance bond. Otherwise, the Black Neighborhoods of Jackson will just go the same way of PLANNED red-lining, blight, neglect, destruction and gentrification as Cleveland, Ohio; Gary, Indiana; Detroit, Michigan; Washington, DC, etc. New York City is getting real good at this concept...with strong communiuty involvement, no, rather strong community disruption of the plans of the self proclaimed "Masters of the Universe" Just an idea. PS: No I have not seen the proposed plan in its' entirety. Will look it up now. Why comment before I've read it...this is not a new process. Kind of old hat.

Author

FrankMickens

Date

2009-12-30T13:12:58-06:00
ID

154564

Comment

I understand why you would kneejerk fatalistically on this, Frank, but you should read the plan. It may not be without pitfalls, but it is not business as usual. I'm very concerned about gentrification, too, and saw what it did in NYC–but status quo isn't acceptable, either, in neighborhoods like those in Midtown. Put another way: I can complain about gentrification with the best of 'em, but it should never be used as an excuse for doing nothing. This plan is doing something, and it's trying to avoid some of the real issue you discuss. Iron and Tom, such a map would be interesting; it would also likely be a hornet's nest to get people to decide on what n'hoods are called, as this thread has shown. Frank is probably right that it only matters so much; it's the work we do in those areas that merits our energy.

Author

DonnaLadd

Date

2009-12-30T13:19:08-06:00
ID

154569

Comment

I'd say gentrification (of some definition) would be a lot better than leaving it as "Little Beirut".

Author

Ironghost

Date

2009-12-30T13:26:25-06:00
ID

154570

Comment

Donna, my philosophy is increasingly becoming that if I'm not willing to bell the cat myself, I shouldn't get worked up that someone else isn't. And I'm terrible with geography, so I ain't belling this one re: the map. But I think it'd be useful to have one of these for purposes of community organizing and helping people realize they may qualify for a neighborhood association they didn't know they qualified for. ACORN (r.i.p.) was great about this sort of thing. If nobody does it for a while I might very well take it on myself, but it's probably gonna suck if I do it because I can barely find my own house on a map; I'd rather somebody else give it a try. I'm concerned about gentrification too, Frank, but we have to be practical here. Renters' rights are not an argument against development; they're an argument for responsible development. Our historical problem in Jackson, which has hurt renters as much as everybody, has been under-development; no jobs, exploitative housing terms, that sort of thing. That said, I know somebody who's interested in taking the lead on this stuff, and if you're interested you can friend me on Facebook and I'll introduce y'all. We do need a watchdog group on renters' rights, especially now that Mississippi ACORN is gone, but I'm not the person to lead it. You should also talk to Gus McCoy at the Jackson NAACP. If you're not willing to do any of these things, that's also your right, but talking in general terms about gentrification worries being a reason not to develop is functionally identical to talking in general terms about pro-suburban flight economics being a reason not to develop. The question is what you're prepared to do about this--community organizing (we need a renter's bill of rights but it has to come from the renters), municipal code changes, or what? I've been on the "I'm suspicious of development because it shafts the poor" bandwagon before, and it just goes in circles. If it can't be connected to policy advocacy and/or grassroots organizing, it's probably not activism.

Author

Tom Head

Date

2009-12-30T13:34:33-06:00
ID

154571

Comment

Donna, I shamefully admit that I kneejerked. However I am not proposing doing nothing. I will look up the plan, but without strong written and legislatied city criteria, I don't see how the MidTown, Farish Street, etc. won't be another casualty. Like Danny Divito said in "Other Peoples Money", and I paraphrase here, "all you can really do to a capitalist entrepreneur is to change the some of the rules,..but you can't change the game!" So now that the game is on, why not have the city set some rules...you want fries with that? I don't think my comments should be considered fatalistic...just factual. On the positive side.... I think that the combination of Mayor Johnson, the new Council, progressive developers like David Watkins, and yes..Leland Speed (a remarkable man and a remarkable career) and watchdogs like the JFP (HHHhhhmmmm...sounds like a pretty good team to me), Jackson might be able to dodge at least a good proportion of the American real estate market development process. A process so vividly described in the ground breaking Kerner Commission report after the civil rights riots in the 60's and 70's.

Author

FrankMickens

Date

2009-12-30T13:42:51-06:00
ID

154573

Comment

...What Tom Said. And Ironghost, there is NO neighborhood in Jackson that is a little Beirut, Vietnam, war zone, Third World country(as Robert Johnson coined it) or otherwise. the inference is offensive to those of us who have been in more neighborhoods than our own. Ive been to plenty of different neighborhoods in jxn AND south central, LA, Calliope projects in N.O., and Borne Homes in ATL and trust me Jackson is fine! But hose comments and comments of others on the CL blog etc who try to reduce neigborhoods to "war zones" almost implies that you are reducing the people to animals Dont know if youve been to Beirut or seen images on TV but I havent seen a neighborhood here that looks like. Now with that being said. you may have been embellishing a bit. I hope you were. But it wasnt funny. No more bashing of my city. We've got problems but so does NY, Miami, Memphis and others. The problems come with the territory.

Author

Kamikaze

Date

2009-12-30T13:46:36-06:00
ID

154574

Comment

What Tom and Kaze said. And Frank, let's talk about the Midtown plan after you're up to speed on it. Thanks for the positive footnote: (informed) watchdogging is vital, and yes reading the Kerner Commission report changed my life and beliefs. Iron, that would be a good place for you to start. It never hurts to know of which you speak.

Author

DonnaLadd

Date

2009-12-30T13:53:49-06:00
ID

154575

Comment

Iron, I agree, why leave MidTown, or any once proud neighborhood like "little Beirut", but to ignore how little the neighborhodd got the way it is is to let the Masters of the Universe (MOTU) have their way AGAIN. I don't know if you've noticed but these same self proclaimed MOTU have graduated from the planning and implementing destabilizing neighborhoods to destabilizing our entire nations economy every 6 to 8 years through hi jinks such as credit swap derivitives, junk bonds, savings and loans scandels, bogus Initial Financial Offerings (IFO's)s, real estate bubbles, dot com bubbles, cooked books, de-regulation etc. These barbarians of finance are at the gate again...in Jackson. I'm not saying don't invite them in, just clean em up a bit before you break bread. By the way, in my opinion, the shenannigans pulled by the Jackson Housing Authority, as reported by JFP, should be re-presented on JFP on this topic, at least with a link to stories previously reported by JFP regarding the squirelly professional service and developer selection processes used by the JHA.

Author

FrankMickens

Date

2009-12-30T14:00:01-06:00
ID

154578

Comment

Donna, I'm trying to find "The Plan", to compare my previous comments with the facts. I searched the links provided in this blog as well as others. Looked at JFP article on "Remaking a Neighborhood" and map shown in JFP latest "Flip Edition". Found Federal Funding Description here and as excerpted below http://projects.propublica.org/recovery/locale/mississippi/hinds JACKSON HOUSING AUTHORITY $1,076,409.00 Grant Public Housing Capital Fund Stimulus (Formula) Recovery Act Funded Supplement the development activities in the Midto Department of Housing and Urban Development 3/18/2009 Lots of bits and pieces, but no beef. An aside: Since when does an architectural firm Duvall & Associates qualify as a "community organizer" (ref NMCDC staff listing http://northmidtowncdc.com/staff.html)? Sounds fishy to me...more shennanigans (sic) perhaps?. Ladd, How does the general public get a look at the Stimulus Fuds Approved Application for such a project, or do we need journalistic credentials and a staff of journalistic attorneys for same?

Author

FrankMickens

Date

2009-12-30T15:51:48-06:00
ID

154579

Comment

I'm confused. We should redevelop Midtown, but not let anyone who is in the business currently do it unless they live up to our guidelines? I think we can do better than "our way or the highway" there.

Author

Ironghost

Date

2009-12-30T15:53:03-06:00
ID

154580

Comment

(Frank: Donna and Ladd are the same person.)

Author

Tom Head

Date

2009-12-30T15:53:18-06:00
ID

154581

Comment

Tom, I refuse to do Facedbook. I will contact NAACP. Renters should't have to get rights for themselves...their elected officials need to keep their promises. As long as the "Creative Class" continues to isolate itself from the majority community and fail to utilize their skills, education and resources for the greater good of the entire (weaker)community, the Frank Melton effect may just come back in a more viral form. And guess what, what happens to the weakest of us will happen to the stronger of us. The Black community is merely the group of people the Masters of the Univers experiment on to sharpen their skills to eventually attack the majority of society...the canary in the mine so to speak (to quote Tony Brown). Cases in point... the crack cocain epidemic of the inner city is now the meth epidemic in middle class White America. The sub prime fiasco of the inner city is now the Credit Swap Derivative fiasco of the "World" . Can't anyone but me see these obvious and repetitive connections ?

Author

FrankMickens

Date

2009-12-30T16:02:19-06:00
ID

154582

Comment

I think you may be right Tom, you never see the two of them together. :-P

Author

WMartin

Date

2009-12-30T16:02:52-06:00
ID

154583

Comment

Iron, I never said refuse anyone. All I said was get SOMETHING MORE in return for opening the public pocket book to single minded developers requires planning, legislation and intestinal fortitude on the part of our administration and council. Believe or not the vast majority of city tax dollars come from the residential neighborhoods and not downtown. What typically happens is our elected leaders are swayed, purchased, influenced by the business interests into believing that if the proposed deal, be it jobs, economic development or ant-white flight project isn't accepted 100% the way it is originally presented it just can't/won't be done. Case in point the King Edward. COJ bent over backwards to help David when his financing got shakey, through no fault of his own (Masters of the UniversE shrapnel) and I'm sure David and his partners expended a huge amount of their personal time, talent, treasure and "chits" to flesh out the deal to recover. Developers don't mind negotiating, re-negotiatring, rules, fees or requirements. In fact they love them...they often help weed out the competition. Many times the "local" winner is chosen due to what the local is willing to do that his competitor won't. What developers dont like are surprises at the nth hour, or surprises with no definite price tag. You thin David's group wanted the King Edward on a whim? They had plenty of data, trend analysis, cash flow projections to rely upon. What generally happens is because our elected leaders haven't produced a plan in advance to capitilize on the entrepreneural fever of the meoent, they consistently sell the citizens of the city short and basically give away the farm. Location, location, location trumped misconceptions of demographics and crime stats. For example why isn't there an "middle scale" grocery store in the Woodhave/Woodlea area, or even a movie theater in COJ. The demographics definitely show it would be supported and successfful...Masters of the Univers one more time.

Author

FrankMickens

Date

2009-12-30T16:35:35-06:00
ID

154585

Comment

Frank, simple answer. Because no one has chosen to build one there. There are folks here in the Black community with the ability to do but clearly the business climate has not proved good enough to invest private dollars in such ventures in those areas of town. Projects like those take private dollars to be created. We have to learn, particularly in the black community, to learn to suceed in spite of government. Not because of it. There were successes throughout the Melton era when government was virtually non-existent. That masters of the universe theory is played out almost. What's not played out is the Black folks with the capital and ideas to do so, finding a project, investing in it, and making it happen. Whether it be downtown, midtown, or in south jxn. Want a groceery store, theatre, or hotel? Build one. These things must have folks with money and vision to make it happen. We have to hope that they see it as an important enough deal to give back. We have to hope that more folks like Watkins are intent on creating opportunity. He who holds the coin, makes the rules for the most part. Nothing is stopping the things you want from happening in these nwighborhoods its appealing to those with the money to make it happen. Conspiracy theories notwithstanding

Author

Kamikaze

Date

2009-12-30T18:46:30-06:00
ID

154587

Comment

Frank writes: "Renters should't have to get rights for themselves...their elected officials need to keep their promises." They should, they don't, and so organizing renters is a necessary first step in any gentrification watchdog process. Anything else is top-down, outsider organizing that does not rely on the strength of the affected communities. I know people who do this stuff, Frank; it involves knocking on doors and lots of hard work but it gets results. If you're willing to put your back into it, good on you. If not, figure out what your specific policy goals are and pursue them on an individual basis. But do not take a blanket, non-grassroots, non-policy-oriented, indiscriminate anti-development position on the basis of vaguely-defined gentrification concerns. That's not renter's rights activism; that's suburban activism.

Author

Tom Head

Date

2009-12-30T19:23:58-06:00
ID

154590

Comment

Tom and Kaz, It's amazing that OFTEN times no matter what a person's background, when they reach a level of comfort, acceptance, or the appearance of wealth (surplus) they turn on and/or forget the community that nutured them to attain their "new found status". As someone once said, and I paraphrase here, " the problem with the programs of Democratic Party is that they are so succcessful they create staunch Republicans". Kaz, whenever I hear a Black person raised in the America's economic and/or social ghetto, or Tom, a middle class White from less than afflueunt roots (=90% of Mississippians before the New Deal) go from saying "our communiuty" and "us", and "my people".... to "them and those people", and "nobody is stopping them", I know that their ancestors are crying "Why have you disowned and forsaken our struggle and memory? Gentlemen, its not about any evil conspiricy theory, it is simple innate human nature (from a Christian perspective) for human's to be selfish, neglectful, greedy, short sighted, hypocritical and cruel to the less fortunate among us. From Supreme Court Justice Clarence Thomas admonitions that he did it his way all by himself to Republican Tea Baggers completely discounting the benefits they take for granted today from the Dempcratic Party (and I am not referring to the Dixiecrats here)and Progressive movements fights for, naming only a few, the New Deal, child labor laws, environmental safeguards, Social Security, health and safety laws in the workplace and even unions. So you guys would rather place another burden on an already beleagured community while applying no pressure through the surplus of time, education and resources already at your command. A surplus built on the backs of the people you so clearly have no regard, or respect...now that you have moved up in the world. The vast majority of America's "creative class" allow our so called elected officials play the "I didn't know you were serious about expecting my help after the election". Tom, people who do this "grass roots" stuff have found you have to knock on doors because our consistently failed leadership has chosen the immoral route of "let dem eat hoe cake, corn pone, hush puppies and grits". I am not saying that grass roots organizing should not be done...but let's improve upon the model. True, we have a representative Democracy. Grassroots change does take time and it is hard. However consider, where was the "grass roots" ground swell to go to the moon, build the interstate highway network, have the best military in the world? Was none. The impetus for advancement and investment for these universially benefical programs came from the genius and commottment our elected leaders. Add on the improvements earned by our assasinated martyrs and we see an American society slowly moving towards realizing the dream of America made real. In fact the policy of this government from J. Edgar Hoover to this day is to officially destabilize grass roots movements through dirty tricks, campaigns of mis-information, infiltration and addictive drug introduction. My wife always says History is the study of leadership, be it Lincoln, Roosevelt, Dr. King, Hitler, Regan, Bush, Bush, Malcolm X, Clinton, Muhammod, Buddah, or Jesus, to name a few. Kaz, No one has chosen to build because our elected officials have created artifical incentives and subsidies NOT to build. For example, the possibility (or should I say guarantee) for a business to create an economically successful retail or entertainment complex outside of an established population center is subsidized by that same inner city community being denied services community through government subsidies for cheap gas, improved roads, home mortgage deductions, red linning, tax abatement, TIF's, government backed bonds etc. In my opinion, one day Tom and Kaz you will REALIZE that you too are ALREADY among "those powerless people", and your benign and blind adoption of the rhetoric and currency of greed will prevent you from seeing the true face of your oppressor. How's your 401k doing? Yep, those poor Black and White welfare recipients have stolen all of your money again...but don't you dare touch your social security, medicaid or medicare. You've earned that ..... all on your own. Of course not that you guys need or have ever accepted this socialized program assistance personally because you guys are Masters of Your Universe. But these programs do prevent those pesky and omni-present less than successful relatives of yours from depleting your stockpiled surplus.

Author

FrankMickens

Date

2009-12-31T02:18:55-06:00
ID

154591

Comment

Frank writes: "I am not saying that grass roots organizing should not be done...but let's improve upon the model." Yes, it's not that you don't think economic development shouldn't be done...it's that you're concerned about gentrification. But you're not doing anything to address this issue, on a policy or organizing level. And it's not that you don't think grassroots organizing shouldn't be done, either...it's that you don't believe the old ways are good enough. We need a new approach--one defined as vaguely as your gentrification concerns, and one you seem equally uninterested in actually putting any work into. All of this seems to be an intricate way of saying that you're sitting on your butt, intend to keep sitting on your butt, and are not going to let that stop you from insulting and criticizing everybody who isn't sitting on their butts. I don't have time for you, Frank. Honestly, negative do-nothing blogosphere wankers used to be my bread and butter, but I'm on blood pressure medication now and much more tranquil. When you have an actual project or specific policy proposal, contact me. Until then, honestly, I could give a shit.

Author

Tom Head

Date

2009-12-31T02:31:15-06:00
ID

154592

Comment

Tom, I don't know you and you don't know me. I have however not insulted you personally with implied profanity. I am currently on "my butt" because. like you, I have a life changing health issue. I am neither smart, good looking, entrepreneurially successful, rich or especially well off, but for the 30 years I was able to function in Jackson as a member of the inaugural class of Leadership Jackson, Jackson Chamber of Commerce Board Member, Junior Achievement Board Member, Ms Blood Services Board Member, Smith Robertson Museum Board member, Alamo Theater Board member, YMCA Soccer, T-Ball and softball coach, Sunday School Teacher, Children's Church Co-Director, Co-Organizer of two minority business trade associations, Grove Park Baseball Coach, JMSO Soccer coach, SWJSO soccer coach, CJSO soccer coach and board member, Hinds County Private Industry Council Board Member, Hinds County Democratic Executive Board Member, Neighborhood Housing Services Corporation Board Member, MS US Olympic Committee Board Member, MS Arts Commission Board Member, JPS Adopt A School Adopter (Powell JHS), JPS Community Council Board member, Farish Street Community of Shalom founding Board Member, Murrah H.S. Site Council and PTSA "Community Representative" Board Member for two years after my last child graduated from JPS, Tougaloo College College volunteer student mentor, Piney Woods School volunteer student mentor, JSU Blue Bengal Club member, JSU Business Advisory Council, COJ Capital City Commission Member.......... want more? My goal is not to criticize anything that anyone is doing or not doing. I criticize mainly the rhetoric people use to justify the status quo and attempt to open peoples eyes to their "blind spots" BY PRESENTING THE FACTS,........ and a healthy dose of opinion. And why exactly should I contact you? So we can swap and trade medication, and rhetorical spit and spittle perhaps ;-)...THAT's A SMILE

Author

FrankMickens

Date

2009-12-31T04:20:09-06:00
ID

154593

Comment

Tom, I visited your website. Just as I suspected.

Author

FrankMickens

Date

2009-12-31T04:30:58-06:00
ID

154594

Comment

Frank, obviously you've got a great volunteer resume. Much better than mine or, I'd venture, Kaze's. Obviously you've built a lot of our city and its culture and its institutional strength with your own hands. I respect that. But the fact remains that you're criticizing the people around you pretty harshly without making any constructive suggestions, and that never goes well. When you insult people, you have no real right to complain if they stick up for themselves. As for my web site, it's linked. I don't hide much about myself. So if you suspected things about me without even clicking the "Tom Head" link at the bottom of my posts, I'm glad those things you suspected happened to be accurate. You'd have no excuse if they weren't. I'm sorry for the tone of my last post, and I wish I hadn't written it. But one point still stands, Frank: Until you come at us with specific ideas, and not just casual (and sometimes very nasty) criticism of the people around you, we have no reason to take what you have to say into account because there's nothing to take into account. And that's true no matter who you know, what you've accomplished, or what you're about. Think about what you're actually saying in these messages. It's not constructive. It doesn't actually go anywhere. You're preaching the Gospel of Shut Up and Quit That. Is that what you stand for? Looking at that impressive list of honors and titles, I have a hard time believing that it is. So now that you've told us what's wrong with our lives and our values and our identities as black men and working-class/middle-class white men, and our identities as developers and/or our identities as activists, maybe you've still got enough oomph left over to consider the strategic limitations of that approach. Or maybe you don't care. I know that by now, I sure don't; I've wasted too much time in this thread already.

Author

Tom Head

Date

2009-12-31T05:04:48-06:00
ID

154595

Comment

To put it another way: When we're at a point in this thread where Kaze and I have to prove we don't fit this stereotype...

It's amazing that OFTEN times no matter what a person's background, when they reach a level of comfort, acceptance, or the appearance of wealth (surplus) they turn on and/or forget the community that nutured them to attain their "new found status". As someone once said, and I paraphrase here, " the problem with the programs of Democratic Party is that they are so succcessful they create staunch Republicans". Kaz, whenever I hear a Black person raised in the America's economic and/or social ghetto, or Tom, a middle class White from less than afflueunt roots (=90% of Mississippians before the New Deal) go from saying "our communiuty" and "us", and "my people".... to "them and those people", and "nobody is stopping them", I know that their ancestors are crying "Why have you disowned and forsaken our struggle and memory?

...then what we're doing has nothing to do with the people who are actually affected by these policies and developments. You've whipped out and measured your volunteer resume, and it's certainly impressive. But if you expect anybody to shut down what they're doing just because you're a person of accomplishment and influence, you're kidding yourself. I'm sure you're a fine person who has touched many, many lives, and I may in fact be the scum of the earth, but none of that has any bearing on the actual topic of this thread. Do you get that? Whether you get it or not, I'm out. I've exceeded my quota for this particular discussion. Drop me a line if you think there's something specific that I should be doing that I'm not doing--and I mean specific. Otherwise, don't tempt me to waste any more time than I already have arguing about my credibility on the Internet. It's taken me much too long to realize this, Frank, but my credibility just doesn't matter. It never mattered in any meaningful sense, it no longer matters to me, and it shouldn't matter to you. It has no bearing on the situation at hand. Show me something that will actually make people's lives better.

Author

Tom Head

Date

2009-12-31T05:47:00-06:00
ID

154596

Comment

I'm not really taking sides here, but maybe you guys should get more rest instead of pre-dawn blogging. Might cut down on some of those health issues

Author

prentiss reeves

Date

2009-12-31T07:13:56-06:00
ID

154598

Comment

Frank, I've been away from this thread, but you do need to work harder at not being disagreeable and lose the "just as I suspected" snark. I'm sure it's not your intention -- I've dealt with you a while now -- but your tone and snark are shutting down discussions with the very people (like Tom) who are interested in what you're saying. That is self-defeating and not the purpose of allowing comments here. Please self-regulate yourself going forward. I'd like for you to continue posting here. I'm also too busy to have a long discussion about it. Just stick to the issues and DO NOT get personal with people. It's that simple.

Author

DonnaLadd

Date

2009-12-31T09:21:45-06:00
ID

154599

Comment

Who's He-Man? You keep leaving him out of your "Masters of the Universe" schtick. [quote]For example why isn't there an "middle scale" grocery store in the Woodhave/Woodlea area, or even a movie theater in COJ.[/quote] You know, that's a good question. Right now there's only a Save A Lot there. I think the area might support a bigger Grocery. I'm broke, however. Do you have the time and money to bring one in? There's no one stopping you from doing it. I'd bet that's the real reason there isn't one there, rather than the MotU decreeing Woodlea shant have a Kroger. You have a problem. You're blaming the "MotU" for things. They don't want it, so it doesn't happen. I don't get it. You want change, but only if you can have it your way. Life doesn't work that way.

Author

Ironghost

Date

2009-12-31T09:44:12-06:00
ID

154604

Comment

Frank, clearly you don't know me well. However I am indeed a Master of MY universe. The one that urges me to do my small part in trying to make my city a better place and change its climate for the next generations. The young professionals, creatives, hiphop artists, ex-felons etc. I'm glad you feel I've attained "status" because my tax return says different LOL. The only acceptance I look for is from my wife and kids who happen to be the folks I'm charged w/ feeding everyday. Had you been a frequent visitor to this site 4 yrs ago when I first started posting you would know my mantra. If you DON'T like me, who cares? If you DO like me, who cares? My work in this city is not done for anyone's approval, its done out of my Passion to make this city all it can be for everyone. The mad cynical rapper of 4 yrs ago has turned into the man who wants to follow more what my dearly departed mother instilled w/ me. "It takes everyone. You will have to work w/ everyone. Respect everyone." I simply don't subscribe to your thought process, maybe because I'm younger, but I don't. I don't harbor conspiracy theories, I don't worry about white or black power structures, MoftheU, or any of the like. Not knocking you, you have your reasons I'm sure. But don't knock me or anyone else who doesn't align themselves with that thought. Your way isn't the gospel. What I learned in the music business holds true everywhere. You don't TELL people w/ money what they are gonna DO w/ their money. Period. You can persuade them, yes. Appeal to them, yes. City government is slow, plodding, and gets in the way at times. What these neighborhoods need is someone w/ the capital and canteloupes to go in despite the numbers and stimulate business. We both want the same thing, just go about it different ways. I can't speak for any other developers but MY, but KAZE's aim is to position myself so that I CAN put businesses back in the hood, hire folks from the hood, and bring back downtown, south jxn, and midtown. That's my goal. And I want to be able to do it without anyone TELLING me I can't or needing any city money. That way if I want to put a grocery in Woodlea, I can. And I can do it working w/ everyone white and black.

Author

Kamikaze

Date

2009-12-31T10:57:36-06:00
ID

154606

Comment

Kaz, Thank you for a breath of fresh air. To build upon your response, I agree with you that you don't tell people with money how to spend their money, but along that same train of thought, why should a minority of special interests dictate, with the often benign assistance of our elected officials, dictate how public dollars are spent? You know, OUR money? A POSSIBLE answer, let the private and the public sectors develop their independent plans and sit down together as equals to bang out a mutually beneficial agreement..and get the deal done! Just like you and David did with your projects. Local governments are usually slow to repond to developers because they generally don't plan effectively for economic development. There are notable exception is the North Carolina Research Triangle and the New York State Hudson River Valley Tecchnology consortium (?). I'll provide the correct organizational names and links later. As for conspiracy theories, as I have said before, and as memorialized by Adam Smith and Milton Friedman, economics (the decisions made by people to allocate scarce and valuable resources) is based upon human nature and it is human nature to maximize personal gratification, wealth at the expense of others. The Bible is often said to be nothing more than an extended study in the effects of unfettered and unrestrained human nature. I agree, Kaz that there may not be annual meetings of co-conspirators but human nature being what it is, it doesn't take much for selfishness and greed to flourish unfettered, and with out a mailing list, when 75% of the stock market is owned by 15.5% of the households in the U.S. and 95% of the wealth of America is owned by less than 5% of US households. http://www.census.gov/compendia/statab/cats/income_expenditures_poverty_wealth.html I do know that a local pizza franchise owner reported that his trade association publicized the world wide price of cheese was decided twice a month by a group of less than 10 guys in Chicago. This fact was publicized when there was an unexplained rise in he cost of pizza cheese. Boat payments due?

Author

FrankMickens

Date

2009-12-31T12:35:00-06:00
ID

154607

Comment

A heads-up everyone: The no personal attacks rule applies to everyone. We have to go into red alert on this thread due to the snarkiness and tone of it, which hasn't shown the best side of some. Everyone posting here, I believe, means well, so we'll chalk it up to passion. However, I will not (a) allow any further posts with personal attacks and snark, (b) open any posts from people put in moderation mode due to snark attacks or (c) get into a conversation with any of you about it, so don't bother e-mailing or posting about it, including into moderated comments. I'm just deleting them. Every comment going forward needs to be on topic. Those will be allowed. Emotional asides and attacks and such will not. There is too much good work to do; none of us have time for sniping and game-playing. Let's move into 2010 on a positive note. Take the snark to a site that gives a damn about juvenile jousting.

Author

DonnaLadd

Date

2009-12-31T12:55:21-06:00
ID

154610

Comment

Frank, points taken. I'm ALL in favor of public and private entities sitting down and working out mutually beneficial solutions. I want my tax dollars spent wisely but I also want tangible results that don't take years to complete. I'd like to see more folks follow the model David and I have set and I'd like to see more developers adopt a model that helps create opportunities for minority ownership(like David gave me). After that make sure those minority partners take on a project in an impoverished part of our town. I myslef have been in discussions with folks about possible ventures I want to lead in south jackson. Even met w/ South jxn rotary and business leaders in that area to flesh out ideas. As I said, we're on the same page. And I dnt doubt that there are still some backroom mtgs going on somewhere. I just choose to suceed in spite of them. Thanks for your info as well. I always welcome wisdom

Author

Kamikaze

Date

2009-12-31T13:36:57-06:00
ID

154616

Comment

(Apologies to all, especially Frank; waking up to find I'd gone so far off course is no fun. I shouldn't blog comment when I'm that tired. Frank: One of my dearest friends, who visited Jackson over the weekend, works full-time on renters' rights and gentrification issues in Miami. If I haven't completely freaked you out yet, drop me an email; there has been intermittent conversation about organizing a group around low-income homeowners/renters' rights issues here and I can give you more names. I'll also pass my phone number along in case you want to discuss this offline, will make sure to keep you in the loop if I hear something on the topic I think you'd want to know about, and would be appreciative if you could do the same for me. Thanks.)

Author

Tom Head

Date

2009-12-31T15:10:49-06:00
ID

154639

Comment

Kaz and Iron, I am using the phrase "Masters of the Universe" as a literary reference to the coinage of the term in Tom Wolf's "Bonfires of the Vanities". A character called "He-man" was not in the book. "Bonfires" was a very good book, (think "Catch 22" or "Law and Order"...before L&O;), but a terrible movie. The book was funny, insightful, full of caricatures we all would recognize and on point..in my opinion.

Author

FrankMickens

Date

2010-01-03T10:44:04-06:00
More like this story
More stories by this author
Support our reporting -- Become a JFP VIP.
The news business has changed dramatically in the past year, and we need your help more than ever to keep bringing you important stories about Jackson and the Metro. Become a JFP VIP with an annual membership or you can Sign up as a monthly supporter. Thanks for anything you can do to empower our journalism!