When faced with overwhelming adversity, you often discover what some people are made of. When under great duress from fear of the unknown, you can also find out what people really think or feel. The unfortunate thing is you may not always like what you see or hear. When normalcy is threatened, it can bring out the very worst in people.
President Obama's stimulus package and health-care proposals have sparked, shall we say, spirited debate. There have been the Tea Party craze rising up all over the country, protests in the heartland and screaming matches at town-hall meetings. Citizens are vocally practicing their right to free speech. They are challenging the government, which is a good thing, right? It's what this country was built on, correct?
I'd love to think so, but one issue keeps nagging at me. As much as I try to dismiss it, as much as I try to move forward, it looms larger. I keep hearing the phrase "the America I once knew and loved" or "my America" at these town-hall meetings. And as I look at the folks using these catchphrases, I'm finding that most or all of them are white.
Your experience may be different, but what I've witnessed leads me to another query: What exactly is their "America"?
Is it the America that deemed African Americans three-fifths of a man and didn't remove barriers to allow them to vote until 1963? Is it the America that sees law enforcement unjustly profile men and women? Is it the country that once said, "Give us your tired, your poor, your huddled masses," but now objects to people fleeing another country to find opportunity in this one?
Is it the country where a black man would never have the chance to become president? Is it the one where you can go to a town-hall meeting and see someone holding up a sign that says "N*gger Obama"? Is it the country where some folks didn't object to one president tapping your phones and invading your private lives but now vehemently oppose another who is trying to provide health care for all people whether rich or poor?
If that is the America you're referring to, then you'll excuse me if some of us don't want to return to "that" America. I want to believe in progression. I don't want to believe that some of those protestors are angry because a black man is calling the shots for our country. Right now, however, you're leaving me little room for hope. I thought "this" America was one where you not only have the right to speak your mind, to bear arms, and assemble, but also where you or your children don't have to skirt on your health because you can't afford it.
This America is one that needs to pause and take a full account of itself. Disagreements are one thing, and dissent comes with the territory. Emotions can and often do run high.
Hell, I haven't been a fan of everything the new president has done. But today I ask you to look in the mirror. If you're against reform, if you're against a stimulus, if you've disagreed with anything that President Obama has introduced, ask yourself, "Do I really disagree with the policy, or do I just dislike the person?"
And that's the truth ... sho-nuff.
Previous Comments
ID

151078

Comment

Kaze, I know you aren't suggesting those old God-fearing republicans mostly or solely are hating on Obama based on the race tip, are you? I listen to Rust Limbaugh, Sean "Lil D" Hannity, Anne Coulter, Glen Beck and nem often, and they tell me race has nothing to do with it. I talked to some of the same people for assurances of the same, and some of them bonded with me and eventually asked me where do you put the stamps on your email.

Author

Walt

Date

2009-08-20T17:37:27-06:00
ID

151104

Comment

Don't fool yoursevles by classing all the folks at the town hall meetings as republicans. The independents have awakened and discovered that Obama and the far-left leaning congress have mortgaged away their childrens' and grandchildrens' lives. Since when did left wingers feel that it is wrong to express your disagreement in public? Did you happen to miss all the ugly rhetoric that took place during the Bush administration? I wish each time someone discusses a "government program" they would substitute "taxpayer funded program". It gets a little more personal when you identify who is paying for this stuff. The "America" that most folks are referring to is one where people get off their butts and go to work and not sit home waiting for someone to take care of them. Also,I don't recall anyone's phones being tapped, except possibly those with ties to terrorists...and I am grateful for that. It's mighty easy to play the "race card" when people don't agree with this president. Too easy........

Author

Freebird

Date

2009-08-21T10:50:15-06:00
ID

151105

Comment

The hatred I see coming out of the right is in a way I haven't seen before. This goes back to the campaign last year when Sarah Palin was equating rural America as real America (as if urbanites were not) and stirring up the crowds at her rallies with talk of Obama "palling around with terrorists" and when she and the Republican Party as a whole wouldn't condemn the behavior of her crowds. Fast forward to this year and the Rush Limbaughs and Glenn Becks of the world continue to associate Obama to socialism and even Naziism to the millions of their listeners every day. And now you're seeing town hall meetings being poisoned by protestors drowning out sensible debate and are being encouraged by not only the right-wing hate media, but by the Republican Party too. We've already seen people murdered because of this mentality (police officers in Pittsburgh, a security guard at the Holocaust museum in Washington and Dr. Tiller in Kansas) and more people will be murdered until our leaders intervene and condemn this mess, rather than pushing people to go off the deep end.

Author

golden eagle

Date

2009-08-21T11:40:37-06:00
ID

151121

Comment

I attneded one of those rallies while out of town a while ago, and after one gentlemen finished screaming and raising hell about his medicaire/medicaid and social security being taken away, he turned suddenly and asked me "where doe the sun goes at night?" I was so stunned by the question that I told him it turns into the moon and he said alright and got up and left. I heard Greg Harper and Bennie Thompson will do healthcare meetings this weekend. I wish both well and will attend one with a raised finger and the other with signs and much cheer. We need healthcare with a public option.

Author

Walt

Date

2009-08-21T16:24:07-06:00
ID

151123

Comment

Where will Greg Harper's be? And when?

Author

Rico

Date

2009-08-21T16:34:53-06:00
ID

151138

Comment

Thompson will be: August 24, 2009 -- M.W. Stringer Grand Lodge -- 1072 J.R. Lynch St., Jackson,MS 39203 time:6:30 p.m. until 7:30 p.m. Next local tea party is: Tuesday, Aug 25, 2009 Eudora Welty Library Downtown Jackson time: 6:30 p.m.

Author

msearp99

Date

2009-08-22T22:30:27-06:00
ID

151148

Comment

I anticipate Rep. Thompson's health care town hall will be uneventful. The type of people who have been most vocal in protesting against Democrats at other rallies won't attend this meeting in large numbers.

Author

Jeff Lucas

Date

2009-08-24T08:14:33-06:00
ID

151149

Comment

I wish that Greg Harper would have a town meeting that wasn't sponsored by the MS teabaggers. He is supposed to be my rep but I have no desire to stand in the middle of a bunch of nut cases to see him.

Author

Rico

Date

2009-08-24T08:23:40-06:00
ID

151150

Comment

here's Harpers' office info in Pearl 2507-A Old Brandon Road Pearl, Mississippi 39208 Phone: (601) 932-2410 curious how he replies to those supporting the proposed HR3200

Author

msearp99

Date

2009-08-24T08:36:31-06:00
More like this story
More stories by this author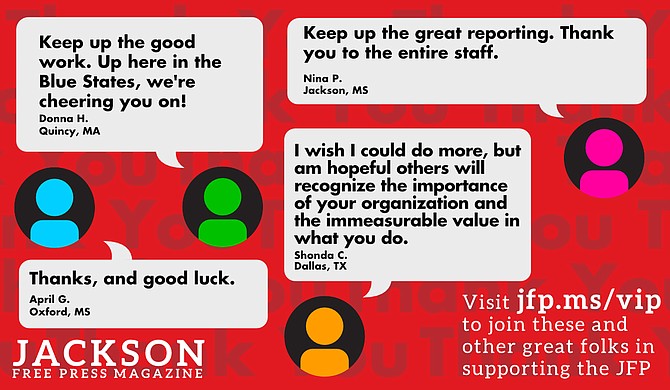 Thanks to all our new JFP VIPs!
COVID-19 has closed down the main sources of the JFP's revenue -- concerts, festivals, fundraisers, restaurants and bars. If everyone reading this article gives $5 or more, we should be able to continue publishing through the crisis. Please pay what you can to keep us reporting and publishing.