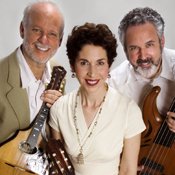 The warmth of Robyn Helzner's voice over the phone echoes that of her singing over mandolin and guitar. Performing alone and with her trio, she travels the world sharing world Jewish music and its culture, and has recorded several albums. The trio is versatile, from singing in Hebrew over high-spirited folk tunes to singing in Ladino (Judaeo-Spanish) to jazzy, rhythmic songs. Reached by phone, Helzner talked about her music, her identity as a "world Jewish music ambassador" and memorable moments on tour.
How did you get your start playing music?
You know, I've been playing Jewish music since I was 8 years old. I think it was just a part of my family; we used to listen to recordings. My parents played recordings of Hebrew and Yiddish music, so this was something we heard in the household. And I found that I had an affinity for this music. I started performing when I was 8, and it's just gone on from there into a career! (Laughs)
Tell me about your visits to China.
For a while I had this reputation of going to very unusual Jewish places. I started gaining this reputation, when, in the late '80s I went to the Soviet Union, before it became the former Soviet Union, and I was giving underground concerts for Jews and Refuseniks. …. And then, a few years after that, I was invited to serve as the High Holiday cantor for a congregation in Hong Kong. ... Through the work that I did in Hong Kong, because I was going like twice a year for about six years, I met the head of the Jewish community in Beijing, who was a Jewish woman originally from New York. And she invited me to come and officiate at her son's bar mitzvah—it was the first one ever held in Beijing—and that was in 1996. Since then I've officiated at five other bene mitzvahs, bar (and) bat mitzvahs in Beijing. … So, that in itself is (incredible). Who would have thought? OK, Jewish music in Eastern Europe, but Jewish music in China? Not in my wildest dreams. So that's been quite an exciting opportunity that I just never imagined I would have. (Laughs)
You get the feeling that what you're doing is ambassador work for world Jewish music. Why is that important to you personally, and also to the Jewish community and non-Jewish listeners?
It's an incredible musical tradition. This is always sort of the challenge for me over the years when (deciding how to explain) what is it that I do. In a way, I think if you say to somebody "I'm a Christian folk singer," you sort of have an idea of what they do, right? They sing religious music. But that is just a little fraction of what my trio does. So that's why I say we sing "world Jewish music." I don't even want to call myself a Jewish folk singer, because the connotations are different. We're singing songs about community, about love, about family, about work, about history. It just happens to be in these traditional Jewish languages. … When you think about world music, Jewish music, I think is the original world music. Because Jews have lived all over the world and their music has been influenced by the cultures and traditions and the rhythms of all these countries and the cultures where they've lived. It's fascinating. And the themes are universal. And you know, people will go to concerts to hear a Greek band, or a Celtic (concert) where they're singing in Gaelic, or to the opera, and they're not in English. … So for me as a performer, as a communicator of this music, it's up to me to make it accessible to everybody. … So even if you don't understand the words, you're sort of taken in by the melodies and by the stories about the songs.
What's the overall tone of your songs?
Each song is like a story. And when we come to Jackson, we're actually going to be doings songs that focus on Holocaust Remembrance Day as well as Israel Independence Day, which are basically a week apart. … So, for example, there's a song called "Am Yisrael Chai," which means "the people of Israel live," and this is a song that was written, actually composed, in the displaced persons camps in Europe following World War II. So these are Jews who had somehow survived the Holocaust and the camps and whatever else, and they were in these DP camps in Europe, stateless because they had no place to go; they weren't going to return home, and many of them decided that their only hope for survival was to get to the land of Israel, which was not Israel, yet. … So we took this song, which is an incredibly powerful song about survival and about hope, and we joined it with an Israeli dance tune that was very popular at the time because both of these songs conveyed this image of an unbroken chain, and they deliver this message that the people of Israel live despite all the hardships. … And then we'll be sharing love songs as well. There's a wonderful song about a young girl whose parents have hired a matchmaker for her, you know, but she wants to marry for love. And it's sort of a conflict of tradition and modernity in Eastern Europe. It was a very rich culture, which basically doesn't exist anymore, so there's a bittersweet nature to a lot of those songs, because they're so vibrant, and there's so much life in them, yet, you realize that, basically, it's gone.
What has been one of your most memorable times on tour?
I think it probably was my experience in the Soviet Union. What am I? I'm an American Jew. But where did I come from? I came from Russia. … I'm just second-generation American. First of all, I realized that the Soviet Union was a Third World power masquerading as a super power, because they were not. I saw that. … But I would go to these apartments filled with people who had found out about the concerts (through connections), and … they basically looked like me and everybody else that I know who is an Eastern European, and I would think that if not for the grace and the wisdom of my grandparents, that would be me sitting there. And here, I had an American U.S. passport more precious than gold. And I'm speaking English, and, yet, these are my closest people. And I found that these people were incredibly responsive. … It was illegal to study Hebrew; it was illegal to sing in Hebrew. … But they sang with such gusto. And then there were also a lot of people that didn't know (the songs). And they just sat there; their eyes were gleaming, they were smiling. It was an unbelievable experience because what I was sharing with them was touching such a chord in them, even though they may not know. There was an amazing connection made. And it put a lot of things into perspective. Coming back from those concerts, I realized that I had something to sing about, something to tell people about. And I think that really launched my more serious concert career.
The Robyn Helzner trio will join the Beth Israel Congregation (5315 Old Canton Road) April 21 to perform a concert at 7 p.m. The event is free and open to the public. Call 601-956-6215.
More stories by this author
Support our reporting -- Become a JFP VIP.
The news business has changed dramatically in the past year, and we need your help more than ever to keep bringing you important stories about Jackson and the Metro. Become a JFP VIP with an annual membership or you can Sign up as a monthly supporter. Thanks for anything you can do to empower our journalism!