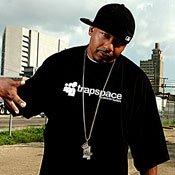 If you ever meet Jackson rapper Rob Gold, you're sure to find him wearing some sort of Mississippi paraphernalia, usually his signature diamond-encrusted necklace, which is the shape of the state with his name in gold lettering across the center. A gold crown tops off the pendant, as if to signify that Mississippi is true royalty.
A West Point, Miss., native, Gold has been recording his brand of southern rap since 2002, when he met No Limit recording artist Tre-8 in New Orleans and began learning from him. Gold says he has always had an affinity for music—as a young boy, he tinkered with toy drum sets and karaoke machines—but his older next-door neighbor introduced him to rap.
"He had a break-dancing crew," Gold says with a snicker. "So, I used to watch them."
Gold's style falls in line with the genre—use of orchestral instruments, heavy drums and complex beats—but his lyrical content deviates from the usual hustle-and-grind themes in popular rap music. Don't get me wrong, Gold still raps about things like stacking dollars and trying to get ahead in the game, but similar to fellow Jackson rapper David Banner, Gold reps Mississippi. Hard.
His latest album "Betta Believe Me" closes out with the track "Home of the Blues," about which Gold says, "you'll know me if you listen to it."
"It represents everything that I've been through—from my mother passing, my father passing, my brother …," Gold says. "Plus, it represents where I'm from: Mississippi, the home of the blues."
The song's chorus features vocalist Es soulfully singing "Hard times, home of the blues/so many struggles I can share with you/tough times, where I came up/young homie like me, shorty really had it rough." Gold raps on the track about his hard-working father and mother and the "never give up" resolve they taught him. Both his parents died of cancer—his mother in 1999 and his father in 2006. Gold also recounts the state's bitter history of oppression and the poverty that continues today.
"It's only right to represent where you're from and be proud of where you're from. That's what everybody else is doing," Gold says.
Another standout track on the album is "Why U So Mad," an anthem about haters trying to get you down when you're doing your thing. It's a danceable song, but you could just as easily bop your head to it as you drive down Interstate 55. "Don't Worry" is a smooth, more R&B track on which Gold tells the woman in his life that she doesn't have to worry about him cheating while he's out on the road.
The 28-year-old rapper seems to be gaining more recognition as audiences get wind of "Betta Believe Me." With an Ozone Magazine award nomination last year and shout-outs from prominent musicians like DJ Scream, Gold is riding high, but he almost lost it all in 2005 when police arrested him for drug possession with intent to sell and having a weapon. A judge sentenced him to 10 years in prison and sent him to Parchman.
Gold says he promised God that he would never live that lifestyle again if he would enable him to stop someone else from being in his own situation. About five months later, Gold was a free man (he paid a fine) and was injecting a new enthusiasm into his lyrics.
"I count things like that as blessings—a lesson learned," Gold says.
The rapper moved back to Jackson, where he had attended Jackson State University in 1997—after the release of "Better Believe Me" in 2008. Shortly thereafter, he launched his clothing line and screen-printing business, 6th & Mead—named for the street he grew up on in West Point—evoking the entrepreneurial spirit of fellow rappers such as Jay-Z and Ludacris.
"In life, you've got to have more than one thing that you can do," Gold says matter-of-factly. "Because at any time that something goes wrong with this music stuff, you should still have something else to fall back on."
Gold recently launched Trapspacestore.com, where he sells T-shirts and hoodie designs from 6th & Mead, as well as designs from a separate venture, trapspace. He's also working on a collaborative album with Houston-based record label SwishaHouse—home of artists Paul Wall and Slim Thug—called "Swishasisippi," which is due out this winter. Look him up at http://www.robgoldworld.com or http://www.myspace.com/robgold601.
In Rotation
Rob Gold
1. "Wasted," by Gucci Mane
2. "LOL :-)," by Trey Songz
3. "Number One," by R. Kelly and Keri Hilson
4. "Empire State of Mind," by Jay-Z and Alicia Keys
5. "A Star is Born," by Jay-Z and J. Cole
Jackson-based rapper Rob Gold puts a new face on the southern rap game. Courtesy Country Boy Records
More stories by this author
Support our reporting -- Become a JFP VIP.
The news business has changed dramatically in the past year, and we need your help more than ever to keep bringing you important stories about Jackson and the Metro. Become a JFP VIP with an annual membership or you can Sign up as a monthly supporter. Thanks for anything you can do to empower our journalism!