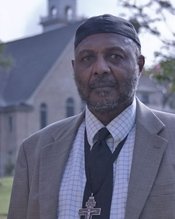 Dr. William Green is a bishop in the African Orthodox Church. He also is an interdenominational chaplain, has studied Buddhism with the Dalai Lama and is a published scholar on religion in the southern black community. But most people in Jackson call him "professor.
"I wear many hats, literally," he says, pointing to the black bishop's cover he wears on his head every day.
Green is an associate professor in the Interdisciplinary Career Oriented Humanities Department at Tougaloo College. He came to Mississippi from Missouri in August 2007 to help build the new religious studies department there, only the second program in the state.
Though Green has studied extensively in world religions—also his favorite subject to teach—most of his work has been in building the capacity of religious groups to provide social services to their communities, especially that of black pastors in the South.
Born in Fayette, Ala., Green was raised in Chicago by his mother and father, who were both factory workers. Green spent his youth in the 1950s hanging around the University of Chicago with civil rights activists, beatniks, political progressives and Eastern religious scholars, as "either the youngest beatnik, or the oldest hippie."
Green earned his masters in divinity at the University of Chicago in 1987. He later attended Syracuse University, where he received a master's degree in philosophy in 1991 and a Ph.D. in religious studies in 2004. The following year, Green began teaching classes at the University of Missouri in Columbia, Mo., where his wife and daughter Mary and Melissa Anne remain until his daughter finishes high school.
Green was ordained a bishop in the African Orthodox Church in 1978, after working for years in refugee resettlement services in San Francisco as a member of St. John's Order, first with Tibetans, and then with Vietnamese, Haitian and Ethiopian refugees in the late 1970s. Among other things, Green drove trucks loaded with food every day.
"I became a liaison person between these refugee communities, and I learned their traditions," he says.
He began his studies with Buddhist monks there, and has since studied under many others, including the 16th Karmapa, the Dalai Lama, and his closest teacher, the Russian Dr. Ajari Permchekov.
"Most of my teachers have passed on, but most of them have reincarnated because they believed in that. ... I haven't seen their reincarnations, but they're teenagers now, so I'm looking forward to going to India at some point," he says.
More stories by this author
Support our reporting -- Follow the MFP.