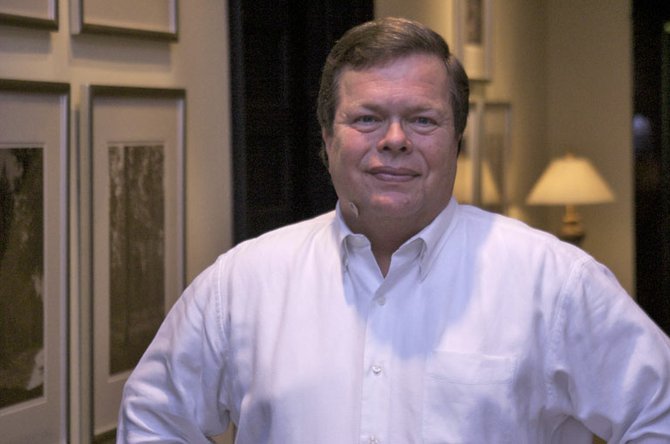 Dick Molpus, 59, has worked, both as a statesman and a citizen, to the benefit Mississippi his entire adult life, and has built his own wealth in a national sustainable business. On Friday, Sept. 13, the Mississippi Center for Justice is naming him a Champion of Justice at a ceremony in the Marriott Hotel at 6 p.m.
Dick Molpus was 14 when Klansmen burned churches in his hometown of Philadelphia and murdered three civil rights workers there. He later studied business at Ole Miss, and took part in the defense of black students expelled and sent to Parchman for staging a peaceful protest.
A life-changing moment came when William Winter hired him in 1980, and as one of the "boys of spring" he helped narrowly pass the Education Reform Act of 1982, which mandated school attendance and funded public kindergartens all over the state.
"[W]e were able to make historic improvement in the public schools, and it just showed me what could be done with proper leadership" Molpus says. "I saw what could happen in 1964 with the voices of hatred, the kind of emotions they could generate, and it was a wonderful experience to see the other side. … What difference the voices of reason and moderation and compassion could make to a state."
In 1984, Molpus won the secretary of state race and renegotiated 5,000 undervalued state leases to raise $24 million for public schools. He brought lobbyist reform, election law improvements and created mail-in voter registration. With wife, Sally Nash, he founded Parents for Public Schools, which is now active in 15 states, and has helped raise millions to strengthen and defend public schools.
Molpus's public apology to the families of murdered civil rights workers James Chaney, Andrew Goodman and Michael Schwerner in 1989 was one of his proudest moments, he says, along with his friendship with Goodman's brother and father, who died recently.
The Molpus Woodlands Group, which he founded in 1996, is a return to the business of his father. The company manages over 750,000 acres of renewable timberland across the East Coast and Gulf South for long-term investors, growing forests that harbor wildlife habitats.
"I'm more optimistic about Mississippi than I've ever been before in my life. I see the coalition that wants to change this state has always been right on the margins, has always been 45, 46, 47 percent of the voting public. It's clearly going to tip over 50 percent in the years ahead, and it's going to be a great opportunity for younger people that want to be a part of the good fight."
"People like yourself, I hope."
More stories by this author
Support our reporting -- Follow the MFP.