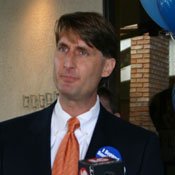 Sept. 16, 2008
The Smokefree Jackson Coalition honored BRAVO! Italian Restaurant Tuesday for voluntarily prohibiting smoking indoors before a citywide ban takes effect Feb. 1, 2009. City Council President Leslie McLemore commended Bravo co-owner Jeff Good for setting an example and jokingly declared "Jeff Good Day" in Jackson.
From its opening 14 years ago, Bravo limited smoking to its cocktail lounge. Good and co-owner Dan Blumenthal installed an air-handling system, and later a Smokeater to contain cigarette smoke, but decided that smoking simply interfered with their goals for the restaurant.
"Smoke gets in the way of your senses," Good explained. "We want our guests to fully be able to enjoy the full-flavor profile of what we put on the plate and what we pour in the glass."
He also emphasized that the move made good business sense. Customers had been asking that the restaurant go smoke-free for years, Good said, and he and Blumenthal were optimistic that the move would draw more diners.
"We're going to set ourselves up as a bit of a test case for the Coalition," Good said. "We're going to track our sales data starting today … to see both objectively, through numbers, and subjectively, through what our customers tell us … how this impacts our business."
Good credited Sandra Shelson, a BRAVO! regular customer and executive director of the Partnership for a Healthy Mississippi, with pushing him to go smoke-free. While dining recently at BRAVO! on a Tuesday evening, Shelson passed around an impromptu petition on the back of a napkin. When she presented him with the napkin, which had 40 signatures on it, Good was convinced.
"I want to urge my fellow restaurateurs to consider this for their businesses," Good concluded. "The greater agenda is public health. We feel this is going to be very good for our business [too]."
Previous Comments
ID

135776

Comment

Bravo, Jeff. ;-)

Author

DonnaLadd

Date

2008-09-16T14:16:57-06:00
ID

135797

Comment

It is his certainly his right as a business owner to prohibit smoking in his establishment. And evidently a good way to get some free publicity. But I think it's ridiculous for a city government to ban smoking. This is what our city leaders should be concerning themselves with? These are the big issues facing the bold new city with soul? Is there no freedom left? Where are the champions of our civil liberties now? Hiding under their beds cowering from the second hand smoke? I assert that obesity, especially in Mississippi, is a far greater health concern. I doubt if he will be so glib when Councilman McLemore and his nicotine nazis want to know the caloric count of his entrees. Yeah ... I smoke.

Author

WMartin

Date

2008-09-16T17:26:54-06:00
ID

135800

Comment

s there no freedom left? I think we have bigger "freedom" problems to worry about than our city joining other cities across the country in regulating smoking in restaurants as a public-health issue. Which it is. For customers and workers. I'm just glad our world is evolving to a point that non-smokers don't have to breathe someone else's smoke in order to go out and have a drink or a meal. And they do a favor for businesses if they make it across the board so it doesn't hurt their business during the transition.

Author

DonnaLadd

Date

2008-09-16T18:04:19-06:00
ID

135809

Comment

I support your right to smoke but I don't support your right to impose serious health hazards on others while you do so. Personally, I've grown very tired of leaving Hal & Mal's and Fenian's early due to the feeling of being choked by smoke. The 121 Club on Millsaps Ave had a smoke free event a couple of weeks ago. The place was packed. They had a smoking area outside - maybe that is an option for some venues. I really enjoyed listening to music there. It's very comfortable in many cities - the world has adjusted as health risks have become mroe apparant and smoke free policies have been put into effect. I want the city to be smoke free in bars and restaurants, and I support this decision by Bravo.

Author

Izzy

Date

2008-09-17T06:24:55-06:00
ID

135810

Comment

Yeah, you are right. It's just a small freedom of business owners to be able to operate their businesses the way that they would want to. To allow the use of a legal product in their establishment. Why shouldn't the few use the force of government to make us poor misguided souls see the error of our ways. After all they are so much smarter and know better what is good for us and the best ways to run someone else's business. To bad that acumen for administration doesn't translate to the running of city government for some reason. I'm glad our world is evolving too, and it isn't hard to find a restaurant, and a whole host of other businesses, that don't allow smoking. But those decisions should be up to the individual proprietor of that establishment, not some glad handing politicians or a bunch of holier than thou busy bodies who have no problem trampling the rights of others because they think they know better. Taking away choice in a supposed "free" society is never doing anyone a favor. Izzy, I support Bravo's decision also, because it was THEIR decision. The event you mentioned at the 121 club makes the point that the free market will reflect what the consumer wants. If the people want smoke free establishments and will patronize those events why should the government force the others who may like smokers to turn those people away?

Author

WMartin

Date

2008-09-17T06:32:31-06:00
ID

135811

Comment

Kudos to Jeff. Re banning indoor smoking: From a civil liberties point of view we're already past that threshold when we say people can't light little bonfires in their ashtrays. City ordinances generally prohibit burning things indoors, never mind things that put out fumes in a populated room. I don't personally mind when folks smoke and I often follow my friends outside when they do, but the indoor smoking ban is simply a function of the fact that cigarettes are going out of fashion, fewer people smoke, and therefore fewer people like the smell of smoke, so the majority is closing the loophole that used to exist for indoor cigarette smoking. Anyway, why all this fuss over tobacco in public indoors when people can't even legally smoke marijuana (a much less dangerous drug) in private ten miles away from civilization? Our priorities are backwards.

Author

Tom Head

Date

2008-09-17T07:29:45-06:00
ID

135815

Comment

Tom, I disagree that smoking bans are simply a matter of "fashion." Around 440,000 people die annually as a result of smoking, according to the American Cancer Society. But cancers account for only about half of the deaths related to smoking. Smoking is also a major cause of heart disease, bronchitis, emphysema, and stroke, and contributes to the severity of pneumonia. Tobacco has a damaging affect on women's reproductive health and is associated with increased risk of miscarriage, early delivery (prematurity), stillbirth, infant death, and is a cause of low birth weight in infants. Furthermore, the smoke from cigarettes has a harmful health effect on those around the smoke. The right NOT to breathe someone else's cigarette smoke is as paramount in this conversation as the right of smokers to kill themselves. A more useful question might be why (with our choices and legislation) we continue to support an industry responsible for so many deaths.

Author

Ronni_Mott

Date

2008-09-17T08:25:15-06:00
ID

135821

Comment

Ronni, I didn't say that smoking bans were a matter of fashion. I said that the success of smoking bans is a function of the fact that smoking is coming out of fashion, and I think the statistical data re: public attitudes towards smoking, and the decreasing number of smokers, bears that out. The more smokers there are, the more socially acceptable smoking will be; the fewer smokers there are, the less socially acceptable smoking will be. If almost everybody smoked, it would be legal everywhere. If almost nobody smoked, it would be illegal everywhere, at least under the precedents set by other drug enforcement legislation. We have fewer smokers now than we used to, so it's possible to ban smoking in public restaurants and so forth. If more people smoked, it wouldn't be possible yet. If fewer people smoked, it would have already happened. There's nothing special about tobacco; it's just another psychoactive drug with lethal side effects. To sell another such drug, opium, Britain declared war on China--twice--during the 19th century. There's nothing new about governments subsidizing dangerous addictions. Tobacco just happens to be America's drug of choice. If it wasn't tobacco, it would probably be something else.

Author

Tom Head

Date

2008-09-17T08:51:46-06:00
ID

135823

Comment

Tom, you're right, you didn't say "bans"; my mistake. Nonetheless I find even attributing their success to "fashion" as fantastically cynical. It's not "fashion" that people are (finally) catching on to the deadly effects of tobacco and making better choices. Most people who still smoke actually want to quit and say they can't. Anyone who has dealt with disease and death as a result of smoking, as I have, would argue against such blase terminology. We might need a new word for this trend. Then again, maybe I'm just too sensitive.

Author

Ronni_Mott

Date

2008-09-17T09:24:36-06:00
ID

135825

Comment

The right NOT to breathe someone else's cigarette smoke - Ronni this is what it comes down to for me - isn't there the old adage that your right to swing your arm ends at the point where it's my right not to have you hit me in the face???

Author

Izzy

Date

2008-09-17T10:08:34-06:00
ID

135830

Comment

Kudos to Bravo. I agree with Ronni and Donna and Laurel that the right to not breathe in smoke trumps the right to smoke. I also think it is a good business decision for Bravo. I love the food but I wouldn't eat there or anywhere it was smokey. (I ate outside at Bravo's)

Author

gwilly

Date

2008-09-17T12:12:39-06:00
ID

135834

Comment

Ronni, I tend to be fantastically cynical about public policy and usually my cynicism is validated, but even I would say that one of the primary reasons smoking is out of fashion is probably because it kills people. "It might kill you" tends to make something a hard sell. "You'll love the taste, it has less tar, and...well, okay, it might kill you, I'll admit there's that. But look at the nifty cowboy illustration on the pack!"

Author

Tom Head

Date

2008-09-17T13:17:34-06:00
ID

135835

Comment

Izzy, agreed. Walking around indoors in crowded establishments carrying small open flames that drop glowing embers at random, burn off potentially lethal chemicals, and bring about allergic reactions in 25 percent of the population is not the sort of thing that you'd expect the municipal code to embrace with open arms. The only possible rationale for restaurant smoking being legal this long when so many less harmful things are not is that so many people smoked that the government dared not regulate it... And there's the tobacco lobby, of course, but even they have to get their money from somewhere. It all comes back to folks deciding to buy, or not buy, that next pack of cigarettes.

Author

Tom Head

Date

2008-09-17T13:21:10-06:00
More like this story
More stories by this author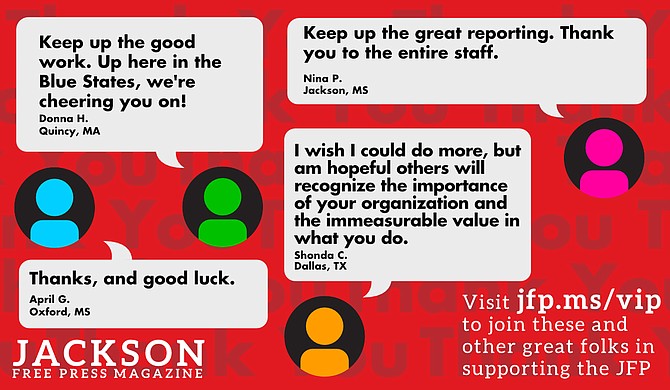 Thanks to all our new JFP VIPs!
COVID-19 has closed down the main sources of the JFP's revenue -- concerts, festivals, fundraisers, restaurants and bars. If everyone reading this article gives $5 or more, we should be able to continue publishing through the crisis. Please pay what you can to keep us reporting and publishing.