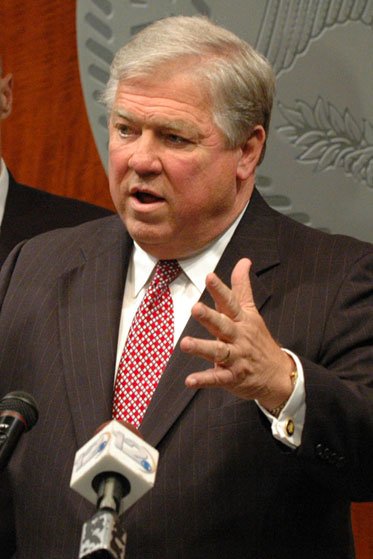 Sept. 12, 2008
*See update in comments
Hinds County Circuit Court Judge Tomie Green heard arguments Thursday on a preliminary injunction against the distribution of a November ballot that would place the U.S. Senate race between Roger Wicker and Ronnie Musgrove near the bottom. Green denied a last-minute motion to dismiss by Gov. Haley Barbour and Secretary of State Delbert Hosemann. Green will likely rule later today.
Pike County Election Commissioner Trudy Berger filed suit against Barbour and Hosemann on Tuesday, after Barbour approved a sample ballot listing the high-profile Wicker-Musgrove race below candidates for local school boards. Her complaint argues that the ballot violates a Mississippi state law requiring candidates for federal office to appear first. Berger asks that the court enjoin the governor and secretary of state from issuing a ballot that does not list the senate race in this first position. The same day, Green granted a temporary restraining order on the distribution of the ballots.
Wednesday, Gov. Barbour petitioned the Mississippi Supreme Court to throw out the entire suit. No state court can issue a prohibition or injunction against the executive office, the governor argued. He went on to suggest that listing the Wicker-Musgrove special election as Berger requested would constitute a change in voting procedure. Such changes must be submitted to the U.S. Department of Justice for approval. Since Berger had not submitted her proposal to the DOJ, listing the senate race at the top of the ballot would be a violation of the federal Voting Rights Act.
Three justices, William Waller, George Carlson and Mike Randolph, gave Barbour part of his request. They overturned Green's temporary restraining order on procedural grounds, but they left the merits of Berger's suit for the lower court to decide. With the restraining order lifted, Hosemann distributed the sample ballots late Wednesday night, officially starting the election process.
That gave John Henegan, attorney for Barbour and Hosemann, an additional argument in presenting the motion to dismiss Thursday afternoon. The court cannot, Henegan argued, prohibit an action related to an ongoing election process, making Berger's request moot. Green nevertheless denied the defendants' motion.
Henegan maintained that state law was "silent" on the issue of where a special election for the U.S. Senate should appear on the ballot. Historically, he said, special elections have always appeared at the bottom of the ballot. Green pointed out, however, that the most recent special election for U.S. Congress took place in 1981, well before any of the elections Henegan had cited as evidence.
"There evidently is something else going on where you want to take a senatorial race and put it at the back of the ballot," Green told Henegan.
Green appeared to grow exasperated as Henegan repeated Barbour's argument that the court has no subject matter jurisdiction to issue an injunction against the governor or secretary of state.
"All matters of governors and secretaries of state are subject to judicial review," she responded.
Previous Comments
ID

135633

Comment

Gov. Barbour needs to QUIT! IT was evident that he has used every strategy (trick) in the book to give Wicker an edge. If he had not fought against a special election after the office was resigned, this would be a non-issue. Since McCain is pretending to have put the Republican Party and for sure his lobbyist "under the bus", Barbour is like a fish out of water. This ballot issue is about to stink as badly as the Medicaid issue.

Author

justjess

Date

2008-09-12T09:37:44-06:00
ID

135636

Comment

***Update***: Folo is reporting that Green has ruled that the statute is clear: She rejects the governor's argument that she was being asked to enjoin the election, and refers to their actions as creating a "ball of confusion." She rejected the defendants' motions to dismiss. The statute that decides the issues: Miss. Code Ann. §23-15-367 and 23-15-511. She notes special election statute requires the special election bee "clearly distinguished." She quotes 511: "In those years when a special election shall occur on the same day as a special election, the names… shall be placed on the same ballot… but the general elections candidates shall be clearly distinguished from the special election candidate." Judge Green says that the language of the statutes is clear and unambiguous and requires national elections to be first, and the special elections candidates are to be "clearly distinguished." She notes there is no provision for changing the law that national election candidates are to be first on the ballot.

Author

DonnaLadd

Date

2008-09-12T10:28:50-06:00
ID

135638

Comment

WOW!!!!!!!!

Author

justjess

Date

2008-09-12T10:34:21-06:00
ID

135663

Comment

The Mississippi Attorney General's office released a letter from the Brennan Center for Government (addressed to Gov. Barbour, Secretary of State Hosemann and General Hood), which states in part: "In Better Ballots we found that placement of a contest on a ballot has tremendous impact on whether voters' choices are accurately recorded. When a contest is not placed where voters expect it to be placed, most voters are moer likely to make errors--and in particular, to miss the contest altogether. ... In general, the further down on a ballot a contest is placed, the less likely voters are to vote on it." The letter concludes "[W]e strongly urge you to reverse your decision and place the Wicker-Musgrove race on the same portion of the ballot as all other federal contests."

Author

Ronni_Mott

Date

2008-09-12T13:34:38-06:00
More like this story
More stories by this author
Like independent media outlets around the world, the Jackson Free Press works hard to produce important content on a limited budget. We'd love your help! Become a JFP VIP member today and/or donate to our journalism fund. Thanks for considering a JFP VIP membership or one-time support.