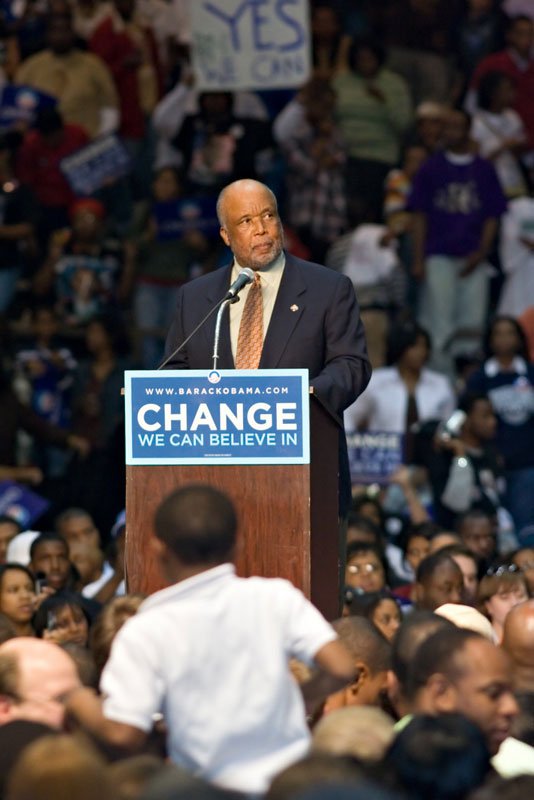 For information on how to protect your vote, please visit Jackpedia.com.
HOUSE
Bennie Thompson (Democrat)
Bennie Thompson has represented Mississippi's Second Congressional District since 1993. Thanks to the recent Democratic majority in the House, Thompson serves as chairman of the House Committee on Homeland Security. He has served both the country and his constituents from that position, introducing a bill to implement the 9/11 Commission's recommendations and helping to secure federal funds to improve Hinds County's emergency sirens earlier this year.
Thompson has a reliably progressive voting record, especially on education and health care. He favors raising teacher pay and ensuring funding parity for historically black colleges and universities.
Thompson would support universal health care. He has voted in favor of expanding SCHIP eligibility and allowing the government to negotiate lower prices for the Medicare prescription drug benefit.
Thompson's record on the environment has earned him the endorsement of the Mississippi Sierra Club. He has voted in support of tax credits for clean and renewable energy and favors removing subsidies for oil and gas exploration.
Richard Cook (Republican)
A sixth-grade teacher at Peeples Middle School in Jackson and resident of Byram, Cook is challenging longtime incumbent Bennie Thompson with a conservative platform that includes extreme anti-immigration positions. He opposes tax increases and has signed the Taxpayer Protection Pledge sponsored by conservative guru Grover Norquist's group, Americans for Tax Reform. The pledge commits him to opposing any increase in taxes for individuals or businesses.
Cook has signed a pledge in support of making English the official national language. He has won the endorsement of Americans for Legal Immigration and favors reducing the overall immigration rate and denying citizenship to children born in the U.S. to undocumented parents. This is Cook's first time running for public office.
SENATE
Ronnie Musgrove (Democrat)
Ronnie Musgrove was governor of Mississippi from 2000 to 2004. Before that, the Democrat served as a state senator for two terms and as lieutenant governor under Gov. Kirk Fordice.
In his Senate campaign, Musgrove has inveighed against the corruption and waste of a broken "Washington." Touting his own fiscally conservative record as governor, Musgrove promises to bring economic development to Mississippi without federal earmarks.
Musgrove has signaled his support for alternative energy sources but remains wary of irresponsible spending.
"It's certainly time to look at a host of new energy proposals, but the problem right now is there are no real incentives or measures to allow them," Musgrove told the Jackson Free Press in April. "If you have a weak dollar, if you have gas prices climbing up and your deficit spending is out of control, you won't be able to use available money for investment into alternative energy, and you're ultimately hurting yourself."
As a member of the Southern Governors' Association, Musgrove signed a 2001 resolution calling on Congress and the president to fund the development of clean energy technologies and improved energy. He also supported reauthorization of the federal Clean Water Act.
Despite waging a campaign that continually emphasizes his conservative credentials, Musgrove has an admirably progressive record on education and health care. As lieutenant governor, he helped usher in the landmark Mississippi Adequate Education Program, which ensured equitable funding for school districts across the state. He also enacted the largest teacher pay raise in state history, which lifted the average teacher's salary to $41,445 by 2005.
Health care for Mississippi children improved under Musgrove's administration, as he expanded eligibility for the State Children's Health Insurance Program. Musgrove has also called for rewriting the Medicare prescription drug benefit to allow the government to negotiate lower drug prices.
Roger Wicker (Republican)
Roger Wicker, a former state senator and U.S. representative, took over Trent Lott's Senate seat in January 2008. In Congress, the Republican has followed the example of Mississippi Sens. Lott and Thad Cochran, taking conservative positions on social and economic issues while bringing home the bacon in the form of federal earmarks for state and local projects.
Wicker's aversion to taxes runs deeper than that of many Republicans. Unlike John McCain, who merely supports maintaining the capital gains tax at 15 percent, Wicker would like to see the tax repealed. He also supports making George W. Bush's income tax cuts permanent and repealing the estate tax.
On environmental and energy policies, Wicker has been a vocal proponent of oil drilling and has shown little flexibility on the country's alternative energy future. In the Senate, Wicker co-sponsored the Gas Price Reduction Act and the American Energy Production Act, both of which seek to roll back restrictions on offshore drilling and exploration of oil shale, without providing concessions on alternative energy sources. Wicker does, however, support liquefied coal technology.
"In Mississippi, we're no stranger to offshore drilling," Wicker said in a September statement. "We know it can be done in an environmentally friendly way. The U.S. is the world's only developed nation that restricts access to its offshore energy resources, and it is past time to change that."
Wicker's votes on education reveal a distrust of federal interventions and preference for individual control wherever possible. He has voted repeatedly against funding increases for Head Start and other early-childhood education programs. In 2007, Wicker opposed House Democrats and a majority of his own party by voting against a reduced interest rate for federal student loans.
Wicker favors what he calls "patient-focused reforms" and opposes increases to the government's role in health care. While he voted in favor of creating SCHIP in 1997, he has opposed expanding eligibility for the program. In the Senate, Wicker has introduced legislation that would expand health savings accounts, allow individuals and families to purchase health care across state lines, cap non-economic damages on medical malpractice lawsuits and provide taxpayers with a $2,500 tax credit to purchase health care.
Thad Cochran (Republican)
Thad Cochran, running for his sixth Senate term, enjoys a reputation as a skilled navigator of the legislative process.
Cochran favors private and market-based approaches to health care. He has opposed expanding SCHIP eligibility on the grounds that it would move privately insured children into the government program. He supports tort reform to reduce health-care costs by limiting awards in medical liability suits.
Like most in his party, Cochran dislikes the estate tax and has voted repeatedly to reduce or repeal it altogether. He has also voted in favor of cutting the capital gains tax. In a notable contradiction of his party's presidential nominee, however, Cochran is a staunch defender of the federal earmark system. He brought home $774 million for state projects last year, more than any other member of Congress.
Cochran tends to oppose direct federal funding for education and has voted against funding increases for Head Start. He has however, indicated a willingness to support federal incentives for statewide pre-kindergarten for Mississippi. Despite his opposition to direct federal funding, Cochran used earmarks to funnel $162 million in federal money to Mississippi colleges and universities in 2007 alone.
Cochran was instrumental in opening the Mississippi Barrier Islands, an offshore national park, to oil and gas exploration in 2005. He expressed his support for offshore drilling again in an Oct. 22 panel at the University of Mississippi.
"We've got to get away from the idea that producing energy is harmful for the environment," Cochran said. "It is more harmful to not produce enough energy to run our county."
Erik Fleming (Democrat)
Erik Fleming is a paralegal with the Mississippi Immigrant Rights Alliance and former state representative.
Fleming told the Jackson Free Press that he does not subscribe to the "trickle-down" theory of economics that inspires Republican tax cuts for the wealthy.
"I think that people that work for a living should always be considered first, before the investing class," Fleming said.
He supports raising the national minimum wage to a "living wage" of $9.25 per hour, which he says would improve the lives of 13 percent of Mississippians. He wants to repeal Bush's tax cuts and instead eliminate income tax on overtime pay.
Fleming supports investments in alternative energy sources. While Fleming advocates a return to the Clinton administration's more stringent standards for the Clean Air Act, he strikes a more moderate position on oil drilling. He opposes drilling in the Arctic National Wildlife Refuge but is open to the possibility of drilling off the Gulf Coast, if it can be done without serious environmental harm.
Fleming would not support a single-payer health-care system but would support expanding health savings accounts, a pre-tax payroll deduction for paying medical expenses and a highlight of John McCain's health care plan.
Previous Comments
ID

140083

Comment

"Bennie Thompson, Oh, he's the one we need. Bennie Thompson!"

Author

Walt

Date

2008-10-31T16:43:52-06:00
ID

140166

Comment

I have had nothing but respect Bennie Thompson from the time he served as Mayor of Bolten Ms. to his tenture as or Congressman in DC. Over the years I was blessed to have the opportunity to have Bennie Thompson mentor and support bills in congress that our Union was lobbying for passage. Bennie Thompson, taught me to stand up not only for myself but for all people that needed my help. Bennie Thompson also taught me that when you are wrong apologize an admit your mistakes. I support Bennie Thompson not because of his race or his status but because the man is real and he works hard fighting for jobs and opportunities for all the Citizens of Miss. Congressman Bennie Thompson, thank you for guiding me in the right direction and taking the time out to personally meet with me everytime I came to Washington D.C. to fight for the rights of our firefighters. Your support and lobbing helped us pass several bills for volunteer and Professional Fire Departments to recieve grant for Emergency Equipment and training. People please getout and vote for Bennie Thompson, He's the REAL DEAL for Mississippi

Author

Hot Sauce

Date

2008-11-03T21:19:14-06:00
ID

140179

Comment

Seconded, Hot Sauce. My uncle has known Bennie since he was a supervisor and we all have respect for him. I don't always agree with his positions, but I know he's looking out for his constituents.

Author

Jeff Lucas

Date

2008-11-04T11:23:20-06:00
More stories by this author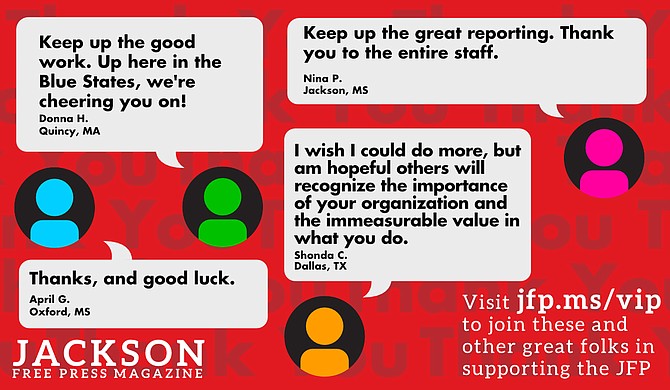 Thanks to all our new JFP VIPs!
COVID-19 has closed down the main sources of the JFP's revenue -- concerts, festivals, fundraisers, restaurants and bars. If everyone reading this article gives $5 or more, we should be able to continue publishing through the crisis. Please pay what you can to keep us reporting and publishing.