I have noticed a growing number of inter-racial couples in the Jackson area in recent years. At first I thought there was a curiosity factor running wild. However, I have since met many people who are born to inter-racial couples. These people seem to me to be a little informed on both sides of their heritage. However, I just wonder what will become of the children these days? Do the kids suffer in this still racist city when being born to say a black/white couple? How do you choose which culture should be the dominant one? Or, is there such a choice to make? Is it possible to provide a thorough culture/history to offspring when parents are of different racial backgrounds?
Previous Comments
ID

130227

Comment

I think the children will be fine as long as they are taught that one culture is not better or worse than the other. The child should learn to embrace all of him/her. Yes, if we went by the one-drop rule the child would be branded black (if that were the case, we may have had five black presidents by now). However, I know white people who are blacker than some blacks I know because they grew up in black neighborhoods and don't know anything else. As far as I am concerned, America is a mixed-race nation whether we want to admit it or not. If we just go by how people look to determine race, why do black couples sometimes have a child with white skin, red hair and freckes? Why do white couples sometimes have a child with hair that is nappier than mine? Except for first-generation immigrants, no one in this country is 100% anything. To take it a step further, genetically speaking, all humans are 99.9% alike, so race doesn't really exist. We are having fits over that 0.01% of genetic variations that we can see with our own eyes. Even with all that, the fact is that since the concept of race is so ingrained into our society's way of thinking, we'll have to deal with it. I think the parents should try as much as possible to boost the child's self-esteem as well as prepare him/her for how they may be treated by the outside world. That's about all I can say since I've never had a biracial child, so I'm just speculating to begin with.

Author

LatashaWillis

Date

2008-05-27T16:03:50-06:00
ID

130228

Comment

In my minority studies class at MSU, our professor gave us a print out and "guess" the race of the faces on the page. We were wrong every time :)

Author

emilyb

Date

2008-05-27T17:09:22-06:00
ID

130229

Comment

My best friend growing up had a black father and white mother, and I could tell the pressure to be in one community or the other was enormous. So I can definitely see the cultural difficulties someone might have. The old stereotype of the "tragic mulatto" is racist, yes, but like most stereotypes, it's a caricature of reality. I'm sure it can be hard. But this fear has been used over the years for eugenic purposes--"White woman, don't marry a black man because your kids will catch hell." "Black man, don't marry a white woman because your kids will catch hell." But when I look at Barack Obama, who has a black father and white mother but is well situated to become the next president; and Ben Jealous, who has a white father and black mother and is the new NAACP president; and I read Elliott Lewis' amazing "The Seven Habits of Highly Multiracial People" (it's a short piece but I can't find it on Google, for some reason); and I look at the biracial or multiracial people in my own life, whether they identify as such or identify as black or what have you (and I believe this is always a personal choice and should be respected as one); it really changes my perception of what multiracial identity actually does to people. My first impression, based on the examples I've seen, is that it seems to do an incredible job of building character and giving kids a more comprehensive understanding than most of how both communities live. For my part, I believe life is full of challenges, and we all have challenges. My kids will have challenges no matter what their racial identity is, and there's no point in deluding myself into believing otherwise, so I decided a long time ago that race would not be a direct factor in who I decide to date and who I decide to settle down with. And it says something about the spuriousness of the "tragic mulatto" fear, I think, when the NAACP elects a president with a white father, and when Iowa votes overwhelmingly in favor of a presidential candidate with a black father. The world is clearly changing on this front, and we're all better off for it.

Author

Tom Head

Date

2008-05-27T19:01:58-06:00
ID

130231

Comment

Ben Jealous, who has a white father and black mother and is the new NAACP president; Wow, I haven't heard that name in ages. I met him in college when I was a member of the NAACP at Tougaloo. I'm so proud of him!

Author

LatashaWillis

Date

2008-05-27T19:33:11-06:00
ID

130240

Comment

Okay. I think you guys have a good case in point here. I'm curious though with the idea that it's a personal choice on which culture the individual will identify with most. I can see that on one hand. But on the other, if there is a fair skinned person who considers themselves "white" because that their choice, but what happens when this society identifies them as "black" or vice versa. I have known many people who look more black than white, who identify most with black culture and have a very difficult time with others identifying them in this manner. Is it really a personal choice then? If so, is there a right personal choice and a wrong personal choice? Or is it just the misfortune they face of being born in a society so "ingrained in racism"? Also, what say you about those who adopt kids who are of a totally different racial background than the parents...ex. Brad and Angelina, Madonna, etc...? These people have little to no way of knowing how to teach these kids how to be African American or any other culture other than caucasian. Why is this permitted? Money? Power? Political pull? Is it just that they can offer a better life to the kids than someone who shares their racial background? I personally don't have a problem with it since these kids are underpriviledged and being offered a better life. But I do have concerns about how they will be brought up. Especially when there are black people in this country unable to have children and unable to pay to adopt or don't qualify for adoption by state or federal standards; but would still be great parents - and aren't permitted to parent these kids. What's the deal with that?

Author

Queen601

Date

2008-05-28T09:31:16-06:00
ID

130253

Comment

I don't know much about the state of the United States adoption but I do know that at least once year someone from a state or private agency shows up at a church I'm attending(predominately African American) and BEGs. I mean they beg African American couples or singles to adopt. I just don't think enough of us are trying to adopt for a number of reasons. The first being that we have lots of children we can unofficially adopt in our own families. How many of us were raised by an aunt, a grandmother, an uncle and not our biological parents? A lot of so-called childless people have taken the responsibility of children in our community or family. We've adopted, just not be traditional standards. Also in many cases we just don't think we know enough about formal adoption and how it works and how little adopting an older child from foster care can cost. Adoption isn't free but neither is giving birth-in most cases. There's a financial cost associated with bringing a child into any family. Adoption is far more manageable than many of us believe. That being said, I don't care who gives a child a loving, safe home. Yes, it's easier for people with money to adopt and I'd love for all children to be taught the richness of their cultural identity. It's just not always possible. There are black kids being raised by black families that aren't doing that. Additionally, I have a dear friend who's biracial and was adopted by a white couple. She's never dated a white guy, is very culturally aware and identifies as a black woman. It's not guaranteed that black parent raise a "black" child and that "white" parents raise a white. All I know is that every night I pray for a safe lovely home for all God's children.

Author

msgrits

Date

2008-05-28T14:20:36-06:00
ID

130257

Comment

Awwww, msgrits. Thank you for that. I agree. I have met people who are of two races that haven't had any problems...even in MS. I don't have a problem at all with whoever can take care of a child doing so. The kids are the future. And as far as adoption goes at least in Jackson, I only know of one couple that has even tried to adopt a child. They aren't rich, but they are comfortable and they had a very long battle trying to get approved to adopt. That doesn't leave a lot of hope for single women or men who want to adopt; or families with two incomes that are just comfortable. I believe that if a person can have exposure to both of their cultures, that's great! I just wonder if it should be necessary to present the culture to that child. If I were to adopt a white child, how could I expose that child to white culture. I know very little about it. I'd have to raise the child to be black (I think). How do I ensure that this child is afforded the opportunity to be white, or exposed to his white culture? Is that even in my power? Is that something that just works out in the universe? And that is still different than an interracial couple having a baby because that child has connections to both cultures. The child would actually probably turn out more culturally aware than many of us who are not a product of a mixed-race union. Still though, how does a parent determine what culture to raise the child in? Someone said it's a personal choice? I'm having a hard time grasping that idea. How is it a personal choice? I would think that it would be some of both races in the child and thus they'd just be a little bit of both. Thus, needing exposure to both cultures. Especially at a young age. Then I can see when approaching their own identity that a child can determine what feels more real to who they are.

Author

Queen601

Date

2008-05-28T14:56:21-06:00
ID

130259

Comment

Queen I don't know. Even though I used the term raising a "white" kid I'm not sure that it's necessarily a definition that I want to use or refer to although there might not be any other way to describe it. If I were to adopt a white child, I don't know how I would teach them how to be white nor would I feel inclined to. Emphasis on so called white culture and the exclusions of others has gotten us in the difficult racial terrain that we have right now. I'd hope to raise a child that was knowledgeable and sensitive about the world at large. That's a fantasy of course. I can't imagine that I'd be approved to adopt a white kid but I've been stunned before. I have one friend that's adopted a little girl and the process was long but eventually she got her baby. I guess I wish more African Americans would try to adopt-especially older children. That's where the need is. Queen, I"m going to ask this question. Do I have to choose what culture my biracial child will be raised. Why does it have to be one or the other? That's not to say that any potential biracial child doesn't self identify as one or other. Do they have to culturally be ingrained in one culture or the other?

Author

msgrits

Date

2008-05-28T16:33:59-06:00
ID

130270

Comment

There's an article on MSNBC.com on being multiracial in America. Enjoy.

Author

golden eagle

Date

2008-05-29T08:11:41-06:00
ID

130274

Comment

Msgrits, I think we have the same questions. I suppose that's why I started the blog. I'm curious as to IF that is something that's necessary. I'd love to think that it isn't all that important. But also I feel like if the culture isn't exposed to the child, and the biracial population continues to grow, then seems like there could eventually history and culture could begin to loose it's face and could get lost. I think it's important to expose the child to both (and other) cultures. I am not against interracial dating, or having biracial kids....but i just feel like the child should have experience in both. I feel the same way if a child is born to a Muslim and a Christian; or a Baptist and a Catholic. I guess I'm just saying that it's important for the child to get it all early THEN maybe determine for themselves which one or the other (or even both) is right for them. Does that make sense? Maybe that's what L.W. meant by personal choice.

Author

Queen601

Date

2008-05-29T08:34:38-06:00
ID

130275

Comment

I recently heard Professor Henry "Skip" Gates state that approximately 55% of all African Americans have some percentage of Cacausian blood. We're not as Black as we thought we were, and they aren't as white as they thought they were. I don't think that parents of biracial or multiracial children dictate what culure they are going to be, but probably do a pretty good job of raising them to embrace all of their diversity and not just some of it.

Author

lanier77

Date

2008-05-29T08:41:00-06:00
ID

130279

Comment

That's likely the best idea. As a matter of fact the people I know with mixed backgrounds are more diverse in their thinking patters. I find that they are less likely to even see color than those of us who attach ourselves to one background/culture or the other. We could learn alot from them on how to embrace all people because they don't attach themselves to any one race.

Author

Queen601

Date

2008-05-29T09:40:38-06:00
ID

130284

Comment

Tom Head, if you can get me the Elliot lewis piece I'd like to read that. I can suggest the "Race and Sex" 3 book series by J.A. Rogers. I never run into people that know (Joel Augustus) Rogers, other than my uncle Bob, but WEB duBois said he knew more about the "plight of the Negro" than anyone. I'm a family of 1)one white person who was raised in the black community, married black, and is more comfortable with black people than white; 2)one black person who was raised in an affluent all-white suburb and is usually seen as being a little odd or different by black people; and 3)one bi-racial adult daughter who knows African and Afircan-American history and culture, as well as Irish history, culture, music, mythology and language. Sometimes it gets complicated and it's rarely easy. You love who you love. You could ask my daughter your question Queen and see what she says.

Author

willdufauve

Date

2008-05-29T11:38:56-06:00
ID

130354

Comment

Wow! What a great discussion. These are questions I've pondered many times, and seeing all these different points of view is helping me form some opinions that might be more informed than they would have been otherwise. And Lanier, I could be wrong (I'd hate to go against a scholar like Gates), but I honestly believe we're all a lot more mixed than even that. I can't wait for DNA studies to prove it one way or the other, and I understand there are such studies underway.

Author

C.W.

Date

2008-06-01T08:30:51-06:00
More stories by this author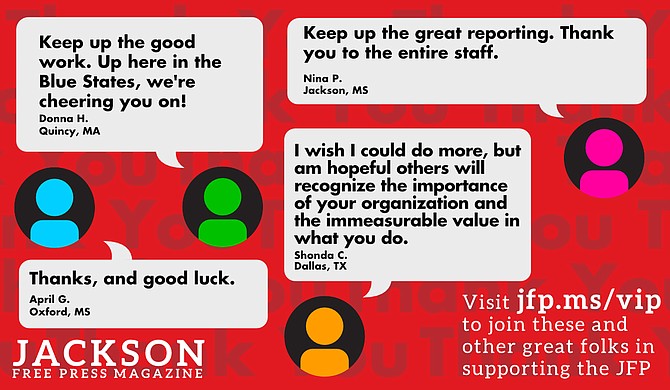 Thanks to all our new JFP VIPs!
COVID-19 has closed down the main sources of the JFP's revenue -- concerts, festivals, fundraisers, restaurants and bars. If everyone reading this article gives $5 or more, we should be able to continue publishing through the crisis. Please pay what you can to keep us reporting and publishing.