So, the latest uproar in hip hop is that Ice T and other rappers who reigned during a time when rap was extremely hard core and aggressive are blasting new hip hop artists like Soulja Boy (Superman) for killing hip hop. These new rappers are now refered to as "ringtone" rappers. This basically means that they are rapping about nothing of substance and can only contribute a rocking beat to it's listeners.
True enough, hip hop is headed in a new direction with the lightness of it's content these days. Personally I find the Superman song by Soulja Boy (and everything else I've heard from him) to be blatantly ridiculous. Cute. Fun. But not necessarily the hip hop that I favor. I'm not surprised that Ice T would be upset that this new form of hip hop is so popular.
I suppose it's about time that hip hop lightens up some. It's sort of refreshing that people are having fun with it now and not just screaming, fussing, cursing and boasting. But I will say that I tend to agree that this new form of hip hop will slowly kill off the old. I hope not. What do you think? Is Ice-T right? Is it time for newer, lighter lyrics to take over hip hop?
Here's the link to an article http://www.memphisrap.com/cgi-bin/content/pub9990263694155.cgi?itemid=9990291057441
Previous Comments
ID

130969

Comment

I was a teenager living in southern california when the west coast rappers emerged, and I appreciate them more now being thirtysomething. We had cassette tapes and Yo MTV Raps while this generation has the internet. It is a different game now I guess. I still bob my head to some D-Nice and NWA now and then. Got to love youtube. Which reminds me, have you ever looked at the Jackson rap scene on youtube? This generation is using the internet to their full advantage for the whole wide world to see. You are the 'Topic Queen'

Author

saint H

Date

2008-06-18T20:15:47-06:00
ID

130971

Comment

For me, rap music became plain awful around 2002, when Nelly came out with "Air Force Ones". Though these songs have good beats to them, but the lyrics became so silly.

Author

golden eagle

Date

2008-06-18T22:23:48-06:00
ID

130974

Comment

Ok, first, where did you go to school because ignorance is all that reigns in this blog. Second, they have every single right to blast the newbies, have you heard of of the stuff that's playing on the radio. Please, can you compare the genius lyrics of Special Ed or Big Daddy Kane or Run DMC to Hurricane Chris, Soulja Boy or any other idiot one-hit-wonders. This was a no duh!

Author

willwork4food

Date

2008-06-18T22:39:22-06:00
ID

130980

Comment

Actually queen, The lyrics to the "Soulja Boy" song are anything but light and fun, especially considering he's only 17 (16 when the song was recorded). "Supaman dat ---" refers to an utterlly disgusting sex act involving ejaculate. A dance was created to market the song in clubs (and I guess sporting events), but the song's message is just another in a long line of mindless, hedonistic and mysogynistic menstrelsy passed off as "art" by corporate record companies, exploiting black youth and selling, pimping, and bastardizing our culture to the masses. Blackwatch!!!!!!!

Author

Renaldo Bryant

Date

2008-06-19T07:48:46-06:00
ID

130982

Comment

Actually queen, The lyrics to the "Soulja Boy" song are anything but light and fun, especially considering he's only 17 (16 when the song was recorded). "Supaman dat ---" refers to an utterlly disgusting sex act involving ejaculate. A dance was created to market the song in clubs (and I guess sporting events), but the song's message is just another in a long line of mindless, hedonistic and misogynistic minstrelsy passed off as "art" by corporate record companies, exploiting black youth and selling, pimping, and bastardizing our culture to the masses. Blackwatch!!!!!!!

Author

Renaldo Bryant

Date

2008-06-19T08:07:38-06:00
ID

130983

Comment

not only that, but the whole genre is NOT what I'd call real music. Think about it; who are the real musicians in hip-hop? Who has the musical talent of Coltrane, or Chuck Berry, or Hendrix? Swiping a credit card in some bimbo's butt crack does not make one a musician. Furthermore, I don't seem to recall reading about the Beatles & The Stones doing drive-by shootings on each other.

Author

bill_jackson

Date

2008-06-19T08:09:09-06:00
ID

130984

Comment

Author

Queen601

Date

2008-06-19T08:15:35-06:00
ID

130985

Comment

I know what Soulja Boy is talking about in his lyrics...come on! Most of his audience and fan base doesn't know that though. Bottom line here is that I find his music and many others to be dumbed down. I would personally rather listen to lyrics who are sharp and whitty that actually say things that are not usually said. I like ones who write their lyrics based on a topic of importance. Nelly has NEVER EVER put out a song that I like, except the one he did with Kelly Rowland and I think it was her song. He was the beginning of the downfall. I think. he's not the only one...I personally felt ill every time I listened to Lil Jon. And he was very popular. I think he was a ringtone artist.

Author

Queen601

Date

2008-06-19T08:23:32-06:00
ID

130987

Comment

Reximus, I don't think it is fair to slam the whole genre'. There are talented and cerative artists who create the music that is suitable for their art.In its essence, hip-hop is about voicing the realities of urban youth with the tools available to them (initially, this was break beats on other musicians records, which grew to sampling and other electronic means). While some are not virtuosos on instruments like guitars and saxophones, some hip-hop producers are quite talented and cerative with other instruments/tools (mixers, synthesizers, electronic percussion, samplers, etc.)I challenge you to go on youtube and search for Pharrell Williams and Chad Hugo, two well noted hip-hop producers, and observe their creative processes and virtuosity on keyboards. Good music is in the ear of the beholder. I think that the issue that queen is raising is more about the message of hip-hop in 2008, which needs much critical thought and aesthetic analysis. Blackwatch!!!!!!!!

Author

Renaldo Bryant

Date

2008-06-19T08:30:22-06:00
ID

130991

Comment

Queen, I guess the question then is can we in the Black community afford to have "dumbed down" art? W.E.B.DuBois noted that all art is propaganda, meaning that it sends a message. The message in the popular hip-hop music today sends a message of materialism, hedonism, nihilism, and machismo that definitely affects not only black youth, but the perception of black youth to the masses(especially considering anywhere between 60 to 80% of populuar hip-hop music is consumed by white teens). What effect does that have on the perception of white teens toward black youth who grow up into white adults who have currency in the socio-political and economic realms of the wider communtiy? How does this perception affect the job opportunities, educational opportunities, and criminal justice tactics used in reference to black youth? What does that do for the self-concept of black youth who are looking for and devloping identity, which is very highly influenced by peer group and media. So, while they maybe cool to dance to, the songs are "dumbed down" to appeal to the "fetishistic gaze" of the white youth who consume it, to the detriment of black youth culture. These songs contribute to limiting opportunities for the development of positive self concept and community identity within the black community and creates difficulties relative to the position that black youth hold in the socio-political and economic spheres of the larger society. Blackwatch!!!!!!!

Author

Renaldo Bryant

Date

2008-06-19T08:47:56-06:00
ID

130995

Comment

I think there is a place for hip hop to change and to grow. Actually my point is just that I personally don't favor the less thought provoking versions of hip hop. I am confused as to what is giving off the impression that I am dissing this fella. If I wanted to listen to hot tracks, I'd buy an instrumental version of the song. I listen to rap for education and entertainment. Not entertainment only. I like the old school rappers because they were pioneers in the game. Back then gang banging was the "thing" to rap about. Now a days its not as prevelant so that's the where most interest lies. Now, it's about flaunting and boasting about how much money they have and how many women they can get. I prefer to listen to artists who are into upliftment and offer a since of pride in our community and ourselves. This is MY opinion. I am not saying that there isn't a market for rappers like Soulja Boy and Hurricane Chris. I am actually interested to see if this newness surrounding hip hop will change the face of rap. Could be a good thing...to lighten up the lyrics some. It could reintroduce rap to the younger generations. I'm not sure that's a bad thing. I'm holding out to see how this progresses.

Author

Queen601

Date

2008-06-19T09:06:37-06:00
ID

130997

Comment

Queen, So are you saying that the "gangsta rap" of Ice T and such are less thought provoaking and that the flaunting and materialistic rappers of more recent times are more light and fun, and therefore possibly can attract a younger, wider audience? And this could be a good thing? The problem I have with that assessment is that the essence of hip-hop was the telling of the reality of urban youth. Sometimes that reality was overtly political (like Public Enemy, "The Message" by Grand Master Flash, and even some early N.W.A. like "F--- tha Police"). Sometimes it was party music (Like Kool Moe Dee, Egyptan Lover, Run-DMC) and sometimes it was gritty frustration (like a Tupac). It is this frustration that was taken by corporate record execs and bastardized into "gangsta" personas to profit off of the mass appeal that this type of black nihilism/fatalism has in the white communty. I see that you are not dissing Soulja Boy, but I am. I am not so sure that the style of Ice T is the direction we need to go, because the opportunity to exploit that type of expression is too great. I think we need to get to a point where hip-hop has a high level of creativity and social critique. Those things don't have to be mutually exclusive. If dumbing down the lyrics attracts a wider, younger audience, then I think it defeats the purpose and cheats the essence of hip-hop. And it also could have some dire social affects for black youth. Blackwatch!!!!!!!!

Author

Renaldo Bryant

Date

2008-06-19T09:24:56-06:00
ID

130998

Comment

LOL! Blackwatch, what I am saying is that rap is ever evolving. I am saying that gangsta rap was once the dominant version of rap. It is no longer. I'm not sure why you are putting words in my mouth instead of actually reading my posts. I never said that we need to go back to Ice T style rapping. Of course that's not what I am saying. WOW! I suppose I need to leave this alone because I'm not sure where you're going with this and why you are coming up with these statements regarding my comments.

Author

Queen601

Date

2008-06-19T09:33:54-06:00
ID

130999

Comment

By the way, saint H, thank you for the compliment. I appreciate it.

Author

Queen601

Date

2008-06-19T09:35:12-06:00
ID

131000

Comment

Agreed Queen We can't paint all rap with the same brush. Just like any other art, some of it's mindless and some of it's full of talent creativity.

Author

msgrits

Date

2008-06-19T09:39:12-06:00
ID

131001

Comment

Queen, If I misunderstood, I'm sorry. I didn't mean to imply that you were suggesting we go to the gangsta rap stylings of Ice T. I was just saying that I think that he was right in his assessment of Soulja Boy and Hurricane Chris. Aren't you saying that this type of "light and fun" rap, though not your cup of tea, could be a good thing, if it attracts a wider audience and "reintroduces rap to a younger audience" as you put it? I am saying that both the gangsta rap of the 90's and the "dumbed down" rap of today are both detrimental, but for different reasons. Ultimately, corporate record companies have basterdized hip-hop, exploited urban youth culture, and pimped youth "artists" by putting out these records and widely promoting them. These records contribute to the further degredation of black youth by doing the things I stated in earlier posts. I am not attacking you, though admittedly I may have misunderstood your position. Please clarify. With apologies, Blackwatch!!!!!!!

Author

Renaldo Bryant

Date

2008-06-19T09:49:05-06:00
ID

131002

Comment

Okay, Okay, I get it. I just mean that maybe we can get some hip hop that's not so powerful that it throws off younger listeners. I am hoping that the lightness and fun approach will lead to an avenue where we can get consumers to become enthused about listening to lyrics that can uplift us. Not the songs with hidden undertones that on the surface "seem" fun. But songs like what we got from The Fugees, Lauryn Hill, that had a light sound but packed a powerful punch. I so don't want us to end up where we were during the days of NWA where gang banging was glorified. I don't want us to get to the place where hip hop has taken on a similar role as pop music where it's just danceable and not intelligent. i think that the fun approach can attract our young people and then we can flip and offer them some sound information about pride and culture like hip hop was originated to do. Apologies to you as well, I was sort of confused. Thanks for clearing it up for me blackwatch! :-)

Author

Queen601

Date

2008-06-19T09:57:32-06:00
ID

131003

Comment

Queen, I see your point. Though, I don't think that flipping the script on young people will work (I think that's what they try to do with "Holy Hip-hop", and I don't think that works well). It doesn't work because ultimately, it is the message that attracts the masses, not the beat. In the example of the Fugees (a great example), you have an intersection of social critique, creativity, and musical talent that teaches us that truly enduring hip-hop has to first come from talented artists. What we see today is record companies have very little talent signed, but they have plenty of young people who will do anything to sell a record to who ever. They are not "artists", they are corporate prostitutes. The affect they have on society in general and in the black community in particular is that of a minstrel. Drawing young people in with these people won't work because what attracts young people to them in the first place is so anti-thetical to the essence of hip-hop that any lasting following after said "flip" would be miniscule, and definitely not in the business plan of most record companies. Ultimately, hip-hop, to return to its roots, has to be decorporatized. The black community will have to be more vocal about a true hip-hop aesthetic, reject the "artists" that cowtow to record companies, and support hip-hop artists that are truly creative and talented. There is a significant underground hip-hop culture that rejects everything corporate about the music today. It's just not signifcant here in the south. One day it might get there, but until then, I say turn off the radio and support the true hip-hop artists. Blackwatch!!!!!!!!

Author

Renaldo Bryant

Date

2008-06-19T10:18:12-06:00
ID

131008

Comment

I've been thinking on this. I was in a gas station yesterday and Madonna's old hit "Get Into The Groove" was on. I found myself dancing around the store, and another woman was, too. That song is still good. It's about DANCING & not much more, pretty "light" but then again I could say to some intellectuals, "lighten up and shake your booty on the dance floor." Actually I tend to agree with a lot of what is said, as I like hip hop with a message of some sort. All I'm saying is, don't dis on music for only being "light" sometimes we need that message to lighten up and have fun.

Author

Izzy

Date

2008-06-19T12:30:04-06:00
ID

131009

Comment

For me, rap music became plain awful around 2002, when Nelly came out with "Air Force Ones". Though these songs have good beats to them, but the lyrics became so silly. Sometimes a good rap song is essentially a song about nothing, like a pair of tennis shoes. I remember liking "My Adidas" by Run-DMC back in the day.

Author

Jeff Lucas

Date

2008-06-19T12:40:51-06:00
ID

131012

Comment

I've always viewed rap or hip-hop like the republican party - something that started off well and with good intentions- but soon went terribly bad, then tried to de-abnormalize the abnormal, de-ethicalize the unethical and make good bad and bad good. When the people wake up and return to good senses, that which is clearly bad always dies out. Not a minute too soon for my taste.

Author

Walt

Date

2008-06-19T13:17:41-06:00
ID

131016

Comment

Izzy, I can see your point. Its just that black people historically could shake their butts on the dance floor to "I'm Black and I'm Proud" by James Brown, or "Chocolate City" by Parliament/Funkadelic. We can groove to mentally stimulating music. It doesn't have to be dumbed down for us to do that, historically. Jeff, Yes, there was a time when a song like "My Adidas" truly defined hip-hop (there is also an intersting backstory to that song, which had very good politcal and cultural implications, I won't go into it right now). It was true expression from urban youth. The difference now is that when Nelly does "Air Force Ones", is it youthful expression, or corporate advertising? Nelly was probably paid hansomly by Nike to make that song. That is the catch 22 with "fun" or "dumbed down" songs today, the corporate interests in the multi-billion dollar hip-hop industry makes these songs very suspect. Blackwatch!!!!!!!

Author

Renaldo Bryant

Date

2008-06-19T13:27:35-06:00
ID

131018

Comment

so what was the political idea behind My Adidas? This conversation is interesting.

Author

Izzy

Date

2008-06-19T13:45:24-06:00
ID

131020

Comment

Izzy, In the early stages of Hip-hop, the artists wore "costumes" rather than the clothes that urban youth wore to perform. If you look at early videos like "Planet Rock" by Afrikaa Bambataa and "The Message" by Grand Master Flash and the Furious Five, you will see big mohawk haircuts, big metal spikes, and animal prints (on jackets, capes and robes). When Run_DMC gets signed, they are approached about their "look". They decide that they wanted to look like the youth that were in the boroughs of New York (of which they were), that happened to wear jogging suits and Adidas shell top tennis shoes. When they go into the studio, they record the song as staement about authenticity as rappers. They were going to represent their own style and the style of the youth of Hollis Queens, NYC. So the song is a statement about how hip-hop is truly ahout the urban youth. The song is released and is a hit, and Adidas Corp. notes a spike in the sales of its shell top shoe in the U.S. They research and see that black youth are buying up Adidas in America like crazy. It could be said that for the first time, athletic appareal companies began to take note of a new (and controversial; see Nike and the craze over Air Jordans) niche market, urban wear. Adidas gives Run-DMC one of the first (and very lucrative) endorsement deals in Hip-hop. And thus, urban fashion begins to take off, first with white designers, then with black owned companies like Cross-colours and FUBU. Blackwatch!!!!!!!!

Author

Renaldo Bryant

Date

2008-06-19T15:06:35-06:00
ID

131025

Comment

That adidas story is doesn't reflect the one told on the dvd just for kicks...the end is the same...now as a gangsta rapper...lmao...okay as an artist... I agree with the importance of ending decorporatization. Its impact on hip hop and its listeners are immeasurable. However art tends to reflect where the people are. Currently all people appear to be coming down from the high that consuming and smiling produces. Remember disco? When people consume bitches and hoes and dance along, it sends a message to onlookers. See individualism is a luxury that black folk cannot afford- (Stokely Carmichael) when we discuss bitches and hoes and carry on in music, the message that it sends and the influence that these voices wield in our communities is unreal. IMO Hip hop is held to a higher standard because of the high numbers of black people that appear to generate wealth as an outcome of their involvement. One also has to think of the influence it has. Again the fonz wears a white t its cool…franchise boyz wear a white t its criminal. Same t completely different outcome. I think this reflects the belief that black folk are criminals and when I rappers talk about committing crimes and refuse to put it in context, the outcome is disastrous. We have far too many people who are unable to grasp the larger meaning of songs. When they act in the streets institutional racism snatches them up quickly. There is nothing in place to provide them context until its too late. As an artist that raps, I really dislike what this genre has become, we are complicit in our demise.

Author

skipp

Date

2008-06-19T16:32:00-06:00
ID

131027

Comment

Excellent commentary y'all.

Author

Walt

Date

2008-06-19T16:49:14-06:00
ID

131039

Comment

Skipp, That story is the one DMC tells on Behind the Music on VH1. I've never heard of the "Just for Kicks" DVD you speak of. What story does it tell? Maybe I can look it up. I don't know if too many black people achieve wealth because of Hip-Hop. Sure there are a few high profile people, but on the average, rappers make a very small piece of the pie for a very short period of time. Like Q-Tip said, the rap industry is a "cess pool". I do agree that in the black communtiy, individualism and "freedom of expression" have to be weighted against larger community effects. Because of the context that you speak of, The Franchise Boys' "White Tee" and the Fonz's "White Tee" are not the same. Do we put our heads in the sand and say it doesn't matter or do we confront the realities of racism and commercialism in this country? What context makes rapping about committing crimes acceptable? You lost me on that one. It is precisely the context in which people live that should drive them to be more responsible about their "art". But, most of these rappers don't understand their context, they just experience it. There is a major difference. If they understood the context, they would rap about something else, or if they had talent, bring social critique in a clever way to the art. I decided to watch some videos last night to try and catch up on my hip-hop 2008 library. There was a song by 'Ace Hood' called "Cash Flow". I must say it was the most unimaginative, machismo (masculine fantasy) ridden, blatant display of 21st century minstrelsy I have scene to date. There's no way to defend that culturally. What political message is being sent by expressing the desire to get money by any means necessary (not freedom, justice, and equality, but money)? Blackwatch!!!!!!!

Author

Renaldo Bryant

Date

2008-06-20T07:45:57-06:00
ID

131040

Comment

Blackwatch is a genius. He or she should be a rapper.

Author

Walt

Date

2008-06-20T08:01:45-06:00
ID

131043

Comment

Thanks Walt, but I won't consider myself a "genius". I do study the socio-political effects of media imagery in black youth as a grad student in Sociology an education. And, I work in education, so I am confronted with these issues on a daily basis. Hip-hop is powerful not just as entertainment, but it drives the cultural development for black youth and shapes the perception of such black youth in mainstream America. Skipp is right in that it is important to protect the art and content of rap songs from corporate exploitation. Skipp is also right in that at some level the black communtiy is complicit in the demise of hip-hop. If black youth wouldn't rap about these things in this way, there would be no "gangsta rap" or "dumbed down" hip-hop for corporations to exploit. But, in order for that to happen, there has to be an influx of critical consciousness in our community (and in my opinion, it has to start in the black church, especially seeing that we don't have many "freedom schools" in our commnunities anymore). Can you picture Chuck D rapping about "cash flow", KRS-one rapping about "Ballin"? You can't. These people have standards and principles and most importntly, critical consciousness. Maybe they don't generate the revenue they once did, but they have legions of loyal fans who appreciate their character, talent, and intellect. Can we say the same for Nelly, The Franchise Boys, or Lil'Wayne? Blackwatch!!!!!!!!!

Author

Renaldo Bryant

Date

2008-06-20T08:22:02-06:00
ID

131045

Comment

What has happened to create this demise of socially aware rap? Is it simply the commercialization - i.e., corporate sponsorship of trends and music? The inevitable march of capitalistic "progress" ? Or is it some other force at play? I have looked long and hard at the fate of performers inside the music business. My assessment is that the music industry is in itself a soul-splitting, life sucking industry. For everyone. To beat the odds you have to be smart and have some twist, like Beck, Prince, or Ani DiFranco who create their own labels or sell things on their own terms. In America there is this myth that success=money=bliss - that's a cultural disease not limited to gangsta rap. I think a big issue is the idea that music is successful ONLY if it hits BIG. What of smaller scenes that feed & enliven individual communities.

Author

Izzy

Date

2008-06-20T08:33:55-06:00
ID

131047

Comment

I understand, Laurel. I purchased an album by Raul Midon and loved it. I doubt it sold much. I also bought Cornel West's latest rap album and loved it. I doubt it sold much either. This is why I refuse to blindly embrace the concept of capitalism - it has an ugly underbelly that is arguably uglier than socialism.

Author

Walt

Date

2008-06-20T08:53:10-06:00
ID

131049

Comment

Be careful Walt, you maybe labelled a "Commie" LOL!!! But seriously, capitalism has good traits (like the rewarding of innovation, the freedom of creativity, and the profit motive to become better at what one does). But in reality, its basis is exploitation and exploitation has so many major moral flaws that aren't interrogated enough in our schools of business and economics and our universities. People willfully get exploited often times in capitalism and believe that this is just the way it has to be and the way it should be. Any critical thought about this and you are labelled a "Commie" or socialist, as if that is a cardinal sin or something. Izzy, You're correct, this money=bliss ideology is not just in hip-hop, but is really what makes capitlaism work in America. Marx said religion is the opiate to revolution. In America that religion is market fundamentalism. Blackwatch!!!!!

Author

Renaldo Bryant

Date

2008-06-20T09:12:53-06:00
ID

131051

Comment

Blackwatch, I'm reading a great article along these lines. It's called If the GDP is up, Why is America down? and was published in the Atlantic online in 1995. The gist of the article relates to the ways economists measure economic "success." The GDP, according to these writers, is ineffective as it can show a "good" economy even when the adjusted min. wage is down and folks are working 2-3 jobs just to exist.

Author

Izzy

Date

2008-06-20T10:07:18-06:00
ID

131052

Comment

Great Point Izzy, That article seems to hitting at a fundamental reality about capitalism; it concentrates wealth and poverty. Of all of the bad things noted about socialism, from its inefficiencies to its stifling of creativity, one cannot say that it concentrates poverty and wealth. The GDP is measurment of productivity, not a mesurement of well-being of the masses. High productivity benefits the capitalist class. That, along with consumerism, seems to be all that economist are worried about. Even though economic inequality creates so many social problems, economist never factor that into any efficency models. The costs of dealing with the problems of economic inequality are staggering. Yet, many buy into inequality as justified due to meritocracy and notions of "The American Dream". A dean at a university once told me a very good truism, "people are interesting creatures". Blackwatch!!!!!!

Author

Renaldo Bryant

Date

2008-06-20T10:21:43-06:00
ID

131053

Comment

Even though economic inequality creates so many social problems, economist never factor that into any efficency models. The costs of dealing with the problems of economic inequality are staggering. -Blackwatch Exactly!!! And the future costs to us for environmental pollution clean up & resource depletion. Not to mention quality of life.

Author

Izzy

Date

2008-06-20T10:29:05-06:00
ID

131055

Comment

Queen and Kamikaze I just read y'all's latest columns in the Jackson Free Press and am overjoyed. The marvelous change or stepping out I see in both of you, is, quite frankly, touching. I don't know the other people associated with your group but if they're anything like y'all are, then we're blessed to have y'all staying and working in Jackson. As people often say who knows me, I'm a hard person to please and convince. I love the idea of going to Ghana to do a concert and to establish relationships. I heard there is "so much love" over there. Tell Akon although he's a perpertrator I said hello. My unfullfilled dream too is to visit as much of Africa as I can someday. In other words, return home to see real lions, elephants and the people with so little money but still so much hope and love. I might even learn spear-chunking to appeal to Imus and DeJerk. He, he. Also, if y'all keep doing such a wonderful job with this thing, I may have to stop playing a role on here and be who I really am. In other words, show the other side, too!

Author

Walt

Date

2008-06-20T11:05:12-06:00
ID

131066

Comment

Thanks Walt....we need you....the city needs you!

Author

Queen601

Date

2008-06-20T14:05:10-06:00
ID

131175

Comment

It honestly suprises me that Ice T would legitimate "ringtone rappers" by associating them with Hip Hop at all. Hip hop, while founded in the urban centers of America, has evolved an identity of it's own in the larger culture of the world community. Through street art, fine art, dance, speech, music and fashion, Hip Hop as a conceptual context for life and community are thriving among a variety of Earthlings who see themselves as Hip Hop more than they identify with their Nation. Street art is enjoying a rich life in some urban centers encompassing art pieces of social critique and complex decoration. Banksy is an excellent example. (http://www.banksy.co.uk/) Pull up any number of YouTube videos (or check out Seven Studios on certain nights) to see breakdancers and crumpers pushing the limits of their craft; combining expression, passion, and focus in ways unparalleled by most humans. There is no shortage of conscious rhyme out there either. Bahamadia from Atlanta. Freemind and Skipp Coon here in Jackson. Truth Universal in New Orleans. Search out Dialated Peoples, Akrobatic, Sage Francis, Pip Skid, and Blackalicious. Want to hear something light-hearted but not ignorant and destructive? Check out Quasimoto, Ugly Duckling, cLOUDDEAD, the latest Beastie Boys, and Murs. Turntablism is a bedrock of Hip Hop and the feats contemporary djs are accomplishing would absolutely blow the minds of its founders. Pull up Kid Koala, DJ Swamp, RJD2, Cut Chemist, DJ Q-bert, DJ Spooky, and DJ Shadow. Speaking of Paul Miller (DJ Spooky), he has even written a book called Rhythm Science which weaves an interesting narrative correlating the ways human brains organize "reality" with the way modern turntablists (and video djs)(not VJ's like on MTV) cut and paste together pre-existing elements to form new wholes. It is conceptually innovative in the transcendent way that only a holistic community philosophy such as Hip Hop can do. i can understand the directions this conversation has take. i've also been thankful to learn from and enjoy the attitudes of the conversants. When i look at the progression of the Black Eyed Peas on their album Behind the Front to the pop-rap materialistic, machismo Fergie-pimpin group that they have become, my soul is saddened. (If you haven't heard it you REALLY got to listen to Behind the Front, 1998) But never do i think that just because the Black Eyed Peas stopped rapping with their brains and started rapping for their checks they have somehow taken Hip Hop with them. Hip Hop is not listening to 99 Jams and Hip Hop is not on pins and needles waiting for the new Soulja Boy to drop. Hip Hop didn't even WATCH the BET Music Awards last night.

Author

daniel johnson

Date

2008-06-25T23:27:42-06:00
ID

131181

Comment

Interesting take Daniel. I agree that hip-hop is much more than "Soulja Boy" and "ringtone rappers". But, in reality, is the issue that the black community is struggling with the conscience, underground artform and culture you are talking about or the "pimped out", misogyny , hedonism, minstrelsy, and nihilism that was on the BET Awards? People are quick to make a distinction between the "real" undergraound hip-hop and the "Hip-pop" on 99 Jams and BET. If you like it, great, but to say that "soulja Boy" and other "ringtone rappers" are not "hip-hop" I think isn't fair. Sometimes, I don't even think it's relevant to the types of discussions we are having about the hip-hop that is mainstream. I'm glad that you have found true hip-hop artistry in the artforms and artists you talk about, but how do they help us understand the product that we see that is forced down the throats of our young people by the mass media everyday? I was watching Hip-Hop vs. America on BET and David Banner was on there. I must say he really made a poor showing of himself. Honestly, we have to check this notion of market fundamenatlism and how it has really robbed the black communtiy of a very powerful artform. You can't complain that "Cadillacs on 22's" didn't sell like "Like a Pimp" and then justify "Touchin" because of it. Where is your "art", since you are an "artist"? Help me to understand how talking about Bahamadia, Freelance, breakdancing , turntabalism and grafitti are gonna help us deal with the issues that present themselves in the music and culture that most young people (in our community) ingest and identify with, the mainstream hip-hop? Don't get me wrong, I enjoy Bahamadia, and I understand your love and longing for distinction in the culture. But, I just get frustrated sometimes when I have these discussions and hip-hop heads bring up these obscure artists and artforms and culture and then expect them to be the answers to these issues. How many kids at Forest Hill or Jim Hill HS are rockin to Freelance and Bahamadia on their I-pods? How Many Kids at Lanier and Provine are graffitti artists? I wish more were, but I'm just looking for more relevancy in our critiques. Blackwatch!!!!!!!!

Author

Renaldo Bryant

Date

2008-06-26T08:37:12-06:00
ID

131184

Comment

I must digess Daniel Johnson. To imply that Hip Hop didn't watch the BET Awards or listen to 99 Jams is an mistep. To imply such results in the school of thought that only true hip hop heads don't do such things as watch the BET Awards or listen to 99 Jams. I've loved hip hop since its birth. I've watched it evolve many times over. Just because a lot of things have come from hip hop such as fashion, graffiti, dancing, music, and influenced media and literary arts forms, it does not in anyway form an exclusivity that manifests itself in many parts of the hip hop community. Hip hop is an art form but it began as a simple form of entertainment. How it turned into something that folks have started to denounce as "dead" or "dying" is a waste of time and downright scary. A dangerous precedent is also taking place. Hip hop has become reduced to being a term. It has become property over which we argue over, "Hip Hop is mine! That mess on the radio isn't Hip Hop! It's junk! Hip Hop is this, Hip Hop is that!" What will we become if we allow others to define Hip Hop, always picking it apart? In a modern time, after much hardship and heartbreak, we as a Black people were blessed by God to received beautiful form of lyrical entertainment. We hadn't been blessed with a new art form with as much to offer in a hundred years. The last time we got blesed like this, we got Jazz and gave it away. Before that, it was the Blues. Blues is alive, but is it well? I don't know. But I'd say based on my studying hip hop, I'd say that Hip Hop-with a capital "H" is alive and well. Hip Hop is probably real tired of the dissection of her contributors. Born in a pizza parlor somewhere in New Jersey around 1979, hip hop came to us for a means of passing time and expressing ourselves. No one knew that the young folks would bend and stretch hip hop like good bread, making it grow and rise and yield such delicious things as graffiti, dancing, changing literary and media forms, and forming collectives that are so large and vast yet as tightly- knit as family of blood kin. I wouldn't even know I was a lover of Hip Hop or hip hop until I heard WJMI and watched BET. At one time, both entities served a good and right purpose in educating me in music. From my hip hop education came a love for one who makes it. From the love for one who makes hip hop music came a wonderful experience of meeting folks who made hip hop music, too, and with my meeting individuals who make this music came a realization that the world of hip hop is a very different one depicted on BET or heard on 99 Jams. But are we to become elitists in our thinking, excluding opportunities to view and listen to such media outlets. How else will we know we have gone wrong if we can't watch and see that very thing that we find to be abominable? The BET Awards was not abominable to watch. On the show, I saw artists who have performed live, who in their youth performed in places like the Goodman Racetrack in Holmes County, or Freelon's, the Birdland, and Jackson State University. Many of the artists who I watched come onstage to present, give, and receive awards have paid their dues. Many of the artists seen on the BET Awards are artists who I have seen pay their dues. It is sad to know that many hip hop artists change their music from what it was that endeared them to me in the first place. Still, I hold on to the hope that one day some artists will return to their roots, that special thing that made their music theirs and theirs alone. We must be patient with our artists. We must be hopeful that some of them will have enough love for us who are their fans to make the music rich and powerful once again. Hip hop being what it is merits a little more hard work to be done to educate our young people in understanding that hip hop that they see on BET and the like, aren't accurate representations of hip hop. We must also give young people inspiration to take hip hop in new directions by giving their ears near things to hear that are hip hop. Until then, it will be the radio that they turn on to hear and receive their education in hip hop. If we wish to see our young people learn more valid and accurate models of hip hop, we'll need to take note of how powerful forces such as collectivism have established a means for sharing examples of hip hop as we think it should be. Until then, let us not form exclusive clubs for staking claims to hip hop, because Hip Hop belongs to all of us.

Author

mssweetie

Date

2008-06-26T09:38:30-06:00
ID

131186

Comment

First i would point out that my comment is directed at the very idea that Ice T would equate corporate produced "art" products as Hip Hop. In the context of the ongoing conversation which issued from this post~ i would humbly assert that Soulja Boy and his ilk are a corporate manifestation of elements which our entire society is suffering from. Admittedly they represent an image of blackness which the power-brokers are trying to assert, but this image of black people is injurious to our entire society to varying degrees - black males coming up with the shortest end of the stick. i think it is perfectly appropriate to discuss corporate ownership of art dissemination and the harmful concepts they perpetrate at the expense of our more enlightened faculties. i am, however, unwilling to accept the tacit implication that the products which these corporations are pimping are art, let alone Hip Hop (one of the highest forms of art - living art). You seem to assert that the popularity of these ringtone rappers is a construct of a power structure asserting its own definitions over groups of people. If this is true then how can you elevate these crafted pieces of propaganda to art? i admit that Soulja Boys tunes emanate from his own head most-likely - but when you take the position that his entire generation has been profoundly affected by a concerted effort by the power structure to control the concepts of their culture than Soulja Boy becomes a Manchurian implant into the scene; designed to perpetrate someone else's agenda - a hopeless automaton who cannot escape his social programming. The rappers who populate this Hip "Pop" genre are no different than the actors in most all top-down mass communications. They are stooges in a conspiracy. Do not help make them representatives of Hip Hop culture just because old white guys want them to be. To assert that the hip-hop artists i mentioned are obscure is to buy in to the power-brokers assertion that what they choose to play and say in their mass communications somehow represent the general populace. They want the enlightened to believe they are marginalized. Don't think that just because the venue is full at the next 50 Cent concert it means that there aren't an equal number of people hungering for AND consuming AND creating REAL art. Some of it in the community of Hip Hop. Artists such as Banksy, Bahamadia, and DJ Spooky are living well and sharing their art on international stages. They are interviewed by National Public Radio and Juxtapose Magazine. They are a part of a broader culture which is stealthily supplanting the consumer culture which has dominated the airwaves as communication lines evolve and become more independent of monied power. They way to discuss our cultural state of events is not by accepting the paradigm set forth by those who would seek to control our paradigm. We must FIRST draw distinctions and define our own conversation. Then we can truly discuss how to assist those who would not see the truth to open their eyes to the dialogue they are involved in. We must reinforce and celebrate real art while drawing a sharp critique to the manufactured "culture" powerful people are shoving down our eyes and ears. Perhaps we could start by coining a good word for this "art"...perhaps we might use some conjunction of the term propaganda. Don't forget that kids at Forest Hill and Lanier know who Common is. They are aware of Tribe Called Quest and The Roots. Some have even listened to Michael Frante. The situation is severe and needs to be addressed, but don't cede ground to the power-brokers.

Author

daniel johnson

Date

2008-06-26T10:11:59-06:00
ID

131193

Comment

point taking mssweetie - i do succumb to hyperbole when speaking passionately. i think that the crux of what i have said is that perhaps there is a line where suddenly a performer is no longer creating Hip Hop and is participating in a creative endeavor which is different enough in motivation as to qualify as something else. Hip Hop certainly should not be narrowed - but i would say that some things are and some things are not Hip Hop. i would assert that somethings qualify as art and somethings qualify as products. i'm not here to argue at all. But i do enjoy the conversation and think that something constructive can come of it. For a long time there has been a struggle over what "mainstream" media promotes as urban creativity. They long to define it for the masses rather than yielding to the inspiration of the people. This becomes a convoluted mess as children mature through this lens and begin to create from their experiences which unfortunately have been sponsored by Wheaties and Nike.(Phillip-Morris and Clear Channel more rightly) i mainly prefer to participate in Hip Hop culture as a creator - but i do enjoy tossing around thoughts on it when the opportunity arises. Intelligent debate though - not assertions of propriety.

Author

daniel johnson

Date

2008-06-26T11:47:09-06:00
ID

131196

Comment

To assert that the hip-hop artists i mentioned are obscure is to buy in to the power-brokers assertion that what they choose to play and say in their mass communications somehow represent the general populace - daniel johnson Daniel, I think this here is the crux of the issue - the very center and heart. WHO defines what music is worth? this is akin a bit to the idea of produce - i'm talking fruits and vegetables here, people. Long ago veggies and fruits actually had TASTES and smells, luscious, delicious. Then they become bred for international transit, to stay "fresh" on the shelves, to be what consumers want them to be. Only on the way, all the great taste and smell got completely bred out of them. The same thing is happening in music. NOt all music has shelf life of a twinkie. It dies fast or is enjoyed one Friday night & never lives again. To quote Ani DiFranco "people used to make records, as in a record of an event. Now it's about cross-marketing, which tv shows and guns and drugs you choose."

Author

Izzy

Date

2008-06-26T12:42:05-06:00
ID

131199

Comment

Man. Vegetables. Don't even get me started. . . . let me take a moment to make some admissions . . . i admit that when i start to discuss an issue i can get a little narrowly focused in an effort to examine a particular dynamic of an issue. my wife is good about bringing me more into balance. My wife considers me a bit pretentious, although i don't think she would use that word. (cause she loves me) My wife enjoys the like of Ludacris, Project Pat, Lil Wayne, Kanye West, Justin Timberlake, UGK, etc. After my last post i went and got in the car to find that she was listening to a new Lil Wayne mix her friend had dropped off. The first song was catchy with some pretty witty references to violence and ended with him saying, "i AM Hip Hop." Now i don't want to take anything away from anybody. i enjoy all these rappers at times, usually because their flow and their beats are phat. The only thing that drives me to turn them off is their subject matter. (i admit that some times they make great songs which speak to very real social ills.) This is certainly a valid expression in our culture. But i do think there is a place to wonder where the motivation for the music comes from and what part is played by non-artists in pushing certainly conceptual influences in the genre. i also think there is validity in wondering what Hip Hop is exactly and why it is what it is? Are there forms of Rap which the general population of the Hip Hop community do not embrace regardless of if they claim to be Hip Hop or not? Of course, for anyone to step up and make the claim brings scrutiny as to their own motives. After all, who can speak for everyone? Who can speak for Hip Hop? Everyone might could agree on KRS-1 but i'd hate to ask him to do it. My burning question remains - What is Hip Hop? Do we do it an injustice in allowing its definition to become so muddled that it ceases to mean anything in particular at all? Hip Hop can be such a strong force for community empowerment - it seems a shame to allow people to claim it when they are actively reinforcing and celebrating behavior which is counter to the empowerment of the people.

Author

daniel johnson

Date

2008-06-26T13:08:16-06:00
ID

131201

Comment

I'm old school (Motown, Stax, TSOP), good music, real music, but I'd say hip hop or rap is "dissonant noise," except for the times the artists steal old school tracks to beauty up the sound. Some old school veterans don't know what hip hop or rap is. In fact my uncle Jo Jo upon first hearing some rap or hip hop blasting at the family reunion ran out the house and hollered, "what the f___ is this s____! For a different answer check with the young folks.

Author

Walt

Date

2008-06-26T13:36:46-06:00
ID

131202

Comment

every genre of music has it's "sell-outs" music always is changing, lots of times bands are at their best BEFORE they get big power corrupts? I've seen many female solo artists just get killed out on the road, like Michelle Shocked or Fiona Apple. Til they have to have a 7 year break to get a record done. mssweetie I think you have a good point of view. This issue isn't easy to define. There was a huge thread about it a year or so back, where one blogger was trying to say that hip hop is a black thing only. let's keep up the conversation. thanks for listening

Author

Izzy

Date

2008-06-26T13:41:02-06:00
ID

131203

Comment

We can dance and bob our heads, that's great! But if Soulja boy (and others like him) can go platnium rapping three word hooks, think what he could do if he had something significant to say!

Author

Queen601

Date

2008-06-26T13:57:26-06:00
ID

131207

Comment

Are there forms of Rap which the general population of the Hip Hop community do not embrace regardless of if they claim to be Hip Hop or not? Back when MC Hammer was on top of the world, there were some in the rap community who didn't embrace him because they thought he was giving away rap to the "mainstream". Gangsta rap was starting to fledge during Hammer's era, with N.W.A. and the D.O.C., as well Dr. Dre and Snoop Dog emerging not too much later, so that pretty did Hammer in.

Author

golden eagle

Date

2008-06-26T15:22:39-06:00
ID

131208

Comment

Hammer was always considered to be a "soft" rapper. Not soft as in not hard (like Cube and NWA or Tupac); but soft as in not really a lyricist. Just entertainment. We have many like him today. But he's the original ringtone rapper. Glad you brought him up. I personally don't take issue with what the kids are listening to...the cutsey stuff making money. I don't think soulja boy has the ability to KILL hip hop as Ice T put it. Hip hop is a culture, it will never die. But I see his point. Hip hop has it's advantages and soulja boy (and others like him) are not using hip hop as an artistry in his view point. They are using it form monetary come ups. But like anything else, if it works, and it pays, we'll indulge in it. David Banner makes the point constantly that when he does albums/songs that encourage and educate, people don't buy them. He has stated on several occassions that Cadilac on 22's damn near killed his career and that was the best song he's done since he went out on his solo ventures. However, Play, Lil Jones, and song like that, put him back in the game. It's hard to make a living pursing what you love when the country is dictating your success and failure. By the way....side note...i pulled out Grey Skies the other day (after Jubilee Jam) and it is still just as soothing and inspiring as it was when I first copped it. CLASSIC hip hop artistry. If you don't have it and you love hip hop-- and your a mississippian, you MUST make it a part of your collection. And even if you don't like hip hop (Walt- LOL ;-)) and appreciate words and lyricism, you still need to cop it....

Author

Queen601

Date

2008-06-26T15:34:10-06:00
ID

131210

Comment

I actually like some of it, Queen. I'm a music man first and foremost. I usually barely hear the lyrics. For a voice to get my attention it has to be great and unusual. Hammer should have taken a few shots at NWA. I'm talking about with a pistol, otherwise, be labeled soft and pop-gun. Arsenio Hall interviewed Hammer after seeing the "pumps and a bump video" and asked Hammer, "Was that yourn or were you using a sock to disguise." Hammer was quite unlucky and couldn't handle the tide of NWA. I don't know that anyone could have stopped gansta rap as it was presented at that time. Dr. Dre. was/is a great groove and beat man. He probably could be a great arranger, conductor or creator of music if he studied those arts. He certainly has the feel for good music or sound.

Author

Walt

Date

2008-06-26T15:52:42-06:00
ID

131211

Comment

Daniel, I think you are right about discussing what is Hip-Hop and also the corporate motivations behind the art or "products" that are presented to young people on BET and 99 Jams. The issue I have is that sometimes people bring up artists like Bahamadia and Common like the kids who listen to Lil'Wayne and Soulja boy would also be interested in them too. The appeal is totally different. The audience is totally different. It's like saying well if you like candy bars, you'll love tofu bars. Sure, both are food, but you eat a candy bar for far different reasons than you would eat tofu. Typically, the kids who like Soulja Boy or Lil' Wayne are not too interested in Common or Bahamadia. It's no comment on the artistry of the latter artists, it's just an observation on the reality of the situation. So I think your critique of the corporatization of hip-hop is more appropriate here. Also, the audience that supports the corporatized hip-hop needs to be addressed. It's harder to know now with downloads and mp3's, but once it was estimated that between 60 to 80% of the Hip-hop was purchased by white suburban teens. This lends to the notions of why the images in popular hip-hop are rife with black bodies in danger, oversexed, and in criminal environments. Some scholars suggest that this phenomenon is evidence of a fetishistic gaze that mainstream (read white) society has for the destructive black body. This same phenomenon is observed in a study of minstrelsy both in the 1800's and in early to mid 1900's and in some blaxploitation films. So, to combat this, I see nothing wrong with your questioning of a definition of Hip-hop. Though I think we maybe better served to develop a hip-hop aesthetic or set of rules that defines "good hip-hop". There is nothing wrong with standards in art. The issue we have to plead is for hip-hop fans develop a more critical ear and become knowledgeable not only of the history and rudiments, but also the potential of hip-hop to transform culture. We also have to engage hip-hop artists and radio stations so as to ascertain whether or not "art" or "products" are being produced and promoted. There is nothing wrong with hip-hop artists prospering financially, we just have to make sure they are rewarded for creativity, not minstrelsy. Blackwatch!!!!!!

Author

Renaldo Bryant

Date

2008-06-26T16:08:05-06:00
ID

131212

Comment

i think it is important to talk about Hip Hop as a community empowering entity. At it's base that is what seems to define it. When we start to talk about people of certain genres "selling out" i don't think it is applicable to Hip Hop in the way it may be to Folk or Rock. Unlike other musical genres, Hip Hop has been recognized as a social movement for a long time. Check out the 1983 PBS presentation Style Wars. i assert that since Hip Hop is a social movement, if an artist stops reflecting the fundamental precepts of that movement, they are no longer participating in Hip Hop. The music of Hip Hop is merely a part of this movement. Just because you rhyme and have phat beats does not mean you are contributing to Hip Hop culture. You might be rappin, but if your rap doesn't correlate with social empowerment, it is not Hip Hop. To bring it full circle, for Ice T to suggest that ringtone rappers can bring down Hip Hop is to broaden the definition of Hip Hop until it loses the fundamentals which define it. The lines begin to blur and Hip Hop as a word and concept loses meaning. When we discuss terms and concepts in society we must first own the definitions. To allow the power structure (or their stooges) to assert that Soulja Boy is Hip Hop is to begin with the assumption that one has to accept that Hip Hop is less than a community expression of social empowerment. i do not accept that Hip Hop is less than a manifestation of bottom-up community empowerment. And that brings me back to mssweetie's statement once again. i guess i don't mind drawing lines in the sand. It seems unfair to Hip Hop to not challenge those who would apply the term haphazardly to anything which might resemble it. Hip Hop is one of the most innovative world-views to emerge in our modern era. It continues to challenge those who would seek to control individual experience from ivory towers (and profit from the situation no less). With respect and thoughts to all those who pioneered and continue to forge new ground in Hip Hop, i can not in good conscience allow people to discuss music which is degrading to people as somehow in the same category as a movement which seeks to empower communities through creative expression. They are simply not the same thing.

Author

daniel johnson

Date

2008-06-26T16:56:48-06:00
ID

131213

Comment

Daniel Johnson, I haven't had so much fun figuring out what $50 dollar words meant since, well, I don't know when. You are very earnest in your beliefs and such earnestness in expressing them "profiteth us all." One only has to look at this entire exchange since Queen's introduction of the topic. I've learned as much reading this blog as I have learned since discovering that the music I loved was called hip hop. So do continue in speaking your mind, as it is stimulating, to say the least. If I see something that you say with which I am not in agreement, I will join the dialogue to digress you again. As for the market's dictate of shaping the artist's work. It exists. We know that many an artist made surreal and sublime music as independent artists, only to become something other than they chose to be musically, because of market dictates. As for musical roots, most musicians have them, and many return to theirs when and if it is their destiny to do so. Keep in mind that for an artist to return to his roots is a gamble and gambling with one's art form is always a cause for concern. At what cost will an artist return to things special that made him whole as the musician? I think entire careers may have plunged into the abyss of obscurity and low income when a musical artist dares to show his true and natural musical self. In a day and time when finances motivate the bulk of what is seen and heard in hip hop,many artists still long to reunite with the musical elements that allowed them freedom, satisfaction, and peace of mind. For an artist to take a chance on becoming what he once was may mean good things for us, if what he gives to us musically is what we have longed for, for so long. It is at this point that we as fans need to realize that the artist not only evolves back to what he once was so that he can be at peace with himself and his music, but makes this change as a show of love for the people who recognized and appreciated his musical contributions in the first place. It is at this time of the artist's decision to re-adopt his old musical ways that people who appreciate his music should support him in as great numbers as possible. We should be mindful that the artist's winning formula for prosperity may not have included his making music that draws on his true musical self, and to take a chance on losing his livelihood, all for the sake of musical integrity and love for the people who are his supporters is an act of true love... ...And hopefully I can have a chance to cop a copy of Grey Skies myself. It's evidence of one artist's musical range when no limitations are put upon his truest musical self. For all Banner's success, I wonder if he also longs to be let loose to make music like he used to make.

Author

mssweetie

Date

2008-06-26T17:15:14-06:00
ID

131214

Comment

Very airtight assertions, Daniel. I see great soundness in what you have said, except-- I do for some unknown reason do choose to classify everything that I consider hip hop suspect in influencing, as hip hop. Case in point, pornographic photographic stills and still life's by Jacob Lawrence, Claude Monet, and everything in between--it's all visual art. Another example--jazz, ragtime, blues, country, hip-hop, rap, classical--it's all music. But I am a great positivist because I find myself hard-pressed to omit anyone who makes hip-hop contributions-be they the makers of hip-hop as it is seen in your eyes or mine or everything in between, I classify it all together; the sorting of which is hip hop and which is a hybrid off-shoot or simply not hip hop at all--these issues I let work themselves out over time because hip hop has evolved so much over 28 years. Who knows, the same way negro spirituals birthed gospel and gospel birthed--or at least shaped, Blues, R&B , Soul, and Rock n' Roll, hip hop may be birthing something that we see in the Souljah Boy's of today. To me, I see it all as musical evolution, what hip hop is going through today. For all we know hip hop isn't in baby or adolescent stages of development, but really in its reproductive stage and giving birth to new musical forms just like it gave us rap music. I understand your line of thinking, but I'll still keep the makers of misogynistic, viloent hip hop music in the family, too. I'm only being fair. And in hip hop's family, if she were a woman and going through birthing pains, her family does include the Dirty South, but don't let me get started...

Author

mssweetie

Date

2008-06-26T17:40:34-06:00
ID

131215

Comment

Someone played Souljaboy on the jukebox at a local poolhall one night and the sharks in there put their sticks down and started doing the dance. It was a sight to see. If you want a good laugh, go to youtube and look at Barney crank that Souljaboy. A very funny video response. I miss the old days of hip hop too, but Soulja's roots are here in Mississippi so...well.. ya know! Oh yeah, doesn't Ice T play a cop now on a tv show?

Author

saint H

Date

2008-06-26T19:28:49-06:00
ID

131218

Comment

Pool sharks in the pool hall getting down to Soulja Boy? Now that's what I call hip-hop-in-action. I don't know about y'all, but I love hip-hop for its sole purpose in my life, making me want to move like it moved the guys in the pool hall. I'm so inspired by this blog that I will do the unmentionable: make a list of things to do, because I don't make lists. Things to do: 1) Find the pool hall Saint H is speaking of and go see what's up over there; 2) Find a way to listen to Grey Skies-I didn't say 'buy it' because Grey Skies is a collectors' item and costs a lot of money and I barely have enough to buy gas-but aren't we all in the same situation; 3) Attend the annual Hip Hop Congress Conference that will be held in Biloxi next month. I want to see all the hip hop activity going on so I can compare it to what was said on this blog-which is quite good; 4) Ask the question, did the guyd in the pool hall know they were hip hoppers or just feeling the groove which leads to another question, "why do we need to analyze all the time? Can't we just shake where it feels good?

Author

mssweetie

Date

2008-06-27T03:57:04-06:00
ID

131227

Comment

Thanks so much to everyone on here for not only their honesty, but also their respect for each others opinions. i always like to state that what i enjoy most on forums is the opportunity to share my opinion and hear others...We often have to pick each others thoughts apart to bring clarity to our own. It is a tricky business - but with mature participants it can be quite an enlightening experience. My favorite "adage" is: Just cause i think i'm right doesn't mean i think your wrong. ... i too have a bent toward inclusivity. It is difficult for me to feel comfortable telling anyone they do not have a right to group themselves with others. i do however think that to allow certain concepts to retain their identity there must be definitions which certain things fall outside of. - The idea that artists are "forced" to play music taht is counter to their ideal wishes is absurd. Musicians who forego making art which epitomizes their ideals in order to make money off their craft should have more respect for their art. In fact, this is a good illustration of the difference between art and art "products". There are millions of artists in this world who are making art they believe in; some of them making money at it and some of them not. i really have no problem with someone making any type of art they wish - just don't whine to me that you can't make the art you wish you could because you have to make something that you can make alot of money with. The simple fact is that people don't need alot of money to be happy, healthy and wise so therefore i'm not buying that anyone HAS to make art that they can make alot of money on. i'm also not against people making music which objectifies and berates people while also making them dance. Just don't try tag say your reppin Hip Hop because you insult those who are. You also create a distorted view of Hip Hop itself. As for Jazz, Hip Hop, Ragtime, etc. being all music...i agree. But i'm not going to say that Jazz is the Blues. i'll also feel comfortable correcting someone who tries to. Hip Hop is one of the most powerful social movements to occur in the 20th century. Either fight for it's definition or allow it to be watered down and become a meaningless word - devoid of its ability to bring people together around the common cause of community empowerment.

Author

daniel johnson

Date

2008-06-27T17:01:50-06:00
ID

131228

Comment

I agree baby boy, jazz is not blues. Never will be. Just can't be. I love both the same still. Mssweetie, I would also like a copy of the material Queen601 mentioned earlier. I looked a couple of places, but came out unlucky. You know if she likes it, it has to be good. And yes, everyone should shake where it feels good! I remember shakin to Nelly everytime Deuce would score a touchdown against the Packers one Sunday at the Dome. Certainly one on my life's soundtrack. Remember a few years ago when everyone was playing "Hey Ya" by Outcast? I am willing to bet that most listeners didn't even realize that Outkast was already a well established, well respected, southern rap duo. They just hit the jackpot on that particular song. Oh the stories behind that one too.

Author

saint H

Date

2008-06-27T18:33:55-06:00
ID

131260

Comment

Souljaboy makes me cringe (but is he really any worse than 2 Live Crew?), but he hasn't killed hip-hop. Look at Immortal Technique and Bonami "D'mite" Armah for examples of contemporary intelligent hip-hop artists.

Author

Daniel Irby

Date

2008-06-30T08:25:49-06:00
ID

131265

Comment

Ms. Sweetie, let me know when you are free, I'll listen to it with you....not let you use it...it can never leave my person! :-)

Author

Queen601

Date

2008-06-30T10:17:39-06:00
ID

131280

Comment

i think a crucial question here is: Are Rap and Hip Hop the same thing? i assert that there is Rap that is not Hip Hop. Just as there is dancing, fashion, and art that is not Hip Hop. i also think there can be a lengthy discussion on exactly what can be considered community empowering. It can be broadly construed to include more than one might think...

Author

daniel johnson

Date

2008-06-30T18:43:47-06:00
ID

131283

Comment

I digress Daniel. I digress the assertion that rap can be separated to keep the soundness of the true hip hop. I'm a mother. For me, I see most things in a familial context. The hip hop music is in a family begotten by earlier forms of music in Americana, and based too, upon some unknown part of us (Black folks) from eons ago. The rapping could easily be identified in Africa during a tribal, city, or village elder or administrator calling out news and making announcements. Such announcements had rhythms and songs. Musical instruments were used, too. I'm learning from you all, Daniel. As a person just discovering that not only is there a rich legacy of music beneath what many in our (Black folks) community considers hip hop. To be realistic, most communities here in our neck of the woods don't know about hip hop. My dad is 81 years old and he knows who Too Short is, because my brother played his music in the house in the early '90's and then we had the montrous satellite beaming in signals for BET. I could say that it was regrettable that my first encounter for noticing hip hop was with the introduction of rap music that was broadcast in the 1990's on BET's Rap City and MTV's Yo! MTV Rap. I could say that I have regrets, but I won't, no more than someone who had to go attend a school because of redrawing of racial lines. To put it in ghetto and hip hop rap terms, I had to get it how I live. Hee hee. Rich. But in the spirit of being a familial woman, I don't agree that we must separate the rap from the hip hop. I have another suggestion that will satisfy me and no telling how many other folks who feel strongly about ALL rap being considered part of the hip hop family. I recommend that rap be considered in classifications-- Commercial rap-that would be all the rap music seen on BET's 106 & Park and other music networks that airs music that is accepted by the mainstream ans truly not 'underground' hip hop Classicial rap-that would include early rap music that was made that impacted hip hop music until this day. That would include Grey Skies by Crooked Lettaz Gutter rap-self explanatory Ringtone rap-self explanatory Experimental rap-rap ahead of its time Political rap-rap that sends a powerful message to an oppressed people and their oppressors Erotic/Romantic/Sensual rap-rap not gutter, that invades the senses, stirs the emotions, and gives the speaker the power to teach the audience the ways to love and how to sustain love as well as discover it Femcee rap-rap made and produced by female emcees Collective rap-rap made by collectives, posse's, and cliques (I hate that word) but not G-Unit, because they're commercial rap group and they threw out Young Buck, who will now be a part of the Dirty South-which IS a VERY LARGE collective consisting of commercial and non-commercial rap artists) Relgious rap-rap that makes a thinker, doer, and believer out of you Proclamatory rap-rap by griots who say things and they stick Feel free to digress Daniel... Queen, I'll listen to Grey Skies any time you say it's ok except for the 4th of July. It'll be well worth the trip...

Author

mssweetie

Date

2008-07-01T05:59:15-06:00
ID

131794

Comment

i think words are powerful. Creating terms of classification can reinforce the particular dynamic a community of people are trying to assert. Many of the classifications you mentioned would qualify as community empowering or Hip Hop. Corporations seek to sell. It is in their interest to tell the people what is Hip Hop rather than the people defining it for themselves. On this thread i would just want to make the point that communities must seek to control their own labels particularly because a strong concept can give unity to marvelous ideals. Ideals which can inspire. Hip Hop is one of the most transcendent concepts for living to come from the 20th century. It would be a shame to let Sony tell us what it means. Or even Ice T for that matter.

Author

daniel johnson

Date

2008-07-01T18:13:04-06:00
More like this story
More stories by this author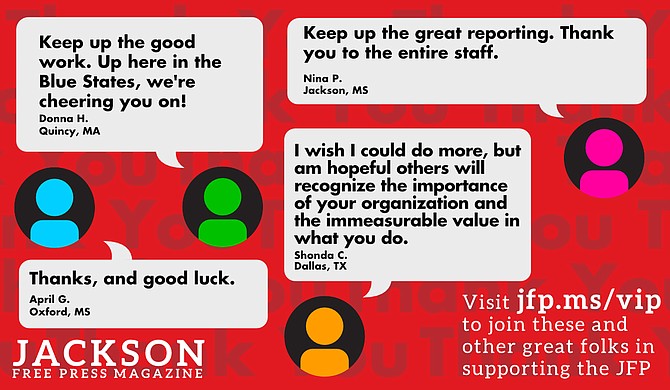 Thanks to all our new JFP VIPs!
COVID-19 has closed down the main sources of the JFP's revenue -- concerts, festivals, fundraisers, restaurants and bars. If everyone reading this article gives $5 or more, we should be able to continue publishing through the crisis. Please pay what you can to keep us reporting and publishing.