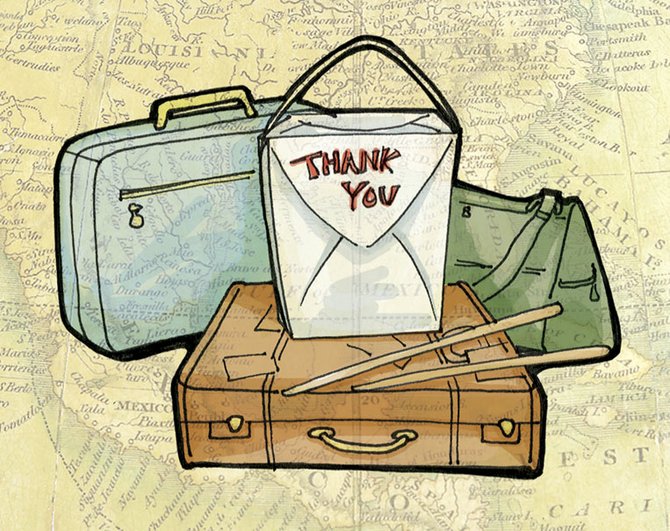 I recently visited Washington, D.C., for the first time ever, and everything overwhelmed me: the monuments, the museums and the traffic. I only had one day in the city, so my friend and I walked all day to try to take in everything. Our only break was in Chinatown—for food, of course. After walking up and down several streets and alleyways, we found the least sketchy-looking establishment and climbed the narrow stairs to the second floor. Inside, the waitress showed us to our seat.
"Is it feel hot in here?" she asked us, handing us soup-splattered menus. We shook our heads no.
"OK, well, air conditioning working only halfway," she explained. We shrugged, smiling and ordered.
Our food came quickly, and we dug in. We had taken about two bites when one of the waiters approached our table.
"In 30 minutes, all power gone," he said. "They will fix air conditioning but all power gone. You must go quickly."
My friend and I nodded and started eating faster. Then, the same waiter came back with to-go boxes and shoveled our food into them. In shock, my friend and I paid our bill and left. It was certainly a "rush" experience, but it brought back some childhood memories of egg foo yung, so I e-mailed my mom to ask her about it when I returned home.
My earliest memory of Chinese food was my mom making egg foo yung and chicken chow mein on New Year's Eve. Along with watching old movie marathons, banging pots and pans at midnight and drinking hot chocolate, we almost always had Chinese food for a late-night dinner on New Year's Eve.
My mom told me that when she was growing up, her grandfather also made egg foo yung on New Year's Eve. Because it had been a while since she had made it, she didn't remember all the ingredients. She thought it had egg, bean sprouts, onion, celery and maybe water chestnuts. Grandpa mixed everything with salt and pepper and cooked it like a hotcake and served it with soy sauce.
Egg foo yung, a Cantonese dish, is one of the few Chinese dishes where the sauce is prepared separately from the dish. Similar to American omelets, egg foo yung is an egg base accented by a variety of ingredients, and there isn't really a right or wrong way to make it. There are lots of recipe variations that include ingredients ranging from ham, shrimp and tofu, to onions, mushrooms and carrots.
I decided to give egg foo yung a try. I wished my mom could have been here to guide me step-by-step, but she was 2,000 miles away, so I was on my own. I mixed everything together, painstakingly cooked it in the pan (freaking out that it was getting too hard or not hard enough) and served it with lots of soy sauce (just in case it didn't taste good).
It was a hit. Thankfully, my air conditioning didn't go out, so I wasn't shooing my guests out the door with take-out boxes. Although, if anyone ever overstays their welcome, I know a great way to get rid of them.
Eggs-cellent Egg Foo Yung
2 cups shrimp, finely chopped
4 ounces mung bean sprouts
1 celery stalk, thinly sliced
1 small can water chestnuts, finely diced
8 eggs
1 small yellow onion, diced
2 green onions, cut into 1/8 inch pieces
1/4 cup sweet peas
2 tablespoons soy sauce
2 tablespoons olive oil
2 tablespoons sesame oil (to blend with olive oil)
Salt and pepper, to taste
Sauce
2 packages of chicken or beef gravy mix
2 cups cold water
2 tablespoons oyster sauce
2 tablespoons soy sauce
Stir-fry the carrots, bean sprouts, celery and water chestnuts in half of the oil mixture. Set aside to cool. Combine gravy mix packets, water, oyster sauce and soy sauce in a saucepan. Mix with a wire whisk. Heat over medium heat until sauce is bubbly, then reduce to a low setting and let it thicken, stirring often.
Beat the eggs gently in a large bowl (don't let them get bubbly), and mix in the shrimp, stir-fried vegetables, remaining vegetables and fish sauce.
Heat remaining blended oil in a wok or large skillet to medium heat. Using a small ladle, place small amount of egg mixture in the center of the skillet and flatten out with spatula.
Cook until solid and then fold in half. Continue cooking another 2-3 minutes, turning over once.
Serve with sauce.
Previous Comments
ID

132633

Comment

I didn't make it to DC either until I was 19. I took my 3 oldest grandkids (all age 7 thanks to my son) to DC 3 weeks ago. They got to ride on a plane for the first time and loved the plane and the trip out east. We spent 3 days in DC and 3 days in Baltimore. I didn't eat or learn to cook Chinese food but I learned I'm too old to be fooling with grandkids for more than a couple of days.

Author

Walt

Date

2008-07-30T16:17:15-06:00
More stories by this author
Support our reporting -- Follow the MFP.