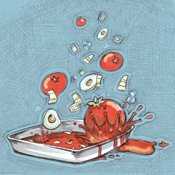 When I was growing up, taco night was not complete without a giant bowl of soft avocado mashed together with onions, tomatoes, and cilantro and surrounded by crunchy white corn chips. Though it was meant to be an appetizer, it was often my only dish on taco night.
Usually, my dad was the official "guaca-salsa" maker. I liked to watch him slice the onions into tiny white flakes and the tomatoes into juicy chunks. Later, when I took over the job, I could never escape without at least two or three tomato squirts on the front of my shirt. Apparently, the higher the number of squirts, the better the tomatoes and the better the guaca-salsa. The best place to shop for fresh ingredients was the farmers' market in my hometown of San Luis Obispo, Calif. Every Thursday night, hundreds of booths would overtake the downtown streets, offering everything from fresh produce and meat, to flowers and crafts, to a quick palm reading or a cold beer. My favorite ingredient to purchase was the cilantro leaf. Spicy and almost sweet, the strange clover-shaped cilantro was like a drug. I would linger, smelling each bundle one more time, trying to find the freshest, most pungent one.
Avocados were always plentiful in California. I drove past an avocado grove every day on my way to junior college. Those avocados were the size of melons, pulling the dark green branches heavy to the ground. For our guaca-salsa, we usually bought the smaller ones, the ones that could fit in the palm of your hand. Testing them for ripeness could be tricky. Too soft, and they wouldn't keep for more than a day. Too hard, and they could take a week or more to ripen. The one that was just right was usually toward the back of the pile, hiding - waiting. When I picked it up, I always knew, just gently squeezing it, that this was the one. It had to be a little firm, but soft enough to give into my fingers a little.
Sometimes, the tomatoes would come from our garden. Sun-ripened and fresh picked, they were warm and soft. Cutting them was tricky; they would often squirt juices before I could since then. Using a very sharp knife worked best, although it also heightened my mother's concerns for my fingers.
All the ingredients assembled and mixed together, the guaca-salsa was ready. The first dip was always the best: the smooth avocado and juicy tomato, the crunch of the onions and the chips, the sweetness of the cilantro. It was truly a fiesta of flavors.
Guaca-salsa always tasted best with hot tacos. My mouth savored the soft wheat tortillas bursting with meat, lettuce, cheese, olives, and, of course, guaca-salsa.
Before my family moved from Montana to California, we liked to venture to Los Amigos, the one and only local Mexican restaurant in our town. For being located high in the Montana Rockies, probably at least 1,000 miles from the Mexican border, it wasn't too bad. It was always cool inside and a little damp. The smooth red pottery walls and the almost overwhelming green foliage made it seem exotic.
Usually, I ordered the super-sized burrito with chicken and guacamole. It was almost the size of my leg (at least my leg at the time) and usually ended up in a doggie bag for the trip home. Sometimes my dad would set our budget higher, and I could order my absolute favorite Mexican food item: fish tacos.
These days, my husband and I make tacos with lots of homemade salsa. He is the self-proclaimed meat lover, and I'm the veggie queen, so between us, we usually manage to come up with a balanced meal.
I'm always on the lookout for sneaky ways to add vegetables to our Saturday-night dinners. This recipe is great because it incorporates colorful veggies with the meat, so you don't even realize you are eating healthy.
If you are eating healthy, you can afford to go a bit overboard on the chips and guaca-salsa.
MEATY VEGETABLE TACOS
1 small white onion
1/2 cup fresh cilantro
1/2 sweet red pepper
1/2 yellow squash
2 large carrots
2 garlic cloves
2 teaspoons cumin
1 teaspoon chili powder
1 pound ground turkey
Whole wheat tortillas
Toppings Lettuce, torn into bite-sized pieces Chopped avocado Shredded low fat cheese Chopped black olives Salsa Finely chop vegetables and spices in a food processor. Add ground turkey. Blend briefly. Spray pan with cooking oil and place on medium-high heat. Add the vegetable and meat mixture. Cook until turkey is browned. Serve on hot whole-wheat tortillas with your favorite toppings.
GUACA-SALSA
1 can (14.5 ounces) fresh whole tomatoes
1/4 green pepper
4 green onions
Handful of cilantro
1/2 red onion
3 garlic cloves
1 jalapeno
2 dashes of hot sauce
2 teaspoons ground cumin
Salt to taste
2 whole avocados
Place all ingredients, except avocado, in a food processor. Blend for 10-15 seconds. Pour salsa into bowl. Remove peel and seeds from avocado, and then chop into bite-size chunks. Gently mix into salsa. Serve with corn chips.
More stories by this author
Support our reporting -- Follow the MFP.