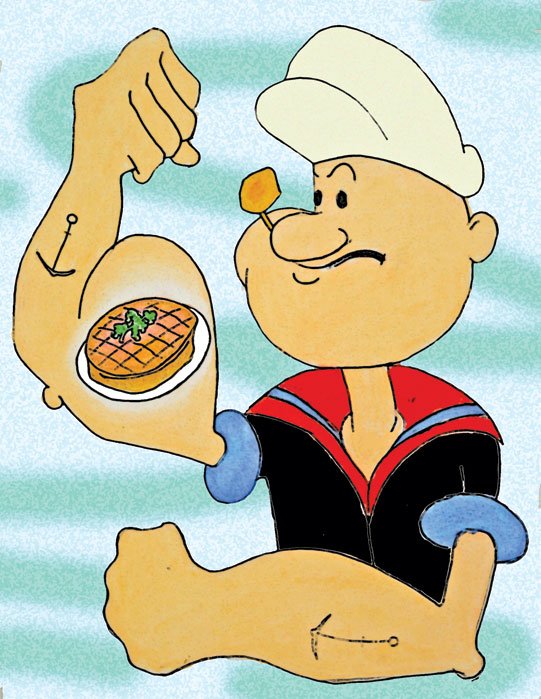 You always hear great words of wisdom from your parents: "Look both ways before crossing the street;" "Don't run with scissors;" "Eat your spinach."
When I told my mom that I didn't like spinach, her argument was that Popeye ate his spinach. "Look at how strong he was," she said. That actually convinced me … when I was five, of course. Eventually, I came to like spinach—a lot—and ate it without needing to follow the example of a cartoon character.
I have had raw spinach in salads with fruit and nuts, steamed spinach, spinach sautéed in olive oil with garlic and red onions, in an artichoke dip, on a sandwich, and probably several other ways I can't recall.It turns out my mom was right about spinach. Not only will it make you strong, but it's also full of folate, a B vitamin that is important in serotonin production (one of those delightful little hormones that makes you feel all happy inside). No wonder Popeye could take down the bad guys.
In every kitchen, as I'm sure you have discovered when cooking and baking, there should always be a few essential ingredients: salt, pepper, flour, sugar and a jar of pesto. Pesto is one of those ingredients that sounds more exotic and fancy than it actually is. Cooking with it also gives you a status boost, in the same way knowing about the subtle differences between fine wines can be impressive in the right company. Just mention that you made something with pesto, and believe me, you will get mad props from everyone.
Before I purchased my first jar of pesto, I was intimidated by its mystique and unknown flavors. I bought a jar on a late-night grocery trip, used a tablespoon in a recipe, and left it sitting in the fridge.
Soon, however, I discovered that this unobtrusive little jar held unlimited possibilities. Smeared on a tortilla with sliced turkey, lettuce and cheese, pesto created an instant gourmet lunch. A dollop on baked chicken breasts made a regular weeknight dinner into something special. And in this recipe, pesto is what brings all the flavors together, even the spinach.
I didn't realize how dependent I was on the stuff, until just a few weeks ago when my younger sister was visiting. Apparently, she likes pesto, too, because one night when I was making something that called for it, I didn't find my little jar of green, garlicky stuff in my fridge. I actually got annoyed at her, just for a second. Then I told her to please, always tell me when the pesto ran out, because it was such an integral part of my cooking, and without it I was nothing but a hack in the kitchen banging pots and pans together. She went out the next day and bought a jar for me, and all was well.
I got curious again about its origins, and did a search on Google. Pesto has quite the distinguished past. It has been around since at least the time of Virgil (70-19 B.C.), and possibly existed in other forms before that. The name "pesto" comes from the method of using a mortar and pestle (pesto, pestle) to crush the basil.
Basil is the key ingredient, but pesto wouldn't be pesto without chopped pine nuts, lots of garlic, olive oil and Parmesan cheese. You can make it yourself (there are lots of recipes online), but be sure to follow the directions closely, or you'll end up with black pesto (at least according to a friend of mine, who is a chef). But even if you end up with pesto that's a less-than-appetizing color, you can at least still say that you made your own pesto, which will probably get you even more Brownie points than simply cooking with it.
When I created this recipe, it was in an effort to use up a bag of spinach sitting forlorn in my fridge. It calls for frozen spinach, but you can also use fresh spinach. Just steam it briefly before mixing it into the breadcrumbs.
SPINACH AND PESTO-STUFFED CHICKEN BREASTS WITH RED POTATOES
1 package frozen spinach, defrosted
1/4 cup fine breadcrumbs
1/2 cup finely chopped red onion
2 cloves garlic, finely chopped
3 tablespoons pesto
4 small (or 2 large) chicken breasts
5 small red potatoes, thinly sliced
1 tablespoon olive oil
4 teaspoons salt, divided
1 teaspoon pepper
1/2 red onion, thinly sliced
2 teaspoons paprika
2 baking dishes
Preheat oven to 375 degrees. Mix spinach, breadcrumbs, chopped red onion, garlic, pesto and two teaspoons of salt in a bowl. Rinse and pat chicken dry. Slice a small horizontal pocket into the side of each chicken breast. Fill pocket with spinach filling. Spoon leftover stuffing evenly over each chicken breast. Place in one baking dish.
Toss potatoes and sliced red onions in olive oil, the remaining salt and pepper, and sprinkle with paprika. Place in the second baking dish. Bake each dish for 30 minutes, or until the chicken is cooked thoroughly and the potatoes are soft.
More stories by this author
Support our reporting -- Follow the MFP.