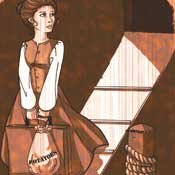 When I was sick and had a fever as a kid, my mom didn't let me eat solid foods. I could have broth and drink juice, water or tea, but couldn't eat anything that would interfere with my fever sweating its way out.
The best moment ever was when my fever broke. My mom shook out the thermometer, took my temperature and declared that I could eat solid food again.
The first thing she cooked for me after a fever was a baked potato, hot and steamy with a tiny bit of melted butter, salt and pepper. After a day or two of fasting on just broth and juice, that baked potato was like manna from heaven. Even today, a baked potato has almost spiritual connotations for me.
During our honeymoon in Salt Lake City, my husband and I decided to check out the Family History Library that the Church of Jesus Christ of Latter-day Saints has compiled from sources around the world. We spent several hours on the computers, pausing only to whisper our excited findings to each other.
My husband was able to trace his family line all the way back to the early 1100s to a duke or earl in England. He also found that his family name (Hickok) went back to Wild Bill Hickok, the notorious sheriff of the Wild, Wild West.
Meanwhile, I traced my family line, too, but got stuck at a young girl named Annie. She had come to the United States in the mid-1800s from Ireland, married my great-great-grandfather and never looked back. Beyond her, I wasn't able to find any other records. I suppose I will have to go to Ireland and search for records in County Barry, where Annie came from.
I might not know about Annie's family back in Ireland, but I can bet that she ate potatoes in her lifetime: potatoes with corned beef and cabbage; potatoes hard and cold the day after they were cooked. Maybe she even made batches of potato bread, soft and white and warm.
Historians believe that Sir Walter Raleigh brought the potato to Ireland from the New World in 1570. The easy-growing potato thrived in the damp Irish climate. From 1780-1845, the Irish population doubled from four million to eight million—in large part because of the potato—and by 1840, over a third of the population was totally dependent on the potato for survival.
When the potato arrived in Europe, it quickly became an important food staple for large numbers of the population. The main reason for this was because one acre of potatoes could provide sustenance for almost 10 people.
In September 1845, the potato blight came to Ireland in the cargo holds of ships. The blight spread quickly to the potato fields and more than a third of the crop was lost that year alone. Starvation, disease and more crop failures devastated the population. Between 500,000 and 1.5 million people died as a result of the famine, and more than a million left the country.
I don't know the exact details of why Annie, my Irish ancestor, left the country but it could have been related to the famine.
Since I proudly claim my Irish heritage, I have to also claim a certain fondness for potatoes. These days, potatoes aren't vital to my survival, but I definitely enjoy roasting some red ones with onion, garlic and olive oil on a baking sheet in the oven. Once in a while, my husband can talk me into making mashed potatoes, although I cheat and substitute olive oil for butter and soy-milk for regular milk. (Don't tell him; he doesn't know the difference!) And as much as I abhor fast food, I will sneak a French fry here and there.
In honor of the brave, young woman who crossed the Atlantic from Ireland to America to make a better life for herself, I am cooking potatoes. They don't have cabbage or corned beef, but they are most definitely potatoes. And we'll see … maybe I can feed 10 dinner guests with this one dish.
Annie's Ham and Potatoes
5 potatoes, washed and cubed
1 1/2 cups cubed cooked ham
15-ounce can whole kernel corn, drained
1/4 cup chopped green bell pepper
1/4 cup minced white onion
11-ounce can condensed cheddar cheese soup
1/2 cup milk
3 tablespoons whole wheat flour
Preheat oven to 375 degrees. Combine potatoes, ham, corn, green pepper and onion in a large baking dish; mix well. In a small bowl, combine soup, milk and flour; beat with wire whisk until smooth. Pour soup mixture over potato mixture and stir gently to mix. Bake for one hour or until potatoes are soft.
More stories by this author
Support our reporting -- Follow the MFP.